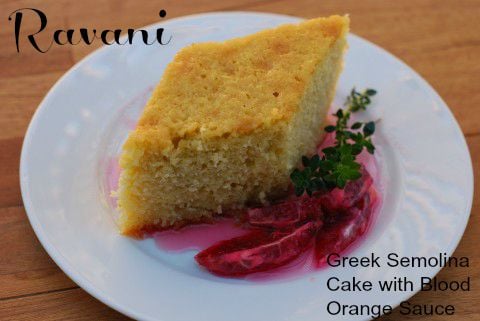 Drenched in a syrup, this rich semolina cake is often made in our family for special occasions and enjoyed  as a celebratory dessert.  I prefer semolina when making Ravani, traditionally made with farina. The texture is slightly smoother with semolina and it's readily available in your natural or ethnic supermarkets. I used Bob's Red Mill brand  for this recipe, but any semolina can be substituted. I chose to add seasonal blood oranges to the dish to give it a lovely sweet-sour combination, which I love in desserts. But, you can substitute any orange for this recipe. The blood orange with it's unique color has a deep-purplish-red blush skin. The flesh is often streaked in a deep crimson shade. They are usually small to medium in size and easy to peel. Their flavor is a sweet-sour with a hint of raspberry and often seedless.  Melisssa's Produce was kind enough to send me these beautiful blood oranges, a seasonal fruit we are so fortunate to enjoy in California.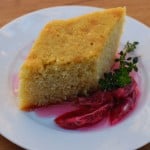 "Ravani" Greek Semolina Cake with Blood Orange Sauce
A traditional cake made with semolina and the delicious addition of blood oranges and sauce.You can use any citrus to your liking, try cranberries or cherries during the holidays.
Ingredients
Cake
1/2

pound

sweet butter, room temperature

1

cup

sugar

6

eggs

1

cup

sifted flour

1

tablespoons

double-acting baking powder

3/4

cup

semolina
Syrup
2

cups

sugar

2

cups

water

juice and rind of one blood orange

2-3

cinnamon sticks

6-8

whole cloves

1

teaspoon

vanilla
Blood Orange Syrup
1

cup

sugar

1

cup

water

juice of 2 blood oranges

2-3

sprigs fresh lemon-thyme, optional or basil

optional or substitute basil

1

stick cinnamon
Instructions
Preheat oven to 350 degrees.

Butter a 8x8 baking pan and set aside.

In a large mixing bowl, beat the butter with an electric mixer until fluffy. Slowly add the sugar, continuing to beat.

Add eggs, one at a time, beating well but at low speed after each addition.

Sift flour and baking powder together, then add to the mixture.

Add semolina slowly and mix well until batter is fairly thick.

Spread batter evenly into a greased square 8x8 inch cake pan.

Bake for 40-45 minutes.

Remove from the oven and keep cake in pan.
Syrup
While cake is baking, prepare syrup.

In a saucepan, combine sugar, water, vanilla, cinnamon, juice, rind, and cloves.

Bring to a boil and simmer for around 30 minutes, or until slightly thickened. Strain syrup into small bowl.

Once cake is done, cut into desired pieces, and ladle hot syrup over hot cake. (Keep cake in pan)

Cover and let cool before serving.
Blood Orange Syrup
Place sugar and water in a small saucepan. Add cinnamon stick and juice.

Bring to a boil, reduce heat to low and simmer, stirring until thickened, about 15 minutes.

Remove from heat and add thyme and set aside. Strain sauce before serving.
Plate
Prepare orange slices.

Place cake on a dessert plate, add blood orange syrup, and serve.
When out of the oven cut the cake while warm.
I enjoy cutting this cake into diamonds for a beautiful presentation which yields 11 pieces.
You will get more pieces cutting the cake 4×4 for 16 pieces.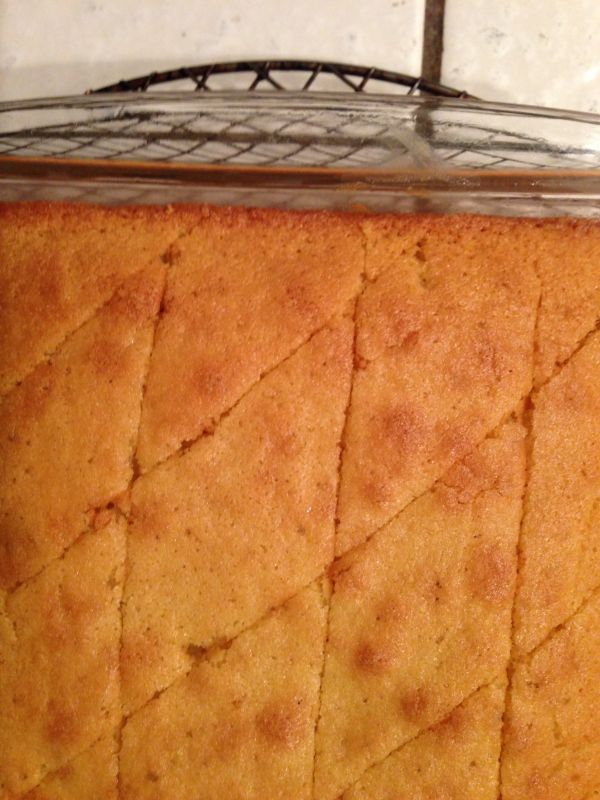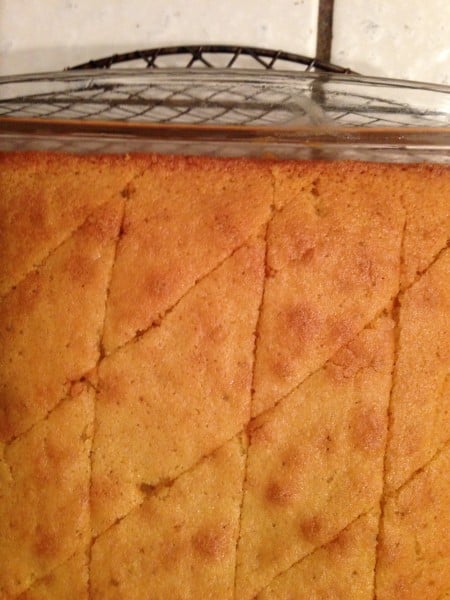 Have the syrup warm and ready for the cake. The beautiful red color comes from the blood orange rind and juice.

Strain the syrup and add to the cake. Cool and serve with the Blood Orange Sauce.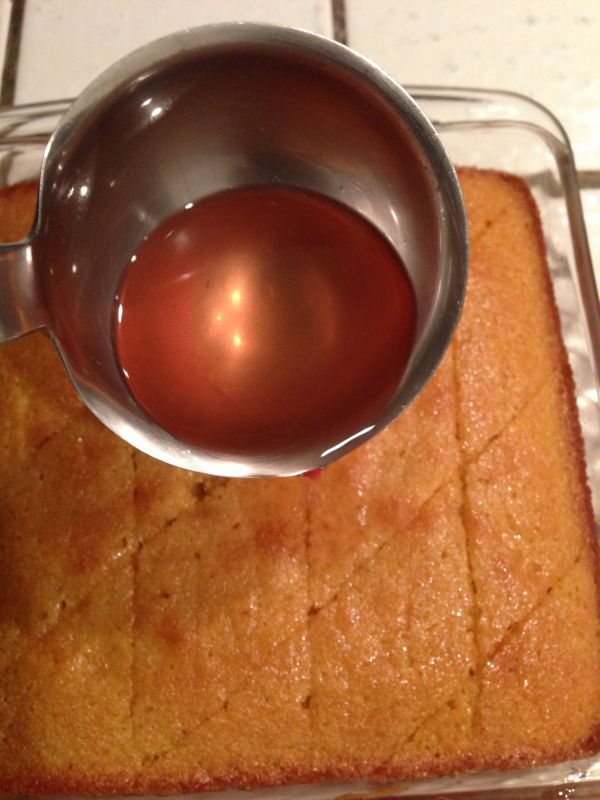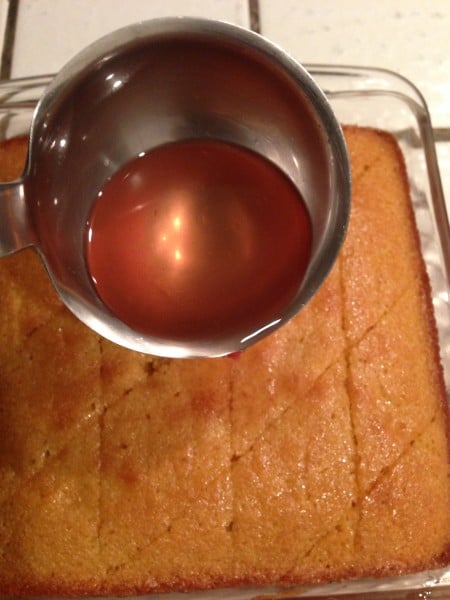 Blood Orange Sauce
The blood orange has a thick skin so I removed the flesh to make them easier to eat and for a nicer presentation. To do this:  Peel the orange from top to bottom, carefully cutting beyond the pith to expose the flesh. Over a bowl, to catch all drippings, hold the orange in your hand carefully cut between the membranes to reveal these beautiful segments.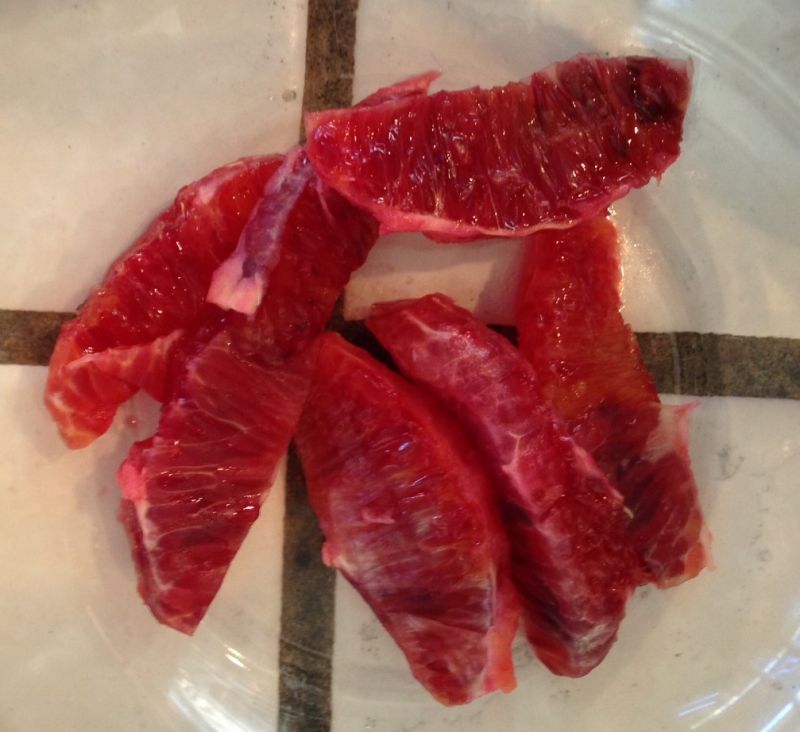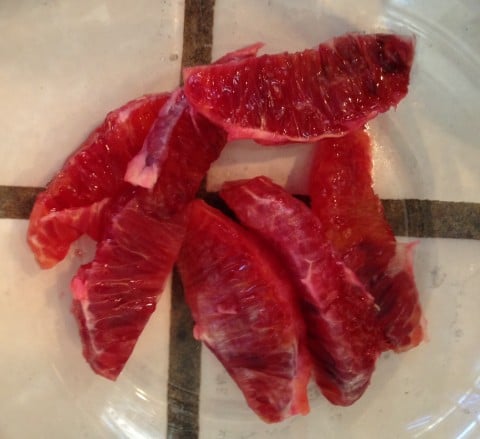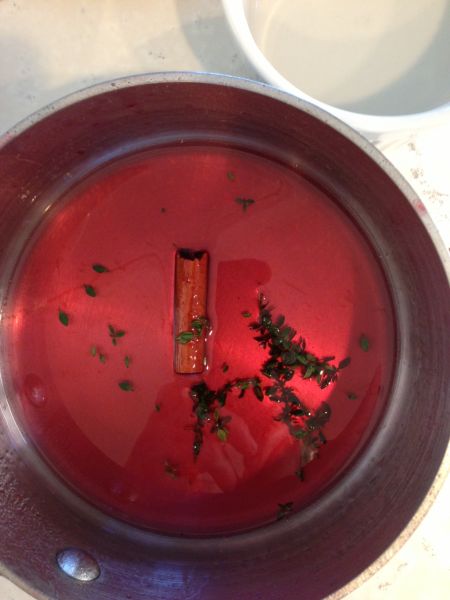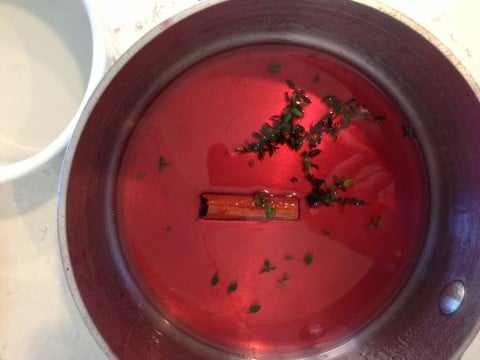 The simple syrup was simmered with a cinnamon stick, and lemon-thyme for a more winter flavor. The flavorings can be changed to your liking. Adding the blood orange juice gives this syrup a rich and unique flavoring.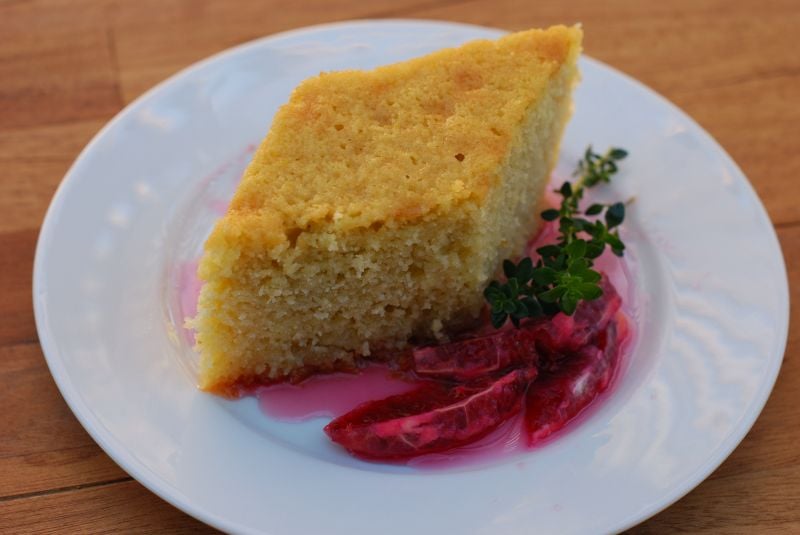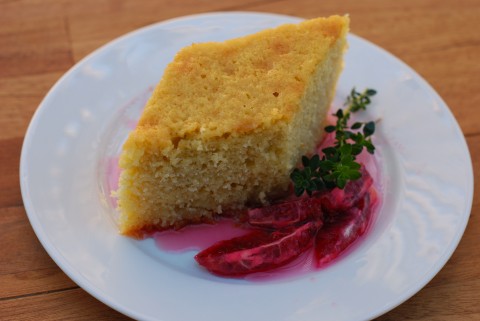 This is my twist on a very traditional Greek cake,
Enjoy!
Mary 
© 2013 – 2022, Mary Papoulias-Platis. All rights reserved.