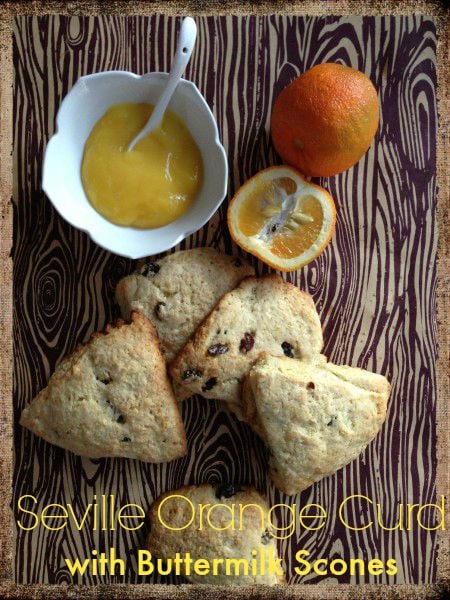 Seville Orange curd is one of my splurges, when I'm involved in an adventurous baking day at home. Everything goes with the popular lemon curd, so I decided to try a new recipe with Seville Oranges, which I kindly received from from Melissa's Produce. Seville oranges come under the heading of Bitter oranges, which are too sour and astringent to eat raw. Instead, they are cooked in preparations such as marmalade and preserves, but also valued for their bitter peel which is often candied, and for their essential oils which are used to flavor foods as well as special liqueurs. I know what you're thinking this is a totally English post, but that's why I love curd of any kind, we don't have it in the Greek Diet! Oranges are so common in everyday Greek cooking, and this scone combination with curd is so perfect for a tea with girlfriends or for a morning treat!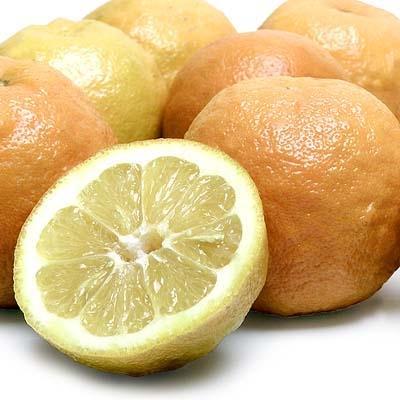 Seville oranges, or Bitter Oranges are perfect in making marmalade.
 Native to Southeast Asia, most citrus experts believe them to be (most likely) a cross between a pomelo and a mandarin orange.
What makes Sevilles so special? Because Seville Oranges have a higher amount of pectin than regular sweet oranges, and therefore giving a better set and a higher yield, they are prized for making the best orange marmalade!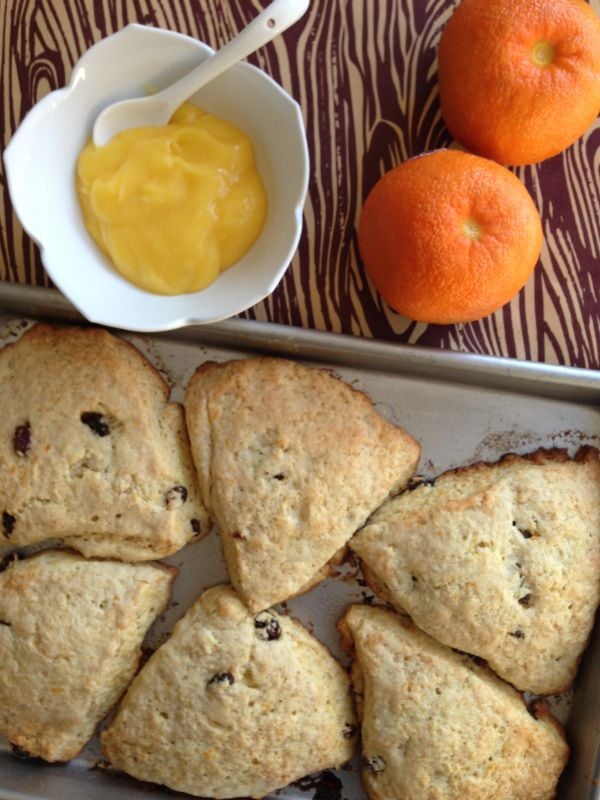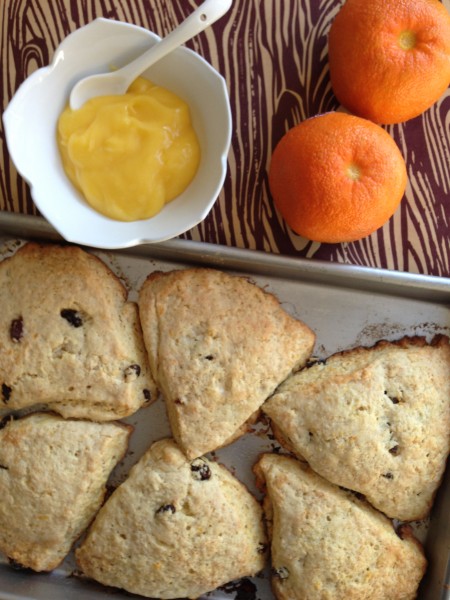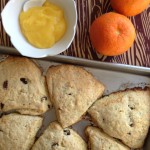 Seville Orange Curd with Buttermilk Scones
The sweet-sour tang of the Seville orange sets this curd apart from all others. Serve with these freshly baked scones for an afternoon tea with friends. Use oranges or lemons in place of Seville's for a perfect curd.
Ingredients
Curd
1/2

cup

unsalted butter

3/4

cup

sugar

1/2

cup

fresh Seville orange juice, or any orange

3

tablespoons

finely grated orange zest

Pinch

of salt

6

large egg yolks
Scones
3

cups

flour

1

tablespoon

baking powder

1

teaspoon

baking soda

1

teaspoon

salt

1/2

cup

sugar

3/4

cup

cold butter, cut into 1/4 inch cubes

1

cup

buttermilk

1/2

cup

raisins or walnuts

1

tablespoon

orange zest

1/2

cup

orange juice

1/4

cup

orange juice for topping

1

tablespoon

sugar for topping
Instructions
Curd
Melt the butter in a heavy saucepan over medium-low heat.

Remove the pan from the heat and whisk in the sugar, orange juice, orange zest and salt. Whisk in the yolks until smooth.

Cook the mixture whisking often (do not let boil) until it thickens and leaves a path on the back of a wooden spoon when a finger is drawn across it.

Pour the orange curd through a strainer into a bowl. Let cool. Refrigerate covered until ready to serve. Makes 1 1/2 cups
Scones
Heat oven to 400 degrees.

Sift all the dry ingredients in a large bowl. Cut in the cold butter with two knives, or use hands to mix. Stir in raisins, orange juice, and zest.

Make a well in the center of the bowl and add buttermilk. Mix with a spoon until combined. Do not overmix.

With floured hands, on a floured surface pat into a circle 3/4 inch thick. Cut into triangles or use a cookie cutter.

Place on a greased sheet pan or parchment paper. Brush each scone with orange juice and sprinkle with sugar.

Bake for 14-18 minutes. Serve warm.
Recipe Notes
Seville oranges, tangerines, or any orange can be substituted in this recipe. Tip: The original recipe calls for 12 sugar cubes dipped in orange juice and pressed into each scone before baking. This makes a delicious scone if served alone.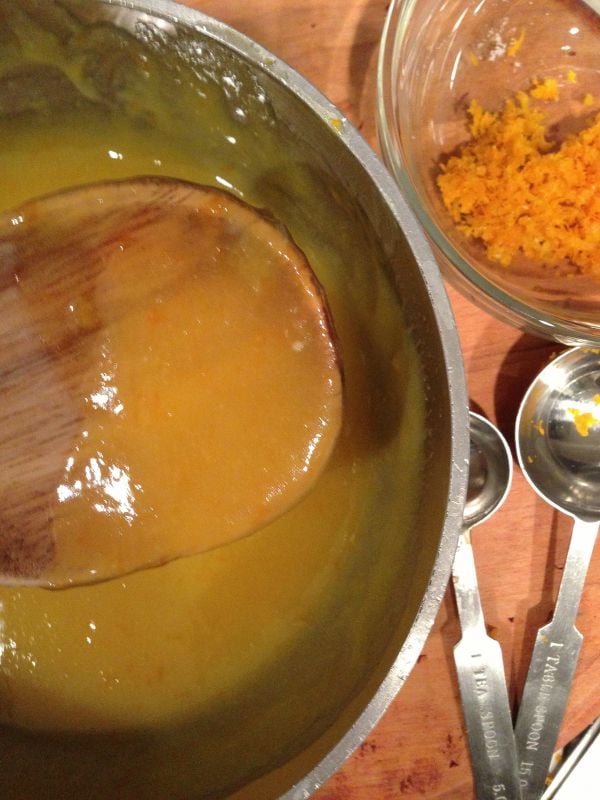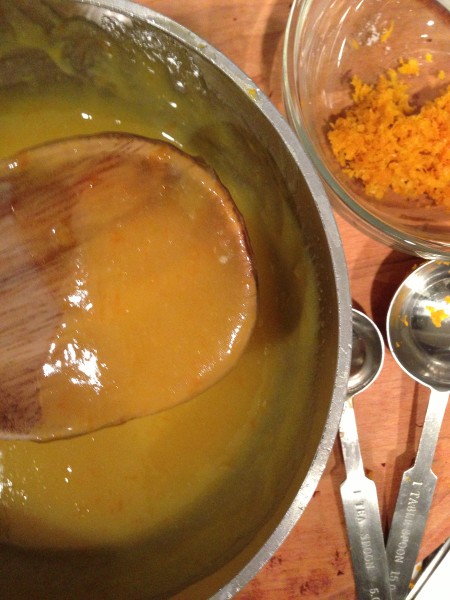 When making the curd stir continually, and do not bring to a boil or the eggs will cook. Quickest method for knowing the curd is  ready: take the back of a wooden spoon , dip it in the curd and run your finger across the back of the spoon and if it stays it's ready!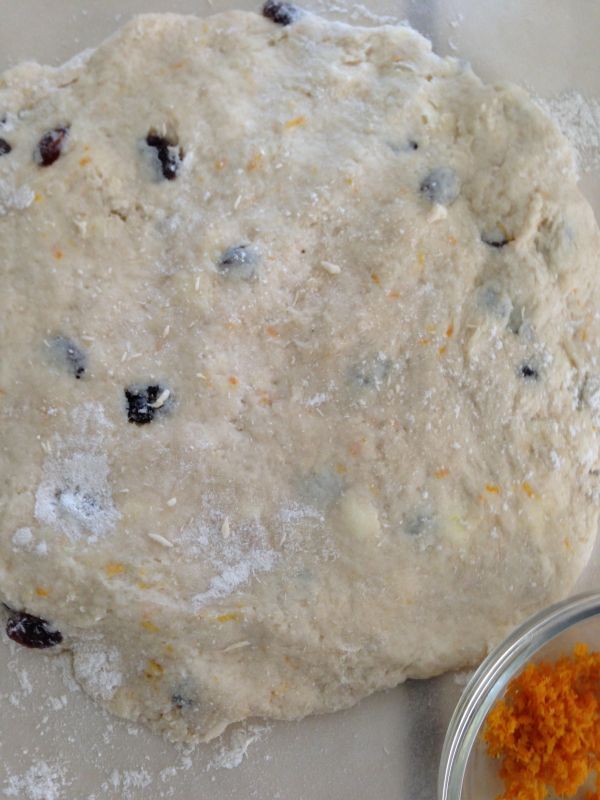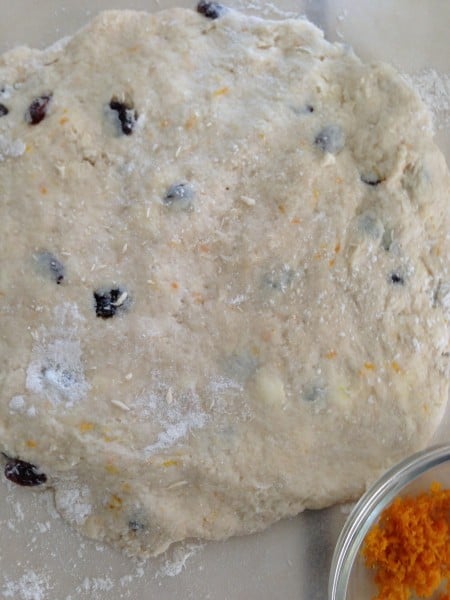 When ready to form dough, flour hands and pat onto a floured wax or parchment sheet to form a large circle.
  Tea Time!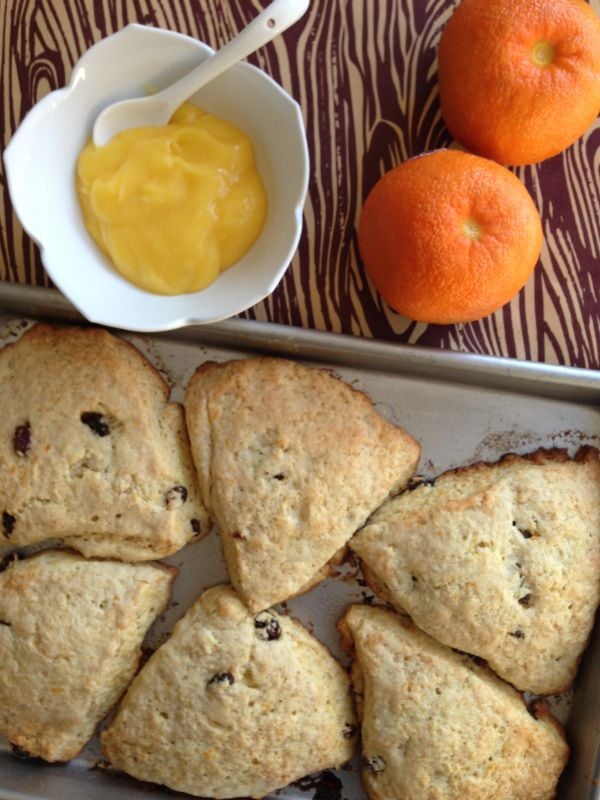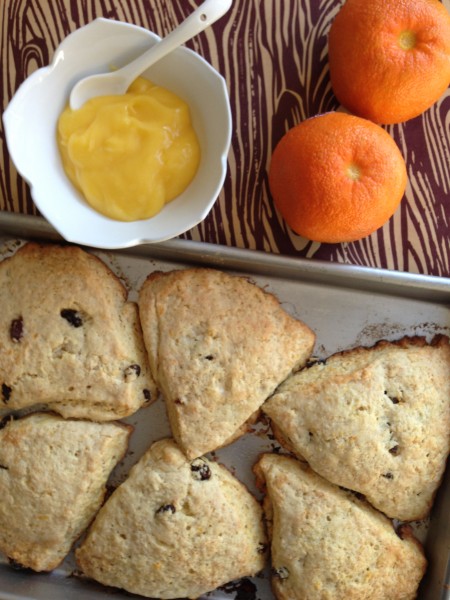 Don't miss out making these scones, 
Mary Platis
© 2013 – 2022, Mary Papoulias-Platis. All rights reserved.