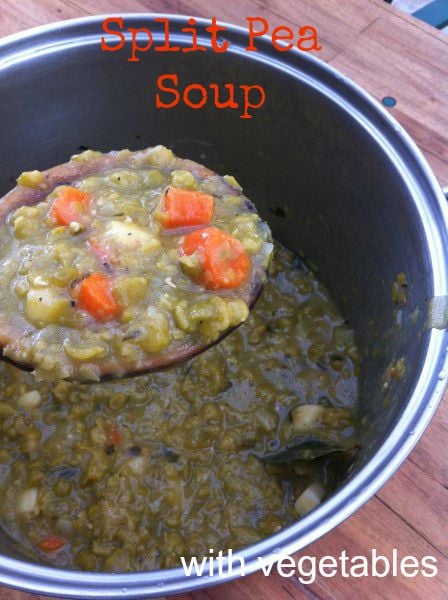 Traditional split pea soup is a heart-warming meal for you and your family. This recipe is made with a chock- full of vegetables, and I have been serving this soup for many years on my table. I adapted this recipe from Shelia Lukins's  End-of-the-Line Split Pea Soup, Simply Delicious-printed in Parade.
She calls for a ham bone, and as you know that imparts such a wonderful smokey flavor to the soup, and it makes the best split pea soup ever. I make my broth from the ham bone before making the soup. This allows me to control the saltiness that comes from the ham for my soup. But, you can also leave out the bone and substitute vegetable broth and have a vegetarian dish-just adjust the flavorings to your taste. I do love the sweetness the parsnips add to this recipe, so I encourage you to leave them in. And the tarragon brightens the flavors and adds the herbal fragrance it needs.
Soup Tips:
Soup can be made ahead, and it even tastes better the next day.
Left-over soup can be placed in the freezer and defrosted in individual or smaller portions.
A great use for your extra vegetables, just add into the soup and adjust the flavors.
Invest in a dutch oven with thick bottoms and sides, I use Le Creuset.
Use a blender to puree your soups, or a hand immersion blender for partly pureed soup.
Have two meals in one: bake a ham with potatoes or yams one night, and make this split-pea soup later in the week.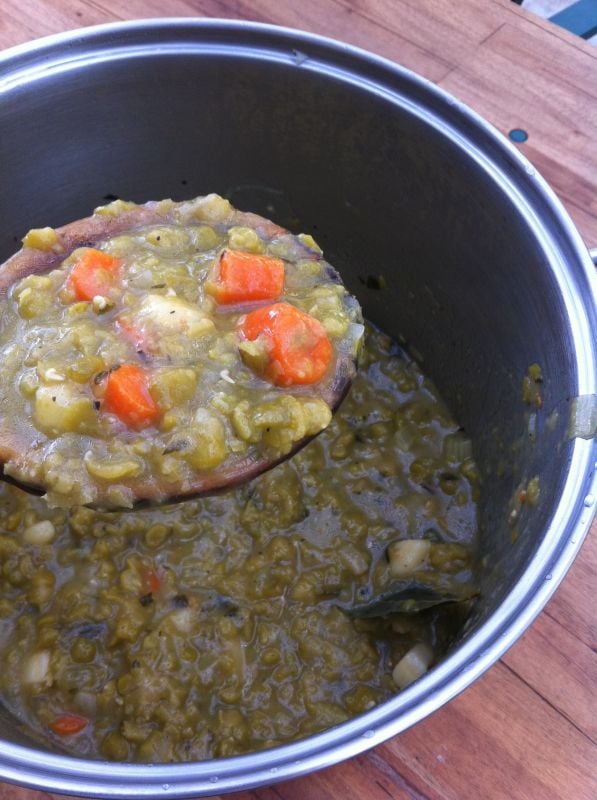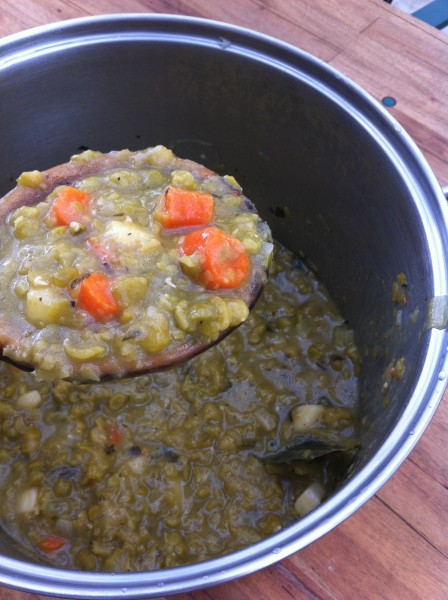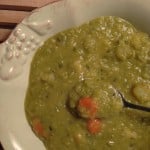 Soup's On - Split Pea Soup with Vegetables/Ham
Try this fantastic split-pea soup with vegetables for a complete dinner for your family. Make two meals - Bake a ham one night, and use the bone for this soup! If you're in a hurry, use store-bought broth..
Ingredients
Broth
1

meaty ham bone or substitute a vegetable broth

1

unpeeled carrot

1

rib of celery

1/2

onion one bay leaf
Soup
1

pound

of dried split-peas

4

carrots - peeled and chopped

2

ribs of celery, chopped

1

onion, diced

2

parsnips, peeled and chopped

2

leeks, cleaned and chopped

2

tablespoons

olive oil

1

bay leaf

4

sprigs of fresh thyme or 1 teaspoon dried

1

teaspoon

dried tarragon

4

cups

of ham, chicken or vegetable broth

4

cups

water

salt and pepper

4

tablespoons

parsley-chopped
Instructions
Broth
Regular soup only (Not Vegetarian)

Place the ham bone in a large pot, add 6 cups of cold water, bring to a boil and reduce the heat to a simmer.

Add 1/2 of an onion, 1 unpeeled carrot and cut in half, one celery stalk cut in half and one bay leaf.

Cook for an hour and strain the broth in a large bowl and reserve for the soup.

Keep any leftover meat from the bone for the soup.
Soup
Rinse the peas in cold water, pick over, for pebble, rinse ,drain and set aside.

Coarsely chop the carrots, celery, onion, parsnips and leeks.

Heat oil in a deep dutch oven pot, and add the vegetables.

Cook until wilted for 10-12 minutes.

Add the peas and cook and stir for 1 minute.

Add the bay leaf, thyme, tarragon, parsley, broth and water, vegetable or chicken broth.

Bring to a boil, reduce heat to a simmer, cover partially and cook, stirring often until the peas are cooked, about 45 minutes.

Remove the bay leaf and thyme sprigs.

Taste for salt and pepper and serve.

Note: You may need to add more water or broth if soup thickens.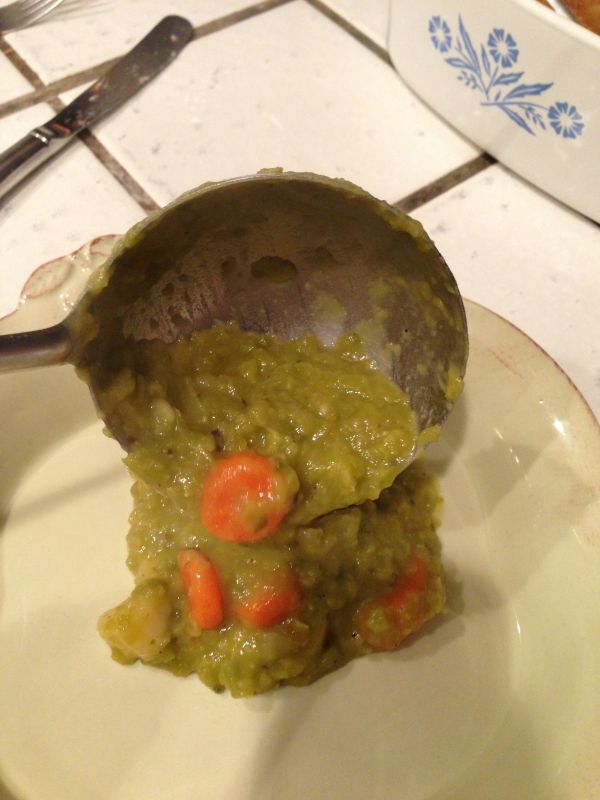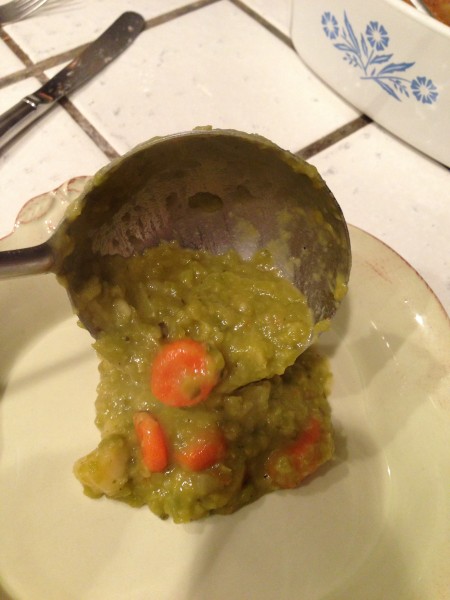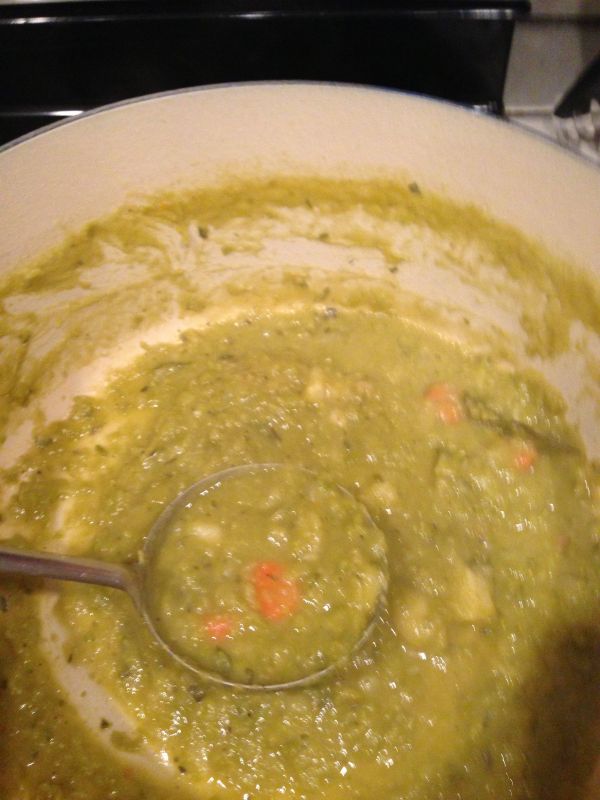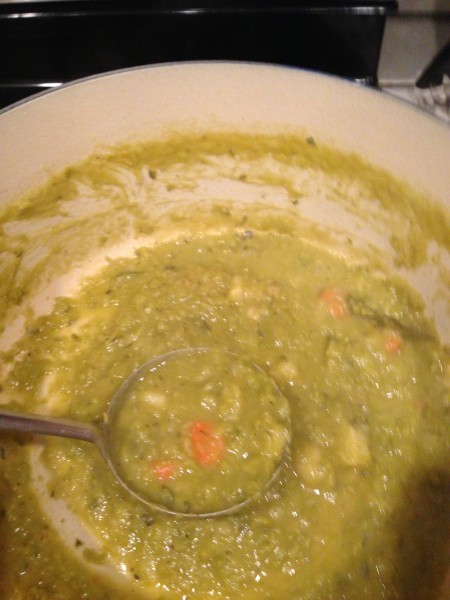 As you can tell, it's one of our favorite soups!
Mary 
© 2013 – 2022, Mary Papoulias-Platis. All rights reserved.