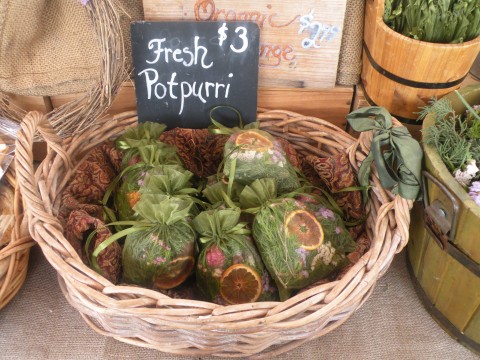 Stumbling upon a new booth at your local farmers market is always an exciting adventure, as you browse their homegrown products, hand-picked vegetables and fruits, and experience their one-of-kind creative displays. Meet the Trethowan Farm and family, they place so much effort and pride into their farm stand.
On Sunday, I had a wonderful opportunity to meet the Trethowan family, as I visited their booth at the Leucadia Farmers Market on Sunday.  Their welcoming and friendly smiles greeted me as I approached their farm stand, which makes it so much more inviting and comfortable, while searching  for that delicious something special to take home to your family.
I stopped by to tell them how much I enjoyed their aromatic and delicious honey that I had purchased during my last visit.  During my Open House I served it with my fruit dessert, and the guests loved the floral accents the honey had delivered.
I watched for awhile as the crowds arrived and I noticed how inviting they were to each and every customer. Conversations arose about every subject, from how the honey had developed it' s unique taste, from how their fruit is dried, to how the homemade potpourri is gathered.
Instantly, I gravitated to the baskets of  aromatic offerings, and gathered many gifts for my friends and home. The bag of potpourri, perfumed my home as  if I had taken a trip to their family farm and back.
Stop by next week and meet this lovely family of farmers.  As you can see, this is one stand you can't miss.
© 2011 – 2017, Mary Papoulias-Platis. All rights reserved.