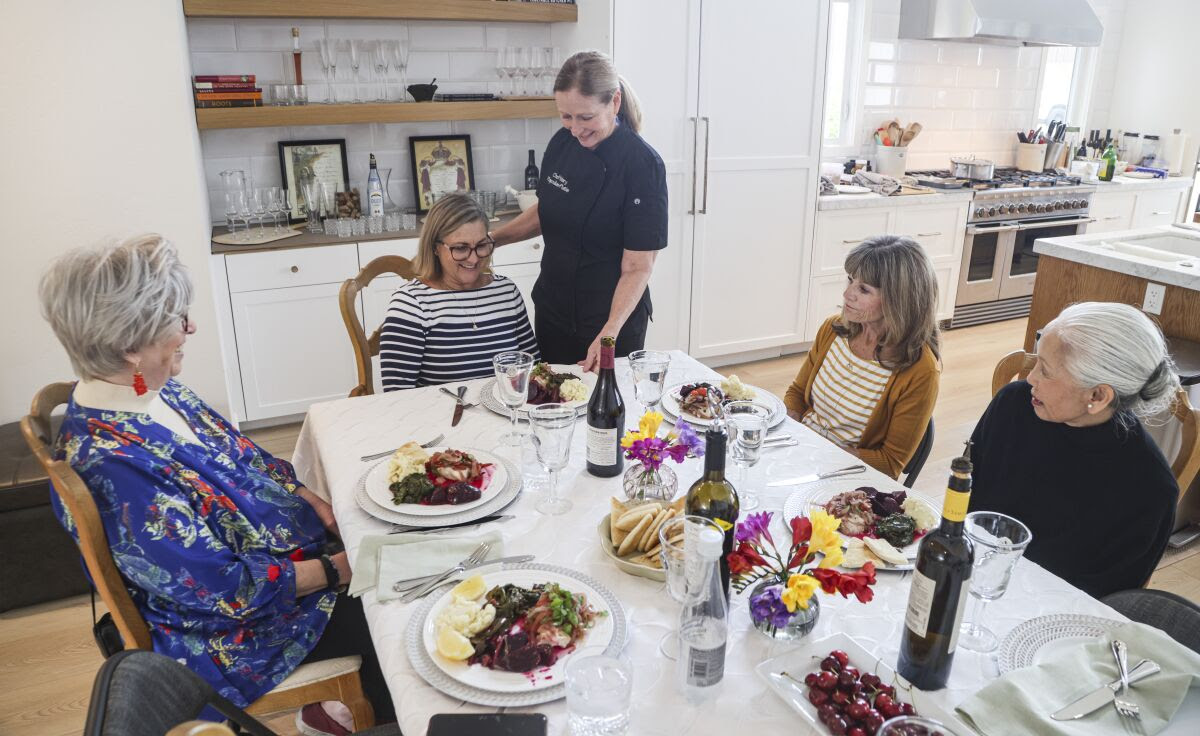 Remember in-person cooking classes? You know, the ones held at the late great Great News! Cookware and Cooking School, Sur La Table, Macy's and Williams-Sonoma. Then there were the ones chefs taught at their restaurants.
We lost those experiences, as a result of store closings and, of course, the pandemic. Instead, we made do with classes taught over Zoom. But gone were the flavors and aromas of the in-person classes and the ability to make new friends as we learned.
In-person cooking classes are starting to make a comeback, and among those who have launched them is Mary Papoulias-Platis of Ethos Culinary in Carlsbad. She and her husband Mike Platis, an architect, built a new spacious and bright kitchen as an extension to the front of their home. With three islands and a long dining table, the space provides plenty of room for students to gather and learn not just Greek cooking, but also plant-forward cooking, since Papoulias-Platis is a certified plant-based chef.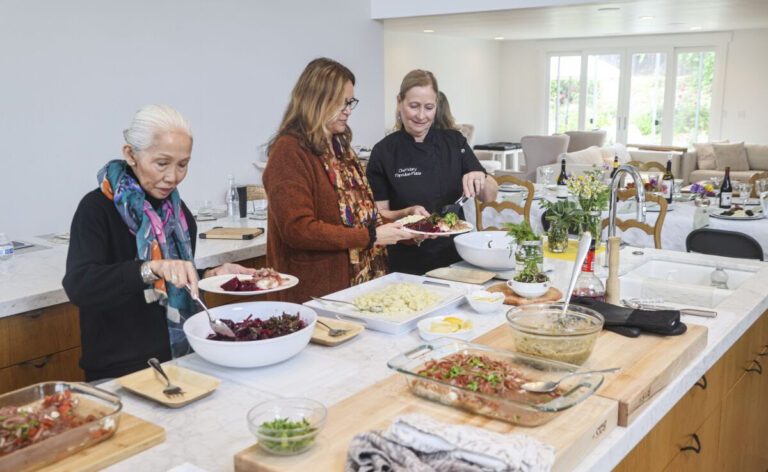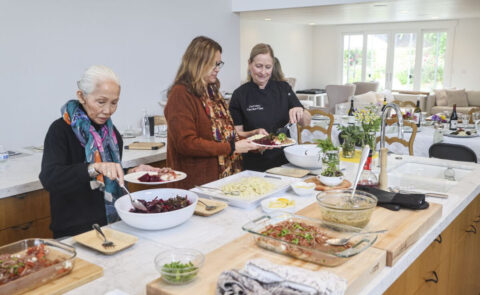 Mary Papoulias-Platis grew up cooking Greek food. She worked on weekends at her mom's and aunt's deli in downtown San Diego as a child. Once she met and started dating her husband in the 1970s, she became deeply involved in working at his mother's booth at the San Diego County Fair, making baklava, pastries, spanakopita, Greek salads, lamb shanks, and hummus bowls with pita. The Greek Gourmet booth expanded to three trailers that also traveled to the Orange County and Pomona fairs.
Mary Papoulias-Platis chose a different route for her career, though — teaching kindergarten and first grade for 12 years before running The Reading Patch bookstore in Encinitas. She did all this while still tending to The Greek Gourmet.
Eventually, she closed the bookstore and the couple's three kids left home. At that point, she decided to take a job at Sur La Table, where she worked her way up to teaching classes and also took those skills to Great News!, the San Diego Culinary Institute and private homes. She then briefly ran Sur La Table's cooking school.
"That's how I learned the business," she said. "I learned how to hire cookbook authors and chefs and how to deal with setting up classes and promoting them."
Eventually, Mary Papoulias-Platis was hired by the Ecke family on their North 40 Urban Farm project, an effort to expand the seasonal programs at The Flower Fields in Carlsbad to a year-round mix of agriculture and culinary tourism. After five years of development, however, the project wasn't approved by the city of Carlsbad. But that period gave her a deep education in how to build a commercial kitchen, which she put to good use during COVID, once she decided to run a cooking school from her home.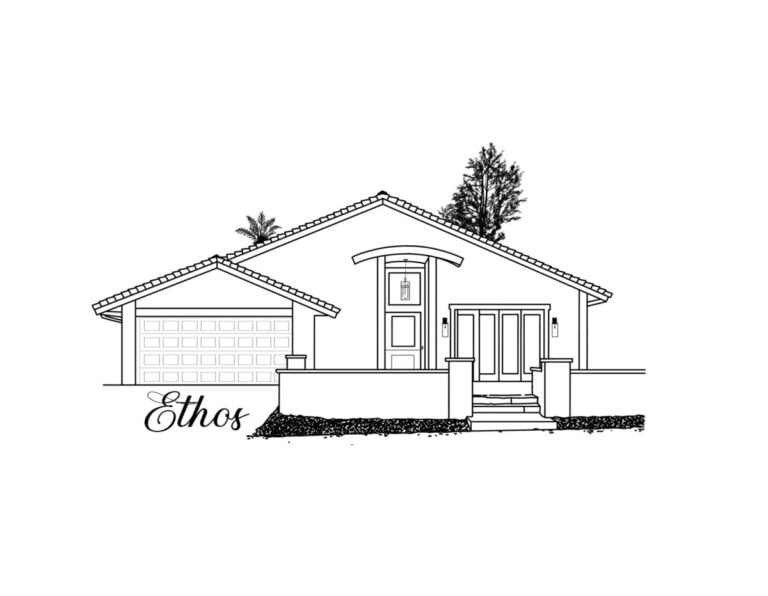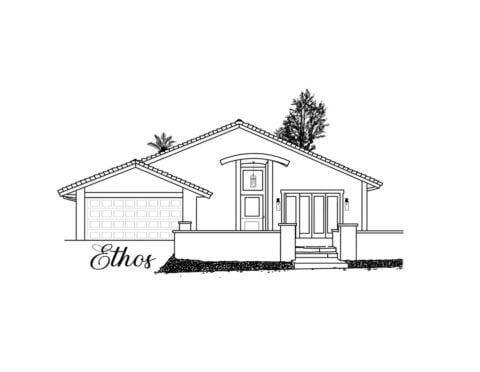 Mary Papoulias-Platis speaks from behind a counter at her cooking school. She was heavily involved in The Greek Gourmet booth that operated at the San Diego County Fair, among others. She taught classes at Sur La Table and other cooking schools and now runs her cooking school from her home.
The class I took during a recent visit to Ethos Culinary was "Everyday Greek." Papoulias-Platis immediately dispelled what non-Greeks assume is basic Greek cooking, based on the restaurants where they dine.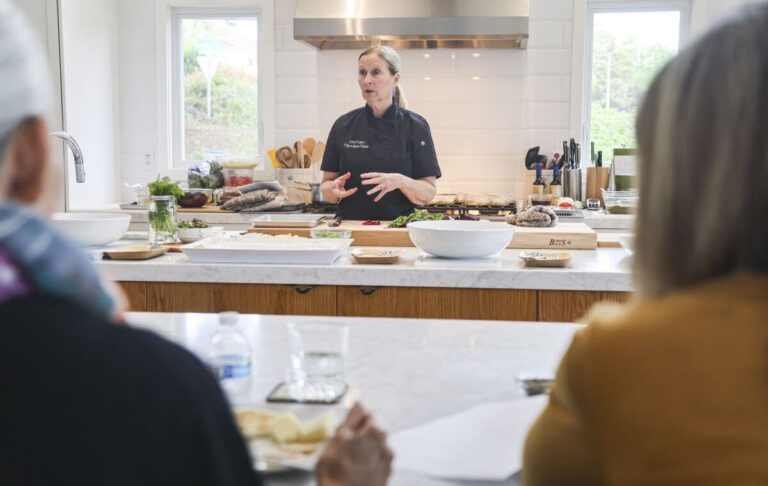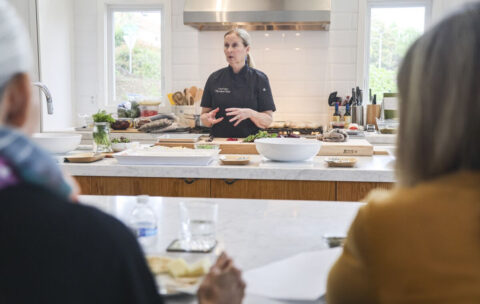 "Greek restaurants tend to use more holiday dishes than home cooking," she explained. "We're talking moussaka, pastitsio, the gyro sandwich and the mezzes. And they tend to serve more meat than the average Greek eats. But as you travel beyond Athens to the islands or the countryside, the food shifts. You're going to see more garden-driven meals and seafood. Fish is one of the basics to Greek cooking — from shrimp and snapper to mussels and sardines."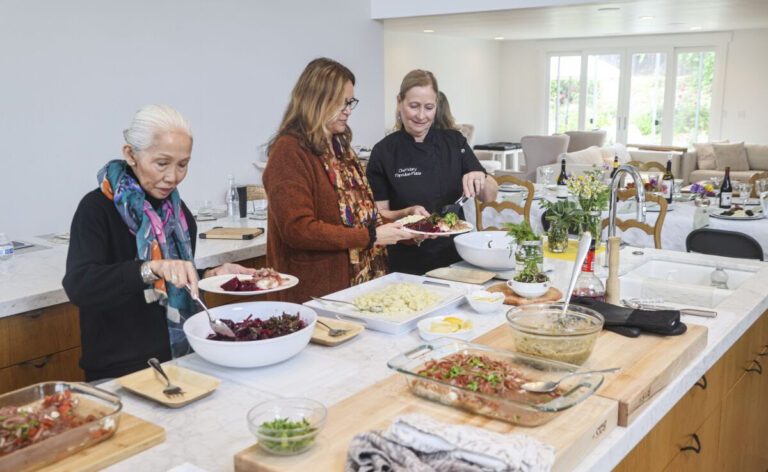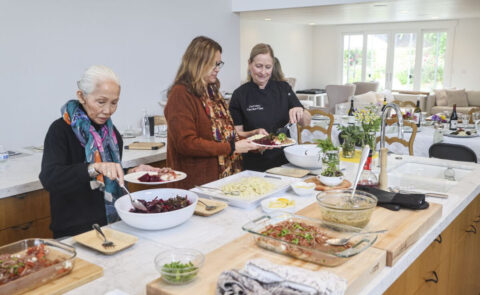 Mary Papoulias-Platis and her students serve themselves dishes from the cooking class.
Mary Papoulias-Platis says many Greek restaurants use dishes that are more often served for the holidays. Her class focused more on food that would be eaten at a typical Sunday dinner at home.
Our class menu reflected what Mary Papoulias-Platis described as a typical Sunday dinner. We started with melitzanosalata (Greek roasted eggplant dip) that she served with slices of nutty, firm Kefalograviera sheep cheese, pita slices and crackers. She told the class to use round globe eggplants, puncture them in several places, and wrap them in foil to bake for an hour. Then once cool to the touch, halve them lengthwise and scoop out the pulp into a bowl where you'll add garlic, olive oil, red wine vinegar, parsley, salt and pepper. Mix and refrigerate before serving.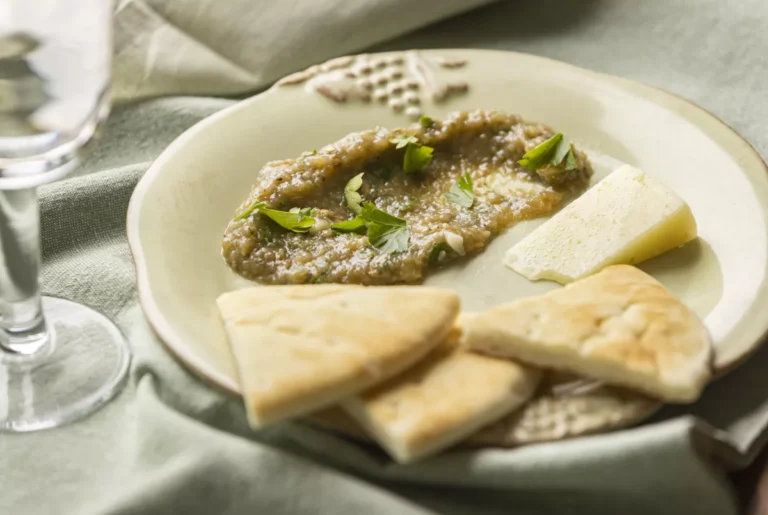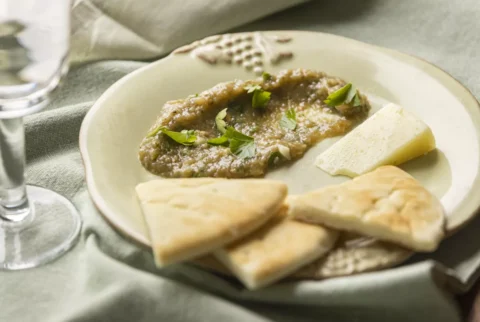 Sticking to the vegetable-forward theme, Mary Papoulias-Platis also showed us how to prepare radikia, a boiled greens salad packed with lemony flavor. The dish involves chopping and boiling the greens, straining them (keep the cooking water), then adding back some water along with olive oil, lemon juice from a zested lemon, and salt and pepper. Top with the zest and serve. While making it, she sweetly recalled her mother foraging for greens near their La Mesa home.
Another side dish Mary Papoulias-Platis prepared was patzaria — roasted beets accompanied by skordalia, or potato garlic dip. "Don't throw out the greens!" she told us as she cleaned and trimmed the beets. "They're full of nutrients. And after the beets are roasted, rub them with paper towels to remove the skin."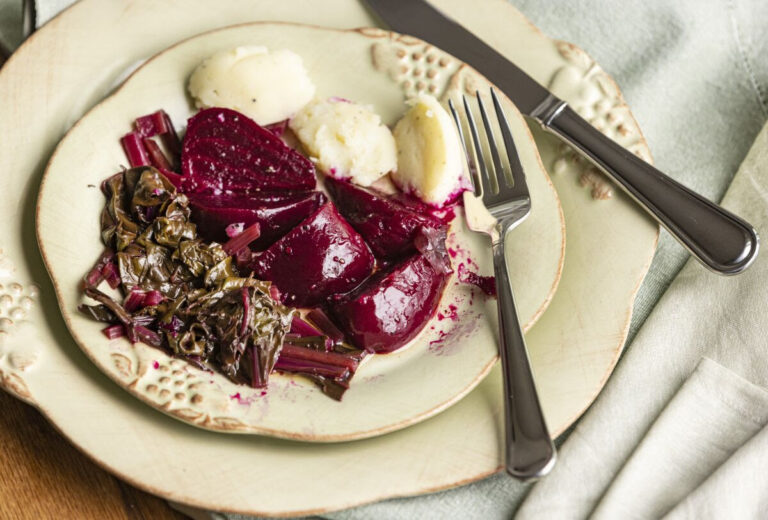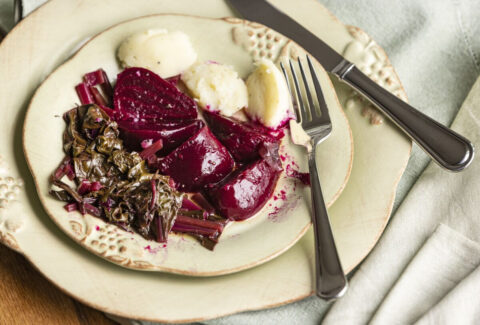 In this dish, the beet greens can be either boiled or sauteed. The beets, once cooked and skinned, are quartered or sliced and mixed in a bowl with garlic, olive oil, red wine vinegar and salt and pepper. Let them marinate briefly before serving them in a bowl with the greens alongside them. The rich, garlicky skordalia is made with peeled, boiled russet potatoes that are mashed with olive oil and minced garlic. Blend with vinegar (Mary Papoulias-Platis used champagne vinegar), salt and pepper. Mary Papoulias-Platis said that shallots would work well in the dish and that if the potatoes are too dry, add a touch more olive oil. Skordalia, she said, also goes well with other dishes.
The main course was a lovely Psari Plaki — baked fish with tomatoes and onions. Here she used halibut, but any thick white flesh fish, like cod or bass, will also work well. Cut the fillets into large pieces and place in an oiled baking pan. To make the sauce, heat oil in a frying pan and saute minced garlic and horizontally sliced white onions until soft, then stir in chopped seeded Roma tomatoes, parsley, cinnamon, Greek oregano, salt and pepper, and red wine. Cook the mixture and then pour over the fish, which will then bake for about 45 minutes, uncovered.
The ingredients  Mary Papoulias-Platis used are likely to be in your pantry. Olive oil is a must, but not just any oil. She prefers oil made from fruity Koroneiki olives, recommending a new local purveyor, Éla (elaevoo.com), operated by San Diego brothers Jason and Michael Lakis; or Bragg olive oil sold by Walmart.
You can learn about Mary Papoulias-Platis' class schedule at californiagreekgirl.com. Basic lunch classes cost $55 and include a two-hour demonstration class with drinks and a sit-down lunch.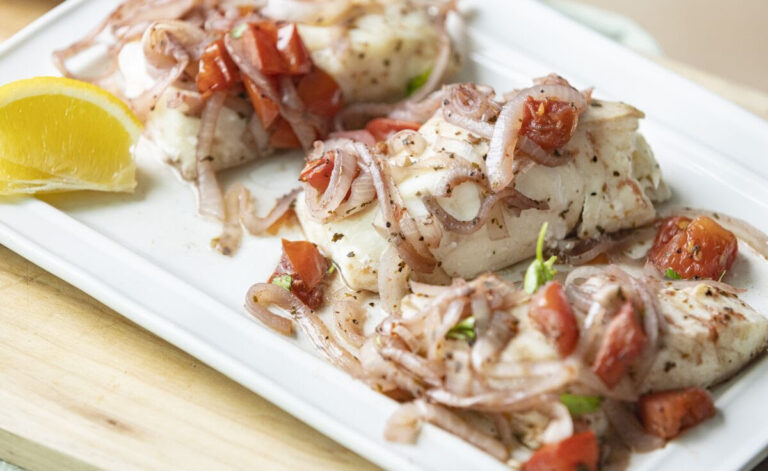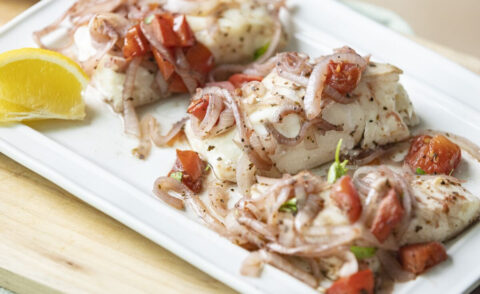 Baked fish with a sauce made with onions, garlic, tomatoes, spices and red wine.
Baked fish with a sauce made with onions, garlic, tomatoes, spices and red wine makes a great main course. Halibut is a good choice, but any thick white fish, such as cod or bass, works well for this dish.
(Eduardo Contreras / The San Diego Union-Tribune)
Psari Plaki: Baked Fish With Onions and Fresh Tomatoes
Makes 4 servings
2 pounds skinless, boneless cod, halibut or bass fillets
½ cup olive oil, divided in half
4 onions, peeled and thinly sliced horizontally
1 to 2 cloves garlic, minced
2 cups freshly chopped tomatoes or 1 cup tomato puree diluted with 2 cups water
½ cup parsley, chopped
1 teaspoon oregano
¼ teaspoon cinnamon
1 teaspoon salt
Pepper to taste
½ cup red wine
Preheat oven to 375 degrees.
Rinse fish with cold water and pat dry. Oil baking pan with half the oil.
Cut fish into 4 pieces and place in pan.
Heat remaining oil in a large frying pan over medium heat. Add the onions and garlic and saute for 8 to 10 minutes, until onions are soft.
Stir in tomatoes, parsley, oregano, cinnamon, salt, pepper and red wine. Cook for 10 minutes, then add sauce to fish.
Bake uncovered for 45 minutes at 375 degrees.
Remove from oven and let sit for 10 to 15 minutes. Pour sauce over fish and serve warm.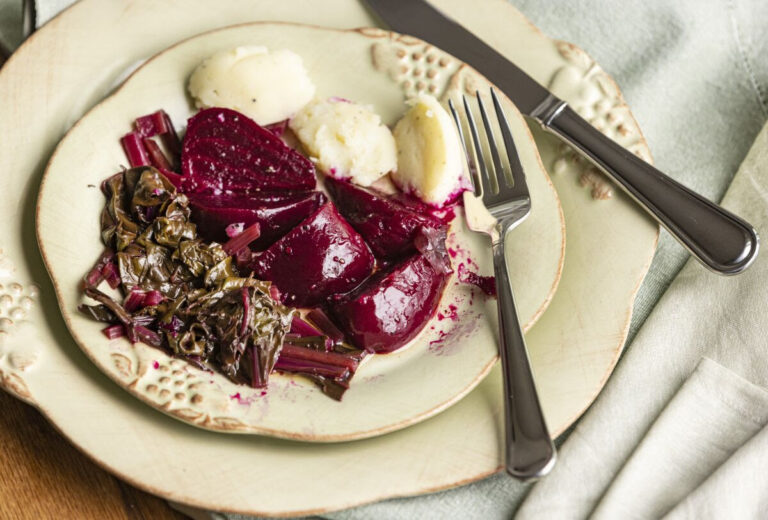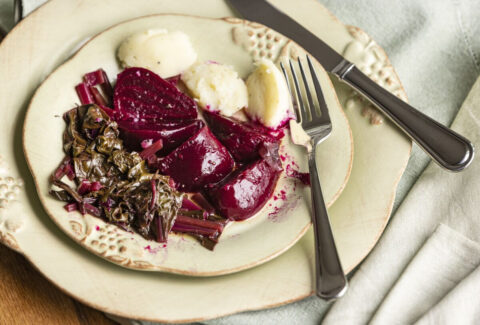 A beet salad with mixed greens.
Served boiled alongside a beet salad, the vegetable's tops are nutrient-rich.
(Eduardo Contreras / The San Diego Union-Tribune)
Radikia: Mixed Greens With Olive Oil Dressing
Makes 4 servings
4 bunches of greens; select beet greens, mustard greens, dandelions, spinach, or Swiss chard
2 to 3 tablespoons of olive oil
Salt and pepper
Reserve 1½ cups of water from greens
Juice from two lemons
Wash the greens in cold water and drain. Trim ends from the greens. If using Swiss chard, cut the inside rib out from the center.
Bring a large pot of water to a boil. Add the greens and cook until tender for 5 to 8 minutes. Remove and drain in a colander. Reserve liquid.
Add greens to a bowl. Mix with the olive oil, salt, pepper, reserved water and lemon juice. Serve.
Patzaria: Roasted Beet Salad With Skordalia
The beets and the skordalia (garlic dip) can each be made 1 to 2 days ahead.
Makes 6 to 8 servings
2 pounds of red beets with tops
3 tablespoons minced garlic
½ cup olive oil
½ cup red wine vinegar
Salt and pepper to taste
Preheat oven to 350 degrees.
Wash beets and cut off roots and tops. Wrap in foil and bake in at 350 degrees for 1 hour, until soft in the center.
Remove from oven; unwrap and peel beets. Cut into ¼-inch slices.
Place beets in a bowl. Add garlic, olive oil, vinegar, and salt and pepper. Let beets marinate for 10 to 15 minutes.
Serve warm or cold with garlic dip (recipe follows).
Skordalia: Garlic Dip
Makes 2 cups
3 to 4 russet potatoes, peeled
3 tablespoons minced garlic
1 cup olive oil
⅓ cup red wine vinegar
Salt and pepper to taste
Add the peeled potatoes to a medium pot and cover with water. Bring to a boil.
Reduce the heat to medium and continue cooking until tender, around 15 to 20 minutes. Drain potatoes.
Place the cooked potatoes in food processor with the minced garlic and blend until smooth. Can also be done by hand with a masher or in a mortar.
Move potatoes to a clean bowl. Add olive oil and vinegar and continue to blend.
Add the salt and pepper. Blend thoroughly, and taste for added seasoning.
Can be served at room temperature or cold.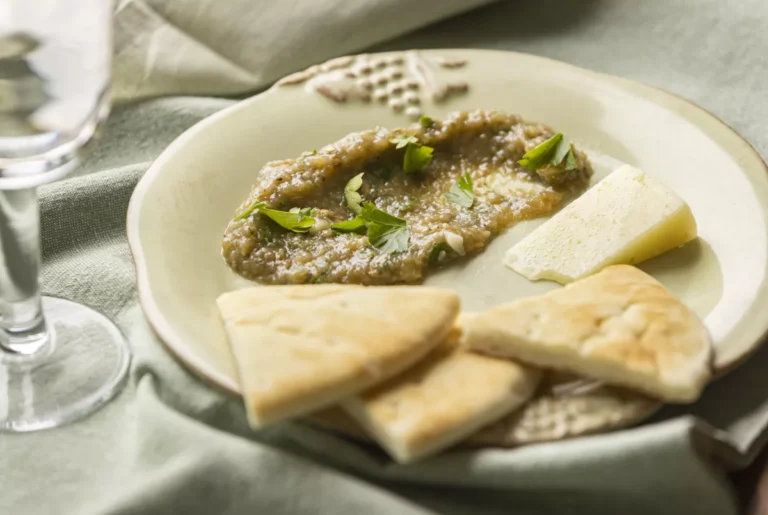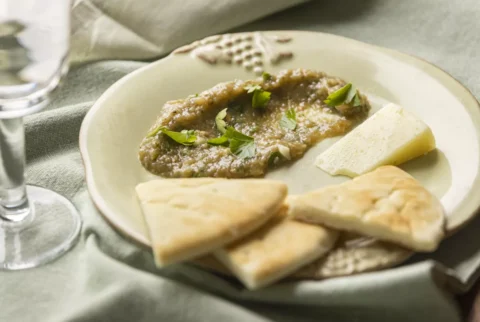 A Greek roasted eggplant dip served with sheep cheese, pita slices and crackers.
A Greek roasted eggplant dip is a starter served with sheep cheese, pita slices and crackers.
(Eduardo Contreras / The San Diego Union-Tribune)
Melitzanosalata: Roasted Eggplant Dip
Makes 4 cups
2 to 3 purple round eggplants (see Note)
4 to 6 garlic cloves, minced
¼ to ½ cup olive oil
½ cup red wine vinegar
1 bunch of fresh parsley, finely chopped
1 to 1½ teaspoons salt
¼ to ½ teaspoons pepper
1 baguette loaf, 1 package of pita bread, sliced, or crackers
Preheat oven to 375 degrees. Wash eggplants, pat dry, and puncture skin of the eggplants with a sharp knife in several places.
Place on a cooking sheet or sheet pan and bake for 1 hour. Remove from oven and let cool slightly.
While eggplants are warm to the touch, halve lengthwise and scoop out pulp with a spoon into a medium bowl.
Place pulp in a food processor, blender or use a hand blender and blend until smooth.
Place back into bowl and add garlic, olive oil, vinegar, salt, pepper and parsley. Mix gently.
Taste for added seasoning.
Refrigerate for at least 4 hours until cool or overnight. Taste and add more salt or pepper as needed.
Slice baguette and place around bowl, or cut pita rounds like pie-shaped triangles and serve alongside the dip.
Note: Use the large round eggplants, not the long skinny ones.
A big thank you to the San Diego Union Tribune along with writer Caron Golden (see information below) and photographer  Eduardo Contreras.
Recipes by Mary Papoulias-Platis.
Golden is a San Diego freelance writer and blogger.
Caron Golden
carondg@gmail.com
858-699-2635
goldenwriting.com
It was a wonderful experience and thank you for all who attended the class,
Mary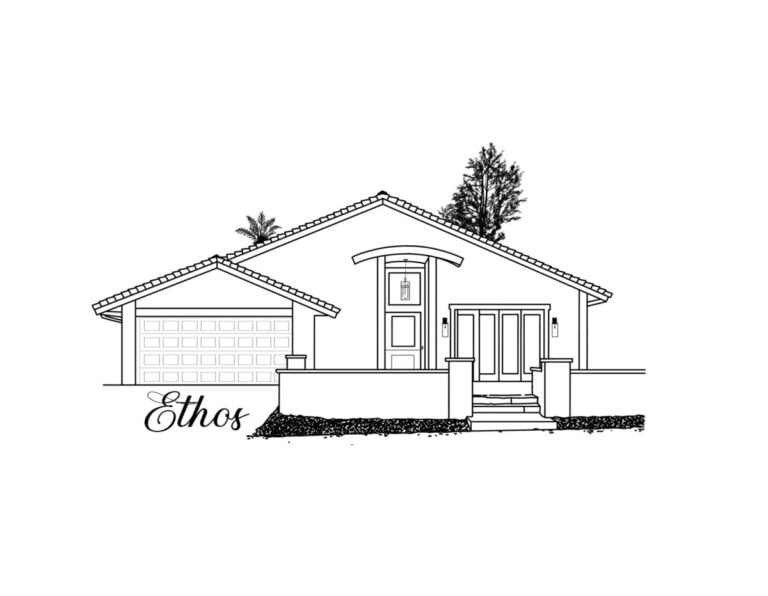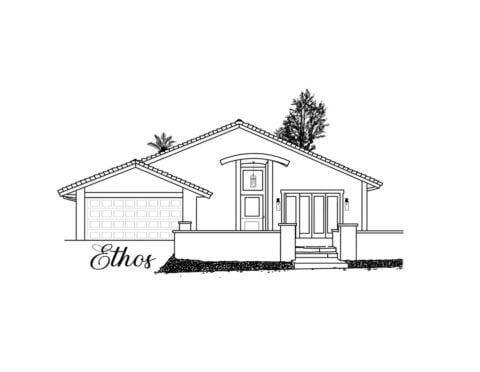 Look for new classes in July at Ethos!
© 2023, Mary Papoulias-Platis. All rights reserved.