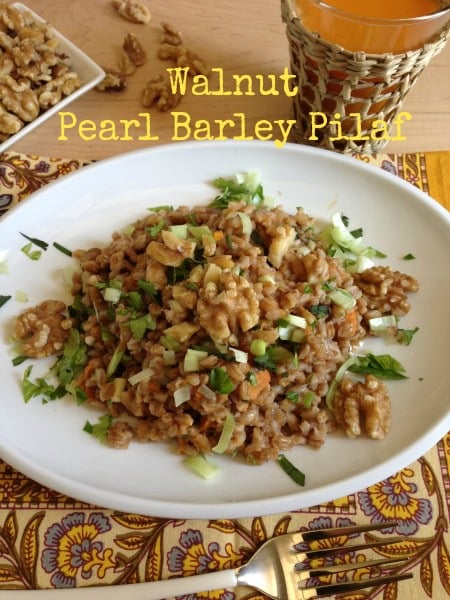 Walnuts are a big part of the Greek cuisine, the most popular dessert and what most people are familiar with is baklava. We also use walnuts in our main dishes and pilafs and I have chosen to do a Pearl Barley Pilaf with Toasted Walnuts, adding a  sweet potato for an additional nutritional boost. Serve this alongside a roasted pork tenderloin, BBQ steak, or with a fresh green salad to complete your meal. Try using walnuts more often in your cooking for their strong nutritional value. Check out the benefits of walnuts below.
Source of plant-based omega 3-fatty acid alpha -linolenic acid (ALA) 1/4 cup= 2.5 grams
Antioxidants such as melatonin and gamma-tocopherol (a form of vitamin E)
Highest amounts of antioxidants among the tree nuts and peanuts.
The American Heart Association certified walnuts as a heart healthy food.
 Protein and fiber-rich.
Did you know these facts about walnuts:
California walnuts account for 99% of the commercial U.S. supply.
Introduced to California back in the 1700's by the Franciscan Fathers.
There are over 4,000 walnut growers in California.
California land is covered with 245,000 walnut bearing acres.
Harvested between September to November, October was named California Walnut Month.
Walnut Pearl Barley Pilaf with Sweet Potato
Pearl Barley makes a great pilaf and it's unexpected when serve as a side dish or next to your main course. Serve this for a large crowd - it can be left out at room temperature.
Author:
Mary Papoulias-Platis
Ingredients
1 teaspoon olive oil
1 onion, diced
2 cloves garlic, minced
1 sweet potato, peeled and chopped in ½ inch cubes
2 quarts chicken or vegetable stock
1 lb. 5 oz. pearl barley
½ teaspoon salt
½ cup toasted walnuts, divided
1 tablespoon fresh parsley, thyme, chives, finely chopped
¼-1/2 teaspoon ground cinnamon
Instructions
In a medium saucepan, add olive oil and heat to medium.
Add the onion and garlic and saute until onions are translucent.
Add the sweet potato and saute for 2 minutes.
Add the barley, ¼ cup of the walnuts, salt and stock.
Bring the liquid to a boil.Remove the pan from the heat.
Cover and place in the oven for 45-60 minutes until the barley is tender and all the liquid has been absorbed.
When barley is cooked, stir in the remaining walnuts, cinnamon and fresh herbs.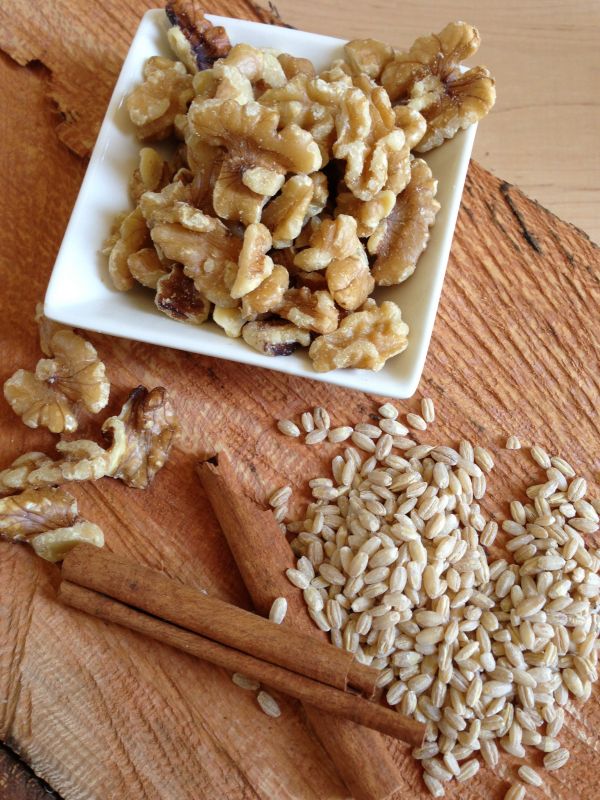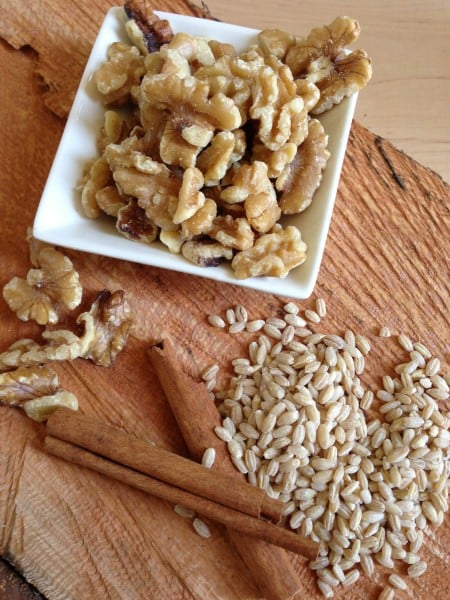 Tips for other cooking techniques:
Bake walnuts on a cookie sheet, in a single layer at 350 degrees for 8-10 minutes or bake in a skillet.
Add shelled walnuts to a pot of boiling water, remove  the pot from the heat and let stand for 2 minutes,drain.
Seasoned nuts:  Heat up walnuts in the oven or microwave. While warm add your favorite herbs and dried spices. (my favorite is rosemary with olive oil)
For more walnuts recipes visit:
Farro Salad with Pixie Tangerines and Walnuts
Note: California Walnuts provided me with a delicious bag of walnuts. I did not get paid by California Walnuts to write this post.
© 2013 – 2016, Mary Papoulias-Platis. All rights reserved.