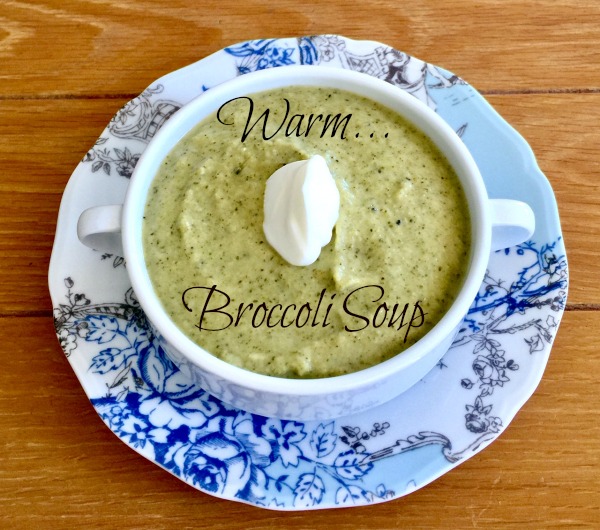 It's always soup season in my home, and this broccoli soup is my penicillin against all colds and flu bugs during the fall and winter seasons. I chose to make this and added it to my favorite's list, because of all the health benefits it delivers. Broccoli, luckily is a favorite among adults and kids. Eaten raw or cooked it, it's full of nutrients so add it to your weekly shopping list to strengthen your body's immunity on these cold winter days.
This is a photo of broccoli from my winter garden last year. And by the way, did you know you can eat the leaves? Just saute them in a frying pan with a little EVOO, salt and pepper and sprinkle fresh lemon on top.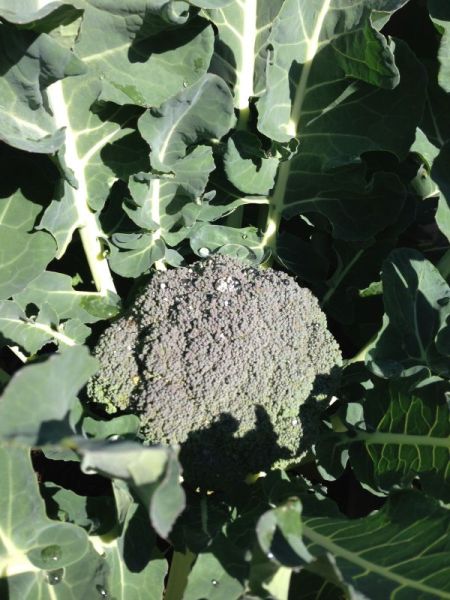 As you know by now, Broccoli is a Cruciferous vegetable that contains ITC – an array of compounds with proven immune-boosting effects. Who wouldn't want these cold winter months? But along with that, here are a few more benefits of eating broccoli.
Broccoli has 337 micrograms of Folate in 2 cups of veggies. Great for your nerve tissues and fighting off cancer.
Zinc is also present with 1.6 mg. in 2 cups of cooked broccoli.
Calcium is included with 14 m. in 1/2 cup of cooked broccoli.
Broccoli is listed as a Superfood, for the most dense-nutrient food in the top 25 list at 340.
The most health benefits comes from eating broccoli raw.
Take a look at Super Immunity by Dr. Joel Fuhrman, MD for more information. (My facts were taken from this book.) I also have his book, Eat to Live, with many recipes and information on a nutrient-rich program.
Creamed soups do well with root vegetable as the base. And the same goes with heavier more dense vegetables such as potatoes, pumpkin and broccoli. When using cream or yogurt, I prefer using organic products. For the garnish, you can use small steamed florets, a dollop of yogurt or feta. And here are two good substitutes for cream in your soup.
Add a small peeled potato to your soup ingredients and cook along with the rest of the vegetables, and blend to thicken your soup.
Add a small slice of bread, to the soup and cook along with the vegetables.
Or use a hand blender in the soup pot and blend half of the mixture to make it creamy.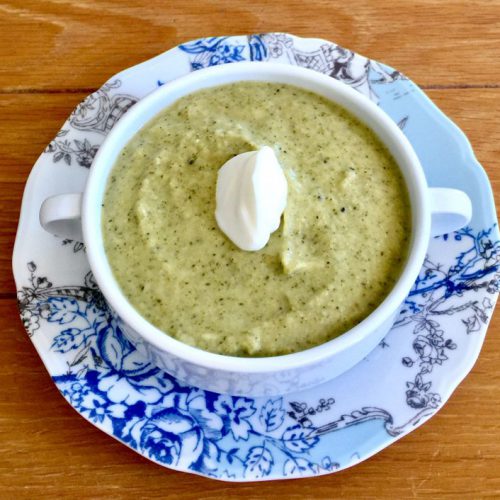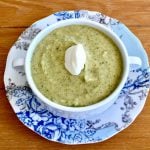 Warm Broccoli Soup
Such an easy and simple soup to make during the week. Add a dollop of yogurt or crumbled feta and you have a tasty and satisfying meal.
Ingredients
2

pounds

fresh broccoli

1/4

cup

extra virgin olive oil

1 1/2

cups

chopped onions

1/2

cup

chopped celery

1 1/4

cups

chopped leeks

1/4

cup

all-purpose flour

6

cups

vegetable or chicken broth

1/2

cup

heavy cream ( substitutions above) - optional

fresh lemon juice

salt and pepper as needed
Instructions
Wash and coarsely chop the broccoli florets. Set aside in a bowl. Trim the stems and coarsely chop, and add to the bowl.

In a heavy soup pot add the oil over medium heat. Add the onions, celery, leeks and chopped broccoli.

Saute the vegetables until softened about 5 minutes. Add the flour and stir well to combine. Cook for 5 more minutes.

Slowly, add the broth to the pot, stirring so lumps do not form. Bring the soup to a simmer, and cook for 45 minutes, stirring frequently.

Remove the pot from the heat, and let sit for 5-6 minutes. Puree in a blender in small batches and place in a large bowl. You may need to add more liquid to blend the vegetables. Once all the soup is blended return the broccoli mixture to the pot. If using a hand blender blend directly in the pot.

Once blended, reheat the soup and add the heated cream. Season with lemon juice, salt and pepper. Serve immediately.
Recipe Notes
You can freeze the soup up to one month after blending. Refrigerate up to two days.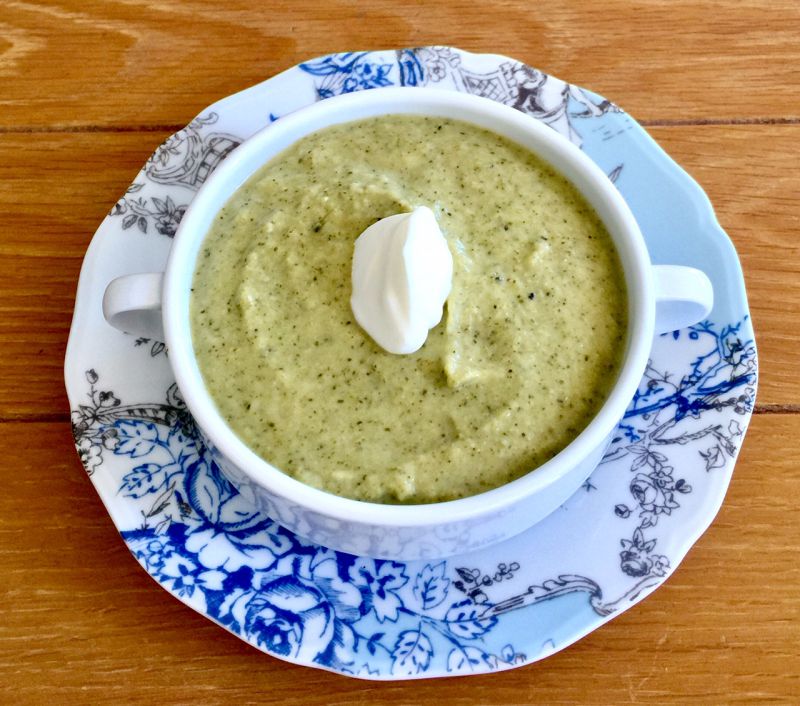 Note: To begin your soup recipes and experience success in the kitchen, it's helpful to have a good soup pot. I use a Le Creuset soup pot, which cooks by heating up the sides as well as the bottom for more efficient cooking.
Stay Warm!
Mary
© 2019 – 2023, Mary Papoulias-Platis. All rights reserved.