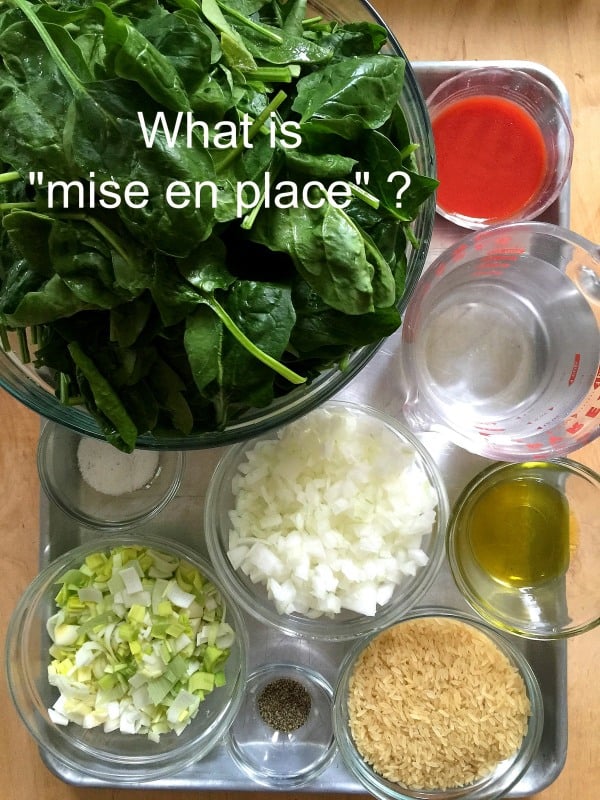 A couple of years ago, I completed my Plant-Based culinary course so I may begin teaching healthier options to my students in my cooking classes. Over the last few years, I've been involved with the MS program at our local university and began working with the staff in reducing inflammation with those suffering. A cleaner diet with no processed foods and sugar is highly recommended to reduce the pain from their muscles. A plant-based diet can help improve their conditions along with many other lifestyle changes.
Mise En Place is one of the first things I learned about many years ago. It helps in organizing your ingredients before beginning to cook. This is a good practice to get in the habit of doing in the kitchen for easier execution of your recipe. So, Let's get started!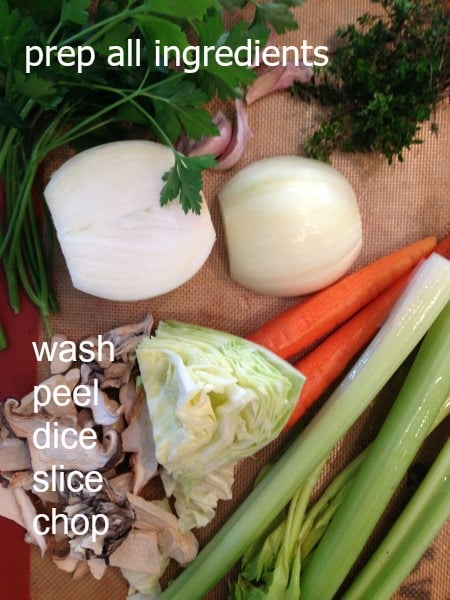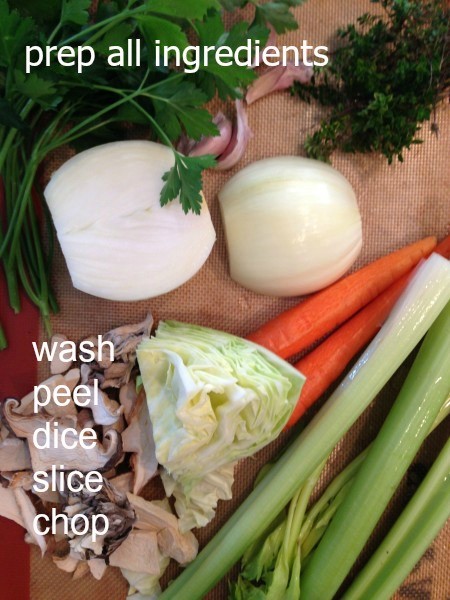 What is "mise en place"
So let's get back to what is "mise en place". (MEEZ ahn plahs!) This is a French term used in culinary for "everything in it's place". Before you begin cooking a well-planned "mise en place" will give you an easier execution of your cooking experience. You will be better organized with your ingredients and equipment prepped and gathered ahead of time so you can enjoy and relax during your cooking time. This is a must when teaching classes, catering, professional cooking in a restaurant, and at home.
Who needs to do this?
All cooks, everyone who loves to cook should start this practice. After a few times of seeing how simple this is for your cooking experience  it will soon become a habit.
Why bother?
If you cook often as I do, distractions happen, whether you're at home or in the workplace. Also most importantly , this tip will save you time, so you don't leave out any ingredient in your recipe. The worst experience as you know is to have to toast nuts, chop an onion, or zest a lemon in the middle of a recipe.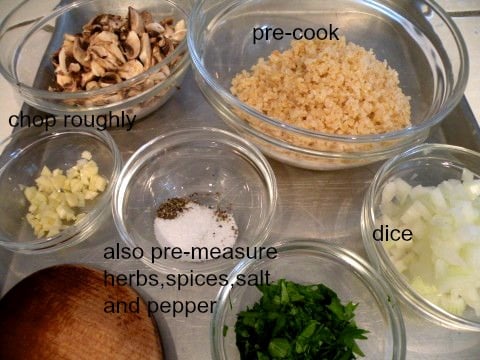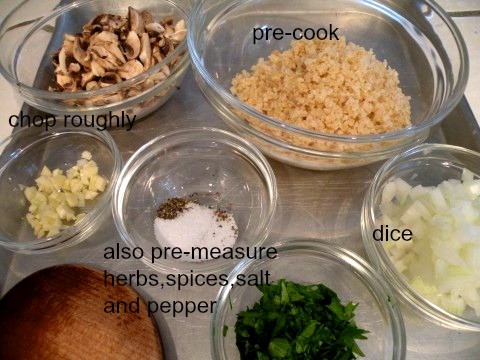 What do you do?
You will wash, cut, slice, gather and prep all the ingredients in your recipe before you begin cooking. Don't forget to bring out all the equipment you will need such as pots, pans, cooking utensils, and knives.
When do you do this?
Before you begin cooking your dish, measure out individual ingredients and place them in ramekins, small and large glass bowls and place on one to two sheet trays.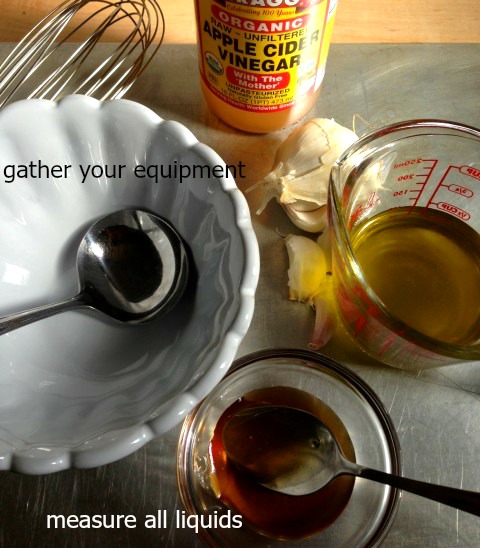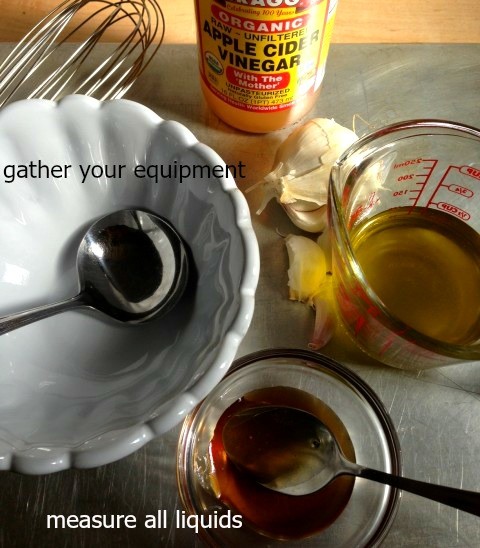 It's that simple.
Here's what you will need to get started.
1-2 (13×18) sheet trays or cookie sheets. Or just use your counter top.
2 sets of glass bowls of all sizes – I like the nestled glass sets you get at Sur La Table, Crate and Barrel, or Williams Sonoma.
Make sure you measure out your spices, salt and pepper, zest, butter, olive oil, flour, baking powder and soda, all liquids, etc…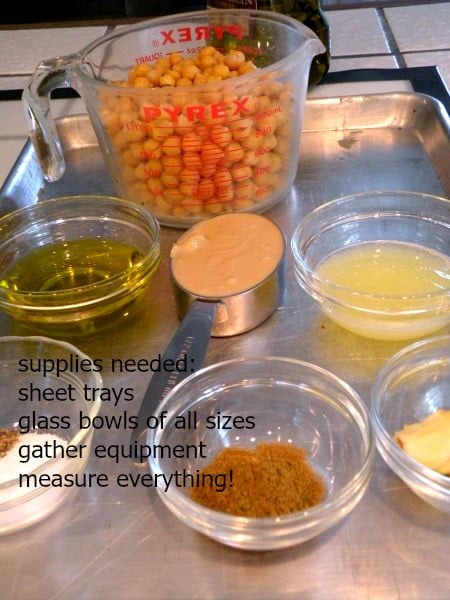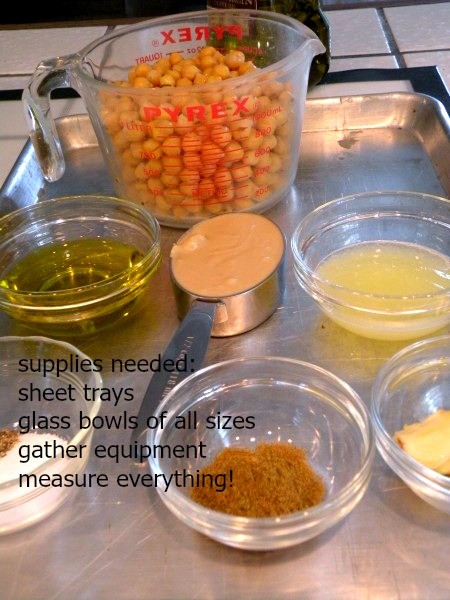 Now, you are ready to go! Once, you get in the habit of doing this, it will allow you become interrupted without leaving out an ingredient in your recipe. Trust me it happens.
A perfect example of what happened to me as an early cook~
One Christmas, I had two girls under the age of 3, and I was having everyone over for the holidays. That meant two cheesecakes must be baked for my large family. Well, this is not an inexpensive dessert to make. While I was cooking, the girls were hungry, so I fed them. They must have asked 1,000 questions, and I cut into the cake that evening and I had left out the sugar! Yuck! I was so embarrassed and had to throw out both cakes. No dessert that night, other than ice cream.
Enjoy cooking!
Mary
Visit my blog for more "Cooking Techniques".
© 2015 – 2019, Mary Papoulias-Platis. All rights reserved.