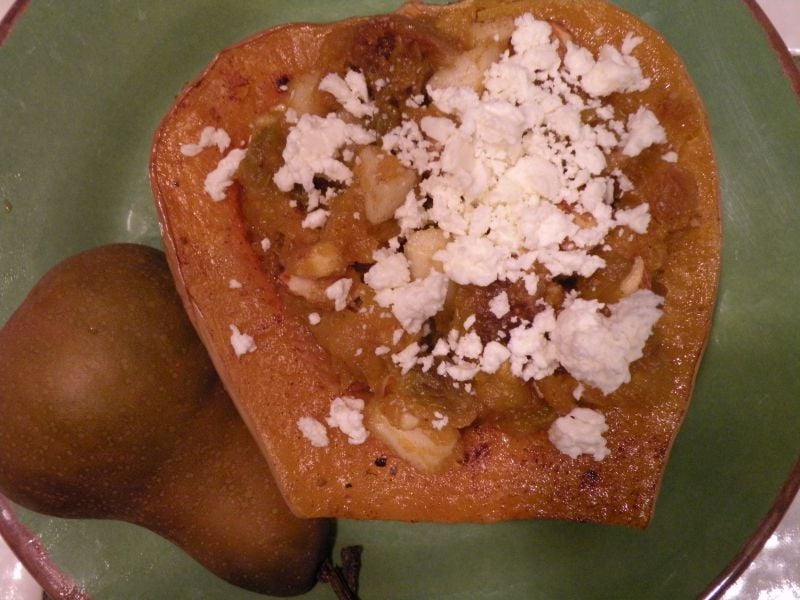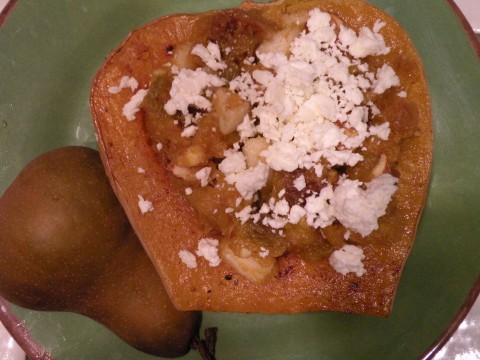 Autumn has arrived and in celebration of our new season,  I'm baking butternut squash in my oven, enjoying the autumnal spices as they perfume my home. I often roast this wonderful squash with a splash of olive oil, dried oregano and basil. This recipe has the flavors of pumpkin pie without the crust.  It  makes a great side dish to any meal, or as a light main dish.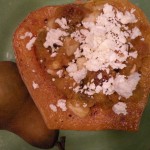 Autumn Pear-Stuffed Butternut Squash
Stuffing butternut squash gives you the fall-spiced treat you need for your fall menu.
Ingredients
Preparation for the squash
Pre-heat oven to 350 degrees

1

teaspoon

olive oil

1/8

teaspoon

each of cinnamon and nutmeg

1/4

teaspoon

salt

1/4

teaspoon

pepper
Filling
1

large butternut squash

halved, and seeds removed

1

bosc pear

cored and peeled, roughly chopped

4

California dried figs

roughly chopped (see note)

2

tablespoons

California golden raisins

2

tablespoons

finely chopped almonds

2

teaspoons

honey

1

tablespoon

brown sugar

1/8

teaspoon

freshly ground nutmeg

1/4

teaspoon

cinnamon

2

tablespoons

Greek feta

crumbled

Note: I use Nutra Figs

their moist and delicious (www.nutrafig.com)
Instructions
Cut each squash in half and again in half cutting near the top of the rounded bottom leaving a long half. (See photo . Now, you should have 4 pieces.

Place all the pieces on a parchment lined sheet pan.

Sprinkle all four pieces with a little olive oil, cinnamon and nutmeg.

Turn and place the squash skin side down on the sheet pan.

Bake at 350 degrees for 45 minutes or until fork tender. Let cool slightly.

Scoop out the flesh from the long end only and place in bowl. Using a fork and gently mash flesh.

Add pear, figs, raisins, almonds, honey, sugar, nutmeg and cinnamon.

Stir all ingredients gently together.

Place the mixture evenly into the two squash pieces.

Bake in the oven for 5-8 minutes until warm and lightly golden.

Sprinkle with feta cheese and serve warm.
To begin this recipe, you will need the following equipment:
1 sheet pan
parchment paper/silpat/
medium bowl
First step is to cut the squash into four pieces.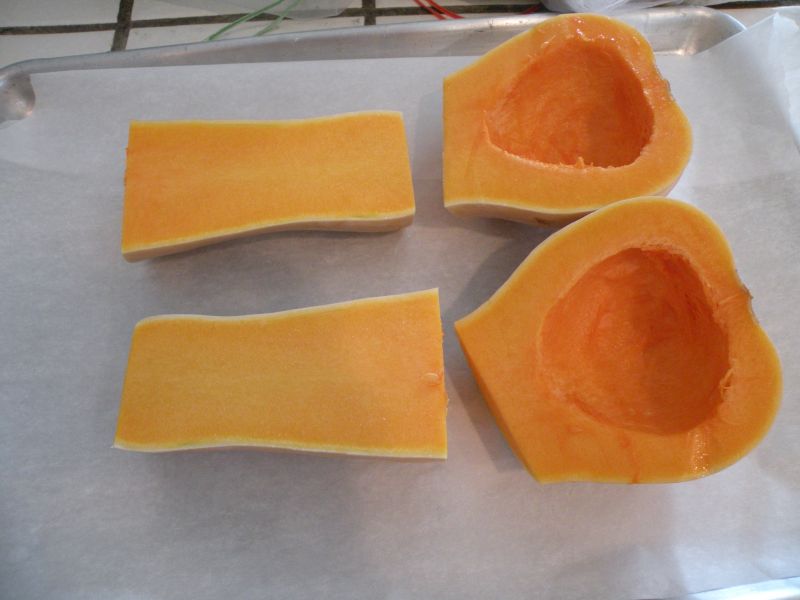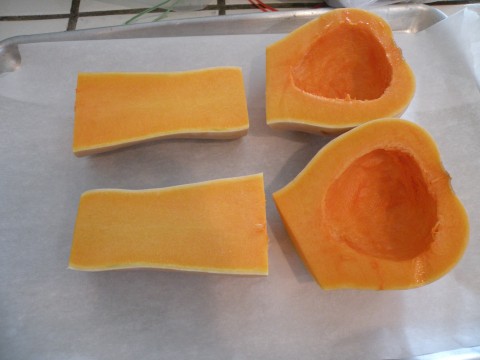 Sprinkle with spices and oil.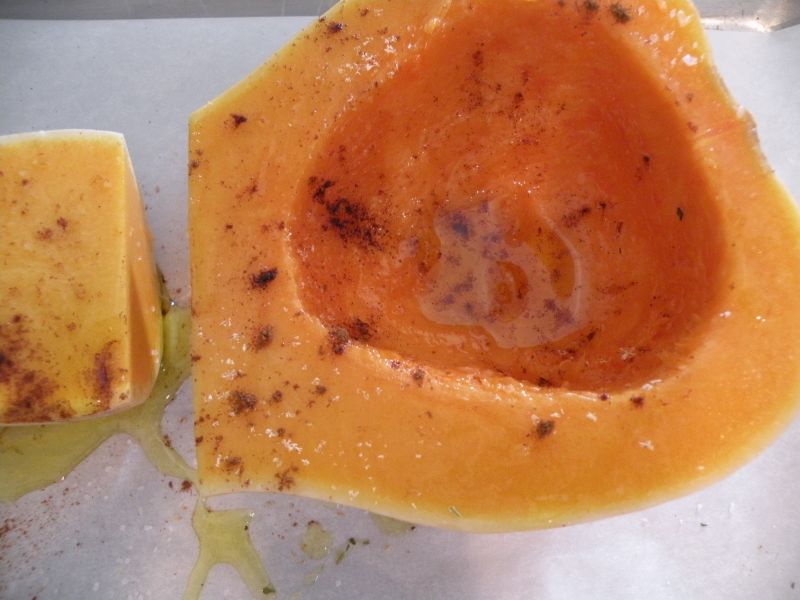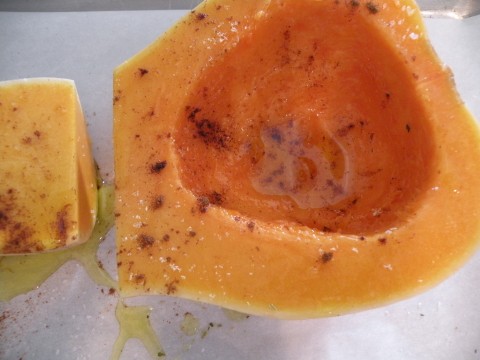 Bake in the oven at 350 degrees until fork tender.(about 45 minutes)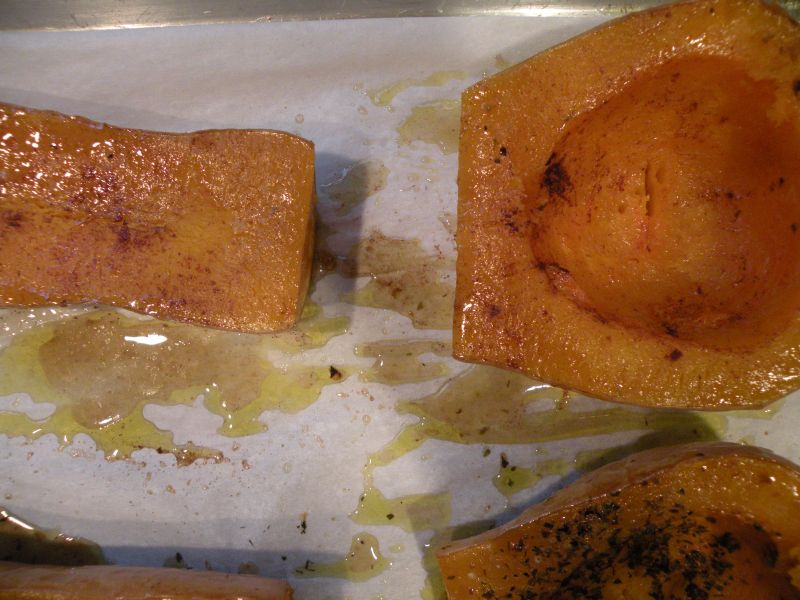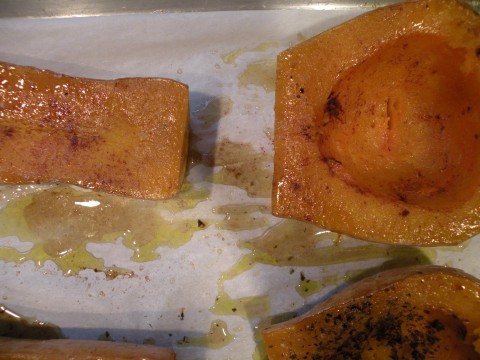 Scoop out flesh from long piece only. Place in bowl and mix in other ingredients.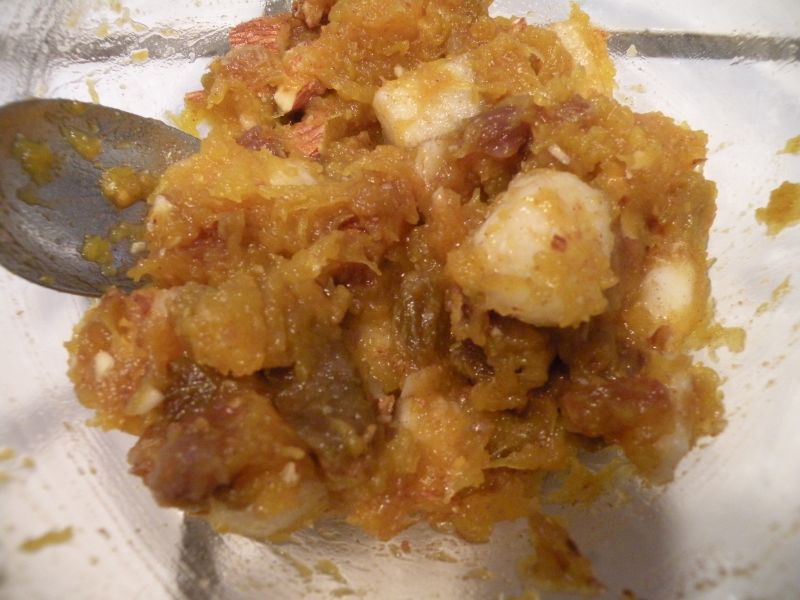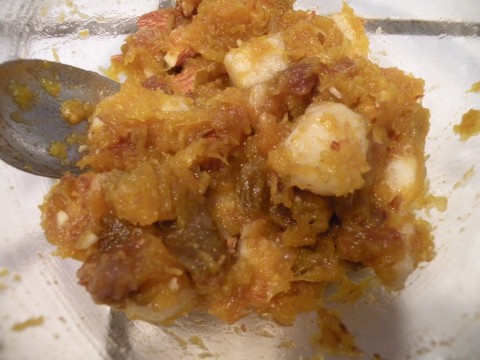 Stuff mixture evenly into the two round pieces. Sprinkle with feta cheese.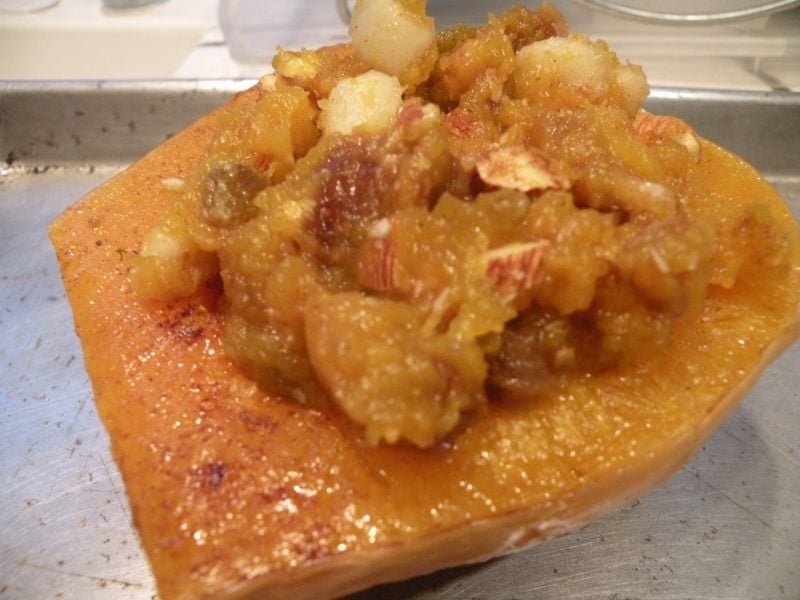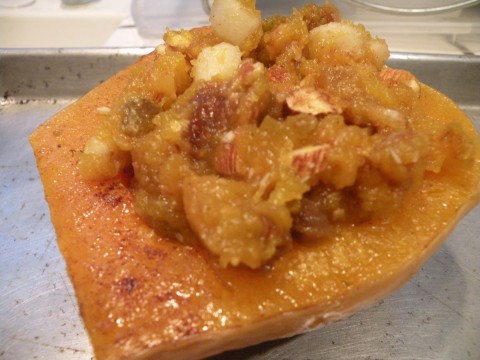 Serve warm.
© 2010 – 2023, Mary Papoulias-Platis. All rights reserved.