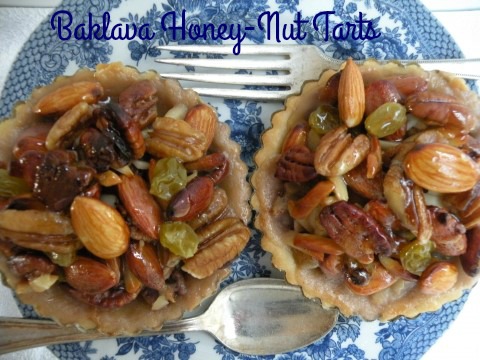 These Baklava Honey Nut Tarts are a new version of the traditional and famous Greek Baklava. Baklava, being the king of all Greek pastries,  I do like to create different versions of this traditional dessert. So, here are my version of a Greek Tart glazed with assorted nuts in an individual form, perfect for that special date, Valentines Day, or one for you and one for your best friend. Enjoy these tarts warm with a scoop of heavenly vanilla ice cream. These Baklava Honey Nut Tarts can be made in a larger pan, just adjust the amount of filling and cooking time. Place you own spin on this recipe, by adding your own combination of nuts and raisins. Try adding dried cranberries, cherries, dates, mango, or blueberries.  If you are short on time, you can purchase your tarts at Pillsbury.  Or take a look in your freezer or refrigerated cases at your local supermarket.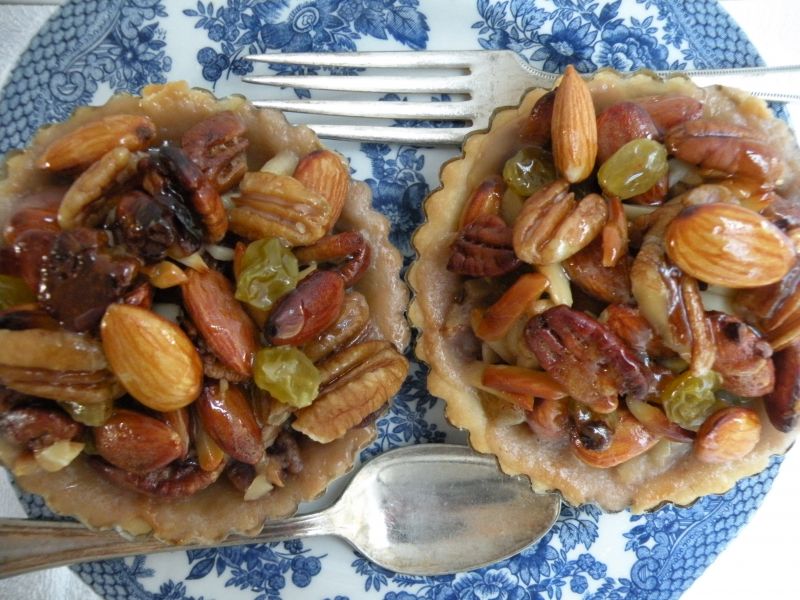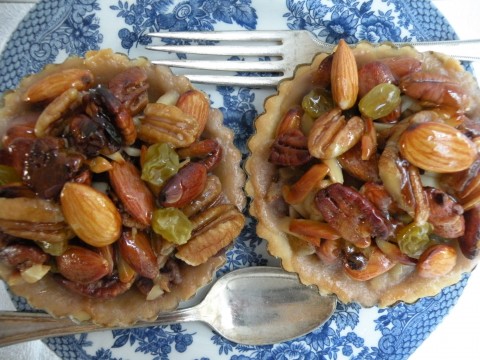 Are you a fan of honey? Honey has so many health benefits;
Honey contain many nutrients, and is rich in health-promoting plant compounds, called polyphenols.
It's rich in plant compounds and antioxidants, such as flavonoids and phenolic acids.
Honey has been linked to beneficial effects on heart health, including reduced blood pressure and blood fat levels.
Try and buy your honey at your local farmer's market. An organic honey will ensure you to have a higher level of these benefits. Here is a company I enjoy buying my honey from: Mikolich Honey.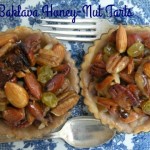 Baklava Honey Nut Tarts
Try this updated tart and surprise your family with a new twist!
Ingredients
Filling
1

cup

heavy cream

1/3

cup

honey

1/4

cup

granulated sugar

3

tablespoons

butter

3

cups

assorted nuts - walnuts, almonds and pecans

1/2

cup

golden raisins-optional
Dough
Makes 7 -4 3/4 inch fluted tart shells

13

tablespoons

butter, cut into small pieces

1/3

cup

confectioner sugar

1

large egg yolk

1 /12

cup

all-purpose flour

1

tablespoon

heavy cream
Instructions
Tart Dough
Let the butter sit at room temperature for 10-15 minutes, but still cool.

Place the confectioner sugar in a mixer or a medium bowl.

Add the butter and using the paddle attachment or a hand mixer, cream the sugar.

Scrape down the sides, and add the egg yolk. Scrape again.

Add half the flour and beat until crumbly.

Add the second half of the flour and cream.

Beat until dough forms a sticky consistency.

Shape the dough into a disk, wrap in plastic, and refrigerate for 45 minutes to an hour.

Cut the dough into 7 equal pieces, and roll out into 5 1/2 inch rounds.

Place in tart shells, and place in the freezer for 30 minutes.

Bake at 375 degrees for 10-12 minutes, to partially bake the shells.
Filling
Combine the cream, honey, sugar, and butter in a small saucepan and bring to a boil over medium heat. Simmer for exactly 1 minute.

Remove from the heat, add the nuts and stir to coat.

Divide the nut mixture among the partially baked tarts, mounding in the center.

Bake in a 375 degree oven for 20-25 minutes until the filling is bubbling round the edges.

Remove from the oven and let sit for 30 seconds.

Remove tart from the form and serve warm.

Drizzle with honey and serve with vanilla ice cream.
Love Baklava? Try these other recipes:
Greek Baklava Bark with Ouzo or Greek Coffee Bark with Oregano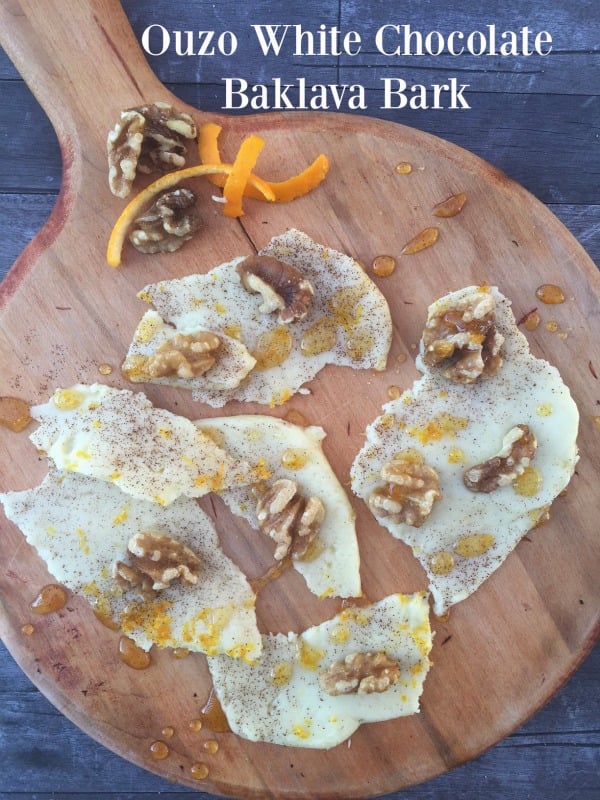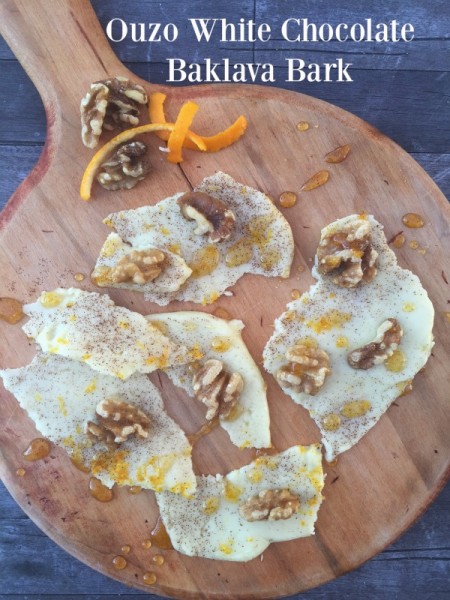 Baklava Orange Upside-Down Cake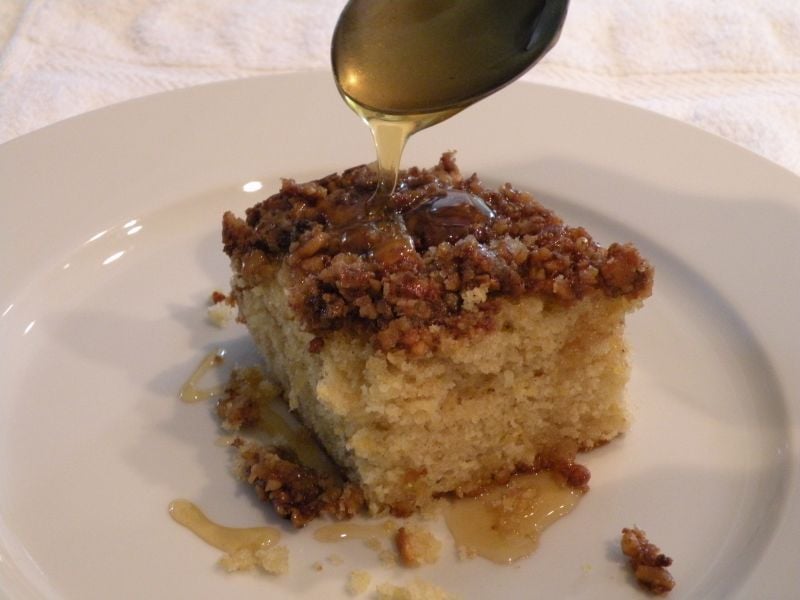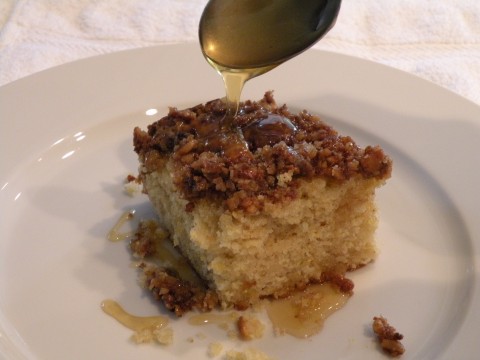 Bittersweet Chocolate Date Nut Baklava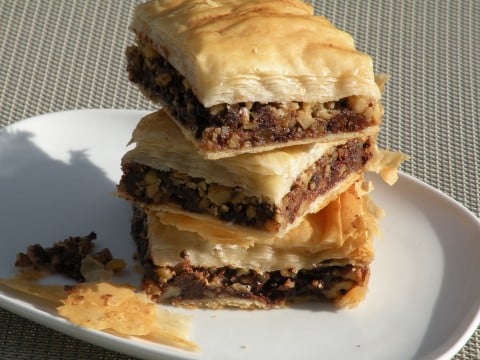 I can't get enough!
Mary 
© 2012 – 2023, Mary Papoulias-Platis. All rights reserved.