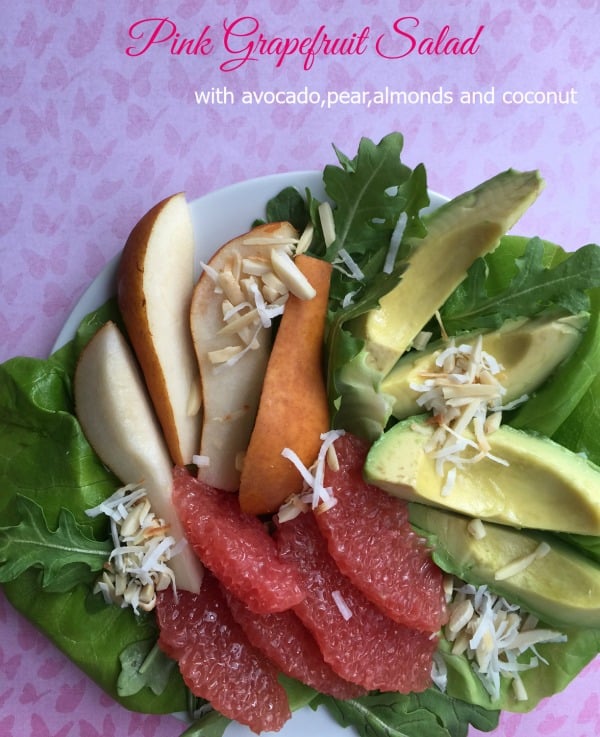 I was craving a clean fresh salad this week, and I had to use up all these beautiful pink grapefruit I was given by my sister-in law Vicky. They were picked from her backyard tree, and they smelled divine sitting on my kitchen counter. We squeezed many of them for fresh morning juice, but still had several leftover.
Here in California, citrus is in abundance, so it's not so difficult to get fresh produce here. I looked up what was is in season and headed to Jimbo's to see what to add to my salad. I try to cook along with the seasons, but in order to do that I have to stay within shopping boundaries. What I mean by that, try and shop ahead at your farmer's markets, or at a small market that emphasizes local produce from your nearby farms.
The average person is overwhelmed by the choices in the larger supermarkets. I sat down to talk to my daughter's friends ranging in age from 26-35 while they were out visiting and I was alarmed by their response to some of my questions. The one that stands out the most is that they find the large stores are to difficult to shop in. My answer was simple, find a small market and start there. "Shop Small, Shop Local."
Can you believe these California beauties!
A little toss in a frying pan or oven for a few moments and you have toasty results. It brings out the flavors in the nuts and coconut so please don't skip this.
Stay tuned for my Grapefruit Olive Oil Cake coming soon!
© 2016, Mary Papoulias-Platis. All rights reserved.