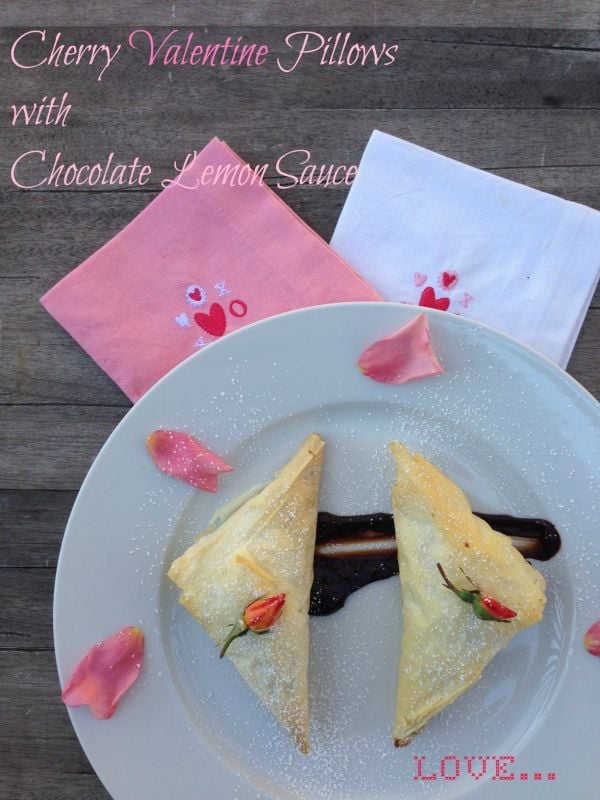 The first thing I thought about when coming up with a Valentine recipe was sweet dark cherries. Cherries and Chocolate. Who can resist a cherry pastry after a lovely Valentine's dinner?  I always reach for chocolate,  but this time I wanted something simple that can be made ahead. These phyllo creations are perfect for the busy cook because they can prepared ahead of time and placed in the freezer. Just remember to buy your phyllo early in the week and place in the refrigerator to defrost. Line a tray with wax/parchment paper and freeze your pastry layering with more paper. Pop them out and bake, with a drizzle of my bitterweet chocolate lemon sauce and a dusting of powdered sugar! Bake them off right after dinner, and they are ready and warm. Ummm…comfort.
Easy as pie…
Use three buttered layers of phyllo dough
Cut into strips depending on the shape desired.
Fill with cherry sauce.
Wrap and bake.
Cherry Valentine Pillows with Chocolate Sauce
Bring on a healthy version of dessert with a touch of naughty. Make these fluffy pillows for your special one with a drizzle of your favorite chocolate. Make ahead and bake up warm...ummm!
Author:
Mary Papoulias-Platis
Ingredients
½ pound phyllo, defrosted
1 sticks of butter, melted
1 24 oz. jar of sour cherries or a can of dark sweet cherries, pitted and drained well
(I bought mine at Smart and Final)
½ cup sugar
2 tablespoons plus 1 teaspoon Tapioca
1 teaspoons cinnamon
½ teaspoon cardamon
dash of salt
dash of vanilla
½ cup chopped walnuts or your choice, chopped
Chocolate Sauce
6 ozs. bittersweet chocolate, chopped
¼ cup heavy cream
3 tablespoons water
1 tablespoon lemon zest
Instructions
Mix together the drained cherries, sugar, tapioca,cinnamon, cardamon, vanilla, and salt and let stand for 15 minutes.
Meanwhile make the chocolate sauce.
Place all the ingredients in a bowl. Use a double boiler or a bowl over a pot of simmering water and melt. Remove from heat and strain into a bowl.
Place the phyllo on a clean surface or towel.
On a large surface or on wax paper/parchment paper place the first sheet. Brush with melted butter.
Repeat with three sheets. Cut in half lengthwise for a box shape or thirds for a triangle shape.
Place 3-4 cherries at one end of the dough strip, add a sprinkle of walnuts. For the square add 4-5 cherries.
Roll in a flag method for a triangle or roll in a square shape folding in the sides as you go.
Place on a buttered sheet pan.
Bake in a preheated oven at 350 degrees for 20-25 minutes, until slightly brown.
Remove from the oven and let cool slightly.
Sprinkle with powdered sugar and drizzle with melted chocolate.
Serve warm.
Notes
Phyllo pillows can be made ahead of time and placed in the freezer before baking. Cover. Remove and bake frozen for a few minutes more.
You can serve these delights two different ways, or come up with your own design!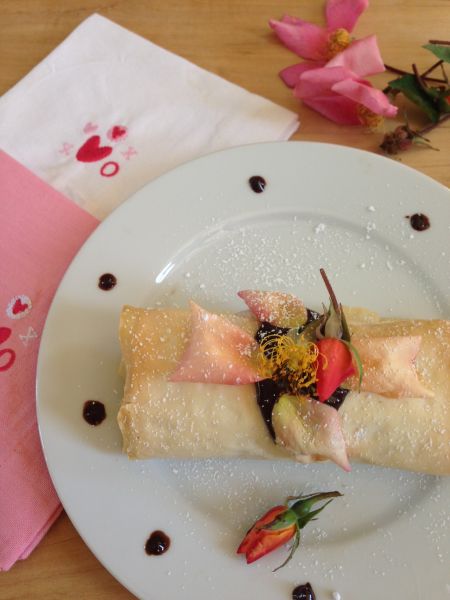 © 2015 – 2018, Mary Papoulias-Platis. All rights reserved.