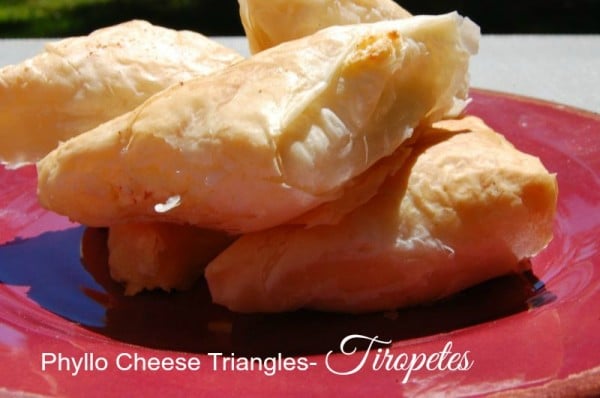 If you love feta cheese these Phyllo Cheese Triangles will be worth making at your next party. Make them ahead and freeze them then just pop them in the oven. Serve them with beer and wine as a great party favorite! My mother loved making these appetizers during special occasions and for Sunday dinners. I have to tell you this is my favorite appetizer of all! They come out of the oven warm and crispy, with a tang of hot feta cheese that envelopes your mouth. These are very traditional so do ask for them at your favorite Greek restaurant. These are a must for your holiday table.

Phyllo Cheese Triangles - "Tiropetes"
Creamy cheese-filled triangles wrapped in crunchy phyllo dough make the perfect appetizer. Makes 32 triangles.
Author:
Mary Papoulias-Platis
Ingredients
½ pound feta cheese
1 cup cottage cheese
1 egg beaten
1 tablespoon finely chopped parsley
1 stick butter, melted
½ pound phyllo pastry- defrosted overnight in the refrigerator and at room temperature
Instructions
Pre-heat oven to 375 degrees. Butter a sheet pan or cookie sheet.
Crumble feta into a medium bowl.
Add cottage cheese and egg and blend thoroughly.
Mix in parsley.
Remove phyllo from box and unroll.
Working on a sheet of wax or paper , remove one sheet and place on work surface. Butter lightly.
Lay second layer on top and butter.
Cut phyllo lengthwise into 3 long strips.
Place a teaspoon of cheese filling at the end facing you and fold like a flag into a triangle.
Place on buttered sheet pan. Butter tops of triangles with butter.
Bake for 20-25 minutes until golden brown.
Repeat with remaining phyllo.
Notes
For a Party: Can be frozen, without thawing .Place them on a wax-lined or parchment lined cookie sheet, butter tops,and layer the triangles with paper and freeze. Freeze left-over filling to be used again.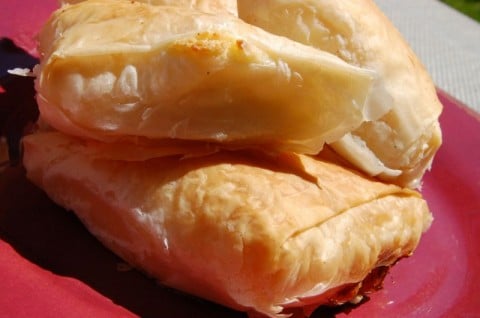 © 2010 – 2015, Mary Papoulias-Platis. All rights reserved.