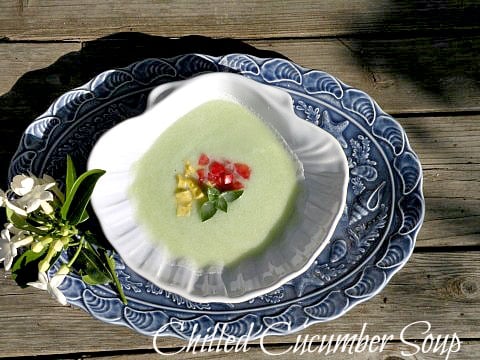 Everyday as I wander through my garden, I'm actually scared to look at my cucumber vines!  Why? Well, among the twisted mangled leaves lay newly born ripe cucumbers .
Now, what?  Instead of your typical cucumber salad I played around with a cold soup for these haunting hot days we have been having.  A  no- cook,  no BBQ recipe.  Fast and easy.
I love topping my soups with something delicious so I chose  fresh tomatoes and my "fav" an avocado.  Plus a dollop of Greek yogurt in the center, that makes me happy! Use any combinations you want for topping, but keep it light and fresh.  And you can omit the yogurt or sub in sour cream.  Don't forget the Greek basil, parsley, or dill on top.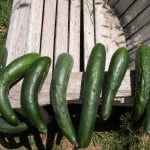 Chilled Cucumber Soup with Avocado, Tomato and Basil
Want to cool off, then try this incredibly tasty soup and it's chilled for those warm days.
Ingredients
8

cups

of large 2 " chunks of seeded cucumber, 6 or more

4

scallions, green only

1

cup

plain Greek yogurt or regular yogurt

1/4

teaspoon

sugar

1

tablespoon

lemon juice

1

teaspoon

salt

pinch

of black pepper

Garnish

1

tomato seeded, chopped finely

1

avocado, peeled chopped finely

Sprigs of parsley, basil or dill
Instructions
Toss the chopped cucumbers and scallions in a large bowl.

Puree half the cucumber mixture in the blender with 1 1/4 cups cold water for about 1 minute until smooth.

Transfer puree to a glass bowl. Puree the remaining batch with 1 1/4 cups cold water, process until smooth.

Whisk in the yogurt, sugar, lemon juice, salt the pepper. Taste for more seasonings.

Cover tightly and refrigerate until chilled for at least one hour, or overnight.

Garnish with a spoonful of yogurt, add the diced avocado and tomato to each bowl.

Add the basil or herb of your choice.

Serve cold. Can be served in small bowls for an appetizer.
© 2011 – 2023, Mary Papoulias-Platis. All rights reserved.