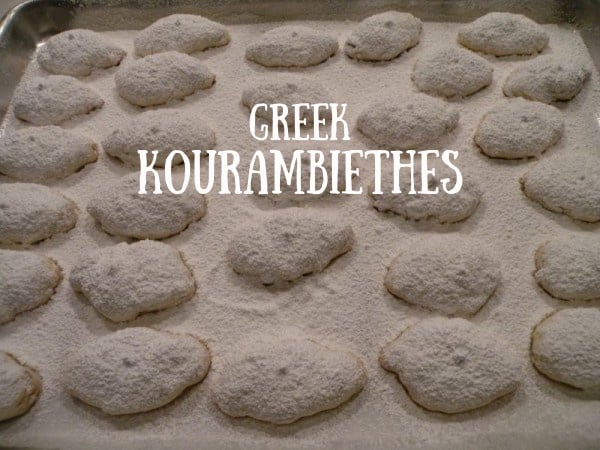 My favorite cookies of all times is the Greek Butter Cookies, Kourambiethes!
Biting into a Greek Butter Cookie with it's pillowy soft texture takes me back to family memories in the kitchen with my mother. These cookies are called Kourambiethes. Holidays in the Greek tradition depict which cookie will be served to fit each occasion. These Greek butter cookies are also baked for weddings, baptisms, name days and other festive occasions. I will never forget my aunts arguing before my wedding date as to who will be baking what cookie or dessert for my wedding. I think every Greek pastry was represented there that night. In our family we have always placed a whole clove in the center of each cookie before baking them in the oven. As kids, I never appreciated the taste of the clove, but as I got older and started baking, I enjoyed that warm bite of clove on top of the cookie which added a nice surprise.
I do make these Greek Butter cookies by hand in a large bowl. This is the way my mother taught me. There is something to be said about the feel of the dough coming together as it cleans the edges of the bowl when ready. This recipe can be halved.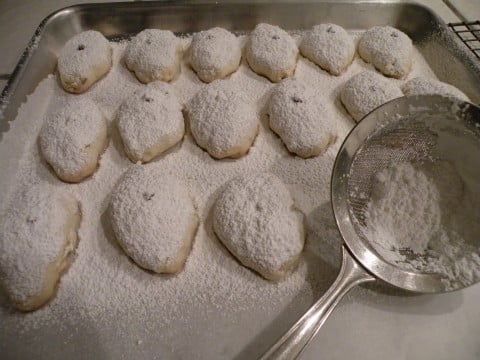 Why I use cake flour: Swans Down is made from the finest American soft winter wheat and repeatedly sifted so that it's 27 times finer than all-purpose flour. Swans Down Cake Flour is a pure soft flour that does not contain a leavening agent or salt. It is the perfect flour for all of your special baking needs.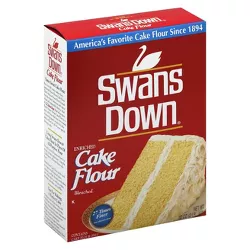 King Arthur also has a cake flour: It contains the perfect amount of protein to give your cake structure and create the texture you're after. Our cake flour yields higher-rising, tender cakes with a fine, moist crumb.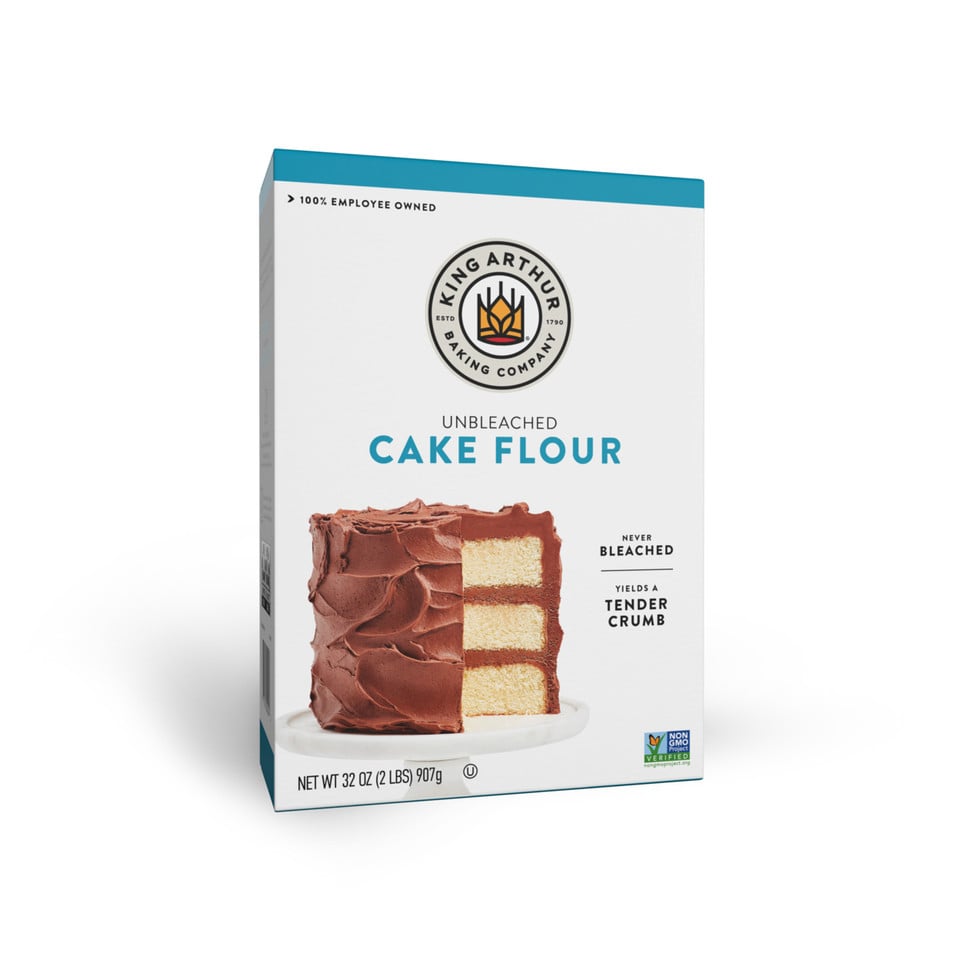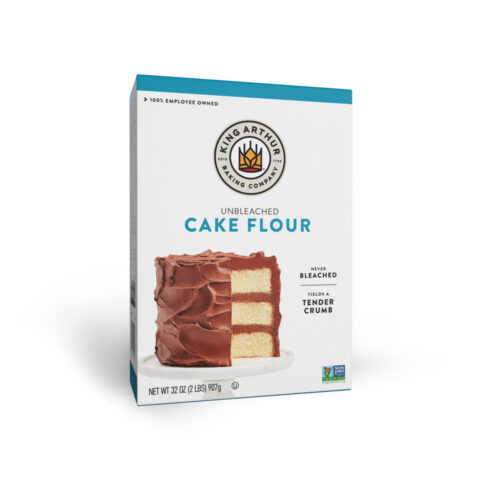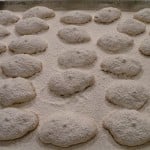 Greek Butter Cookies Kourambiethes
These are Traditional Greek butter cookies are baked for special occasions, weddings, Christmas, and Easter. This makes a big batch, the recipe can be cut in half. How to halve a recipe with one egg: Crack the egg and whisk together the yolk and whites. Then measure out half.
Ingredients
3/4

package Swan's Down Cake Flour (any cake flour) (32 ozs. per box)

1

egg, separated

1

pound

sweet butter, melted and cooled

1

cup

powdered sugar

1

teaspoon

vanilla

1/2

cup

fresh orange juice

1/2

teaspoon

baking soda

1 1/2

teaspoon

baking powder

1

small pkg. slivered almonds, coarsley chopped, toasted lightly

whole cloves for center of each cookie, optional

1/2

pound

powdered sugar for topping
Instructions
Place melted butter in mixer and beat for 20 minutes until light in color. The butter will change from medium yellow to a pale color.

Remove butter from mixer, and place in large bowl.

Beat the egg yolk with a fork, and add to the butter and mix well with a wooden spoon or your hand. (If you halve the recipe, beat the egg, then divide.)

Beat the egg white with a clean fork and gently fold into butter. (If you halve the recipe, beat the egg white, then divide in half.)

Add powdered sugar and vanilla. Mix by hand or spoon.

Place the baking soda and powder in a cup and stir in the orange juice. (Do this over the bowl, it may overflow)

Pour into the butter mixture and blend with hands. (or spoon)

Add flour slowly until incorporated thoroughly. (Do not over-mix)

If the dough pulls away from the bowl and leaves it clean, the batter has had enough flour.

Add the toasted slivered almonds.

Shape into oval or round flat cookies by hand. Add a clove in the center of the cookie. (optional)

Line a baking sheet with parchment or a liner.

Bake cookies at 350 degrees for 15-20 minutes.

Remove from pan and place on to rack to cool. (do not place sugar on them when cookies are warm- sugar will melt)

Shift powder sugar on platter and place cookies on platter. Sprinkle with powdered sugar until covered.
More Greek Cookies you can bake:
Melomakarona Honey Drenched Spice Cookies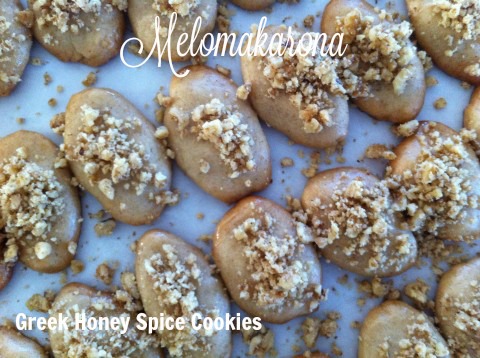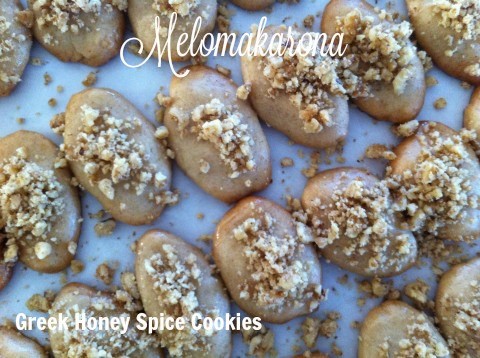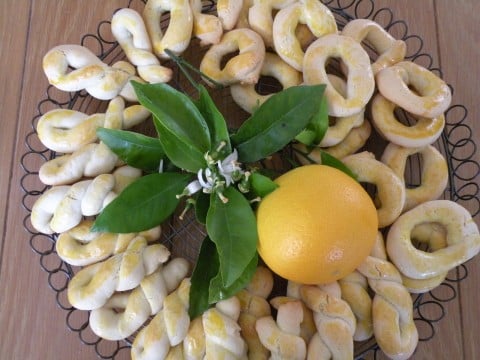 Have a Beautiful Holiday,
Mary
© 2012 – 2023, Mary Papoulias-Platis. All rights reserved.