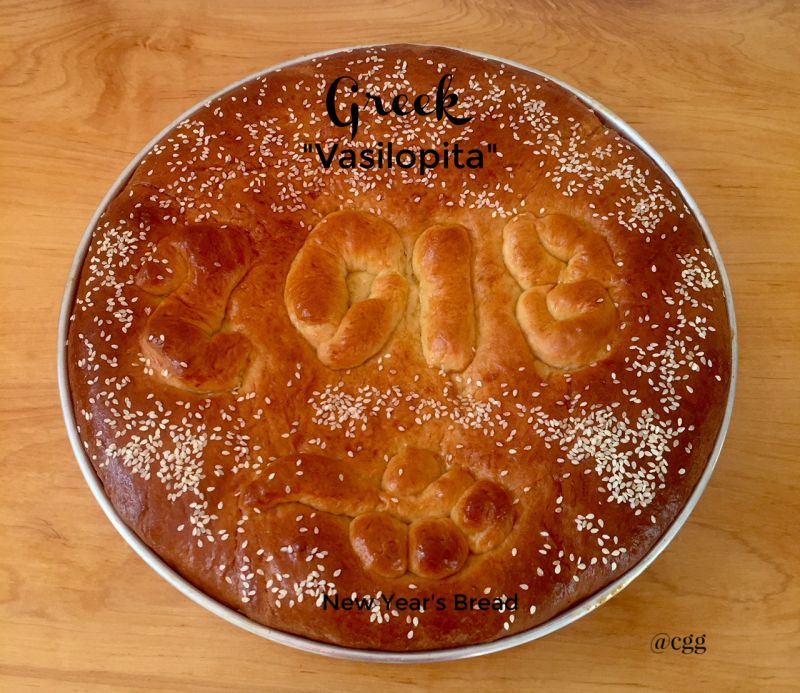 The Vasilopita, Greek New Year's Eve bread is baked with the date of the current year and a coin placed in the batter. It is cut around the family table on New Year's Day with the hopes of getting the lucky slice with the coin inside. In our home, friends often gather for the cutting ceremony so this is the reason I make one larger pan for the family. This is an all day recipe, so start the day before or early in the morning  as suggested. This will be a fulfilling and wonderful project and a nice way to spend the day in the kitchen with the family and the sweet smell of bread baking in anticipation for the New Year to arrive! This recipe was originally given to Helen Platis, my mother in-law from a dear friend of hers, Angie Anas.
NOTE: To make this recipe plan ahead! This recipe requires you to make the yeast mixture the night before.
Prepare all your pans ahead of time. Decide how many breads (big and/or small) you would like to make.
Give yourself plenty of time to make this recipe. Possibly a full day.
In our family we use the same recipe for our Easter Bread, but add a couple of red -dyed Easter Eggs.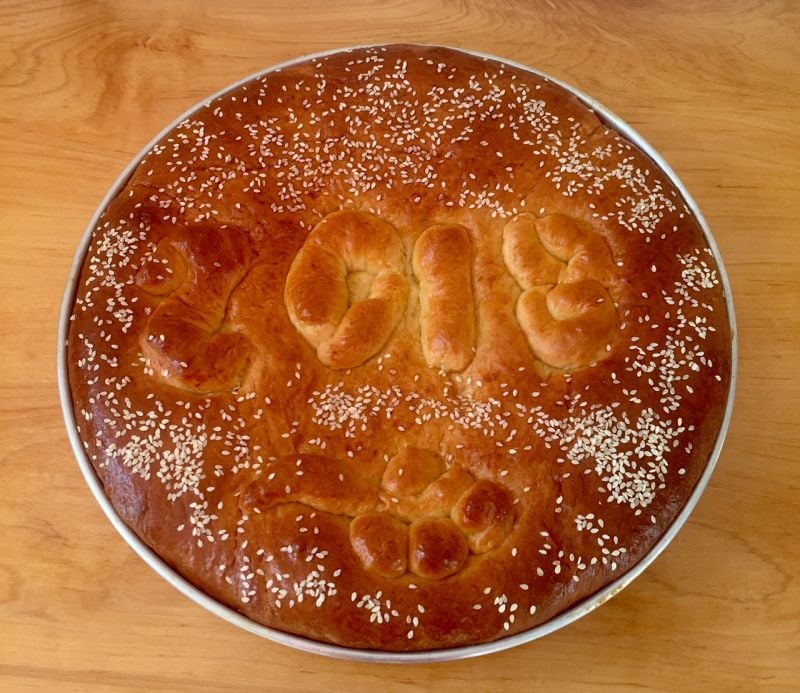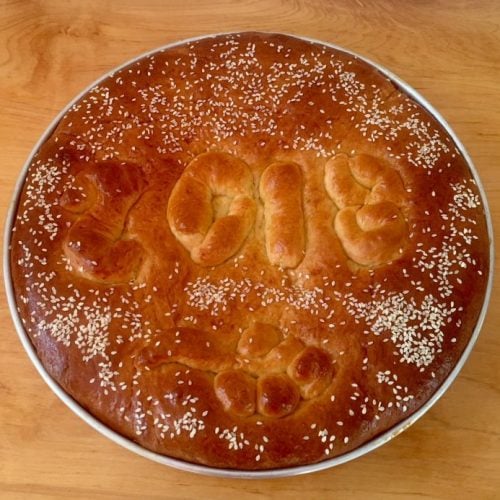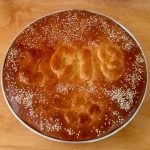 Greek New Year's Eve Bread
This bread is a traditional bread to be eaten during the Greek Holidays. And don't forget to place the coin wrapped in foil, inside the bread before baking. Happy New Year!
Ingredients
5

lbs

of all-purpose flour

4

cups

whole milk

1

pound

sweet butter

1

tablespoons

salt

3 1/2

cups

sugar

1

dozen eggs

3

packages dry yeast

regular not instant

4

teaspoons

vanilla

3

teaspoons

cinnamon

sesame seeds for garnish

coins and wax paper
Instructions
Yeast
Prepare yeast the night before or in the early morning.

Dissolve yeast in 2 cups of scalded milk which has been cooled to lukewarm temperature.

Add 2 cups flour. Cover with a towel and put in warm place.
Next Day
Melt butter and allow to cool.

In a large bowl ( spaghetti pot for mixing ) beat together eggs, sugar, butter, 2 cups warm milk, salt , vanilla, and cinnamon. ( I use a big wooden spoon)

Add the yeast-flour mixture. Start with 4 1/2 pounds and add enough flour to make a soft dough. Knead well. (You may not need all the flour)

Cover and let rise till double in size. ( this could take up to 4 hours)

Punch down and let rise again.

Butter all the pans.

Tightly wrap a coin in wax paper. Place one coin on the bottom of each pan.

Divide dough into equal amounts for small pans, and place in the individual pans, leaving out a small amount for the numbers.

If using a larger pan, divide dough into four equal amounts, placing 2 batches in the larger pan.

Make numbers by rolling dough between hands like small cigars.Shape into numbers denoting the year. Place on the dough.

Let rise until double in volume.

Before baking brush with a mixture of an egg yolk and water and sprinkle with sesame seeds.

Bake at 350 degrees in the middle of the oven until done, approx. 30 - 45 minutes. Check when done after 30 minutes. (ovens vary) Internal temperature should be 200 degrees.

I place two pans in the middle of the oven at a time. The other pans can be refrigerated until ready to bake.
Recipe Notes
Makes: 5-6 loaves in 8- inch round pans.For a larger crowd: 3- 8 inch round pans and one large12x3 inch round for the family. Can be frozen and defrosted when ready to use.
As you can see in this picture, I use a large pan for my family, and several small pans to give to family to take home.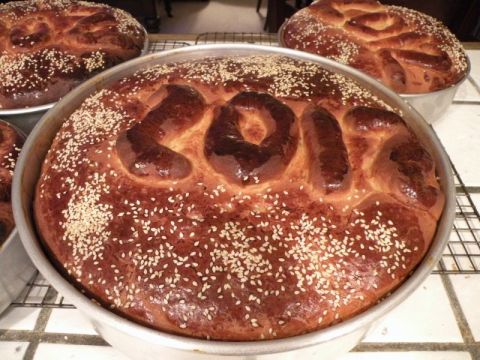 If you are short on time, I suggest you try my Vasilopita Cake.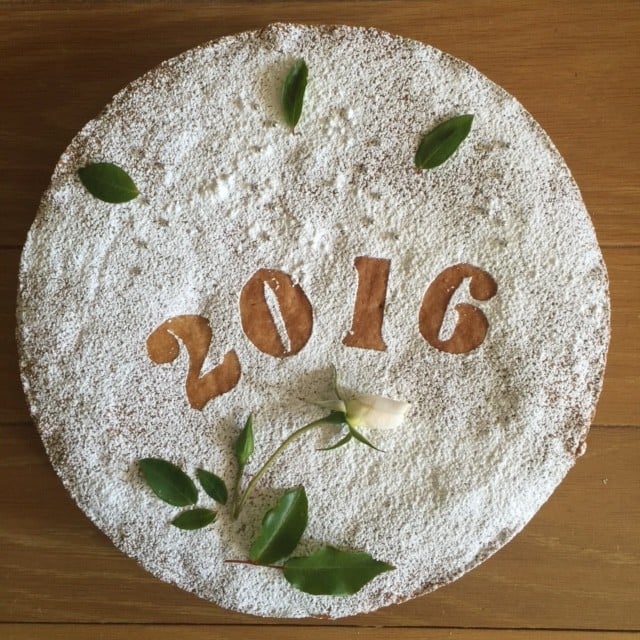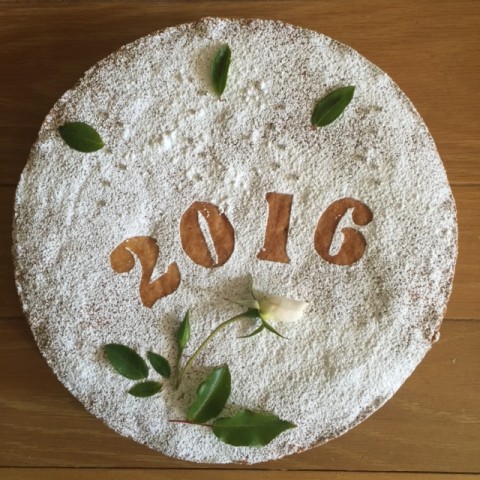 Happy New Year to All! 
Mary
© 2010 – 2023, Mary Papoulias-Platis. All rights reserved.