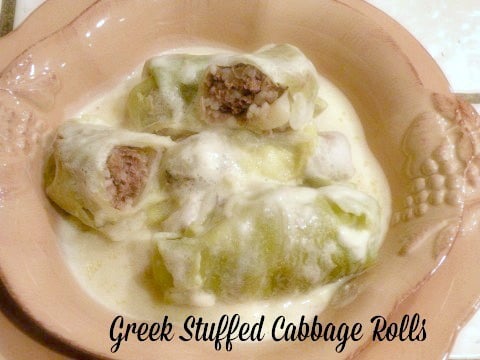 When visiting Greece this last season every household had rows and rows of cabbage growing in their backyard gardens. This fall dinner brings warmth to the table and is definitely considered a Greek comfort food. The stuffing can be made from beef or lamb, just substitute with the same amount. I like to serve this dish with avgholemono sauce, an egg and lemon sauce. It also can be served plain with the remaining  juices from the pan. A dollop of sour cream  is extra,  just our little addition!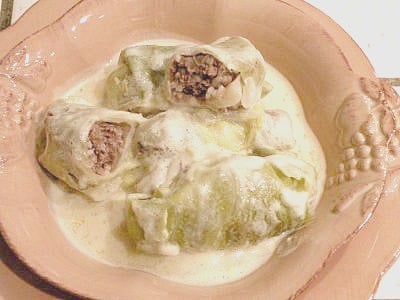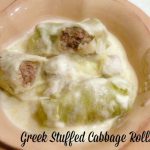 Greek Stuffed Cabbage Rolls - "Lahano Dolmathes"
Traditionally served in the winter when cabbage is available in the garden. Can be made with quinoa, bulgar, or coucous for a vegetarian meal.
Ingredients
1-2

heads of green cabbage
Filling
1

pound

of beef or lamb

1

onion, finely chopped

1/2

cup

rice

1

egg

1/2

cup

parsley, chopped

1/2

cup

tomato sauce

1/2

teaspoon

salt
Egg and Lemon Sauce
3

eggs

juice of two lemons

1

cup

hot broth from cabbage water

pepper to taste
Instructions
Preparing the cabbage
Place a large pot on to boil. Cut the core out from the center of the cabbage. Carefully drop the whole cabbage into the water.

Boil for 10 minutes. Remove from the water and allow to cool for a few minutes. Reserve the cabbage water for later.

Peel the leaves carefully, so they do not tear.
Filling
Mix the ingredients for the filling. Place a tablespoon of filling on each leaf near the end of the stem.

Roll tightly like a cigar. See Cooking Techniques for how to instruction.

Pack rolls tightly in the bottom of a dutch oven pan.

Place a small plate on top.

Pour 3 cups of the reserved cabbage water to the pot. Cover and bring to a boil.

Reduce heat and cook for 45 minutes.
Egg and Lemon Sauce
Beat eggs in blender or mixer, or food processor until thick and light in color.

Add lemon juice slowly, then slowly add broth.

Take pot off the heat, then add the lemon sauce to the pot.

Stir gently.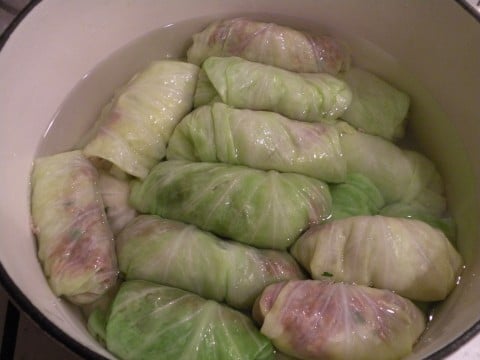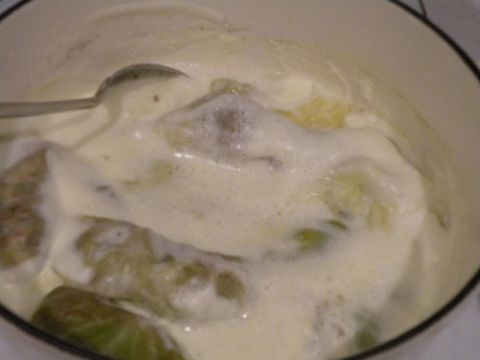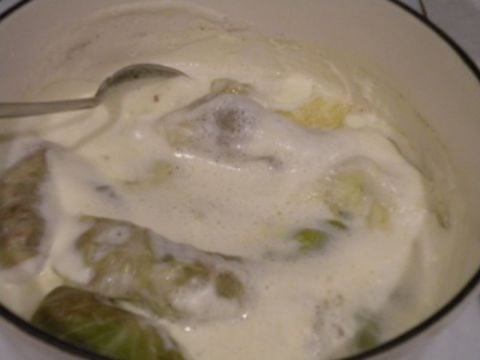 For a finishing sauce you can add the egg and lemon sauce!
For more photos and instructions on the Cabbage  Cooking Techniques. 
© 2011 – 2023, Mary Papoulias-Platis. All rights reserved.