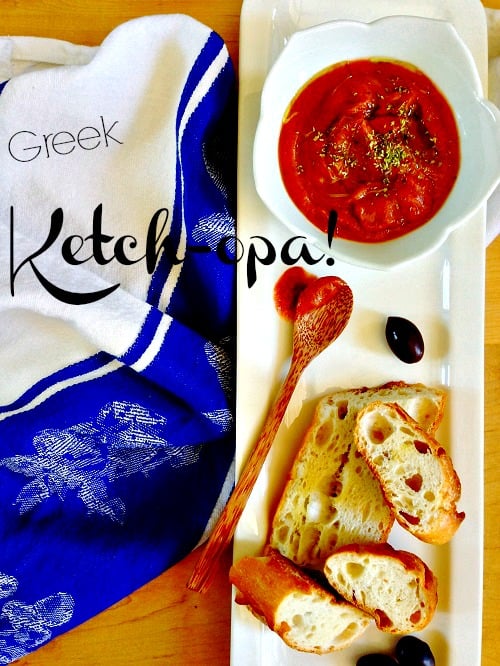 Tomato season normally continues throughout September in my vegetable garden. But as the weather here grows hotter and our drought continues, it has destroyed all my tomato plants and basically the entire crop of my vegetables this year. Temperatures are soaring well over the 90's and I'm pulling them out and sending them to my compost pile. I'm hoping we will have a milder season next year.  As the fall months are approaching I tend to slowly begin making more soups and stews as the weather cools, which takes me to my pantry searching for prepared tomatoes as my replacement for fresh summer tomatoes.
Luckily, my good friend George Menzelos from Arianna Trading happened to drop by with several of his new Greek products. And the one that I absolutely love is the bottled organic heirloom strained tomatoes. These GMO free "true breed" tomatoes have been cultivated by the Gousiaris family for over 100 years. They are hand picked, peeled, seeded, and strained in an allergen free facility. When working with this bottle, be careful because the tomatoes are concentrated, and a little goes a long way!
Actually, this sauce was being developed for my next post, but I loved it so much I thought I would post it alone as a Greek inspired ketch-opa! Yes, I know it's a silly name, but wherever I can add the word "Opa" in a post I will.
"Opa" is a lively word often having many definitions.  One variation of the word becomes a phrase used to express joy and happiness at special events, weddings, and dances. "Opa" is always used when Greeks gather for dances in the streets, singing together at a Greek concert or just when you need to break a plate or two for excitement at a party! Here are some various ways people have used the word in today's modern world…
Now back to the recipe…This sauce is very versatile in that it replaces your ordinary ketchup in your cupboard. Throw it on burgers, hot dogs, or add it to any quick sandwich. Add feta or cheese of your choice for a topping on pasta, fries, or eggs. Most of the ingredients can be found in your specialty supermarket, the flavor profile may be different but just adjust it to your palette.  These tomatoes are similar in strength to chopped tomatoes in a sauce or a paste, but not quite so thick. But, if you need to substitute use a diluted paste to get the same consistency, and adjust the flavorings. These products can be found on George's online store at Arianna Trading Company.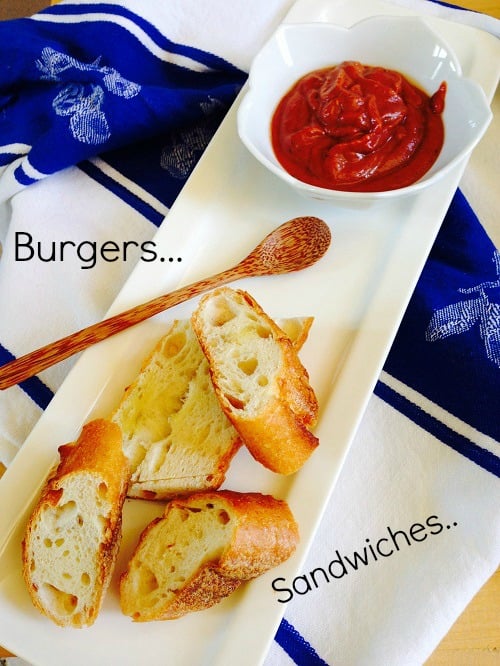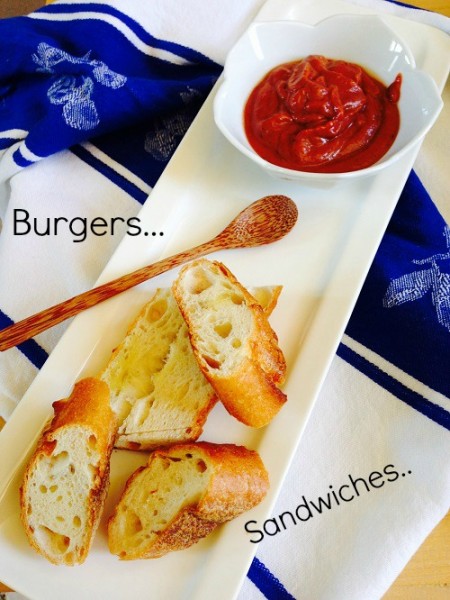 Greek Tomato Ketch-opa!
Are you ready for something new! This sauce is Greek-inspired for your special everyday meals - throw some on a burger, morning eggs, or a sandwich. Or just use it with fresh vegetables as a unique sauce.
Author:
Mary Papoulias-Platis
Recipe type:
Ketchup, dipping sauce
Ingredients
½ cup of organic strained heirloom tomatoes (Arianna Brand)
1 garlic clove,chopped
¼ teaspoon dried oregano
juice from ½ lemon
½ teaspoon sesame herb salt (Arianna)
pinch of pepper
6 pitted organic Kalamon or Kalamata olives (Arianna)
¼ cup or more of extra virgin olive oil
Instructions
Place all the ingredients in a blender,except the extra virgin olive oil.
Blend until smooth.
While the machine is running, slowly add the extra virgin olive oil.
Pour a little amount at a time and taste until you get a ketchup consistency.
Store in the refrigerator in an airtight container.
Notes
A high-quality can of tomatoes in sauce can be used in place of the strained tomatoes but make sure to thin it out-or drain it if too thin, so it has the consistency of regular ketchup. A tomato paste may work as well, but do thin it out. You may have to adjust the spices and other ingredients as well.Makes 1 cup.
OPA!
© 2014, Mary Papoulias-Platis. All rights reserved.