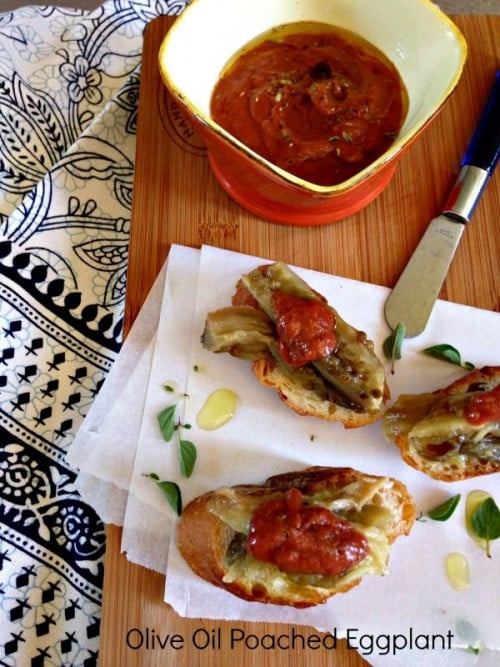 Eggplant is one very busy vegetable in my Greek kitchen. This Olive Oil Poached Eggplant, came from my research in poaching with olive oil and my Olive Oil cookbook. Eggplant comes in many varieties according to the dish I'm making – but you will see small, round, white, long slender, male and female! What? Yes, it is said that this may be true. There are both types of the black variety sitting on your  supermarket shelves at this given moment.  Go take a look.  As I was shopping in my local store one morning, carefully selecting those black beauties for my eggplant dish, suddenly the produce man spotted me and quietly approached the area. Before I knew it he was close behind me breathing down my neck.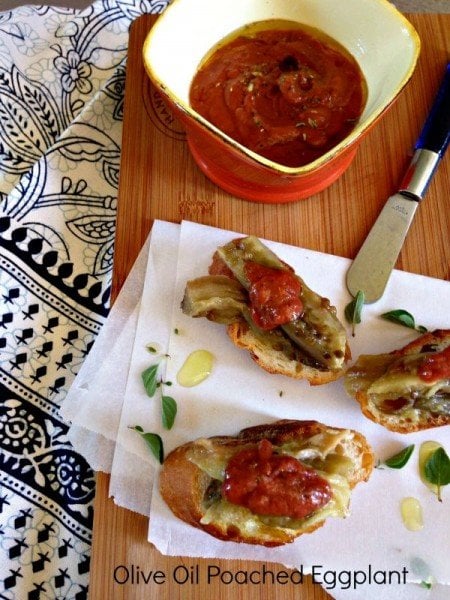 Startled, I looked up and the vegetable expert began to tell me that there happens to be a male and female variety of eggplant. So I politely listened. He insisted to explain to me the eggplant with the rounded silhouette is a female carrying the most seeds and is least desirable to cook with. He continued with selection advice – that I should look for the eggplant with the slender shape which retains less seeds, thus being the male. Because we want more flesh and less seeds, the male is most fitting for cooking. Well, I didn't know what to think at this point. So, I picked up the slender version and I was happy with the results. I personally think this is an old wise tale, and there must be a more scientific explanation. But this definitely is a more exciting story to use and entertain his customers with. Right? Google it and let me know what you think.
Well, by now I have seriously lost you from reading the rest of my post. But,  hang in there with me because this recipe is one you will love to assemble and eat with your family. If anything it comes with an intriguing rated R story! Use this recipe with a fresh baquette, sliced and toasted. For added flavor use my tomato ketch-opa,  I made previously on my blog post. They are delicious together and compliment one another. I wanted to post them together but felt the post would be too long.
The Greek Tomato Ketch-up recipe adds a wonderful punch!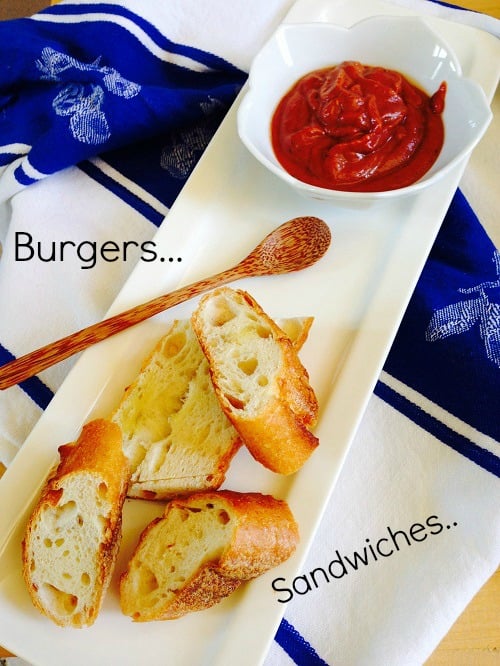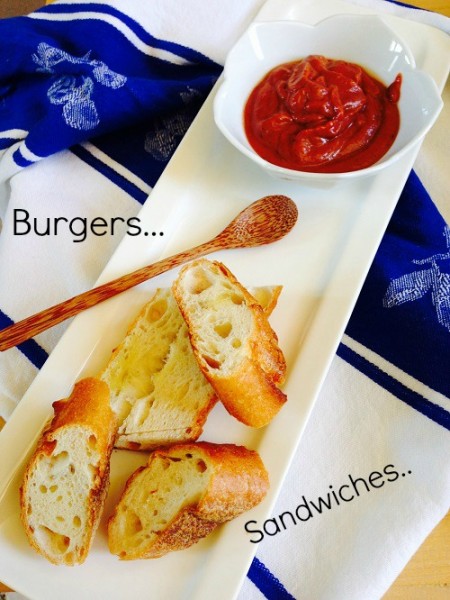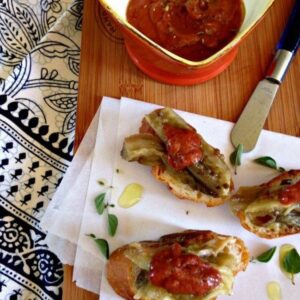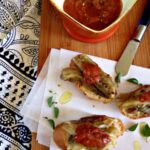 Olive Oil Poached Eggplant
Poaching is a slow-very low temperature cooking method. Olive oil needs to remain at 180 degrees. Watch carefully and test for doness with a sharp knife. Remove and cool and enjoy this delightful appetizer.
Ingredients
2-3

cups or less

extra virgin olive oil

1

large purple globe eggplant, or 2-3 Japanese eggplant, peeled

1

fresh sprig oregano

4-5

whole peppercorns

1

bay leaf

1

teaspoon

dried fennel

2

garlic cloves, peeled and whole

1

baguette, sliced and toasted

sliced and toasted
Instructions
Place the olive oil in a straight-sided sauce pan deep enough to hold the eggplant.

Bring the olive oil to 180 degrees, on low heat.

Peel the eggplant and cut in half. (The peel is bitter)

Add the oregano, peppercorns, bay leaf, fennel, garlic and eggplant oil to the pan.

Simmer until the eggplant is soft and cooked. Test with a sharp knife. Remove from the heat and let cool.

Once cooled lift the eggplant out carefully, so it stays in one piece. Place on a paper towel to drain.

Carefully cut and place on baguette slices. Drizzle with extra-virgin olive oil and serve. Or serve with my Tomato Ketch-opa recipe from my blog.
Recipe Notes
Drizzle with a good quality extra virgin olive oil and balsamic for a quick substitute for the tomato sauce.
The remaining can be re-used for salad dressing or other uses. But must be used within the day.
Nutritional Facts: Eggplant is also an excellent source of dietary fiber, which can help protect against type 2 diabetes and keeps the digestive system regular. The vitamins in eggplant consist primarily of vitamin A (in the form of beta-carotene), B vitamins, folate and vitamin C. Eggplant is also rich in minerals, boasting a large quantity of potassium, magnesium, calcium and phosphorous. With no fat, six carbs and 27 calories in a 1-cup serving, eggplant makes an excellent addition to any diet. (From Livestrong)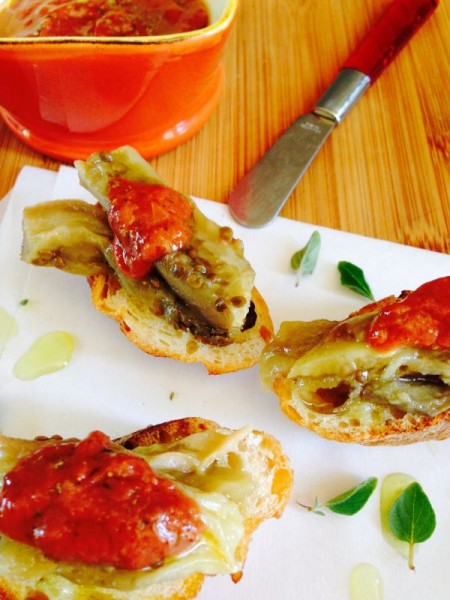 Here are more recipes if you love to cook with olive oil, in my cookbook, Cooking Techniques with Olive Oil.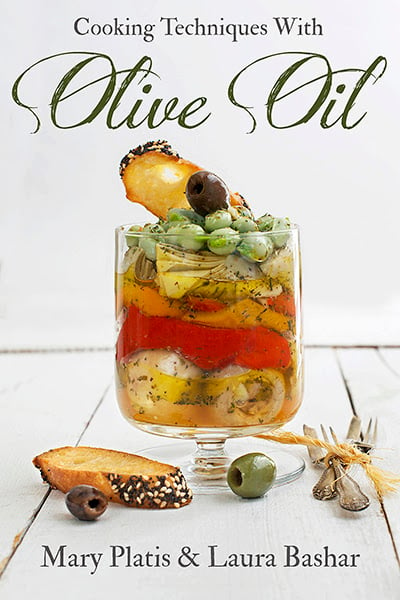 Enjoy using eggplants in your dishes!
Mary
© 2014 – 2022, Mary Papoulias-Platis. All rights reserved.