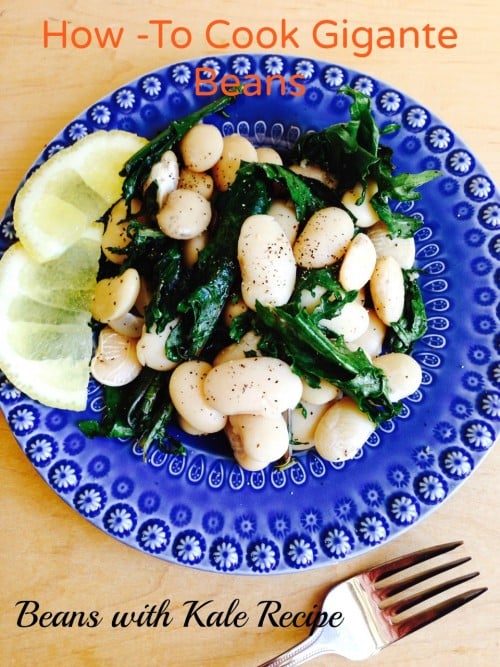 This post on How-To Cook Gigante Beans has been requested by many of my followers and way overdue. Beans are a common staple in the Greek Diet, and are eaten at least once a week in the Greek household. These are the most popular bean, and are often the item brought home from a visit to Greece.
Gigante are also known as "broad beans". They are large flat, cream colored beans about 1 inch in length. Because of their size, I recommend  that they are soaked overnight.  The emergency boil method can be used but cooking time is longer. Make sure you use the three bean rule- taste three beans for tenderness. Their smooth interior lends them to a nice puree as a side.  Can be used in soups, casseroles, and on rice or your favorite grain. If you cannot find these beans in your natural food stores, they can be purchased online here.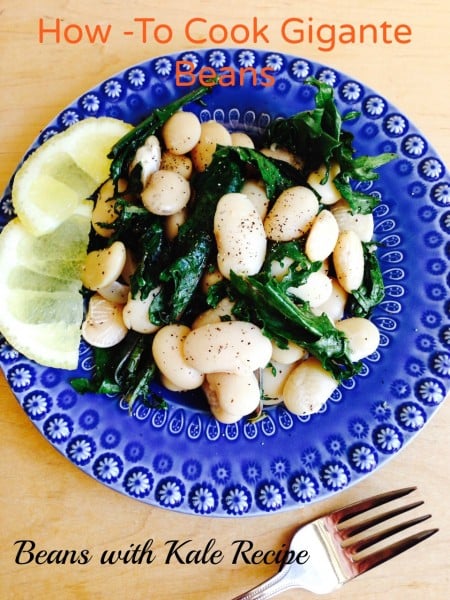 I chose this simple method with our favorite high nutritional green kale, but you can substitute spinach, cabbage, or a green of your choice. Nutritionally, they have a rich source of Potassium.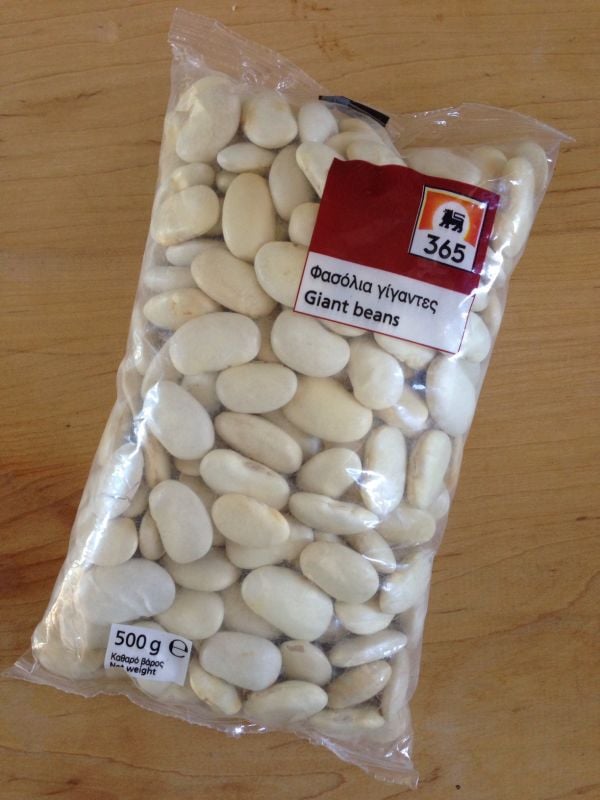 This is how they are packaged and you must measure before adding them to your recipe.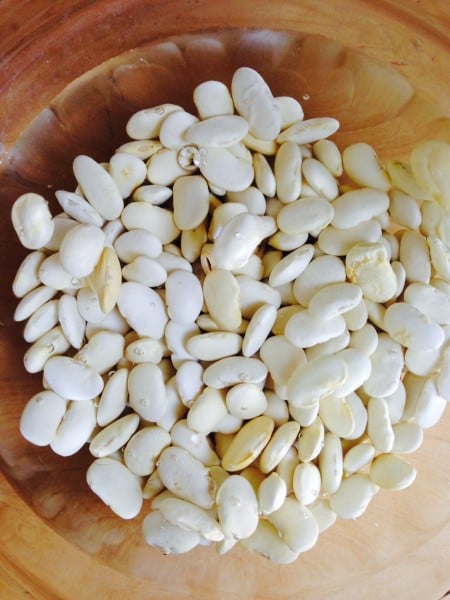 Soak your beans overnight in cold water and check water level often to make sure they are totally immersed.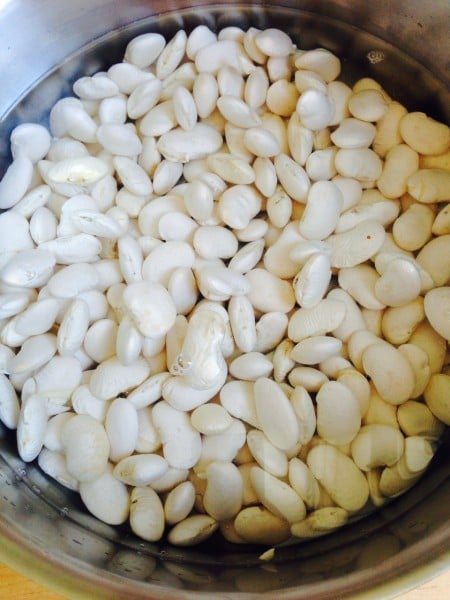 Place the beans in a large pot of cold water, leaving room for the beans to expand.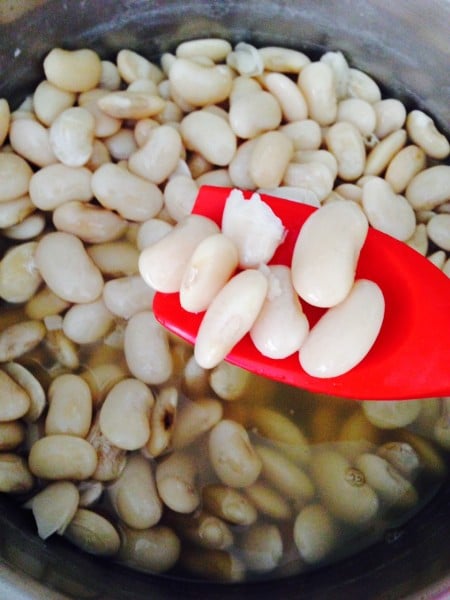 Take the three bean check before turning off the stove to ensure that all  the beans are tender.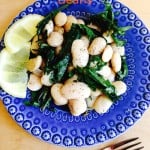 How - To Cook Gigante Beans wtih Kale
This is a beginner's recipe, but delicious recipe for making gigante beans. Loook for these beans in specialty stores.
Ingredients
1

pound

gigante beans

2-3

garlic cloves

2

sprigs each of parsley and oregano

1

bay leaf

2

pounds

fresh kale, roughly chopped

1/2

teaspoon

1/4

teaspoon

pepper

4

tablespoons

extra virgin olive oil

2

tablespoons

of Bragg Liquid Aminos or soy sauce

2

tablespoons

fresh lemon juice

1

tablespoon

extra virgin olive oil
Instructions
Soak beans in a large bowl filled with cold water, overnight. Drain.

Place beans in a heavy bottom pot and add enough cold water to cover plus 2 inches above beans.

Add garlic, herbs, and bay leaf.

Bring to as boil and reduce heat and simmer for 11/2 -2 hours until beans are tender.

Add chopped kale and simmer for 5 minutes. Drain.

Return to the pan and stir in salt, pepper, olive oil, liquid aminos (or soy sauce), and lemon juice. Season with more salt and pepper if needed.

Serve warm. Before serving, sprinkle with a good quality extra virgin olive oil.
You may also like my post on Lamb Stew with Artichokes and Gigante Beans.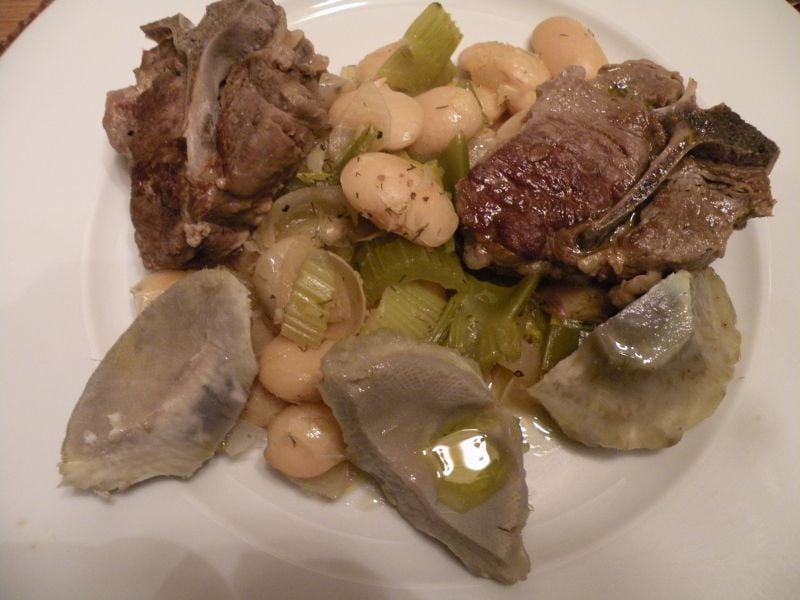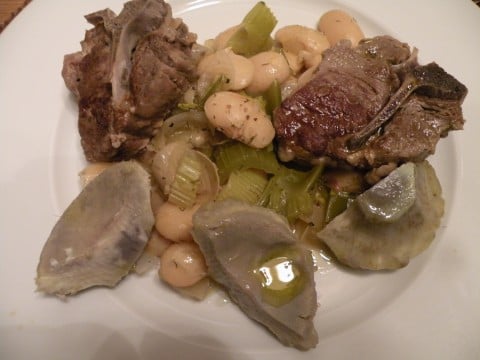 Gigantes are special beans to the Greek diet, and they are a staple in the Greek pantry.
Have fun Cooking,
Mary 
© 2014 – 2022, Mary Papoulias-Platis. All rights reserved.