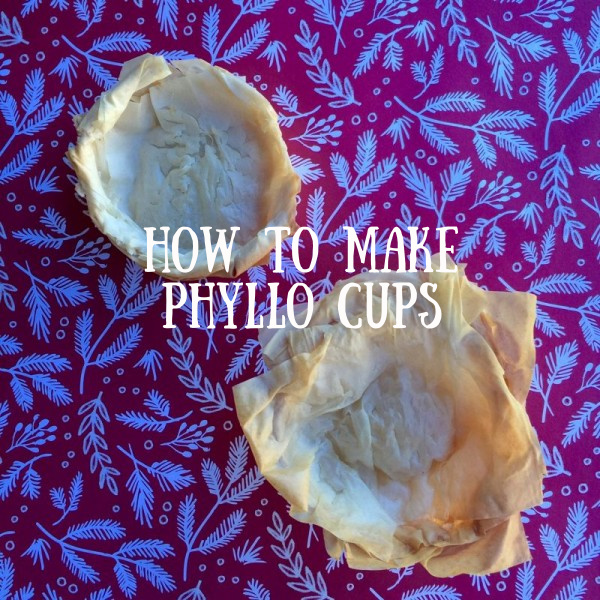 Often times I'm looking around my pantry for ingredients to fill my phyllo cups for a dessert or side dish. I make these all the time – they're easy and they make a beautiful presentation. You just need to remember to have a defrosted box of phyllo dough on hand in your refrigerator at all times. The box can last a couple of months refrigerated. You can bake these ahead of time, and stuff them the day of the event. They will keep for a couple of days in an airtight container.  Make these in a regular muffin tin or miniature size as well. Serve with fresh fruit and a sauce or a raw or stir-fried vegetable side dish. I like to use them with homemade ice-cream with a topping. Anything that can go in a cup can basically go in these cups. If you can't find phyllo at your local store, you can order it online at Fillo Factory.
You'll need a muffin tin, or cups that stand alone such as several ramekins.
1/2 -1  box of defrosted phyllo sheets (boxes often come with full sheets or half sheets-both can be used)
melted sweet butter
a pastry brush
1.Brush your muffin tin or cups with melted butter.
2.On a clean hard surface (I use the back of a sheet pan), lay a sheet of phyllo down and butter.
3.Add one more sheet and cut into desired sizes. Butter top of phyllo. You will use 2 sheets per cup. Each cup will have four layers of phyllo dough.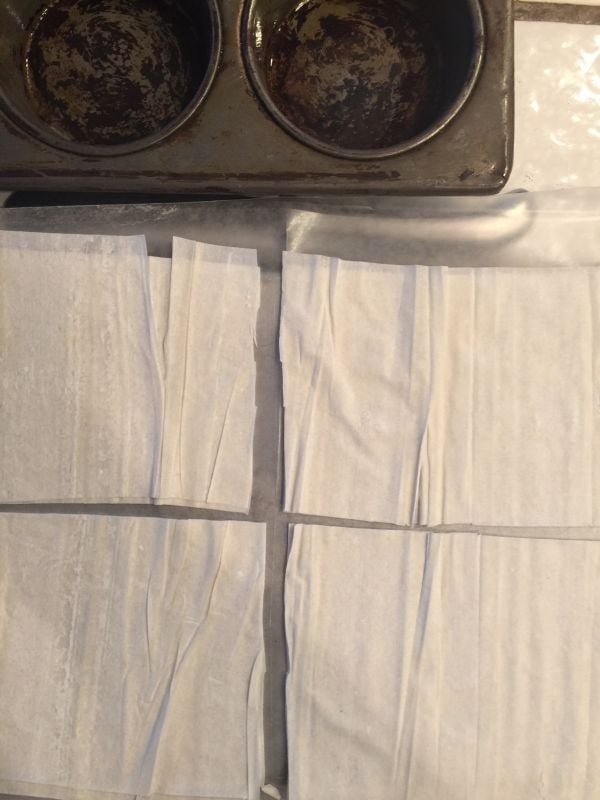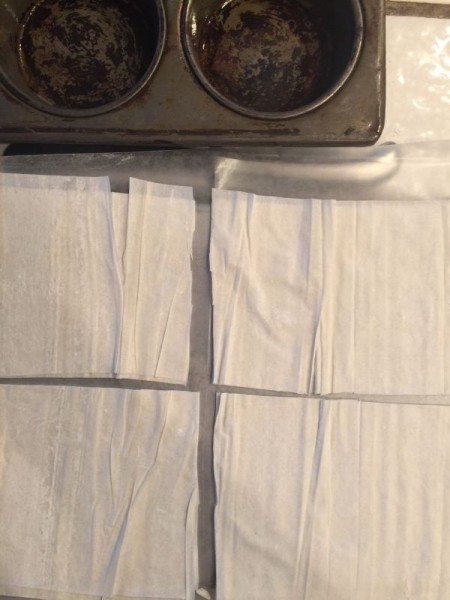 Phyllo sheets comes in different thicknesses. You may need to use more or less layers for your cups.
Cut 1/2 sheets of phyllo in fourths or full sheets in sixths or eighths depending on the size of your phyllo and muffin tin.
I used a half sheet here and have 4 pieces to work with giving me 2 muffin cups.
Continue the process until you have as many cups as needed. Trim the top of the cup to the desired shape.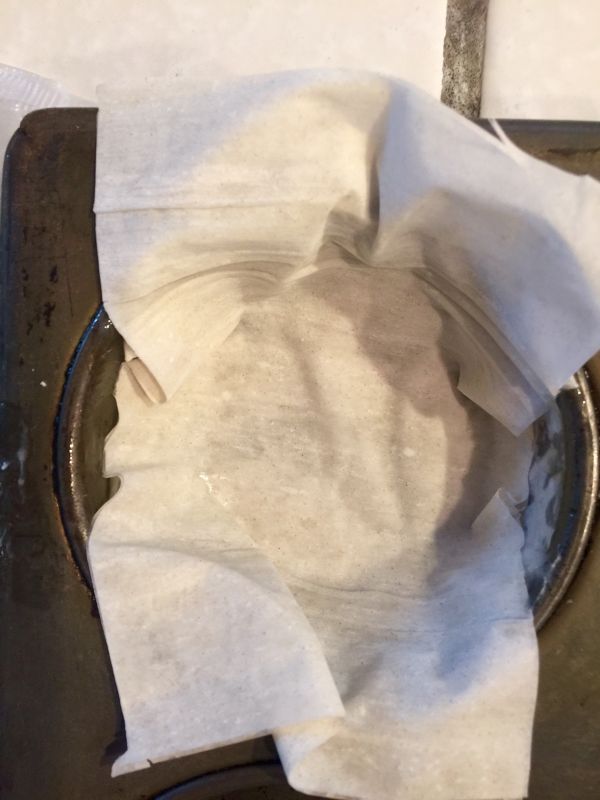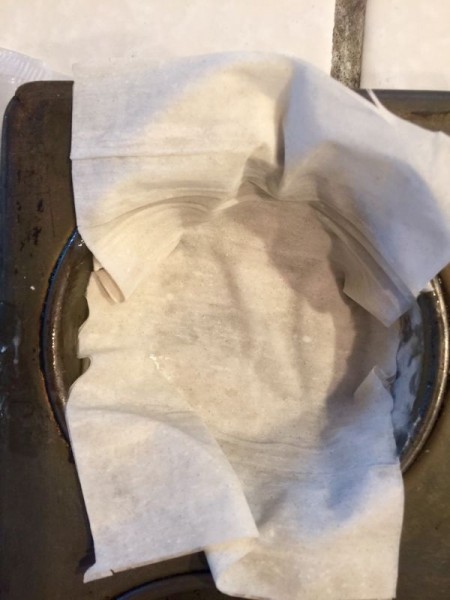 Lay in a crisscross pattern.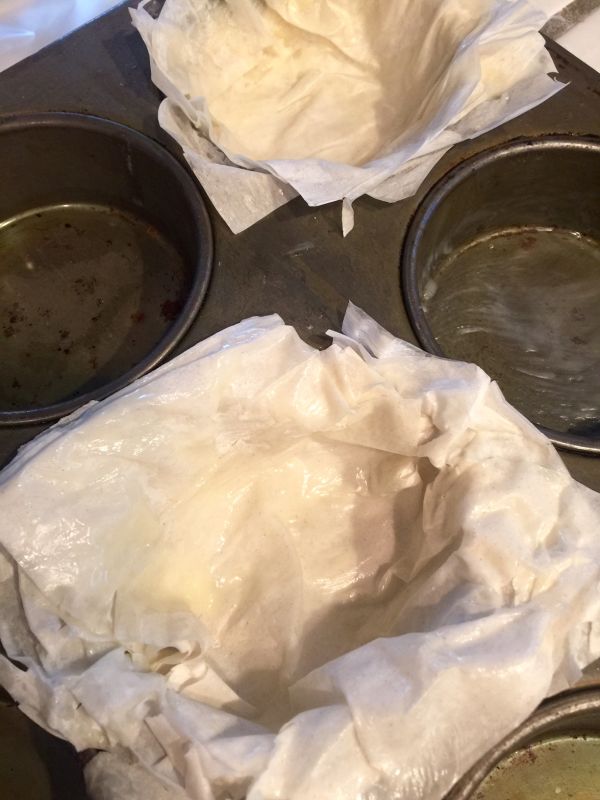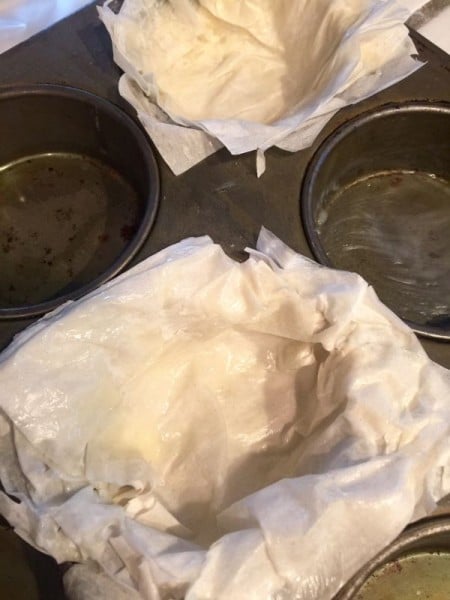 You can trim the cups to desired size using your kitchen scissors. Butter and bake at 350 degrees for 15-20 minutes. or until golden brown.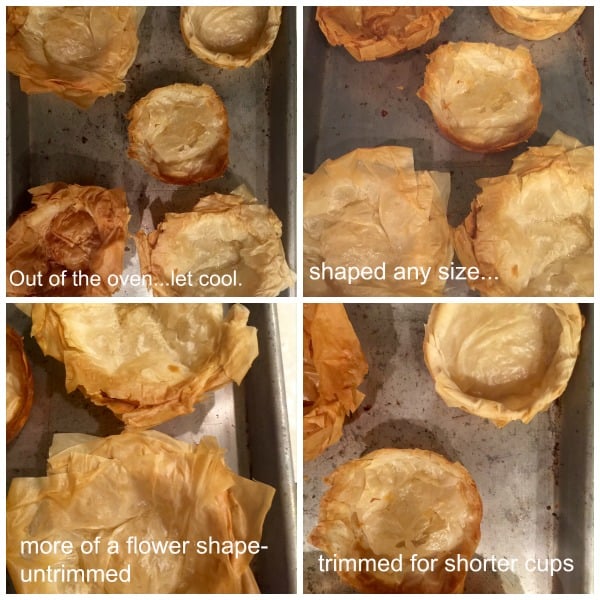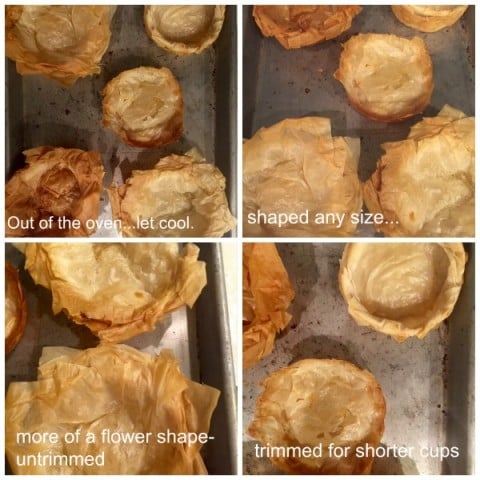 As you can see below I have a shorter version pictured along with the natural flower version.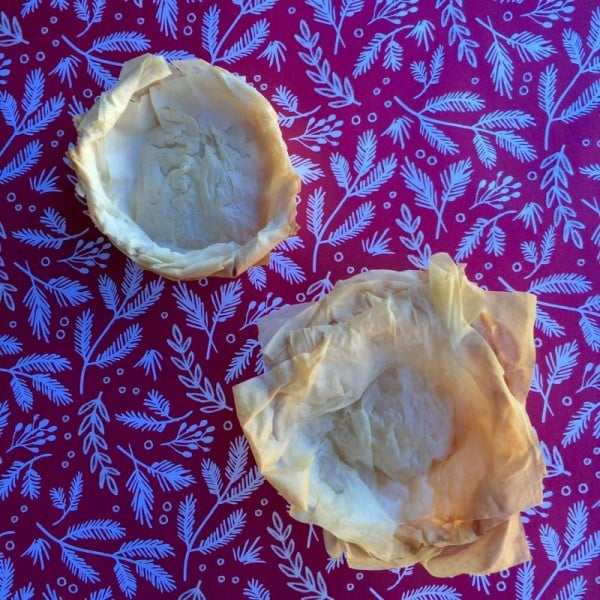 I used organic phyllo from Filo Factory. Check out all the options for your dietary needs.
© 2015 – 2021, Mary Papoulias-Platis. All rights reserved.