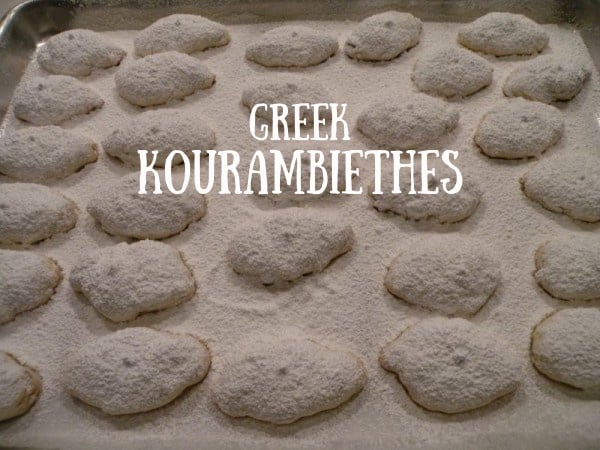 My favorite cookie of all times! Biting into a Kourambiethe with it's buttery texture and spicy clove scent takes me into a family album of events since my early childhood. Holidays in the Greek tradition sometimes depict which cookies will be made to fit each special day.
Although these exquisite cookies, always blanketed with powdered sugar, look like small snowballs, they are present during Christmas, but are also made for weddings, baptisms, name days and other festive occasions. I will never forget my aunts arguing before my wedding date as to who will be baking what cookie or dessert for my wedding. I think every Greek pastry was represented there that night.
In our family we have always placed a whole clove in the center of each cookie before baking them in the oven. As kids I never appreciated the taste of a clove, but as I got older and started baking this spicy flavor into my batter I enjoyed that warm bite of clove at the end which added a nice surprise.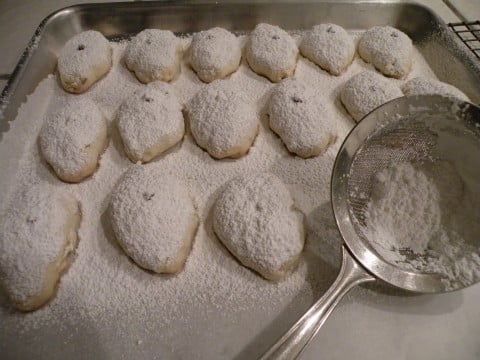 Kourambiethes - Greek Butter Almond Cookies
Our comfort cookie, ask any Greek ! These are Traditional butter cookies for special occasions, weddings, Christmas, and Easter.
Author:
Mary Papoulias-Platis
Ingredients
¾ package Swan's Down Cake Flour( 32 oz.)
1 egg, separated
1 pound sweet butter, melted and cooled
1 cup powdered sugar
1 teaspoon vanilla
½ cup fresh orange juice
½ teaspoon baking soda
1½ teaspoon baking powder
1 small pkg slivered almonds, coarsely chopped, toasted slightly
Whole cloves for center of each cookie (optional)
½ pound powdered sugar for topping
Instructions
Place melted butter in mixer and beat for 20 minutes until light in color.
Remove butter from mixer, and place in large bowl.
Beat the egg yolk with a fork, and add to the butter.
Beat the egg white with a clean fork and gently fold into butter.
Add powdered sugar and vanilla. Mix by hand.
Place the baking soda and powder in a cup and stir in the orange juice. (Do this over the bowl, it may overflow)
Pour in butter mixture and blend with hands.
Add flour slowly until incorporated thoroughly. (Do not over-mix)
If the dough pulls away from the bowl and leaves it clean, the batter has had enough flour.
Add the toasted slivered almonds.
Shape into oval or round flat cookies by hand. Add a clove in the center of the cookie. (optional)
Line a baking sheet with parchment or a liner.
Bake cookies at 350 degrees for 15-20 minutes.
Remove from pan and place on to rack to cool.(do not place sugar on them when cookies are warm- sugar will melt)
Shift powder sugar on platter and place cookies on platter. Sprinkle with powdered sugar until covered.
Have a Beautiful Holiday,
Mary
© 2012 – 2020, Mary Papoulias-Platis. All rights reserved.