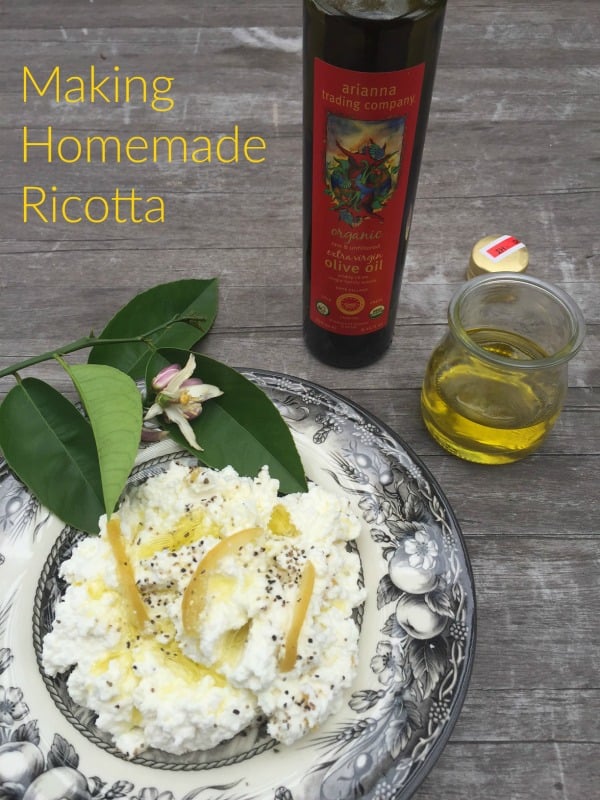 If you have the basic kitchen supplies and a gallon of milk you can make homemade ricotta! And after experiencing this very basic chemistry-lab recipe, I have no idea why I waited so long to make this. All I can think of is the process and how it scared me. If I only knew. Now, I can make Spanakopita weekly and save my money, making this cheese myself. Not only the cost, but I didn't mention the difference in the TASTE. It's so mild and clean compared to the store-bought. Please don't feel this is difficult. Think of all the health benefits of making it yourself. It's fresh and no additives. Did I talk about the flavor? So mild and clean, you can add anything to it and make it your own.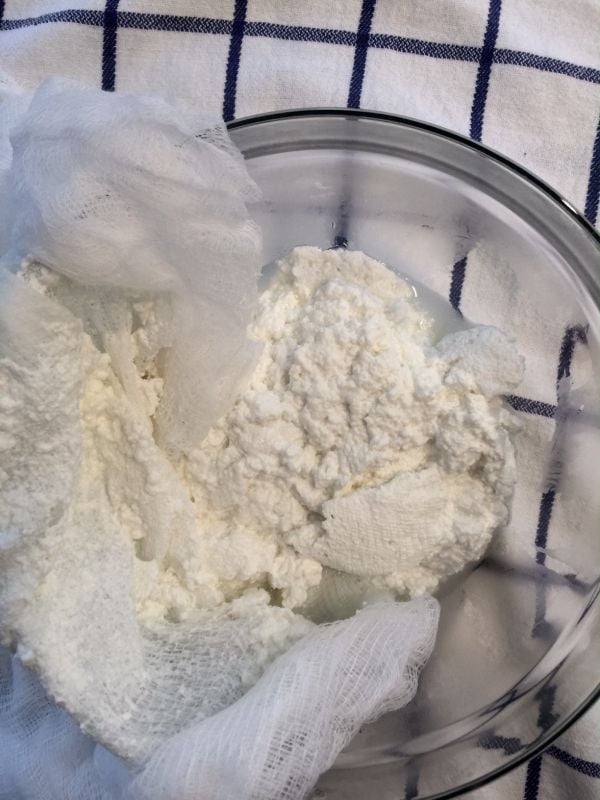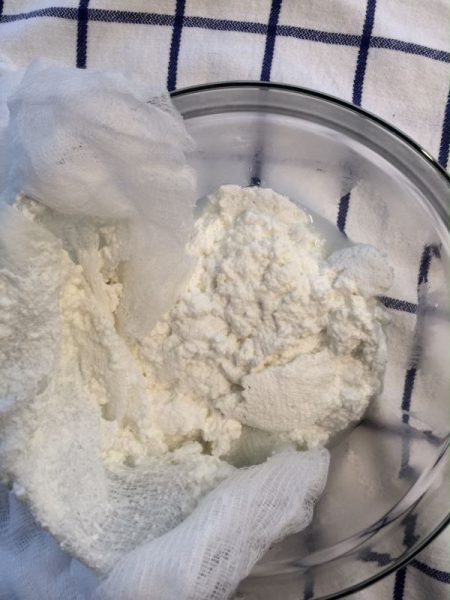 A few simple steps and you're on your way to cheese-making in your home.
Before you begin make sure you buy the right milk. I had a carton of organic milk in the refrigerator, and did not notice it said Ultra-Pasterized (also do not use Ultra-Heated) and it didn't work. It needs to be organic whole milk. Use homogenized and pasteurized milk in this recipe. A good brand to look for is Straus Family Milk, which can be found in many health food markets.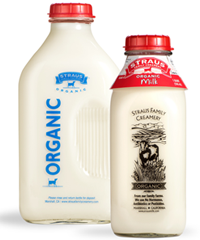 The only kitchen utensils you'll need is a med-large pot, a thermometer, cheesecloth and a strainer or colander. The only ingredients: whole milk, white vinegar, salt, and lemons.
So let's get started. Make sure you have all your mise-en-place ( ingredients in order)  before you begin your recipe. The process moves quickly and you need them at your fingertips.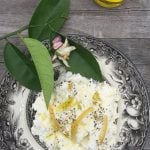 Making Homemade Ricotta
Take the time and make this lovely-rich cheese and you will never go back! I promise you. It only takes 1/2 hour after you prep, and you have a fresh cheese for numerous meals.
Ingredients
1/3

cup

lemon juice - about 2 lemons

1/4

cup

distilled white vinegar

1

gallon

pasteurized whole milk - not ultrapasteurized or UHT

2

teaspoons

salt
Instructions
Line a colander with cheesecloth (2-3) layers and place in a clean sink.

Combine the lemon juice and vinegar in a small bowl and set aside.

Heat milk and salt in a heavy bottom pot over medium-heat, stirring until 185 degrees is reached.

Remove from the heat, and slowly stir in the vinegar mixture until thoroughly mixed and it begins to curdle around 15 seconds.

Let it sit for 5-10 minutes, until mixture is fully separated into solids and whey is clear.

If the mixture has not curdled add an additional tablespoon, until separated.

Gently pour into the colander.

Let sit until whey has drained from the edges leaving the center moist.

Place in a bowl and break up the curds and stir in the small amount of whey.

Refrigerate ricotta until cold about 1-2 hours.

Can be refrigerated up to 5 days.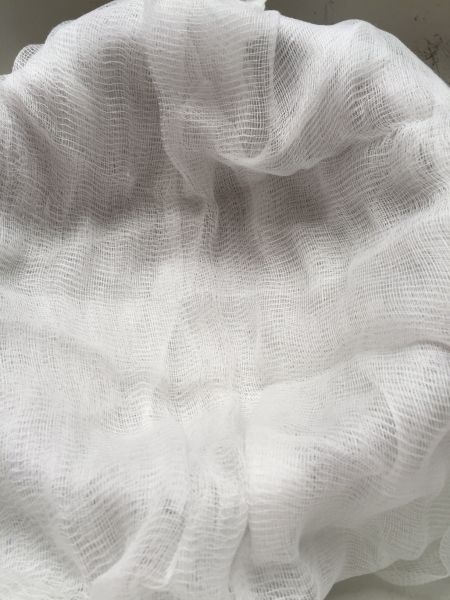 Line your strainer with several layers of cheesecloth, and place in the sink.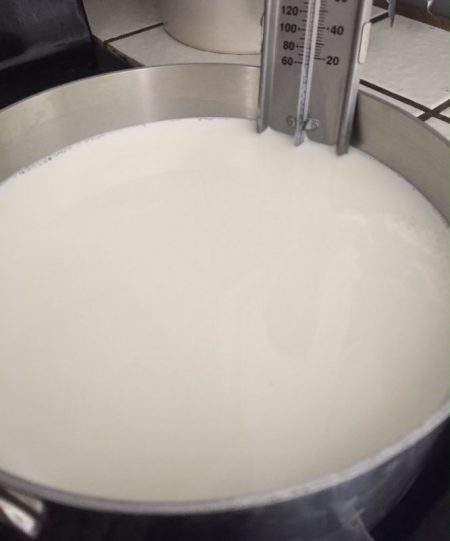 Bring the milk to a slight boil until it reaches 185 degrees. Remove from the heat.
Add the lemon-vinegar slowly within 15 seconds and stir until fully incorporated.
Let the mixture sit for until curds to develop, around 5-10 minutes.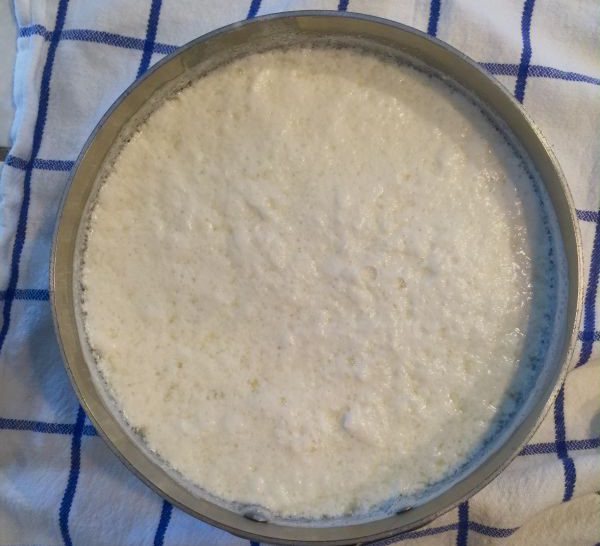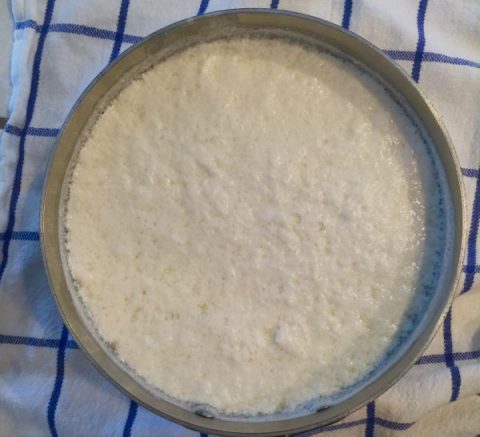 Gently pour into the strainer, and let if sit undisturbed for about 8-10 minutes.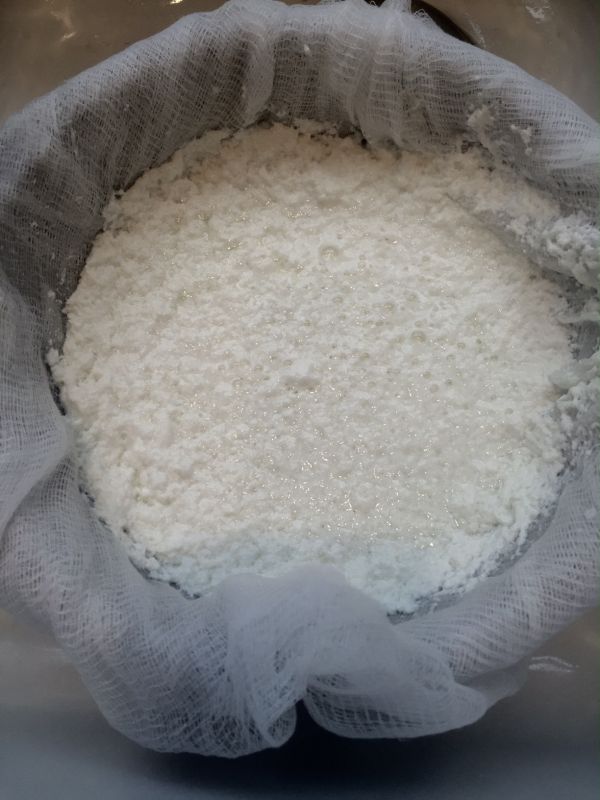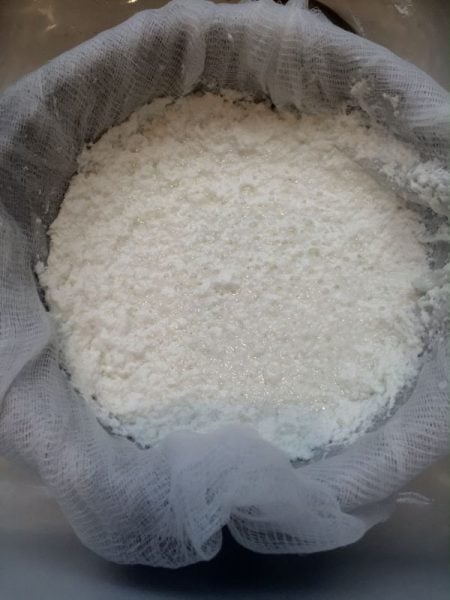 When the sides dry out and it is slightly still moist in the center it's ready to pour into the bowl.
Gather all ends of the cheesecloth, and let the whey drain and add cheese to the bowl.
Stir until cheese has small curds and smooth. The cheese will thickened when refrigerated. After making it a few times you can determine how thick you like it.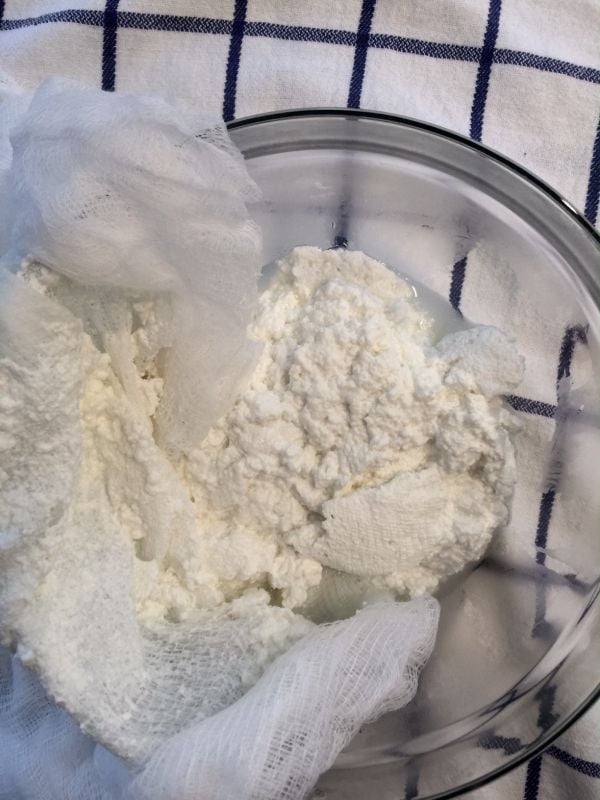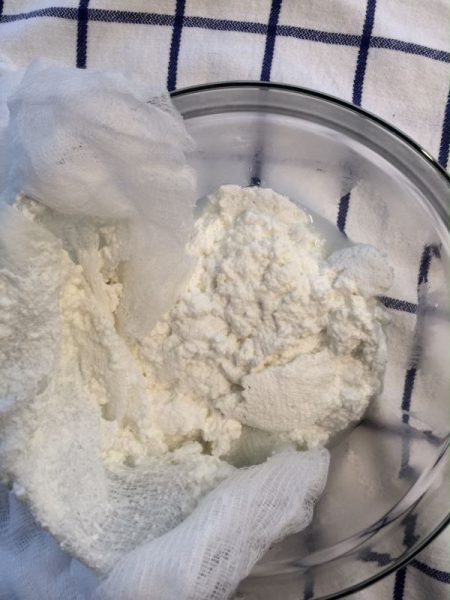 You do want to keep some of the whey, don't squeeze it too tight.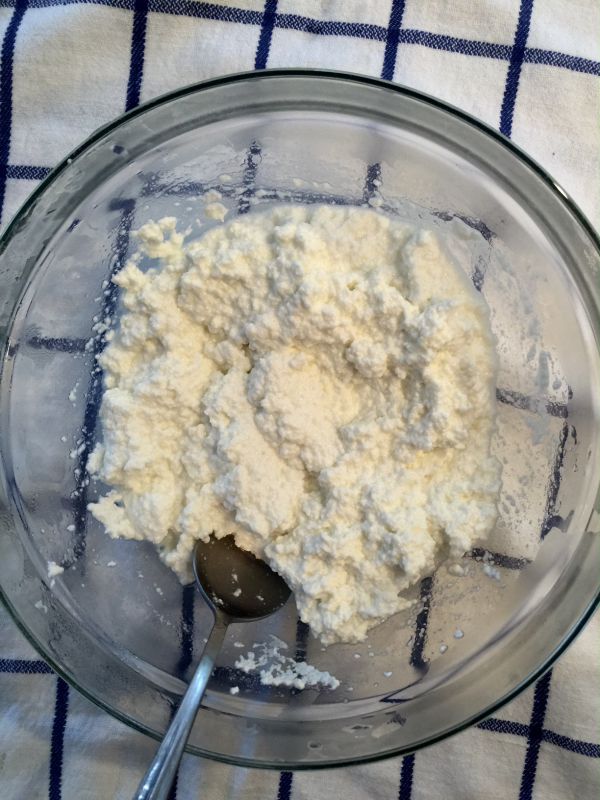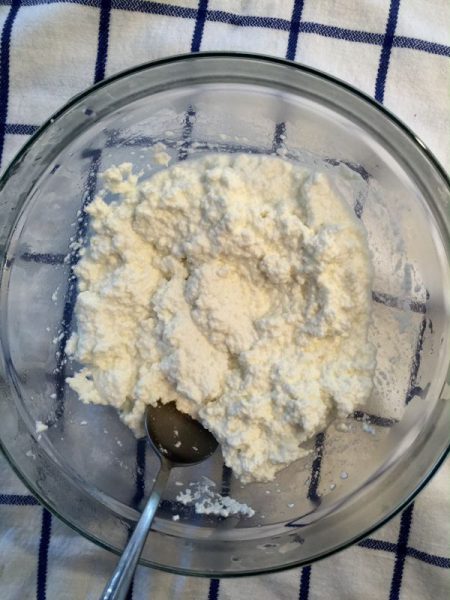 And here you go, fresh homemade ricotta. Cover and place in the refrigerator to cool before using it. Stays fresh in the fridge for up to 5 days.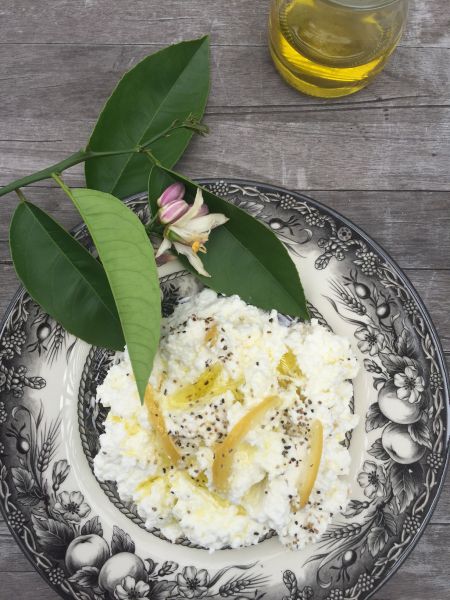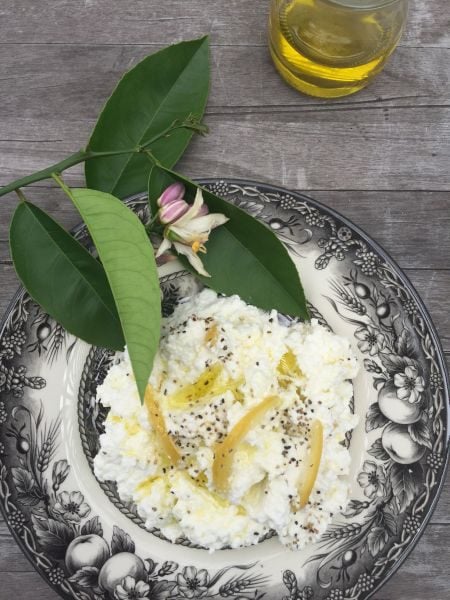 Delight!
Ricotta recipe adapted from America's Test Kitchen.
© 2016 – 2022, Mary Papoulias-Platis. All rights reserved.