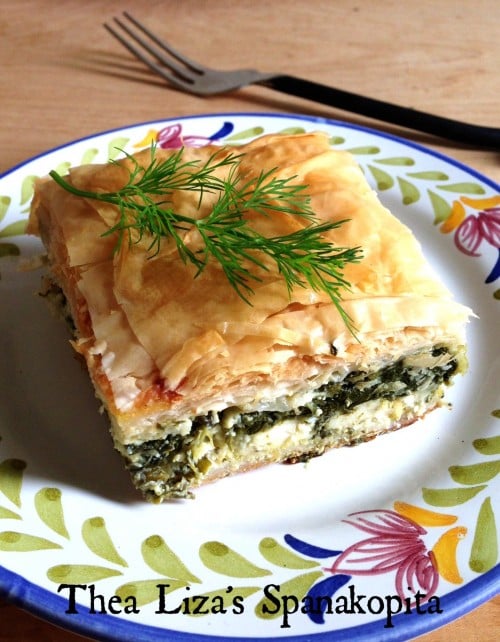 There are so many versions of this spinach pie in Greece. I could have my own web-site on this recipe alone. This spinach feta pie is eaten in all regions of Greece, and the ingredients change depending on what's in the garden and what cheese is made in town. I'll never forget going into a local cheese shop in Greece and seeing so many unique varieties of feta, that my head was spinning by the time I left with my selection. Every family member makes this recipe their own, this one is my aunt's version.
My aunt Liza made the best!  But, it was her special touch we all loved about her. She owned a deli with her husband Mike in San Diego in the sixties, on C street around the corner from the old California Theater. People lined up for her food and specials during lunch hour. I did work there many weekends and during the summer. I remember taking the bus from La Mesa to downtown to help out. I guess those skills paid off when we started our  business years later.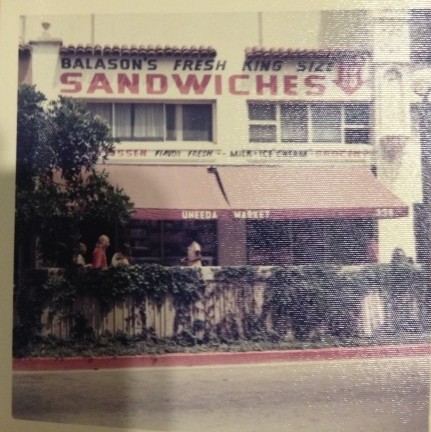 This will be served on my Thanksgiving table, as I try to make dishes from those who are no longer with us. My mother's Pumpkin-Phyllo pie will be right next to her sister's spinach pie and I'm sure they will be devoured by all. The dressing is always a struggle. I have several recipes and it's going to be up to my kids to select which one they want me to make this year.

Thea Liza's Spanakopita
My aunt Liza was a great cook and we loved her version of this ever-so popular Greek dish. She welcomed everyone into her home and she leaves us one of her many delicious traditional Greek recipes.
Author:
Mary Papoulias-Platis
Recipe type:
Main Dish/Side Dish
Ingredients
4-5 bunches of fresh spinach,washed, dried and chopped
1 onion, chopped
1 bunch of green onions, chopped
1 pound feta, crumbled
2-3 teaspoons of dried dill or ½ bunch fresh
4-5 large eggs, slightly beaten
½ cup extra virgin olive oil
salt and pepper
1 pound defrosted phyllo dough
½ cup melted butter
Instructions
Preheat oven to 350 degrees.
In a deep pot saute onions and scallions in olive oil until tender. Add spinach and cook until slightly wilted around 2 minutes.Drain spinach in a colander if too much liquid remains.Cool.
Place spinach mixture in a large bowl and add the feta, dill, eggs, olive oil, salt and pepper.Mix gently but thoroughly.
Place ½ of the pound of phyllo in a 9x13 deep large casserole dish, buttering each layer.
Spread the spinach mixture on top.
Place the remaining phyllo sheets on top, buttering each layer.
Score the top layer only of phyllo sheets to desired pieces.
Bake in a 350 degree oven for 45 minutes until golden brown on top.
Let cool for 30 minutes before serving.
 I serve this often for dinner so the pieces here are quite large. This is the nice thing about phyllo, cut them in the size you wish.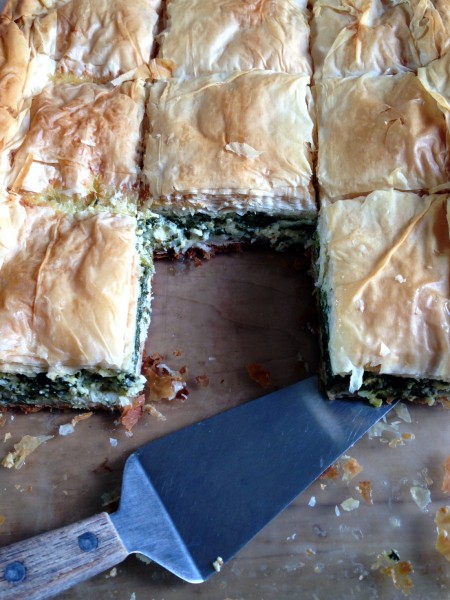 You may want to try my other phyllo recipes: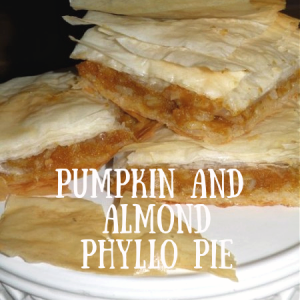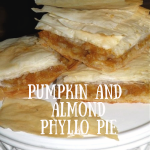 Pumpkin and Almond Pie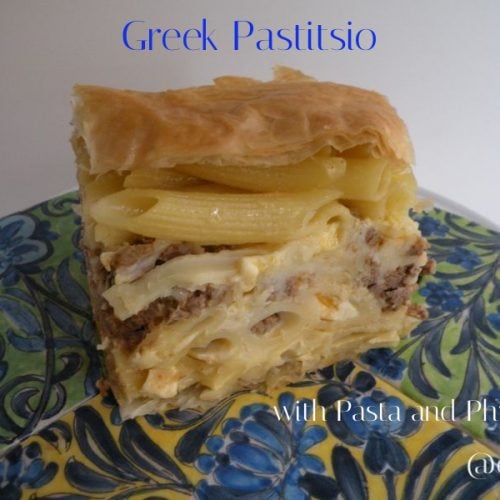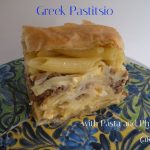 Greek Pastitsio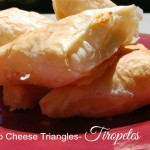 Greek Cheese Tiropetes
Enjoy your Dishes,
Mary 
© 2013 – 2021, Mary Papoulias-Platis. All rights reserved.