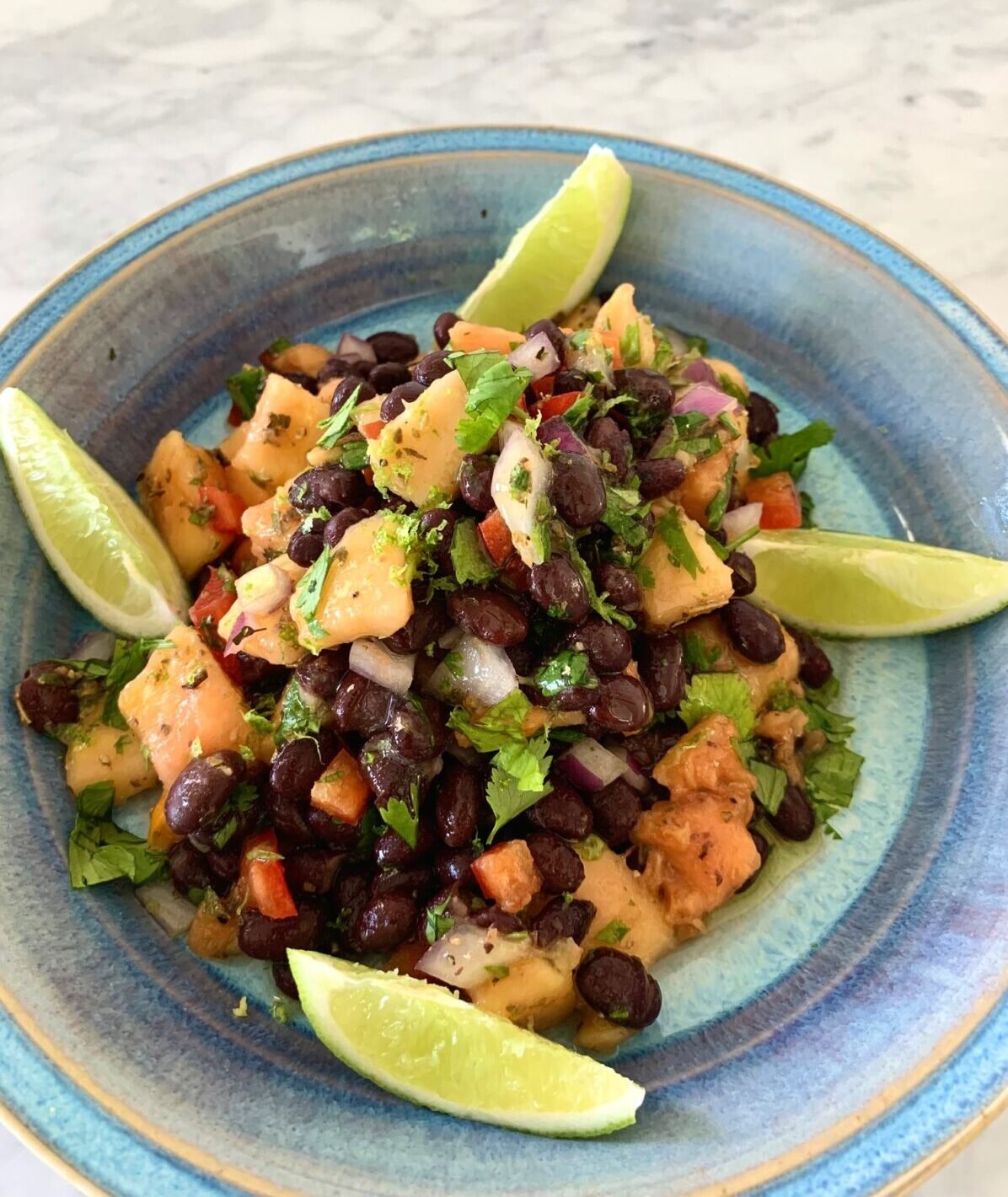 Papayas are so refreshing when you need a cooling appetizer for your next summer affair. I chose to use black beans and a lime accent to serve with these brightly colored papayas, that happen to be sent to me by Melissa's Produce. Papayas are on their Season's Best List for August, which is perfect for this dish. Take this Papaya Black Bean Salsa to any party or BBQ, it has a very light dressing which holds up well in the heat. By the way, did you know they have a delicious flavor and exceptional nutrient profile?
Here are a few facts:
Papaya seeds contain a variety of essential micronutrients.
They're especially high in polyphenols and flavonoids, two compounds that act as antioxidants to help promote your health.
Antioxidants fight disease-causing free radicals to prevent oxidative stress and ward off chronic diseases.
Papaya seeds pack a good amount of healthy monounsaturated fatty acids, including oleic acid
Lastly, papaya seeds supply a hearty dose of fiber.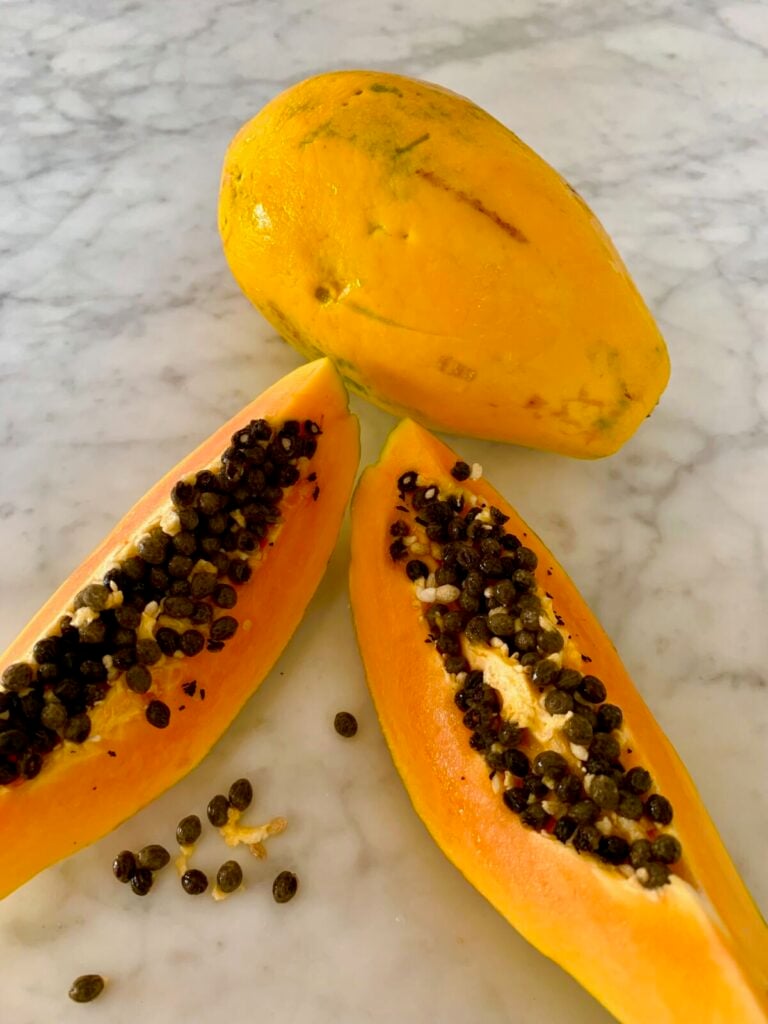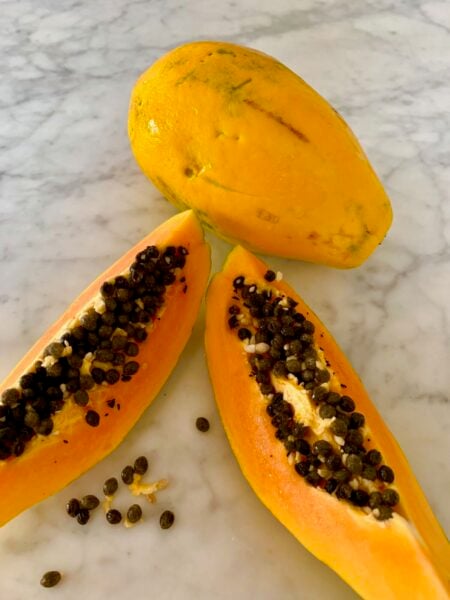 These fruit has large seeds that need to be removed before chopping them cubes.
But don't throw them away they are edible!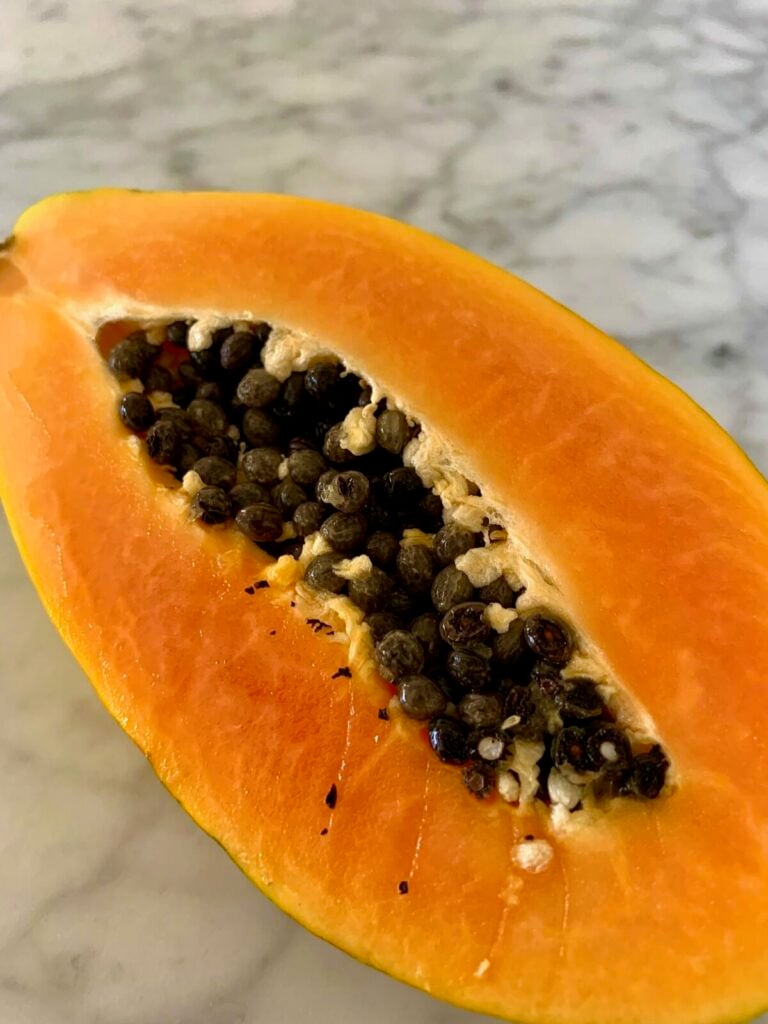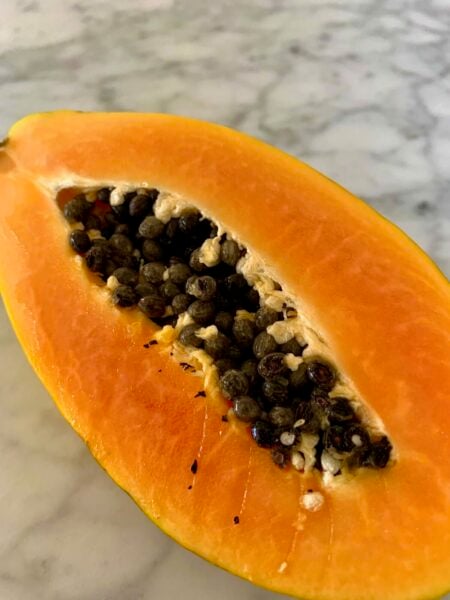 How to use papaya seeds
Scoop seeds from papaya. Rinse seeds under cold running water, then dry well with a tea towel.
Line a baking tray with baking paper. Place seeds on the prepared tray.
Bake in the oven for an hour until dry.
Transfer to a mortar and use a pestle to coarsely crush the seeds.
Crush them in a plastic bag, and use them as peppercorns in a dressing or toppings.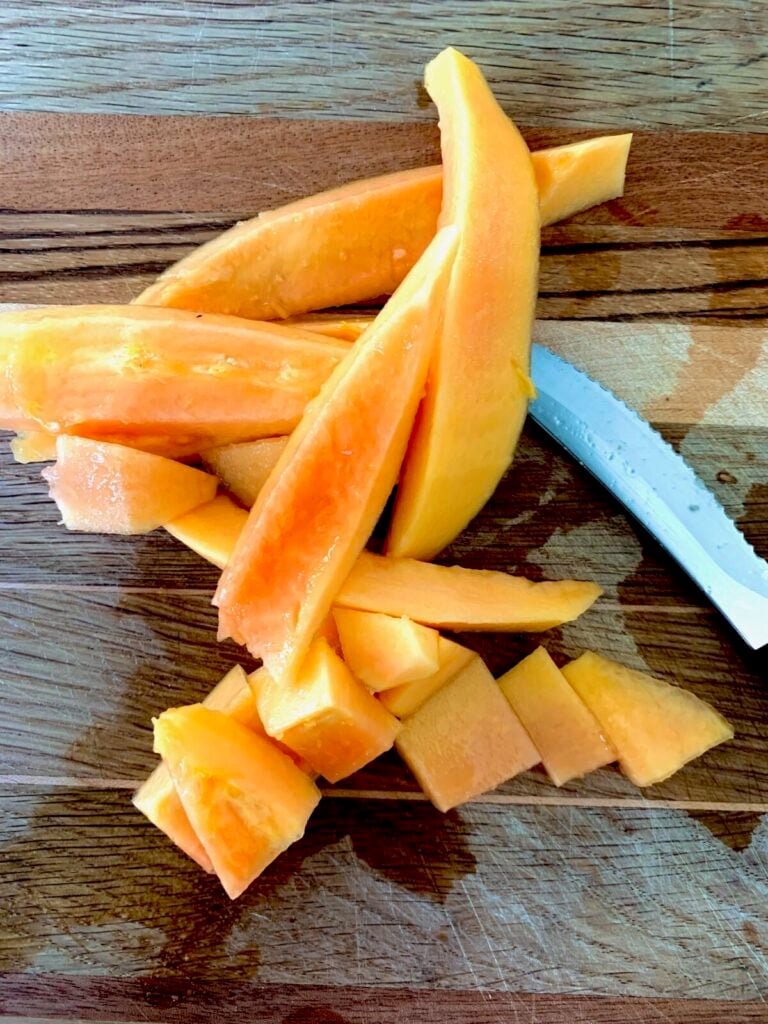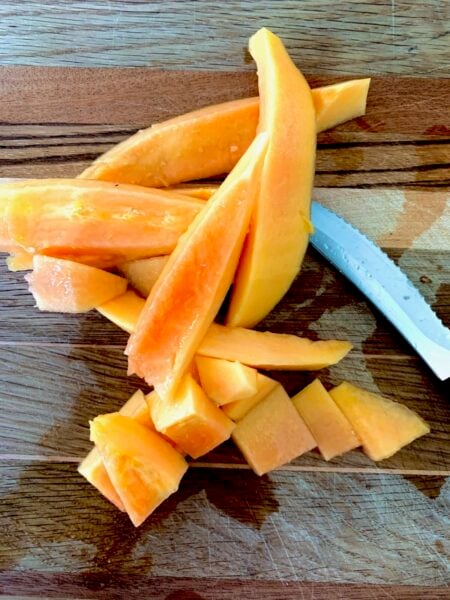 Cut the papaya with skin into wedges. Then carefully with a sharp knife remove the flesh.
Cut into small cubes and add to a bowl. Discard skins.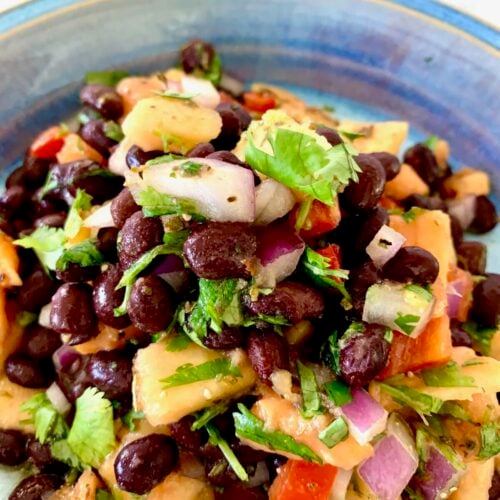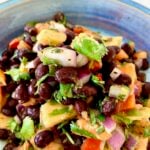 Papaya and Black Bean Salsa
Take this refreshing and delightful salsa anywhere this summer! You won't be disappointed, I promise.
Ingredients
6 1/2

ozs.

cooked black beans

1

papaya, cut into small dice

5 1/4

oz.

small diced red pepper

3 1/4

oz.

small-diced red onion

2

jalapenos, seeded and minced

3

tablespoons

chopped cilantro

2

teaspoons

dried oregano

2

tablespoons

minced ginger

1/4

cup

olive oil

1/4

cup

lime juice and zest for topping

1

teaspoons

ground black pepper

2

teaspoons

salt
Instructions
Combine all the ingredients and adjust seasoning. Serve immediately or cover and refrigerate until needed.

Serve with chips, sliced bread, or crackers.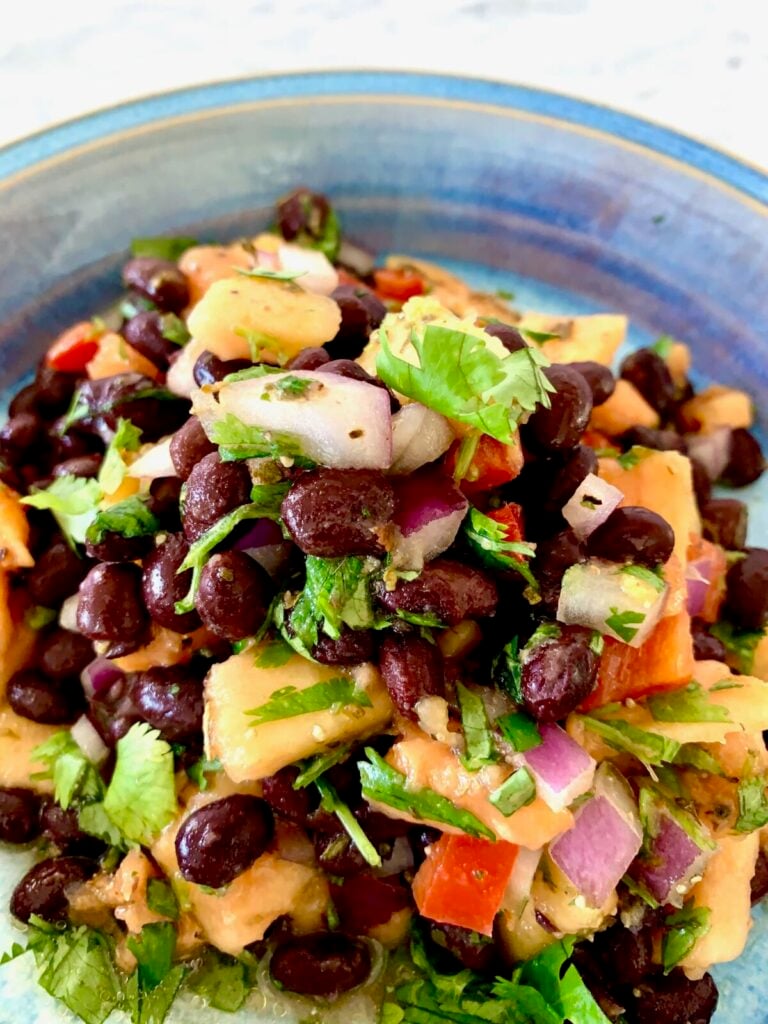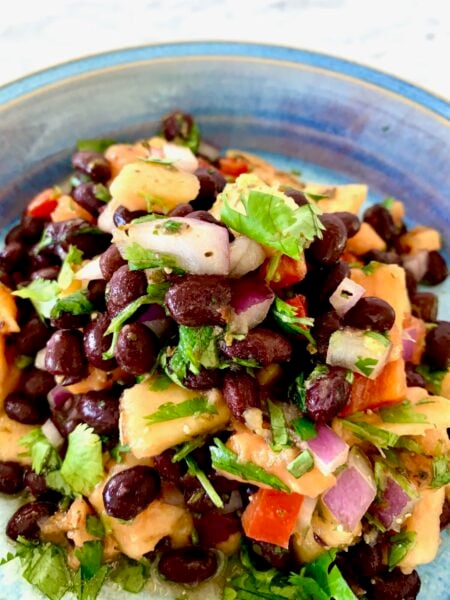 Add all your ingredients and enjoy this incredibly nutritious and delightful salsa.
Best of Health!
Mary
© 2021, Mary Papoulias-Platis. All rights reserved.