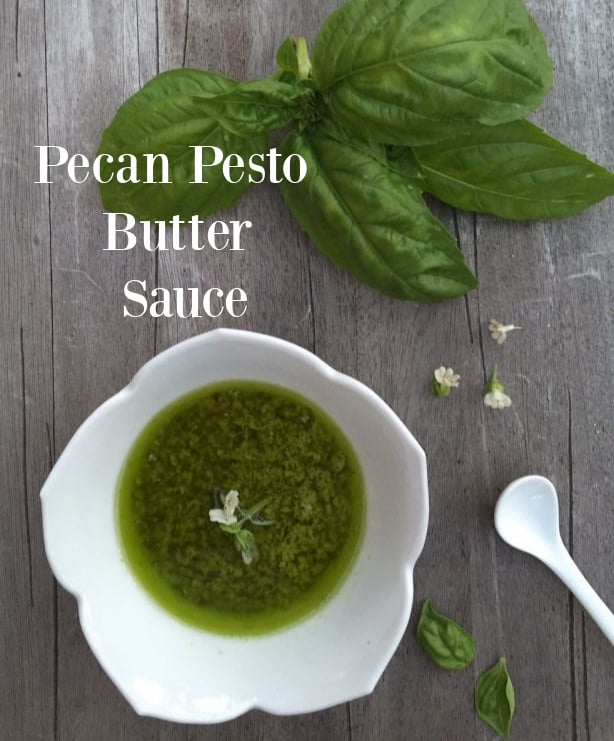 We are now in the full swing of gardening and summer cooking! And when my basil is overflowing and it's time for picking – I think pesto. But this recipe is more of a butter sauce for your summer pasta salads, grains or BBQ meats. Learning this simple technique of Pecan Pesto Butter Sauce, you can design your own dishes with this incredible simple pesto sauce. Add it to pasta, salads, potatoes, lamb, chicken and the list goes on. I just can't live without this sauce!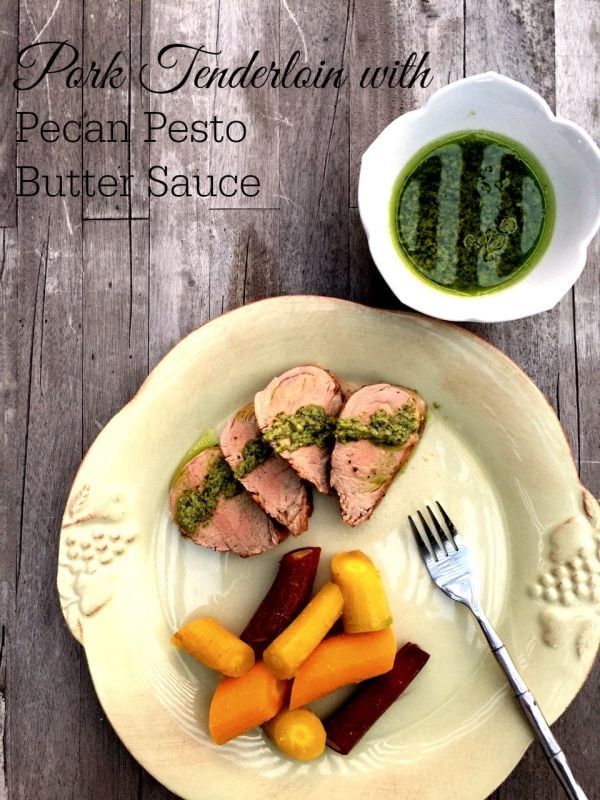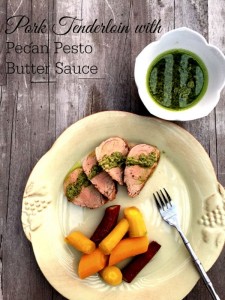 This recipe was found in my family recipe box from many years ago with the corners turned up, all stained with green basil spills. I happen to get invited for a cooking class as a guest at the local Herb Society Meeting in Rancho Santa Fe.
The chef made a large bowl of pasta and served it as her presentation. I loved that class and all the fine ladies I met that day. It's one recipe I don't make often (because of all that butter) but when I do make it, it takes me back to that friendly chef and how she gathered the pesto that day from her garden, and took us back into the porch area to make this amazing sauce. I remember taking vivid notes as if I was in class again. And that was a true farm to table experience before it became so popular like today!
That was over 20 years ago!
And to this day, I plant basil so I may have enough to make this memorable recipe.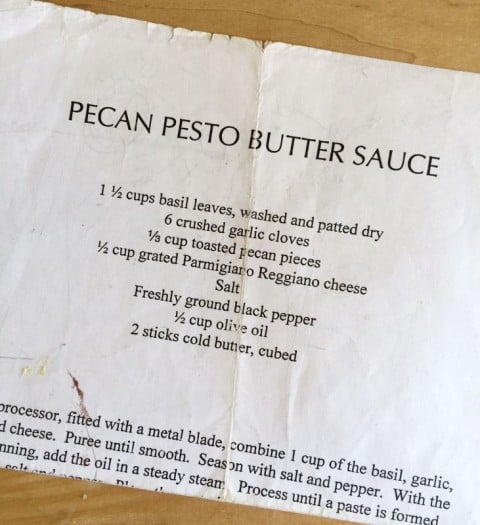 Why you should you plant basil:
Basil leaves compose of several health benefiting essential oils such as eugenol, citronellol, linalool, citral, limonene and terpineol. These compounds are known to have anti-inflammatory and anti-bacterial properties.
Contains iron. Vitmain A;beta-carotene, potassium and manganese.
Basil leaves hold many notable plant derived chemical compounds that are known to have disease preventing and health promoting properties.
Member of the mint family it has been used as a medicinal plant, and its oils and extracts are said to have antioxidant and antibacterial properties.
To begin always start with gathering all your ingredients.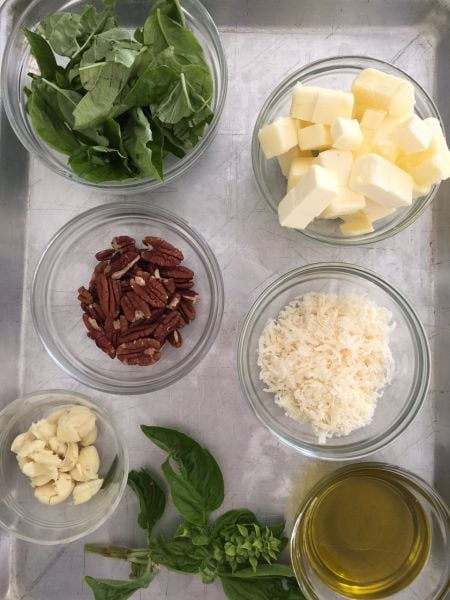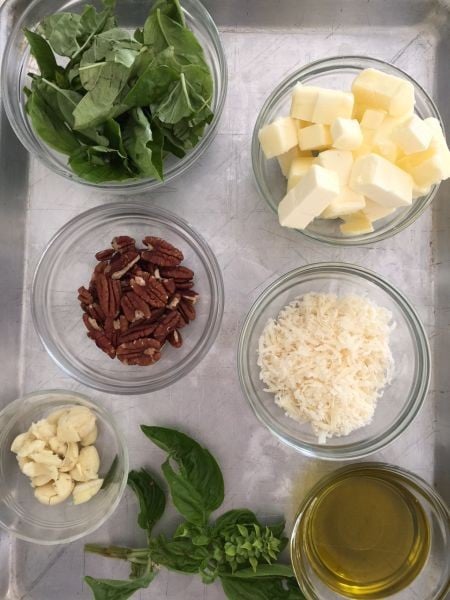 Measure and cut everything beforehand.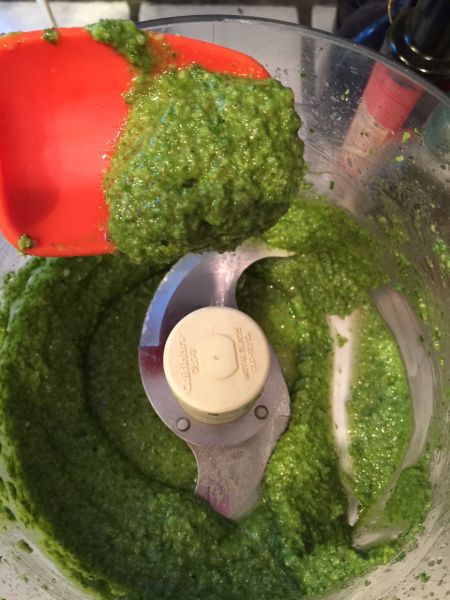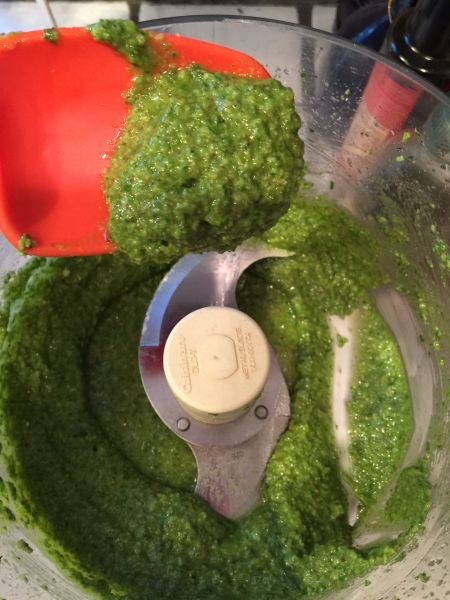 Blend in the food processor or mixer.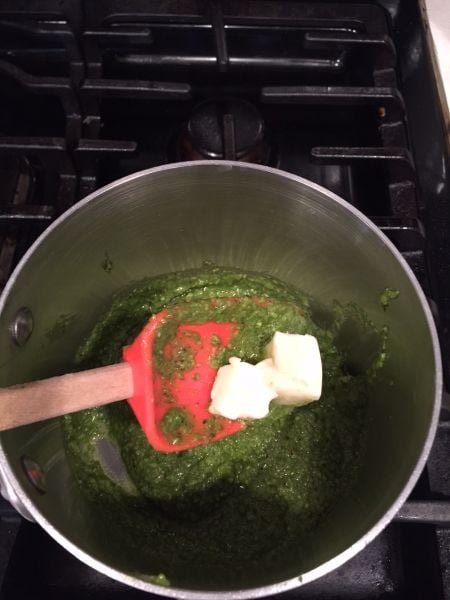 Place the pesto in a saucepan. Slowly add the cubed butter.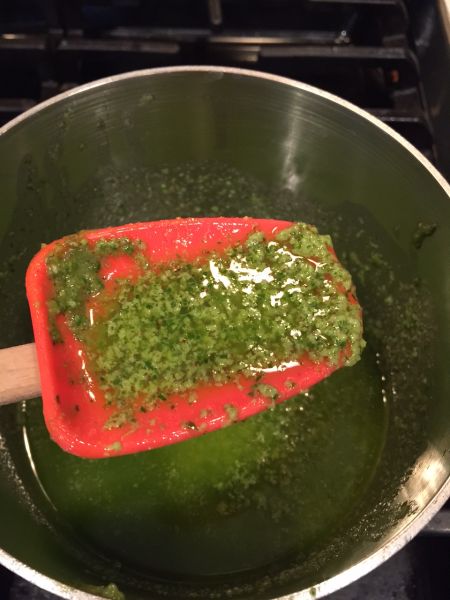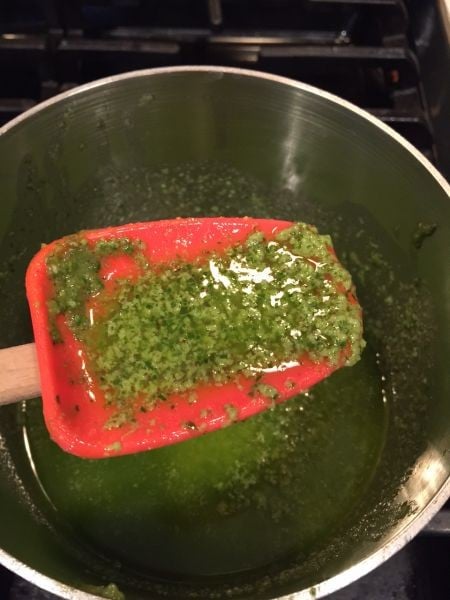 Keep warm on lowest temperature until ready to serve.
Pecan Pesto Butter Sauce
Make this sauce for a special occasion with a big bowl of pasta, salad, and garlic bread and you will make many family and friends very happy! Or add it to your favorite BBQ meat.
Ingredients
1½ cups basil leaves, washed and patted dry
6 crushed garlic cloves
⅓ cup toasted pecan pieces
½ cup grated Parmigiano Reggiano cheese
salt
freshly ground pepper
½ cup olive oil
2 sticks of butter, cubed
Instructions
In a food processor, fitted with a metal blade, combine the basil,garlic, pecans, and cheese.
Puree until smooth. Season with salt and pepper.
With the machine running, add the oil in a steady stream. Process until a paste is formed.
Place the pesto in a saucepan, over low heat, heat the mixture.
Whisk in the butter, a cube at a time, until all the butter is incorporated.
Re-season the sauce if necessary.
Set aside and keep warm.
Notes
This can be used on pasta, pizzas, or added to top chicken, pork, or meat dish.
How To Cook Pork Tenderloin
Follow these few steps to serve pork tenderloin. Most packages come with two tenderloins. I use one for 4 people and both 6-8.
Author:
Mary Papoulias-Platis
Ingredients
One package of pork tenderloin (2 tenderloins in a package)
salt and pepper
2-3 tablespoons extra virgin olive oil
¼ cup balsamic vinegar or sherry vinegar
Instructions
Pre-heat the oven to 425 degrees.
Using a large skillet, place over medium heat and add extra virgin olive oil.
Salt and pepper the tenderloin on both sides.
Add the meat to the pan, and leave until golden and browned on the outside. Turn and brown the other side.
Carefully, remove from the heat, and add the vinegar.
Place the pan in the pre-heated oven until it reaches the internal temperature of 160 (medium rare, 180 - well done) degrees.
Pull out and cover and rest for 10-15 minutes,
Slice and serve.
Enjoy!
© 2015 – 2019, Mary Papoulias-Platis. All rights reserved.