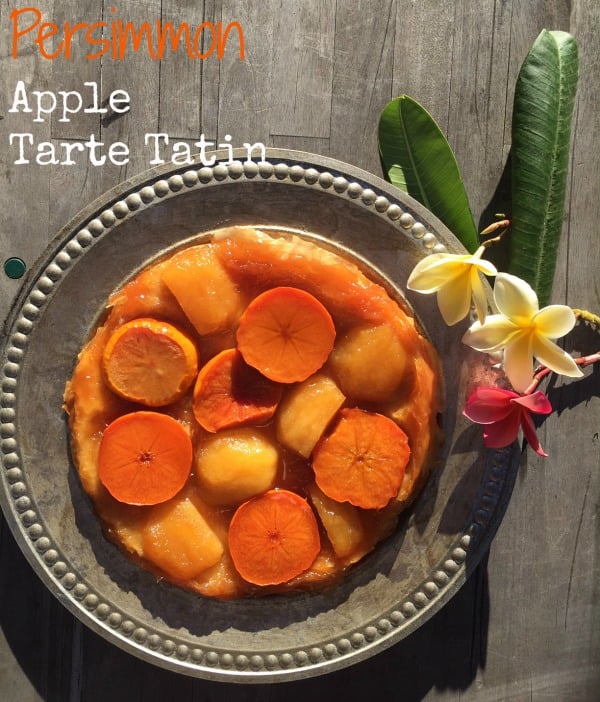 I love the Fall season with all the colorful leaves and crisp weather it brings to our homes. Many years ago, we planted a liquid amber tree when our first baby was born. And everyday I look out my kitchen window and see these true amber, yellow and orange leaves blowing throughout my yard. This persimmon and apple Tarte Tatin clearly brings the colors of the season into your home. What a pretty presentation and addition to your next fall table.
This season has a lot to offer when it comes to fruits for this dessert. You can use plums, pears, oranges and quince. Often apples are first on my list and baking is inevitable. I also consider making easy desserts for week nights. But, if you're entertaining this dessert is quick to assemble and it serves many.
For this recipe, I combined apples with the persimmons to see what an interesting combo they would make. Being Greek,  I always have defrosted phyllo in my refrigerator, so I tend to use that but you can substitute ready-made pie crust or puff pastry. You can also change up the fruit as you become familiar with the recipe. Try and serve it warm with a dollop of plain whipped cream or vanilla ice cream.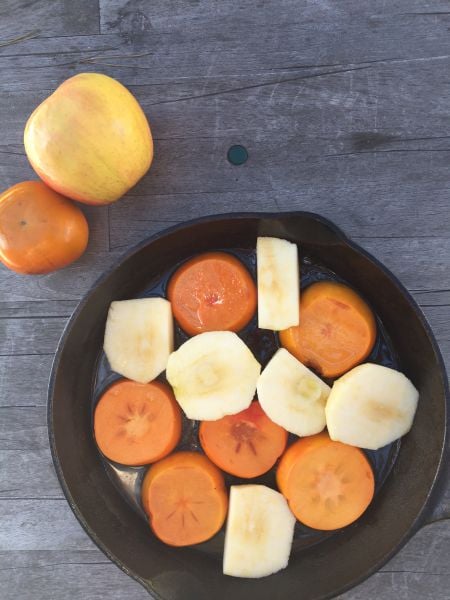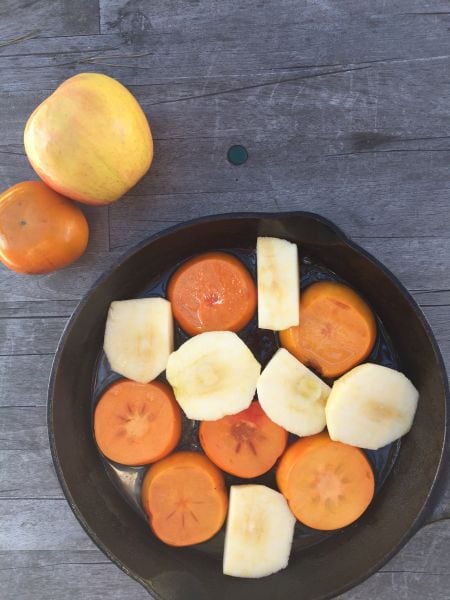 Begin with the syrup and add the apples and persimmons as tightly as possible in the pan.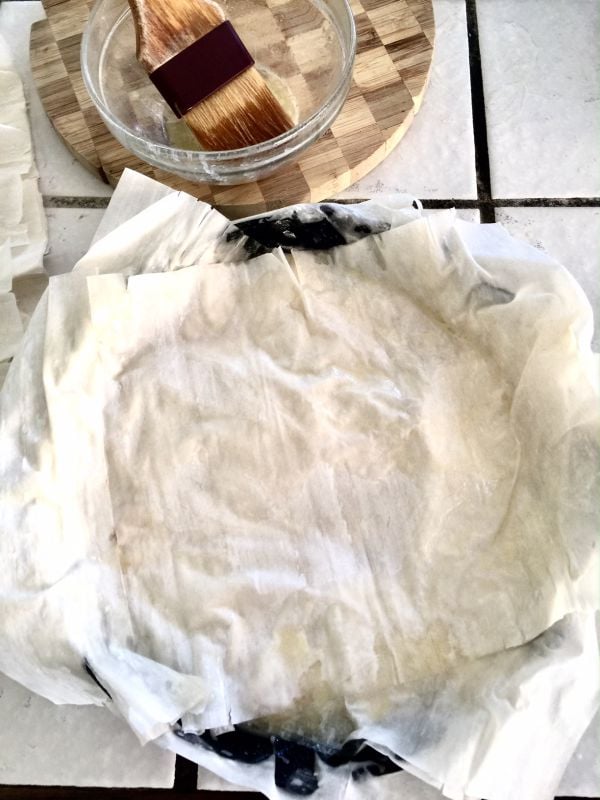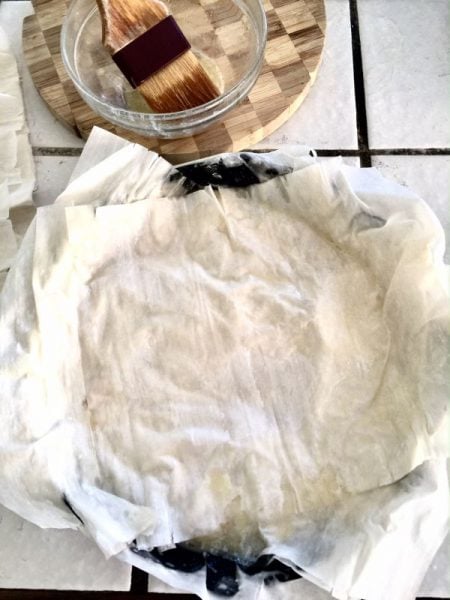 Add the phyllo brushing each layer lightly with butter. Overlapping as you go.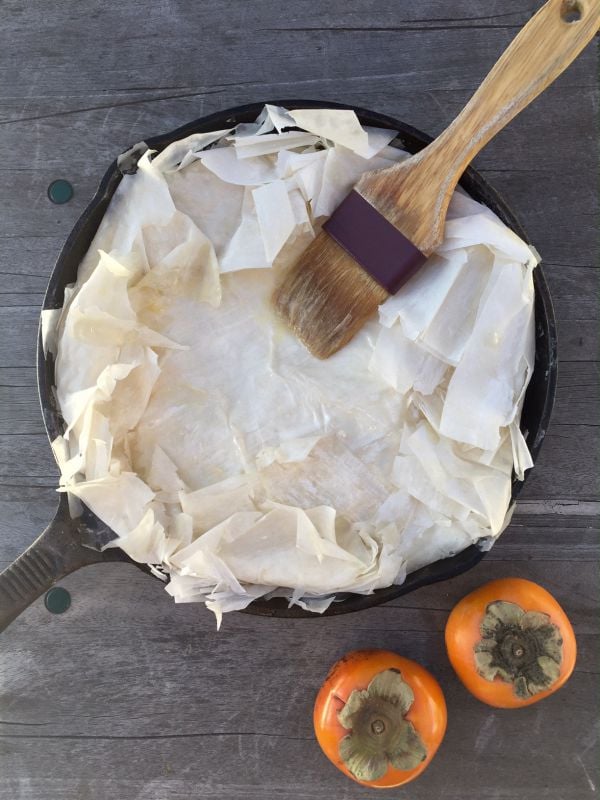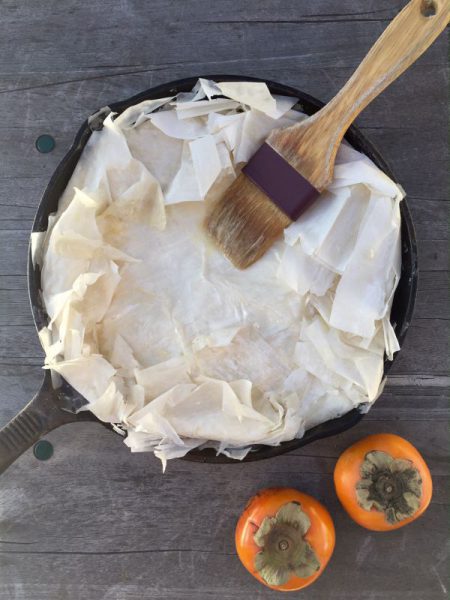 Fold in all the sides and butter all around. Place in the oven and bake.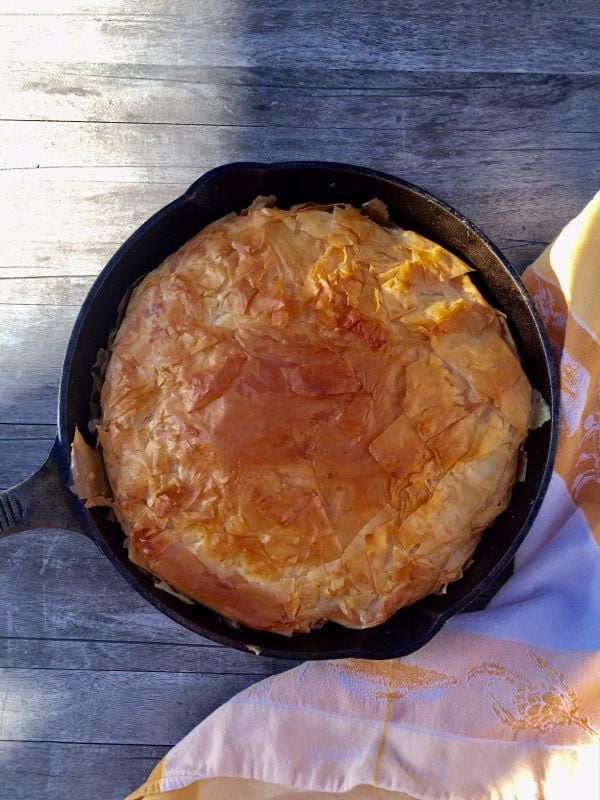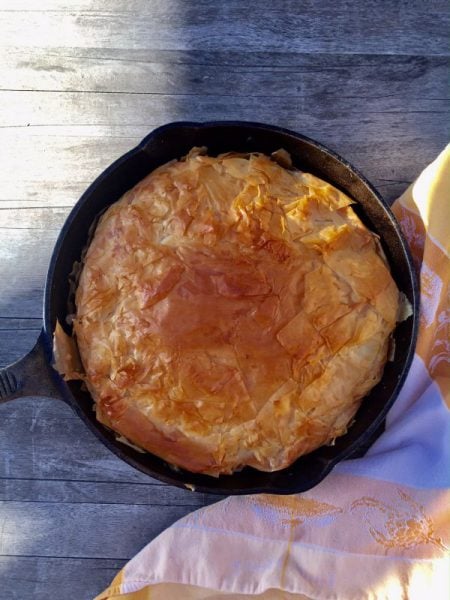 In 25-30 minutes you get this beautifully browned crust. Be ready to flip it onto a parchment lined pan or a platter.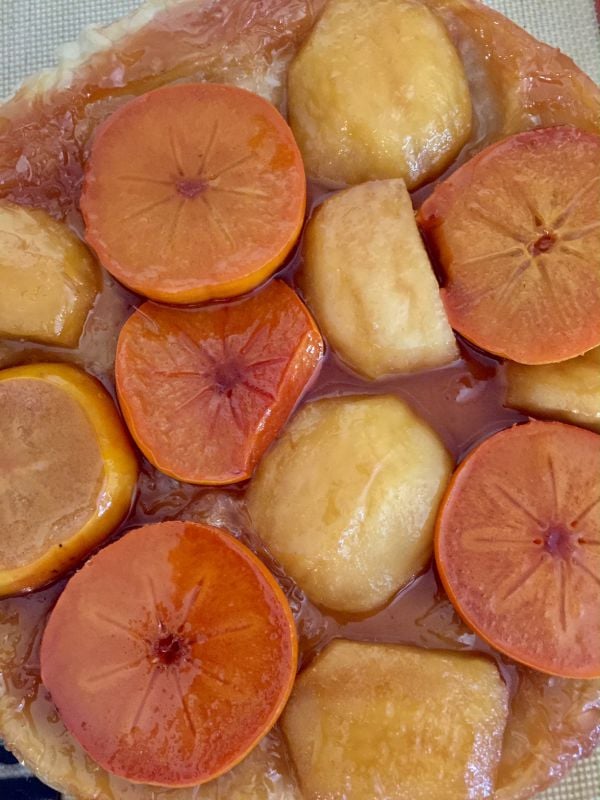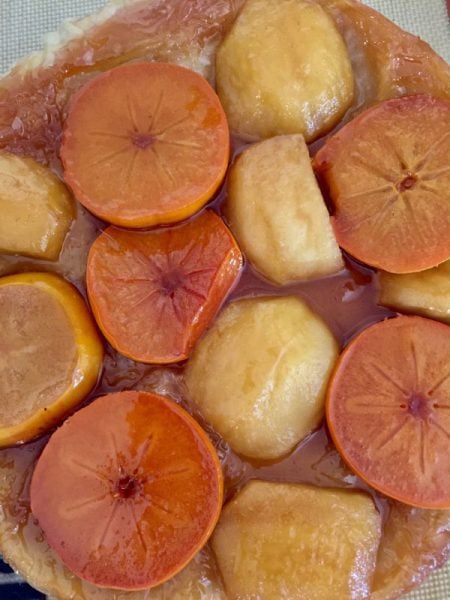 Look at this color! Such a fall inspired dish, don't you think!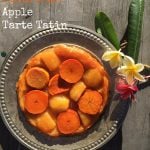 Persimmon and Apple Tarte Tatin
A simple dessert you can assemble in minutes, served warm to your family with a dollop of ice cream. Add this to your fall table, so colorful and delicious.
Ingredients
4

tablespoons

butter, cut into small pieces

6-8

phyllo sheets

defrosted

1

cup

sugar

1/2 lemon zest

and 1 teaspoon lemon juice

2

baking apples, peeled and cored

2

fuyu persimmons, sliced in half
Instructions
Preheat the oven to 400 degrees.
Use a 8-9 inch cask iron skillet for this recipe. You made need more fruit for the 9-inch.

Mix the sugar, 2 tablespoons of water and zest and lemon juice in a small saucepan. Bring to a boil over high heat. Cook until you have a golden color 15-20 minutes. Remove and pour into the skillet or pan. Add in the butter and stir, mixing well.


Add the apples and persimmons in an alternate pattern. Arrange as many fruit as possible into the pan, round side down.
Place one sheet of phyllo over the pan, butter each layer, overlapping in a clockwise fashion. Fold in the overlapped edges into the pan, and butter.

Bake until golden, around 25-30 minutes.


Carefully remove from the oven and invert on a parchment cover sheet tray or large platter. Let cool and transfer to serving dish. Serve warm.
























© 2016, Mary Papoulias-Platis. All rights reserved.