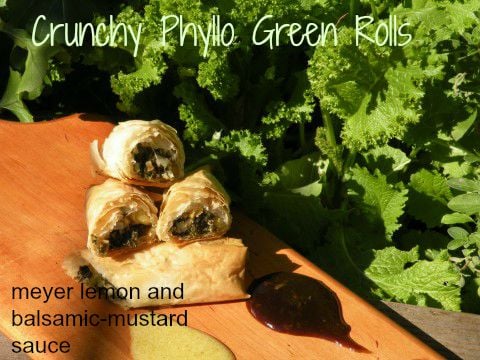 Our year-around garden boxes are brimming with greens and herbs for your everyday meals. Greens are embedded in the Greek diet, so growing up we were introduced to almost every variety. They were steamed, braised and in stews. Many of our salads were mix in with romaine to give  them a kick. You can use greens in so many dishes, it's worth throwing some in your garden boxes. Plus, you have a variety of fresh greens to choose from for your morning smoothies.
My phyllo green rolls can have any greens mixture you desire and what you may have on hand. Be creative and add kale, broccoli leaves, sweet peas tendrils, sprouts, arugula, I can go on and on.
Here's my appetizer tip: I always have a package of defrosted pie crust or phyllo dough in my refrigerator for quick last minute meals.
I've included in this recipe mustard greens, spinach, leeks, and rapini. I added fresh oregano, and parsley to the greens for added taste.  For the sauces, I chose two that I liked equally as well. One is a balsamic sauce and the second is a Meyer lemon vinaigrette. These rolls can be used as an appetizer, served with a salad or soup, or as a lunch entree. Enjoy!
Makes: 12 rolls
2 cups chopped each of spinach, mustard greens, and rapini (Remove thick stems)
1 leek, chopped
1 cup crumbled feta cheese
1 egg, slightly beaten
2 tablespoons fresh parsley,chopped
1 tablespoons fresh mint, chopped
1 tablespoon fresh oregano, chopped
1 tablespoon olive oil
1/4 cup golden raisins
1/8 cup bulgar
1/4 cup pine nuts
1/4 teaspoon pepper
1/2 teaspoon salt
1/2 pound phyllo dough, defrosted
1 stick butter, melted
Bring a medium pot of water to boil, add greens and blanch for 2-3 minutes. Drain. Cool.
Squeeze the greens in a paper towel until all water is absorbed. Place in a medium bowl.
Add the remaining ingredients.
Mix thoroughly.
Pre-heat oven to 350 degrees.
Place one phyllo sheet on wax paper or on a silpat . Butter top layer. Fold over lengthwise and butter.
Spoon 1/4 cup of greens on the phyllo at the end facing you, keeping greens away from edges.
Roll like a cigar. Place on buttered sheet pan and butter.
Use up all the filling. This makes up to 12 cigars.
Note: They can be frozen at this point.
Bake in the oven for 25-30 minutes until medium brown.
While they are baking make the sauces.
Meyer-Lemon Sauce
Makes 1 cup
3 gloves garlic, crushed
1 teaspoon salt
1/2 cup olive oil
pinch of pepper
1/2 cup Meyer lemon juice  or regular lemon
Combine garlic and salt in a small bowl. Stir with a fork until salt is melted.
Drizzle in olive oil, then add a pinch of pepper and with the fork whisk together.
Whisk in lemon juice. Taste for seasoning.  Strain juice with a fine sieve and serve.
Balsamic- Lemon Sauce
Makes 1 cup
1/2 cup balsamic vinegar
1/2 cup olive oil
1 teaspoon Dijon mustard
Zest of 1 Meyer lemon
Juice of 1/2 lemon
Pinch of salt
Combine balsamic and Dijon in a small bowl. Whisk together.
Whisk in oilve oil. Add zest and lemon juice. Whisk until smooth.
Taste for seasoning. Add salt if needed.
© 2011 – 2019, Mary Papoulias-Platis. All rights reserved.