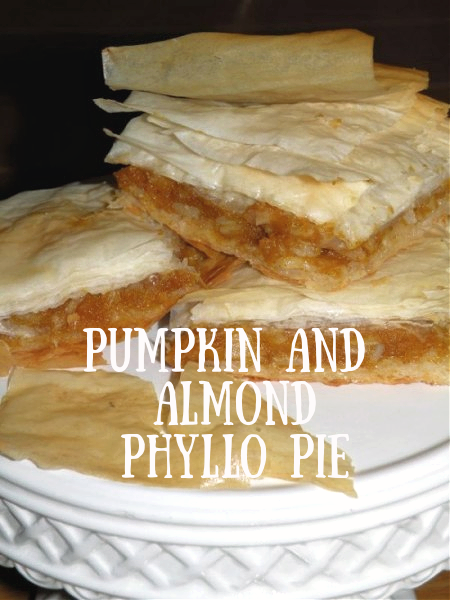 When you feast on a special dish your mother created for the holidays year after year, memories from those holiday dinners begin to flood your mind with warm spicy flavors. That first bite of fresh pumpkin was so memorable for me.  My mother's specialty, pumpkin and almond phyllo pie which she served at our holiday table was lost from our recipe files!
So often I searched for something similar to what I remembered. But, I never could find it. Finally, I had taken a trip to Corinth, Greece where my mother was from and I was so excited to ask relatives for this recipe. But, unfortunately I was unsuccessful in locating it.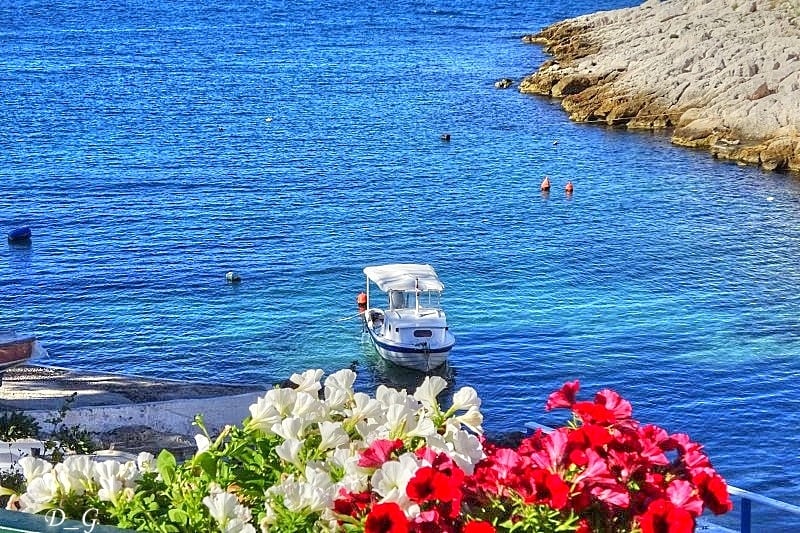 After several hours of experimenting, I developed the recipe to how I best remembered it. The filling is so delightful and scrumptious, a truly heartwarming experience for me. As it came out of the oven that first night, I sat down that evening and enjoyed eating four large pieces!  If that's all I have for Thanksgiving/Christmas dinner I will be very happy and content. If you ever knew my mother, she would be very happy to know, you can now enjoy this special treat she created for her family. For fresh pumpkin cooking instruction see: Cooking Technique on How to Roast a Fresh Pumpkin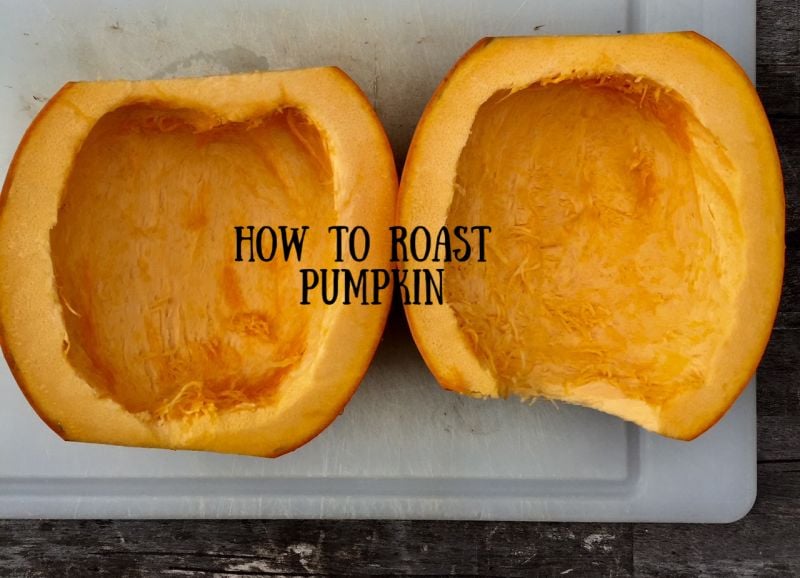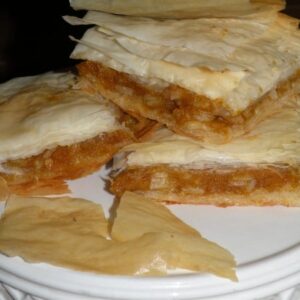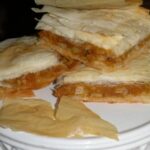 Pumpkin and Almond Phyllo Pie – Kolokithopita
This special version of my mother's pumpkin pie is unforgettable. I had lost the recipe for years until I was brave enough to recreate it for my family. Enjoy this holiday treat.
Ingredients
1

lb.

phyllo dough, defrosted

4

cups

fresh pumpkin, 2 2 1/2 - 3 lb. sugar pumpkins

2

cups

sugar

2/3

cup

cooked rice

2

small onions, grated and drained

2

tablespoon

cinnamon

1

cup

extra virgin olive oil

1/2

cup

sliced blanched almonds

1/2

cup

melted butter for phyllo
Instructions
If using fresh pumpkin begin this recipe the day before. See Cooking Techniques for Roasting Pumpkins

Note: 1 (2-1/2 - 3 lb. sugar pumpkin = 2 cups pureed pumpkin)

Preheat the oven to 350 degrees.

Cut pumpkins in half, scoop out all pulp and seeds and roast cut side down on a foiled covered sheet pan in a 350 degree oven until soft, approx. 1 hour.

Scoop out pulp, place in food processor until smooth. Place in a sieve over a large bowl and drain overnight.

Boil the rice until soft. Drain.

Finely grate the onion. Drain.

Combine the pumpkin, sugar, and rice in a large bowl.

Add the onion, cinnamon, oil, and almonds to the pumpkin. Set aside.

To prepare the pan:

Butter the sheet pan. Layer 1/2 the pound of phyllo on the bottom, buttering each layer.

Place the filling on top, smoothing evenly in pan.

Place the second layer of phyllo on top buttering each layer.

Score (cut with a sharp knife) the top only of the phyllo into 4 pieces width by 6 pieces lengthwise for 24 squares.

Bake in a 350 degree oven for one hour. Let cool.

Serve warm or at room temperature. Can be sprinkled with powdered sugar and cinnamon!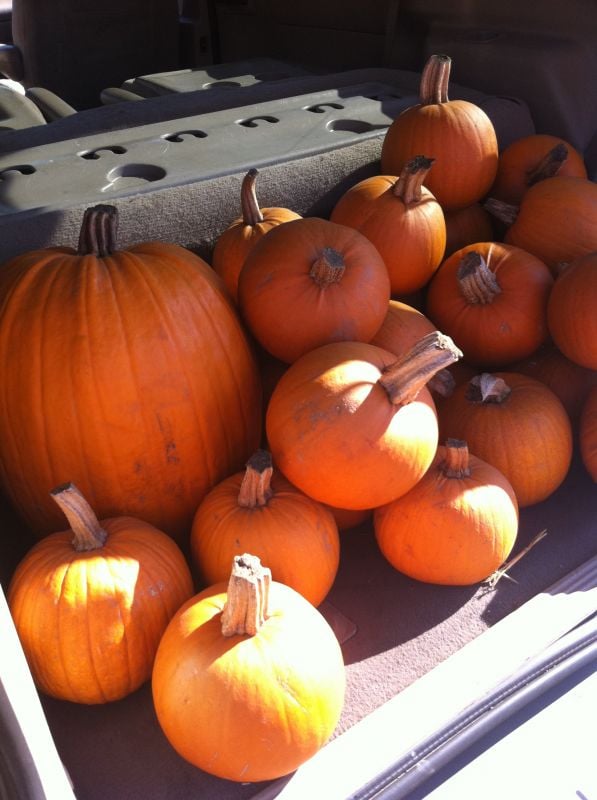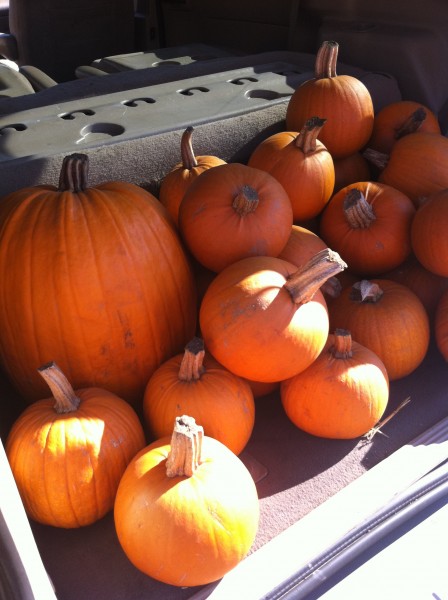 Every year I jump in my van and head over to the pumpkin patch after Halloween to pick up my pumpkins for my Holiday cooking and decoration frenzy. These are my favorite pumpkin to cook with, " The Sugar Pumpkin".
You may want to create more of my pumpkin dishes:
Fresh Pumpkin Patties with Nutmeg Sauce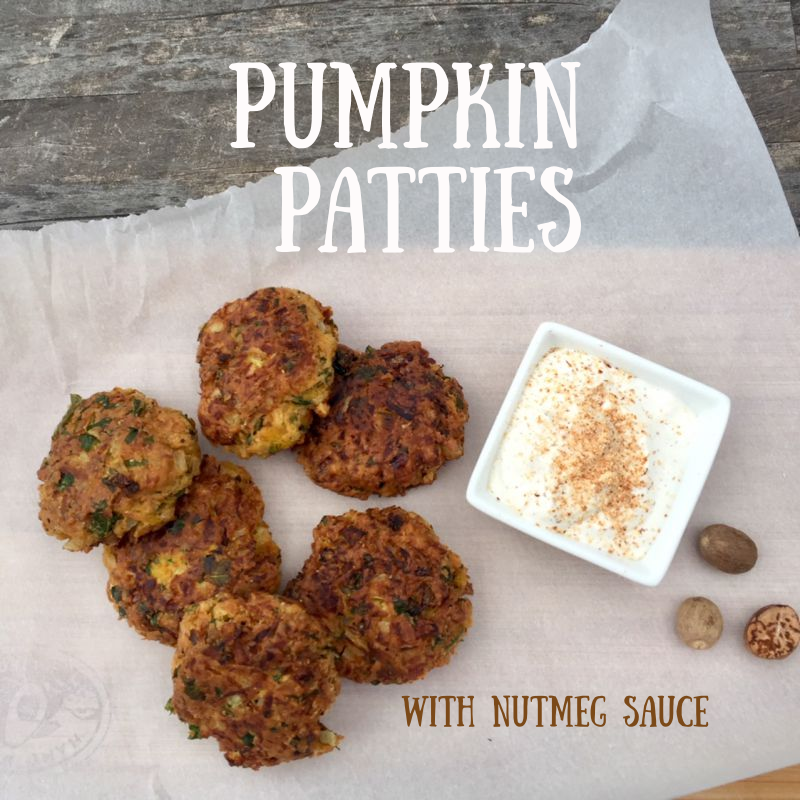 Roasted Pumpkin/Butternut Squash Soup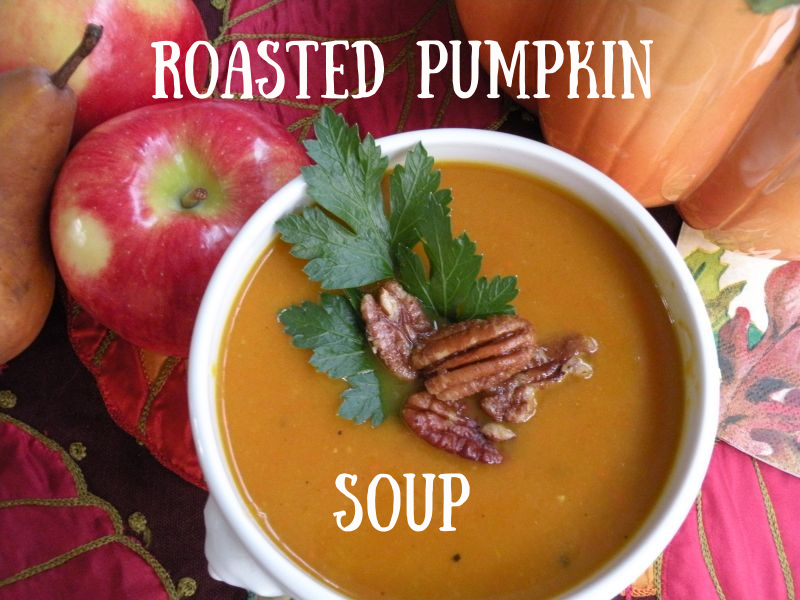 Enjoy these holiday dishes,
Mary
© 2010 – 2023, Mary Papoulias-Platis. All rights reserved.