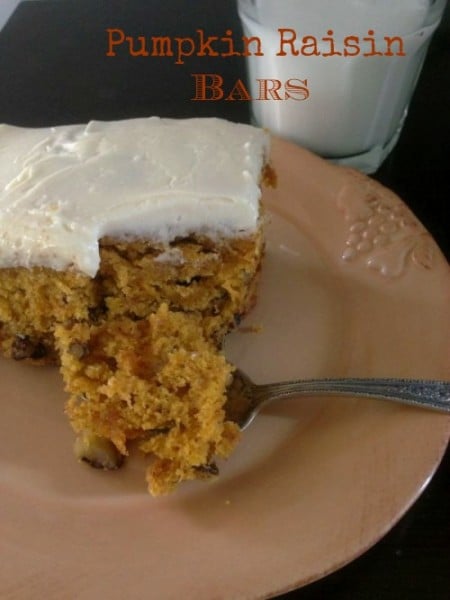 As many of you know I picked up many pumpkins this Fall and I had three last pumpkins to cook up this season. I chose this pumpkin raisin bar recipe from a forgotten file I found in my office. Bars are an old-fashion simple cake with a great frosting, serving enough for the entire family or a large crowd.  Finding an old recipe as this one is like looking up an old friend ~I wish I visited it more often. This cake can be eaten for breakfast, an afternoon tea or anytime during the day. Do me a favor, pull out some of those old recipes and share your old-time favorites with your friends and family and stir-up some fond memories together.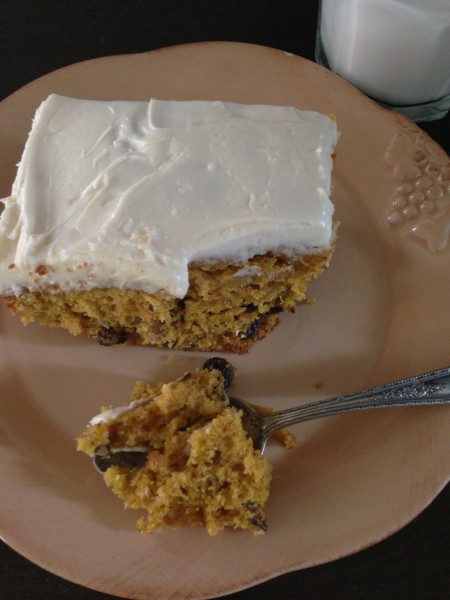 Pumpkin Raisin Bars
This delightful spicy bar dessert can be made for a large crowd or served as a cake in a smaller version for the entire family. One of my old-favorites.
Ingredients
2

cups

all purpose-flour

2

cups

sugar

2

teaspoons

baking powder

1

teaspoon

baking soda

1

teaspoon

cinnamon

1

teaspoon

nutmeg

1/2

teaspoon

salt

1/2

teaspoon

ground cloves

1

cup

oil

4

eggs

2

cups

fresh pumpkin puree or 1- 15 oz. can organic pumpkin

1/2

cup

chopped nuts

1/2

cup

raisins

Frosting

1/3

cup

butter, softened

1

3 0z. pkg. cream cheese, softened

2

cups

powdered sugar

1

tablespoon

milk

1

teaspoon

vanilla
Instructions
Instructions

Heat oven to 350 degrees.

Grease a 15-10" baking pan (for 1 "bars) or 9x13" cake pan (for thicker cake)

In a large bowl combine all the bar ingredients except nuts and raisins.

Beat on low speed until moistened. Beat for 2 minutes at medium speed.

Stir in nuts and raisins. Pour into greased pan.

Bake for 25-30 minutes or until toothpick comes out clean. Bake for 40-50 minutes if placed in a 9x13" pan. Cool completely.

Frosting

In a small bowl, combine all the frosting ingredients. Beat until smooth.

Frost cooled cake. Store in the refrigerator.
Nutritional Value from Pumpkins
I was curious how fresh pumpkin can benefit your health, so I did a little research and found so many interesting facts that I wasn't aware of. I found the site
Livestrong
and found all these nutritional facts, check out their site for more facts and recipes.
Fist of all it's low in calories, has no salt and no fat. 

Vitamins A and C are found in pumpkin along with fiber.
Minerals such as Copper, Magnesium, Calcium, Zinc, and Selenium are found.
And it's beautiful orange color has Carotenoids – great for the eyes.
Don't throw out the seeds they're full of  Oleic Acid that help lower bad LDL.
More Pumpkin Recipes on my Blog
Holiday Stuffed Pumpkin with Greek Cheeses
Pumpkin with Phyllo and Almonds
Cooking Techniques on How- to- Make Roast Fresh Pumpkin
Enjoy these seasonal recipes!
Mary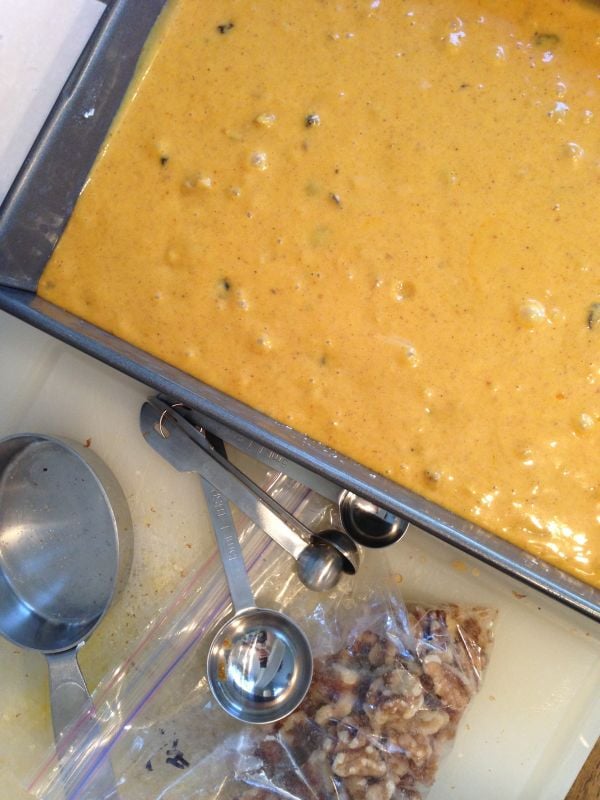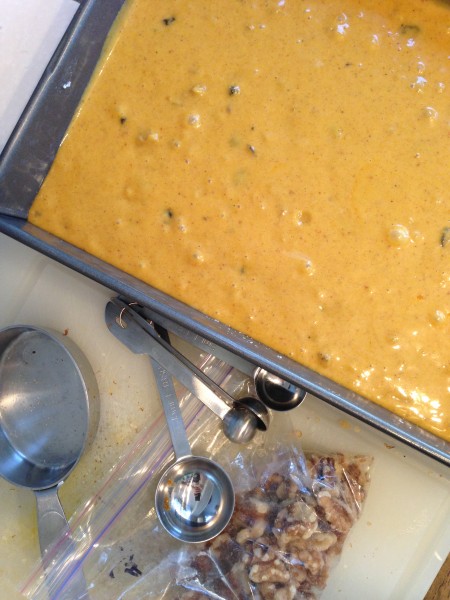 © 2012 – 2022, Mary Papoulias-Platis. All rights reserved.