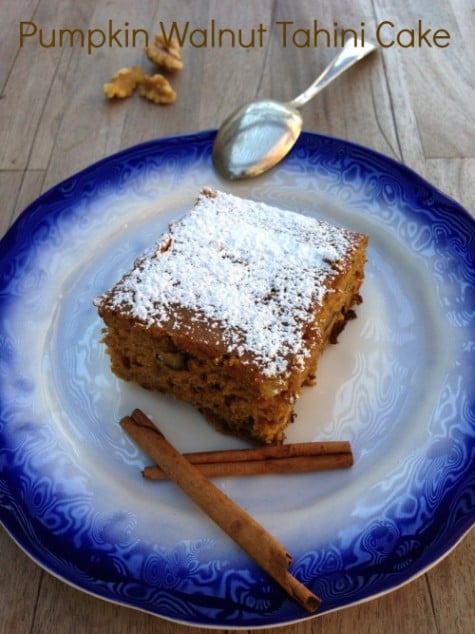 Who doesn't love hummus? If you do, you will love this Pumpkin Walnut Tahini cake made from sesame tahini, created with a fall touch of pumpkin. Originally made in Greece for the Lent season, it has an absence of animal products (eggs and butter) for those participating in the fasting ritual.
For those of you who haven't worked with tahini, it can be found in a jar in the Middle East cooking section of your grocery or near the nut butters. Tahini is a thick paste made of ground sesame seed. It's used to flavor various popular dishes. You may want to visit my recipes for Greek Hummus and Falafel Sliders.
I added pumpkin, raisins, nuts, and spices to give it a Fall twist. With the addition of pumpkin it gives the cake a dense thick bar-like texture, so serve small pieces as they go a long way. Serve with a scoop of Greek yogurt, fresh fruit or a dash of powdered sugar. For a larger crowd double this recipe and place in a 9 x 13 baking pan. An unexpected but appealing compliment to your holiday table. This cake can be made without the pumpkin, just use 1 cup of tahini to the recipe.
Here are some fun facts about tahini:
Tahini is made by grinding sesame seeds into a smooth paste. Sometimes the sesame seeds are hulled, sometimes they're left unhulled; sometimes roasted, sometimes raw.

Tahini can be used as a spread, a dip, a dressing, and serves as a key ingredient in many dishes, including hummus and baba ghanoush.

Tahini is a great source of phosphorus and manganese, both of which play vital roles in bone health. It's also high in thiamine (vitamin B1) and vitamin B6, which are important for energy production.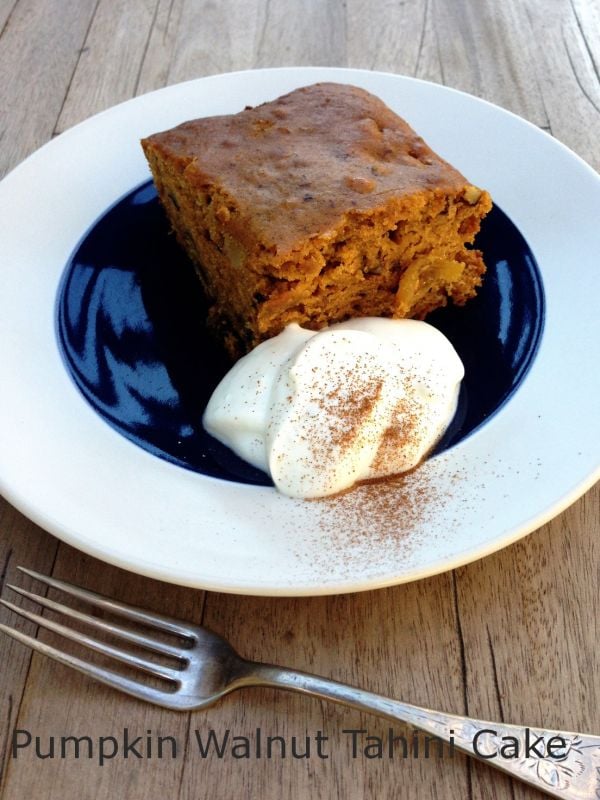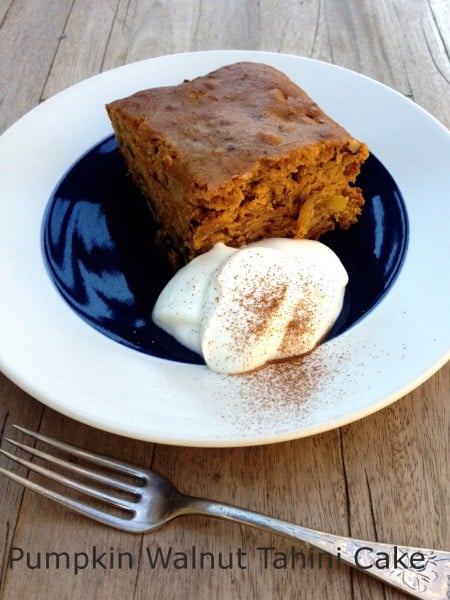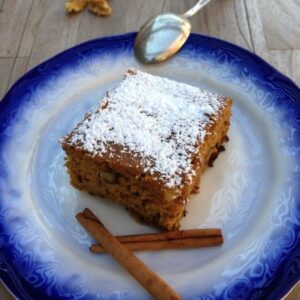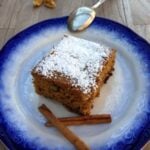 Pumpkin Walnut Tahini Cake
This versatile cake can be baked and served with Greek yogurt, fresh fruit and and berries. This cake with it's dense nature goes a long way, so cut the pieces small. For fall treat serve with roasted pears.
Ingredients
1/2

cup

tahini (sesame paste)

1

cup

pumpkin puree

1

cup

sugar

2

tablespoons

orange juice

1

teaspoon

baking soda

1 1/2

cups

all purpose flour

2

teaspoons

ground cinnamon

1

cup

chopped walnuts

1/2

cup

golden raisins

1

cup

orange juice
Instructions
Preheat oven to 350 degrees.

Beat tahini and pumpkin in a blender for 2 minutes then add sugar.

Combine the 2 tablespoons of orange juice and baking soda in a small bowl and add to mixture. Mix in thoroughly.

Sift the flour with cinnamon and add the walnuts and raisins.

Add the flour mixture and orange juice alternately to the tahini batter on low speed or by hand.

Butter a 9x12 inch baking pan and line with buttered parchment/wax paper.

Pour in the batter and bake for 40-45 minutes.

Cool in pan.

Serve with Greek yogurt, fresh fruit, berries or a dusting of powdered sugar.
Recipe Notes
This cake can be made without the pumpkin, just add 1 cup of tahini to the recipe.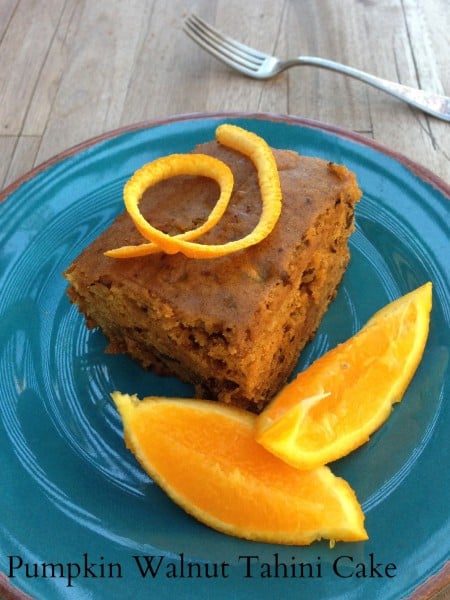 Enjoy your cake!
Mary
© 2013 – 2022, Mary Papoulias-Platis. All rights reserved.