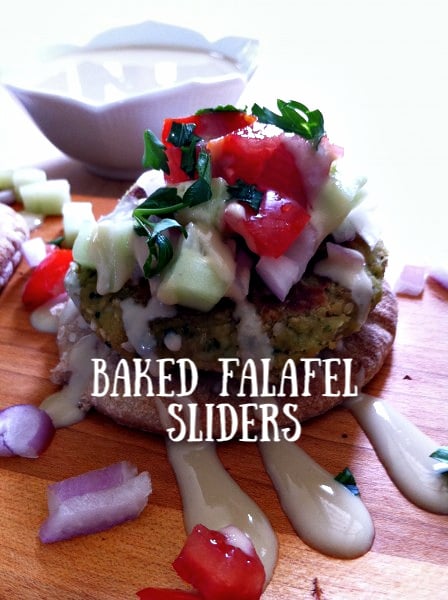 Falafels are chickpea (garbanzo) pita sandwiches commonly found on deli and restaurant menus today.  So popular today due to many who are eating less meat, and adding more beans and grains to their diet. It makes for a great nutritional option. Falafels are generally deep-fried so I wanted them to be more healthful and accessible for to make in your kitchen for your family. I chose sliders for their quick assembly and they make a fun appetizer for your next party. Choosing garbanzo beans can be a protein booster with their  23% protein value. Try them at your next party and you'll be surprised how quickly they disappear from your table.

Greek Falafel Sliders
Use these sliders for appetizers for your party, or make them larger for a side dish.
Author:
Mary Papoulias-Platis
Ingredients
1 15 oz. can garbanzo beans- rinsed and drained
2 cloves garlic, crushed
2 tablespoons extra-virgin olive oil
1 teaspoon ground cumin
½ teaspoon ground coriander
3 tablespoons tahini
¼ cup sesame seeds
1 teaspoon salt
¼ teaspoon pepper
1 onion chopped
¾ to 1 cup dry breadcrumbs or more
1 package of whole wheat mini-pita breads or cut up one pita into four pieces.
(I found miniature pitas at Trader Joe's.)
Tahini Sauce
¾ cup sesame tahini
5 tablespoons lemon juice
1 small clove garlic, minced
¾ to 1½ cup water
½ to 1 teaspoon salt
Garnish:
1 tomato, seeds removed and finely chopped
1 cucumber, peeled and finely chopped
1 red onion, peeled and finely chopped
Instructions
Falafel Instructions
In a food processor add the first nine ingredients.
Pulse the bean mixture until chunky.
Add the onion and breadcrumbs and process until smooth.
You may need to add more breadcrumbs until mixture is thick enough to form a patty.
Place in refrigerator until chilled.
Heat broiler to high or oven to 400 degrees.
Place parchment paper or Siltpat liner on a baking sheet pan.
Using a large spoon scoop up the beans and drop on the pan.
Place the pattys ½ inch apart on the baking sheet.
Wet fingers and softly pat down on each patty to form a even round shape.
Cooking time for the broiler is 10-12 minutes on each side until nicely browned.
For the oven: 15-20 minutes on each side.
Tahini Sauce
Place tahini, lemon juice and garlic in a food processor or blender.
Begin to process and slowly pour in water, testing to consistency you want.
Transfer to a bowl and season with salt and pepper.
(Can be made a couple of days in advance.)
Assembly
Place the pita rounds on a plate add a falafel patty on top.
Add the onion, cucumber, and tomato.
Drizzle with tahini sauce.
Sprinkle with chopped parsley.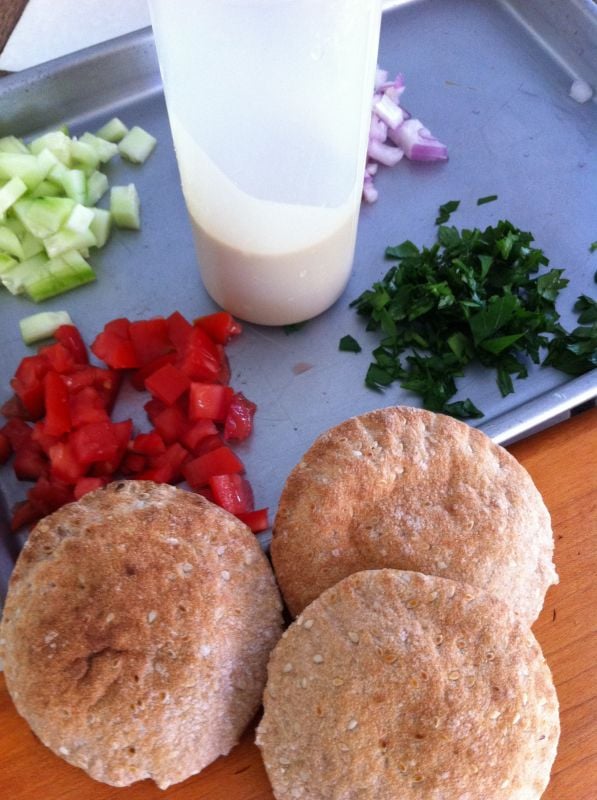 Prep all your ingredients for easy assembly. This is called "Mise En Place" in the culinary world.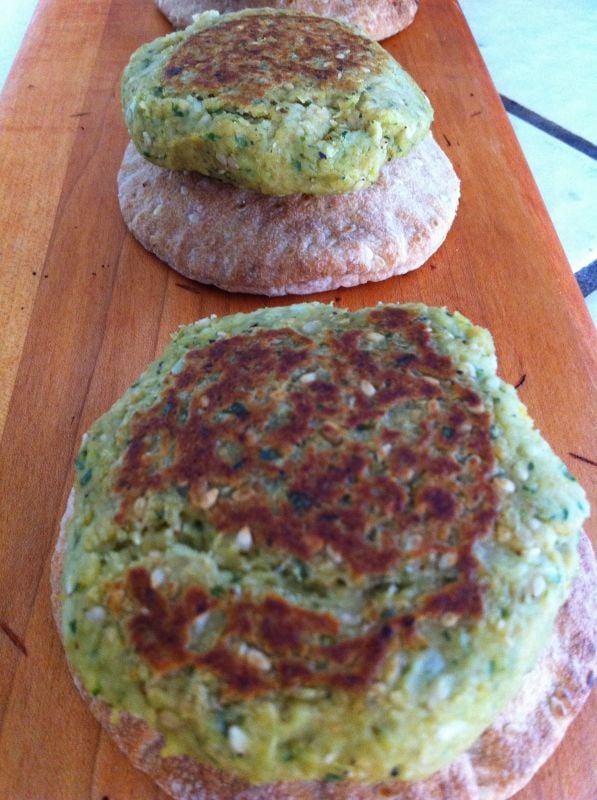 Make sure to allow a nice brown crust to form on the patty.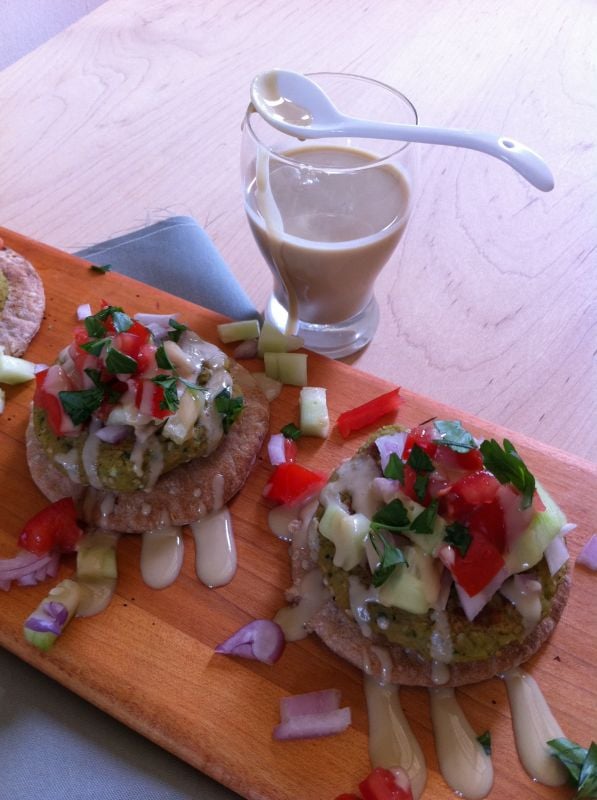 Line them up , add all the veggies, add the tahini, and serve up!
Enjoy my Greek-Inspired Falafel
Mary 
© 2012 – 2021, Mary Papoulias-Platis. All rights reserved.