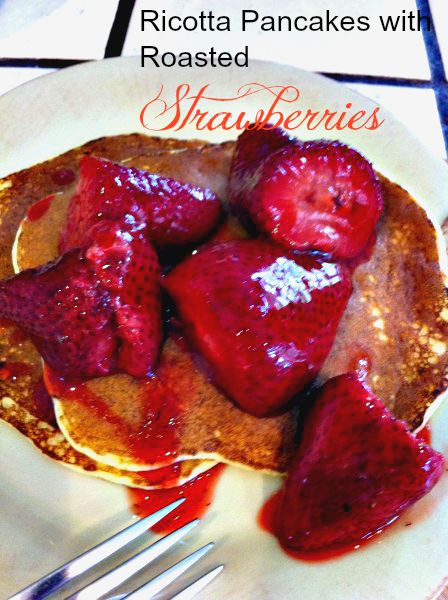 How many times have you purchased  a container of strawberries in the market in one of those gigantic cartons and come to find out you can't use them all up in time before they go bad. Well, this recently happened to me and the foodie that I am I couldn't possibly throw them out so I developed this new recipe, Roasted Strawberries with Ricotta pancakes. Once I roasted up the entire container (minus maybe a couple of cups) the next morning I added them into my blender for a healthy smoothie and also topped my favorite yogurt with a spoonful of berries for a morning treat.
Pancakes being my weekend splurge, I had to explore the possibilities of smothering them with these warm, gooey-messy strawberries! So back to the ricotta pancakes, and what makes these so feather-light. It's the whole milk ricotta and don't go low-fat or they will become too runny. I serve 3-4 large ones to each person, so you may have to double or triple this recipe for a crowd. This recipe has been around since 1975 and originally  called, "Heavenly Pancakes" and was printed on the back of the Precious ricotta carton many years ago! If you're young…well you know what I mean – it's a tried and true recipe.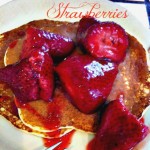 Ricotta Pancakes with Roasted Strawberries
Ricotta pancakes that are light as a feather, smothered with one,two, three... dollops of roasted strawberries.
Ingredients
1

teaspoon

baking powder

1

pinch

salt

3

eggs

1/2

lb

whole ricotta cheese

2/3

cup

milk

1/2

cup

flour

1-2

small baskets of whole strawberries

2-3

tablespoons

of honey
Instructions
Pancakes
Separate eggs and whip whites until soft peaks. Set whites aside.

Mix all other ingredients together thoroughly. Gently fold in whites.

Put 1/4 cup or so on medium hot greased griddle. Flatten somewhat with spoon.

Cook until lightly golden brown and turn once.

Serve with roasted warm strawberries.
Strawberries
Make strawberries the night before or first before the pancakes. Set aside.

Heat the oven to 400 degrees.

Wash and remove the stems and place on a paper towel to dry.

Do not cut the strawberries in half.

Place the strawberries on a rimmed sheet pan or baking pan, and drizzle with honey.

Place in a pre-heated oven for 15-20, depending on the size of the strawberry.

Bake until they become soft but still hold their shape, not mushy.

Serve warm with pancakes.
Recipe Notes
Triple for a family of six.
So here are two ideas on how I managed to eat the remaining berries!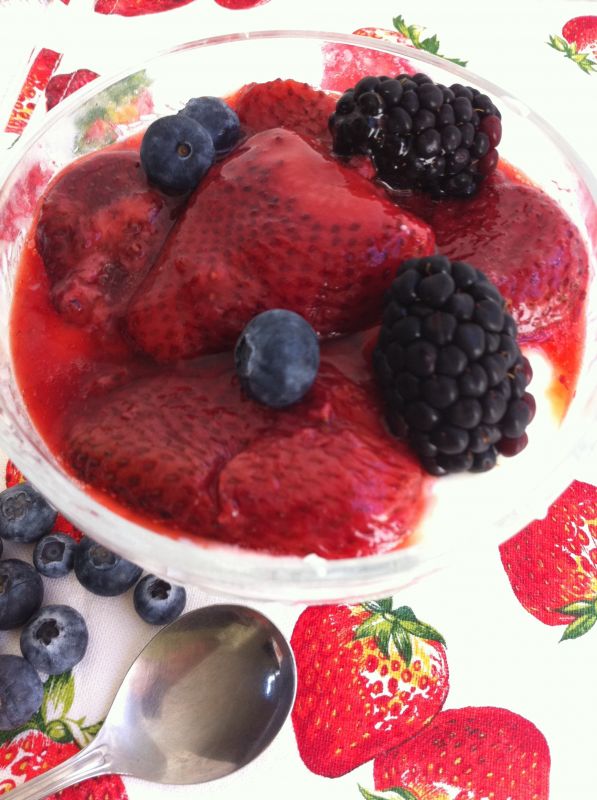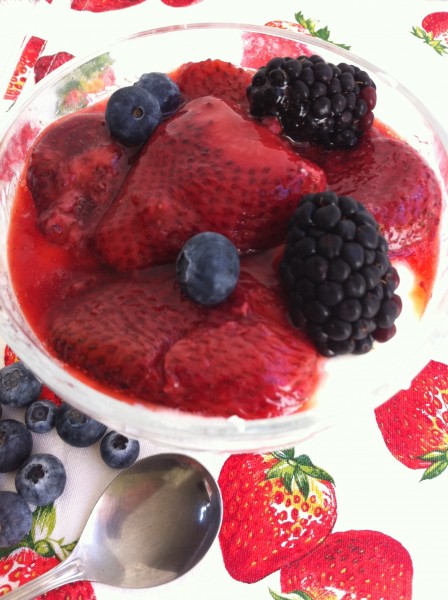 Just add to your favorite yogurt and add berries, nuts, honey…
0r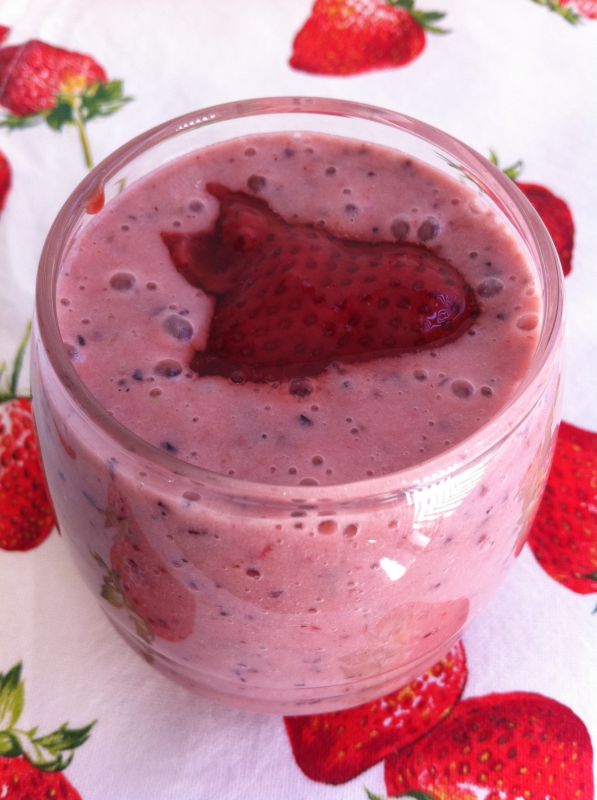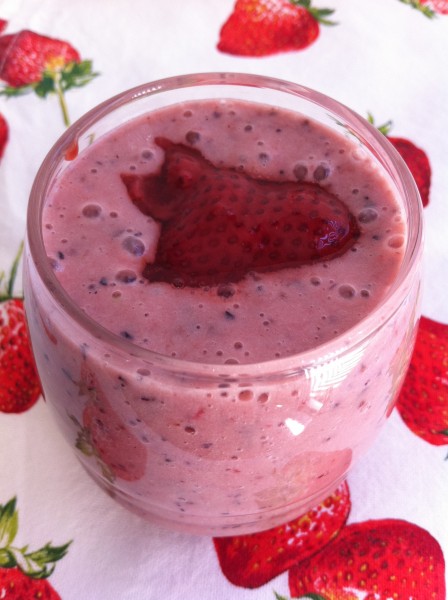 Make yourself or your family, roasted strawberry smoothies. I added one banana, 1/2 cup yogurt, boysenberries,  a little apple juice, and one big juicy strawberry on top!
So good!
You might also enjoy:
Greek-Inspired Strawberry Cheesecake
Strawberry-Feta Mint Salad with Avocados
© 2012 – 2022, Mary Papoulias-Platis. All rights reserved.