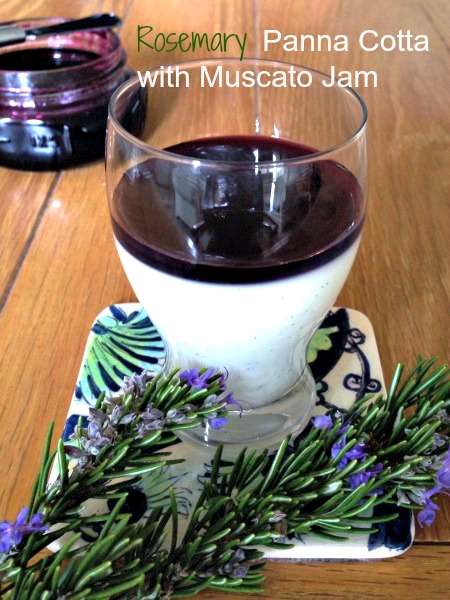 I know what you're thinking…Italian dessert for a Greek site. Well, I happen to love my version of Rosemary Panna Cotta. Playing with and adding flavors to a newly created dish is my all-time favorite past-time. Melissa's Produce happen to ship me these Muscato grapes and I instantly thought of preserving them for another time. So I made jam. But, I still had plenty leftover for a new dessert. Muscato grapes are very special, they deliver a deep wine flavor perfect for a fancy dessert! As the days went by, I began thinking of what flavor combinations I could use and frankly I'm a huge fan of the herb, rosemary. I planted three bushes just so I would never run out. So, I tried it and loved the earthiness it brought to the panna cotta. Fall brings grapes and rosemary to our gardens so I felt they were a good match. I hope you enjoy this basic recipe and use it all year long varying the herbs and jams. Suggestions for new flavors may include peaches, plums, nectarines, figs, and strawberries.
Here's a look at Muscato Grapes.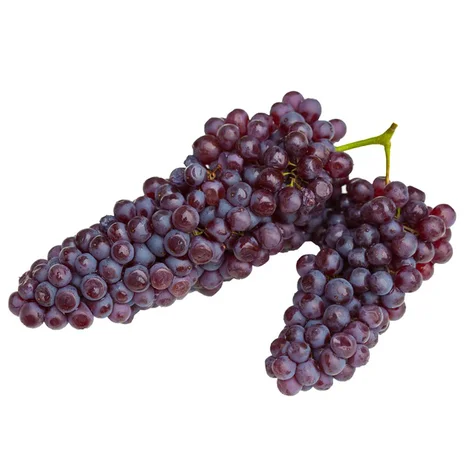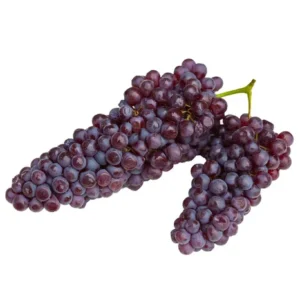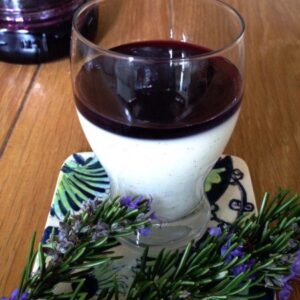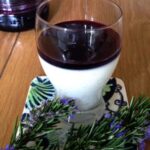 Rosemary Panna Cotta with Muscato
Use this basic Panna Cotta for the perfect dessert when planning ahead for a dinner. Use herbs of your choice and top with any jam and create this elegant presentation.
Ingredients
1

cup

heavy cream, room temperature

1

vanilla bean, split

1/2

cup

sugar

1 6-

inch

sprig fresh rosemary

1

tablespoon

lemon zest

pinch

salt

1 1/4

teaspoon

unflavored powdered gelatin

1 1/2

cups

buttermilk

1

cup

grape jam, recipe below or store bought.
Grape Jam
1/2

pounds

of dark grapes, I use Muscato grapes

3

tablespoons

fresh lemon juice

1

cup

granulated sugar

pinch

salt
Instructions
Panna Cotta
Pour the heavy cream into a medium saucepan.

Scrape all the seeds from the vanilla bean and add to the cream. Add the sugar, basil, lemon zest, and salt. Cover over medium-low heat for 5 minutes.

Remove from the heat, and set aside for 30 minutes. Remove the vanilla bean.

Bring mixture to a simmer, remove from heat and whisk in the gelatin.

Strain the mixture, through a fine strainer, into a clean bowl. Discard the rosemary and zest.

Add the buttermilk to the mixture and mix well.

Pout into 6 individual glasses. Cover the glasses with plastic wrap and refrigerate for 8 hours.

Serve with grape jam.
Jam Instructions
Combine grapes and lemon juice in a medium pan over high heat.

Cook, stirring until grapes begin to break down. About 10 minutes.

Stain through a fine sieve.

Place the juice in a pan with the sugar and salt bring to a boil, reduce heat to a simmer until temperature reaches 220 degrees on a thermometer and thickens.

Place in a bowl, cool and place in refrigerator.

Carefully, place chilled jam on top of the panna cotta .

Keep in refrigerator until ready to serve.
 Just changing up the glass can give  you a more formal look for a special dessert.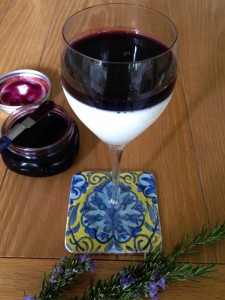 Other combinations to use: peaches and mint, strawberry and  basil, cherry and thyme.
Enjoy ~ Mary
© 2013 – 2022, Mary Papoulias-Platis. All rights reserved.