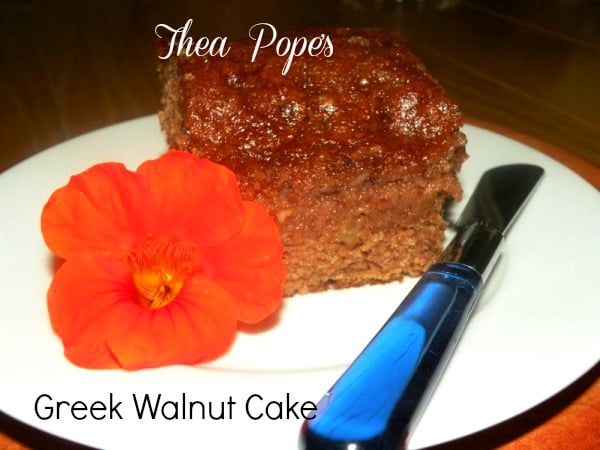 Thea Pope Panos was the only one in our family who had the winning Karithopita recipe!
As a child we would visit after church on Sundays, and all I wanted and waited for was one slice of that warm honey-drenched spiced cake, that she  mastered. Often times I do think back to the kitchen smells and aromas which drifted in and out  my cousins' homes (and I had many), only to remember memorable family gatherings, happy faces and busy hands in the kitchen. This is a great cake for a crowd, or for a family picnic.

Thea Pope's Greek Walnut Cake "Karithopita"
The best Greek walnut cake I know of ~ is my aunt Pope's cake. This is great for a crowd, and was always served at her home for us.
Author:
Mary Papoulias-Platis
Ingredients
Cake
Preheat the oven to 350 degrees.
3 cups flour
1½ cups sugar
1½ cups brown sugar
1½ cups finely chopped walnuts
3 tsp. baking powder
1½ tsp. baking soda
½ cup fresh orange juice
Grated zest from one orange
2 Tbls. ground cinnamon
2 Tbls. brandy
4 eggs- separated
1½ cups milk
1½ cups oil - (vegetable or light olive oil)
Syrup
Syrup
2½ cups sugar
1½ cups water
1 tablespoon lemon juice
Instructions
Cake
Mix the flour, brown sugar, and cinnamon together in a large bowl.
With a mixer, beat the egg whites until fluffy. Place in a bowl.
With the mixer beat the egg yolks and white sugar until light in color and creamy.
Add the milk and oil. Mix thoroughly.
Place the baking powder in a bowl , and mix in the ½ cup orange juice. Add to mixture and beat for 2 minutes on low.
Add the brandy and zest.
Add the dry ingredients and beat on low until all the ingredients are incorporated. Do not over-mix.
Remove the bowl from the mixer.
Fold in the egg whites.
Fold in the nuts.
Grease an 8x11 size baking pan.
Add the batter. Bake in the oven at 350 degrees for 45-50 minutes. Test with a toothpick.
Syrup
Place all the ingredients in a pan and bring to a boil about 15 minutes.
Let cool, and add to hot cake.
When the cake comes out of the oven add the syrup. Let the cake sit for at least an hour before serving.
Notes
Note: Bake cakes in the lower third of your oven to avoid the center from falling.
In the meantime, make the syrup.
© 2011 – 2021, Mary Papoulias-Platis. All rights reserved.