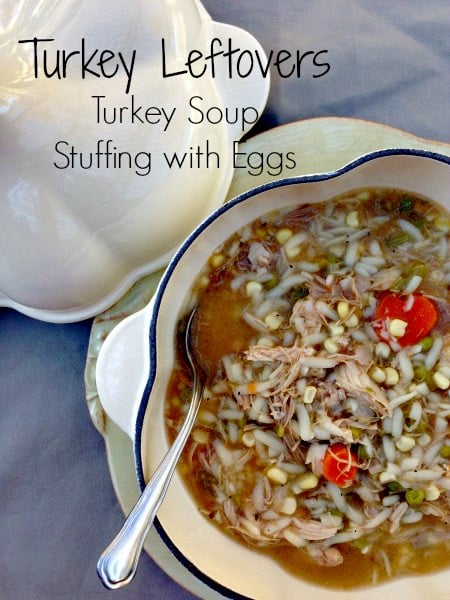 Whether you hosted Thanksgiving and cooked the turkey or you brought home a plate of leftovers,  you have to decide to eat it as is, or turn it into a new meal for a quick dinner. Every year I make homemade turkey vegetable soup from the carcass and enjoy a richly flavored broth for a soothing bowl of soup- a nice way to stretch the turkey. If you don't have the carcass you can substitute chicken broth to make this soup with the extra turkey you may have. This soup has all the nutrients you need for several days. It an be reheated for tomorrow's lunch. Use what you have in your refrigerator, and pantry. After making this a couple of times, you will be able to substitute your favorite foods.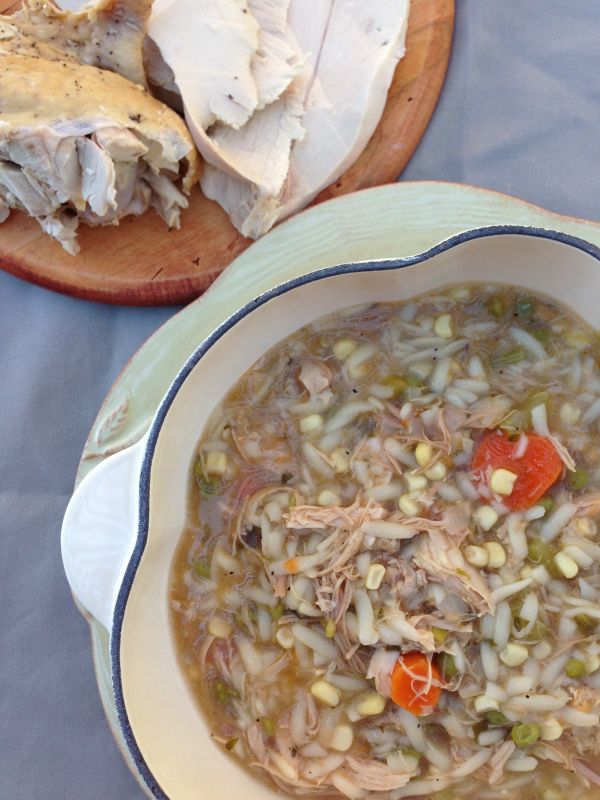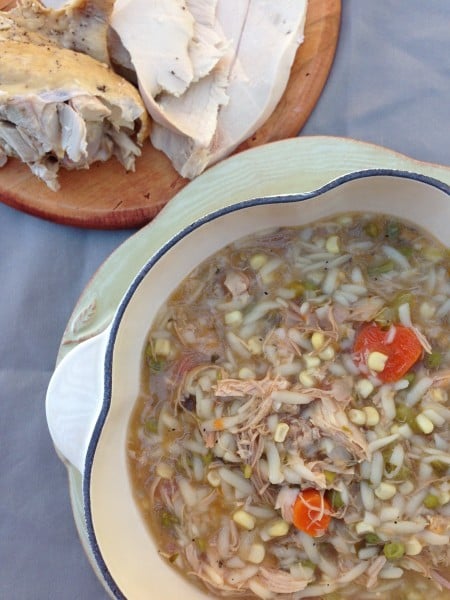 And what to do with the stuffing?  Have it for breakfast with your eggs and get a quick boost for the day. The recipe is below with just one example – have your eggs scrambled or sunny-side up, your choice.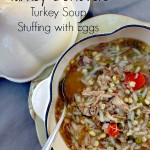 Turkey Soup
Any leftovers can be made into a terrific soup for your next day meal. Add what you have on hand, vegetables, rice or pasta and enjoy a warm and healthful dish.
Ingredients
Broth
1

leftover turkey carcass, cleaned of most of the meat. Cut into pieces.

1

bay leaf

1/2

onion

3-4

peppercorns

2

celery

3

carrots

1

teaspoon

salt

1/4

teaspoon

pepper
Soup
6-8

cups

turkey broth, chicken broth or vegetable

3-4

carrots, peeled and chopped into 1/2 inch pieces.

2

stalks celery, chopped

1

onion chopped

1/2

cup

fresh or frozen corn

1/2

cup

fresh or frozen peas

1

or more of the turkey meat torn into small pieces

1/4

cup

tomato sauce

2

teaspoons

salt

1/2

teaspoon

pepper

1/2

cup

orzo, rice or noodles
Instructions
For Broth
In a large dutch oven place the carcass in the pot with water to cover one inch above the bones.

Add the remainder ingredients and bring to a boil, reduce heat and simmer for a couple of hours.

Remove from the oven and cool. Pour and strain the broth through a sieve into a big bowl.

Discard the bones and cooked pieces. Cool broth.
Soup
In a large soup pot saute onions, carrots, and celery with olive oil until onions are soft.

Add the broth and all the remaining ingredients except the turkey and orzo.

Bring to a boil and reduce the heat to a simmer and cook until carrots are tender around 10-15 minutes. Add the turkey, orzo, frozen corn, and frozen peas and simmer for 20 minutes. Test to see if orzo is done.

You may need to add more broth or water if the soup is too thick.

Taste for salt and pepper.
Have leftover stuffing? Why not make it a meal for breakfast or a quick lunch. Here, I decided to add an egg to the pan and make a delicious and savory meal to carry me into the day! I make my stuffing with bulgar which adds a hearty element to this dish. But any stuffing will do.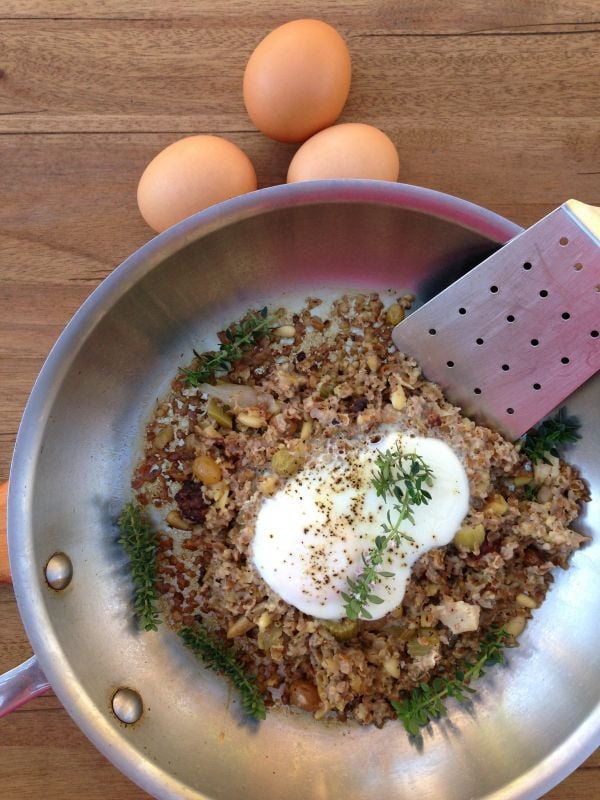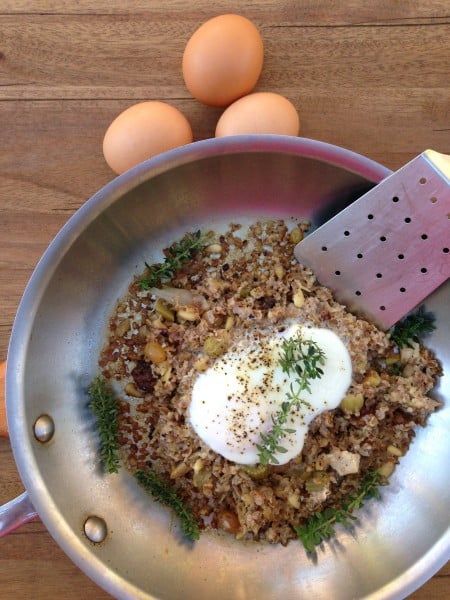 Here's how:
Place a frying pan on a medium heat and add a little olive oil or butter.
Add stuffing to the pan and flatten with the spatula so the egg stays in place.
Crack one or two eggs on top of the stuffing and add salt and pepper to taste.
Add any fresh herb; parsley, thyme, oregano
Cover and cook on low until egg is ready.
Carefully slide the stuffing and egg onto the plate.
Enjoy this homemade soup and egg breakfast using leftovers,
Mary 
© 2012 – 2022, Mary Papoulias-Platis. All rights reserved.