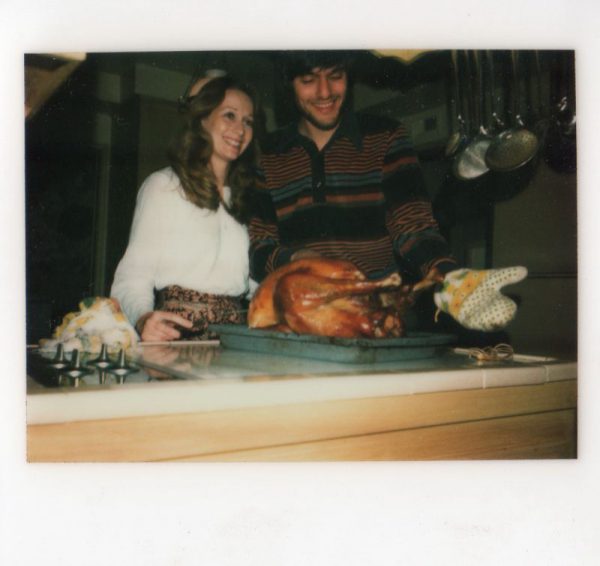 This was my first Thanksgiving turkey in college when we attended Cal Poly in Pomona. The same turkey recipe has been used ever since!
You must think we eat a lot as a family!  The truth is, we do. Our holidays like many families become traditional over the years, in other words as the kids grow up and leave home they remember their favorites dishes and demand that we make them each holiday season. Over the many years of collecting recipes from our mothers to many copies of Bon-Appetit we have seemed to have held on to the ones we love. Tradition is something you make happen for the ones you care for and respect.
To all those young couples out there just getting started, it takes many years of cooking and entertaining to finally establish the meaning of tradition. Of course, we all have aunts, uncles, grandparents, and parents who have influenced our cooking, so gather all those recipes up like we have and begin your own list of home-favorites for your collection. So, I hope you enjoy our traditional dishes and hopefully one or two of them might end up on your table this year!
Simply Turkey
Order your turkey EARLY! Usually plan on 1/2 pound per person.
Try and order a fresh turkey, if not a frozen one is just fine. (Remember to defrost your turkey in the refrigerator, and allow one day for every 4 lbs. For more information take a look here.
Wash the bird and take out the package of giblets.
Sprinkle the inside and outside with salt and pepper.
Stuff the bird with your favorite stuffing or leave empty.
Rub the bird with oil or softened butter.
Place breast side up for one hour in a 450 degree oven.
Then tightly cover with foil, and reduce the oven temperature to 350 degrees for 3 hours.
Make sure to have an instant thermometer handy to test the turkey.
Take the turkey out at 160 degrees, because the temp will rise up while the turkey rests and continue cooking.
Rest the turkey covered, for at least 1/2 -one hour.
Take out the juice from the pan and make your gravy.
That's it. This works every time, and it is the simplest way to cook a turkey.
Our Favorite Bulgur Stuffing
1 pound Farmer John sausage links (2 80z. packages)
4 cups chopped celery
4 cups chopped onions
4 cups bulgur
8 cups water
1 teaspoon dried thyme  or (2 tablespoons fresh thyme)
1/2 teaspoon dried sage or oregano ( or 2 teaspoons fresh sage or oregano)
1 pound cooked chestnuts, peeled and coarsely chopped (see note)
1 cup golden raisins
1 cup pine nuts
Salt and pepper to taste
In a deep skillet or dutch oven cook and brown the sausages.
Leave some of the fat in the skillet and cook the onions and celery until softened.
Boil 8 cups of water. In a large bowl add the bulgur and water. Cover and let sit for 30 minutes.
To the bulgur bowl, add the spices, raisins, chestnuts, pine nuts and salt and pepper.
Start the stuffing early in the day and let it cool. Never stuff the turkey with hot stuffing.
Use lettuce to cover the stuffing opening, so stuffing stays in place.
Use a needle to sew up the opening or a trussing kit.
Don't forget to stuff the neck opening as well.
Place left-over stuffing in a baking dish and bake for 30 minutes. Use the chicken stock to moisten it before baking.
Note: To bake chestnuts, take a sharp knife and make an x on the flat side of the chestnut.
Preheat the oven to 400 degrees. Bake for 20-25 minutes until soft.
Peel while warm.
Cranberry Sauce with Cognac
Makes 1 1/4 cups ( can be doubled)
2 cups fresh cranberries or defrosted frozen cranberries
3 tablespoons cognac
1 cup packed light-brown sugar
1/4 cup orange juice
3 whole allspice berries
2 whole cloves
4 whole black peppercorns
1/2 teaspoon crushed red pepper flakes
1/2 inch piece cinnamon stick
In a medium saucepan combine cranberries, cognac, brown sugar, and orange juice.
Place allspice, cloves, peppercorns, red-pepper flakes and cinnamon stick in a double layer of cheesecloth. Bundle and tie together with string.
Bring mixture to a boil. Reduce heat to a simmer, and cook, stirring often, until syrupy, 15 t0 20 minutes.
Discard bundle. Transfer mixture to a bowl, let cool, and refrigerate until needed.
This recipe came from Martha Stewart.com
Holiday Wassail
Makes 2 quarts
12 oz. apricot nectar
4 cups unsweetened pineapple juice
2 cups apple cider
1 cup orange juice
6- inch  stick cinnamon- broken up
1 teaspoon whole cloves
4 cardamon seeds- crushed open
Place all the spices in a cheesecloth bundle and tie with string.
Combine all juices in pot with spices and bring to a low boil. Reduce heat to low simmer.
Simmer for 15 minutes, and serve.
Also visit the rest of the my  menu:
Baked Yams with Pineapple Maple Glaze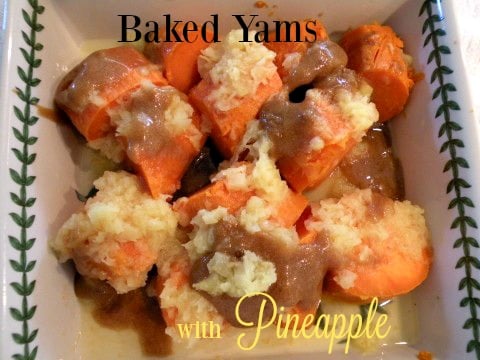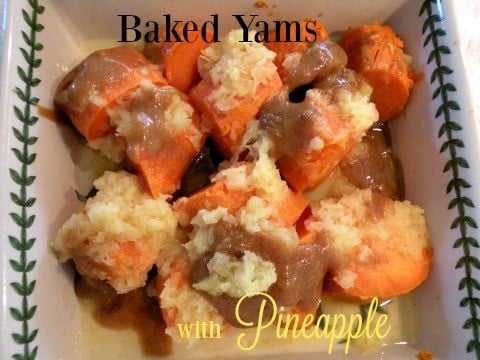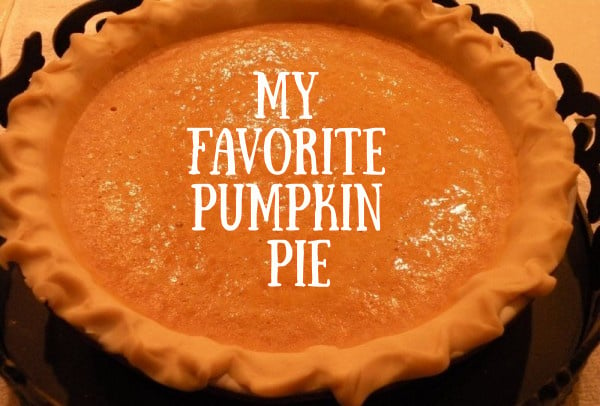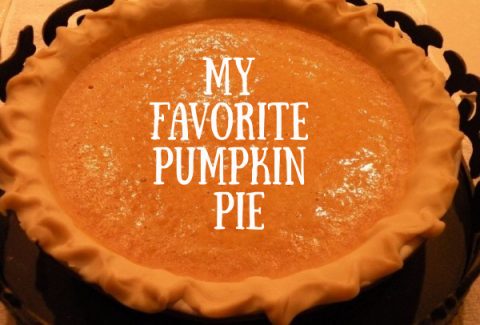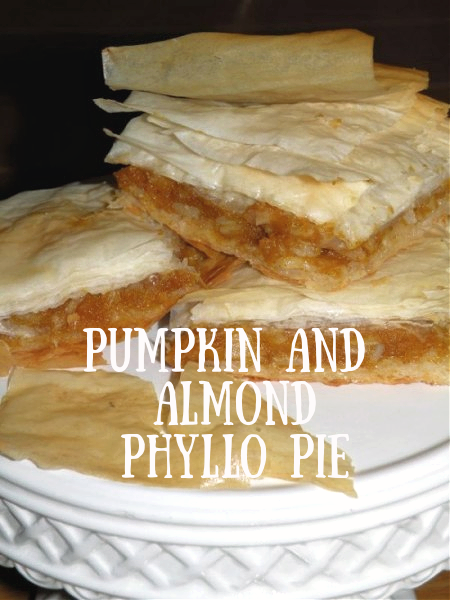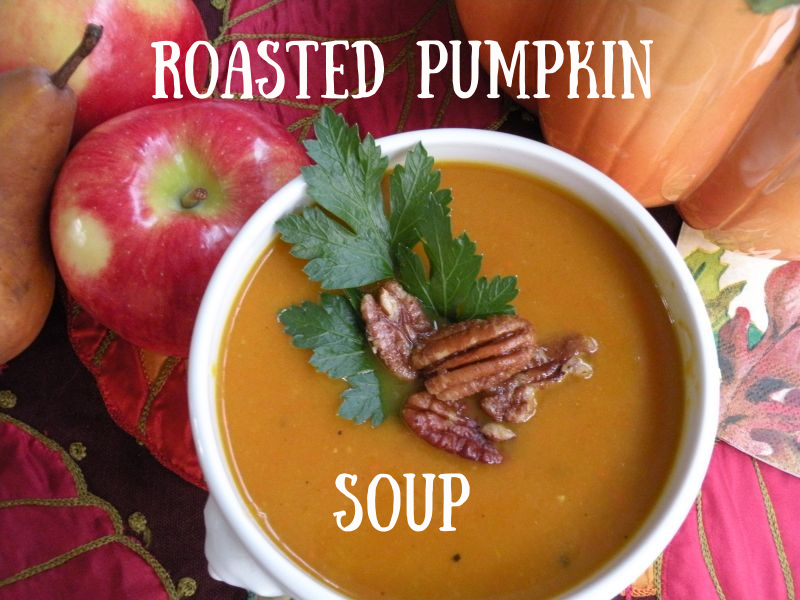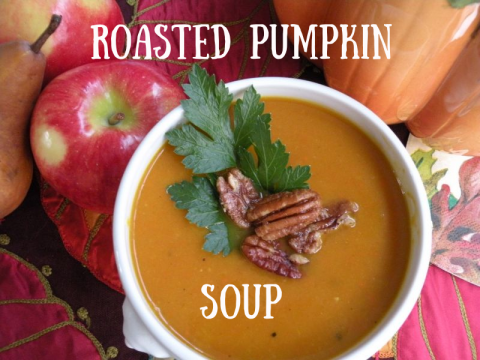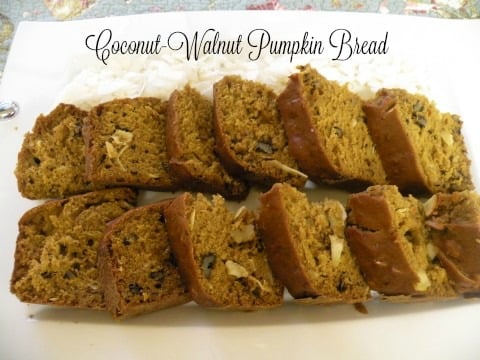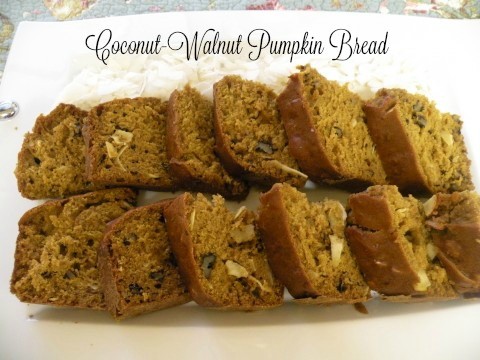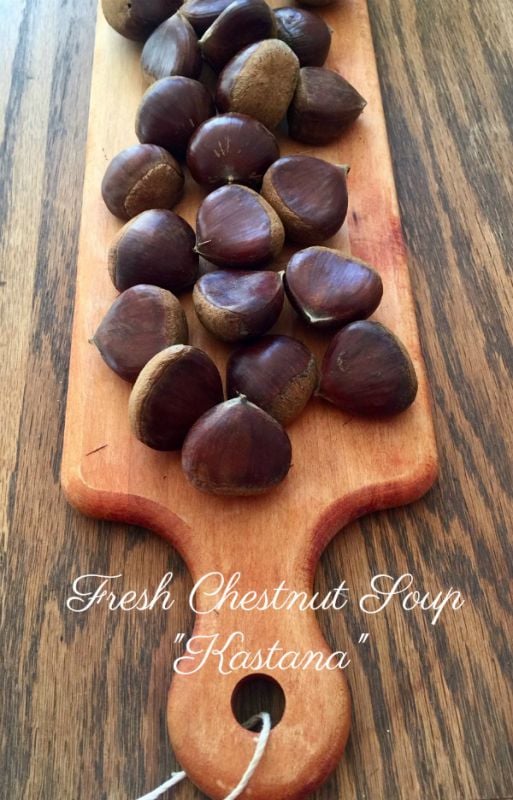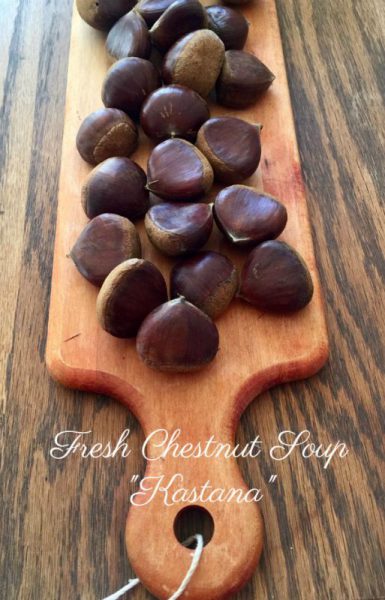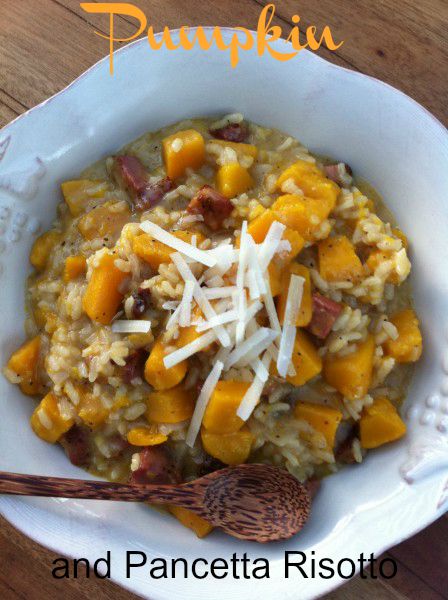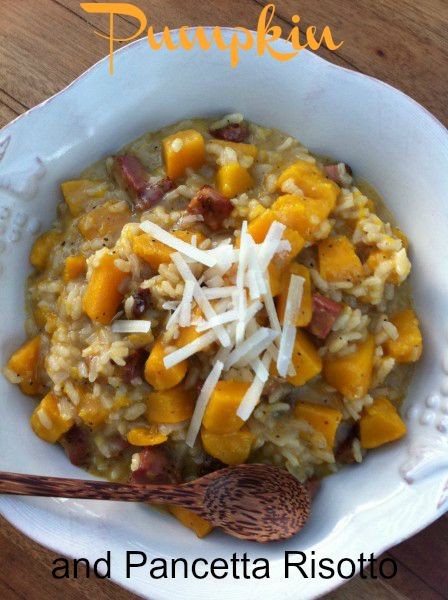 For more recipes find them in the category section under Thanksgiving.
Have a Wonderful Thanksgiving!
Mary 
© 2010 – 2021, Mary Papoulias-Platis. All rights reserved.