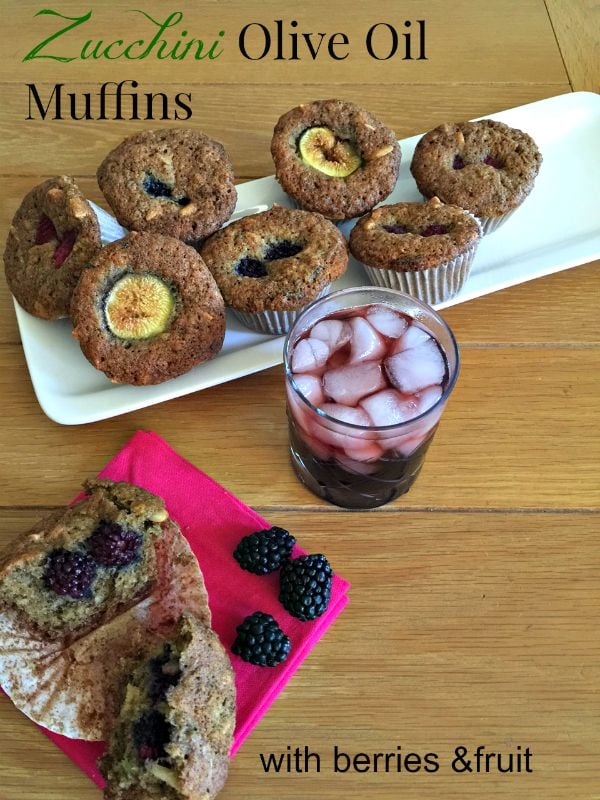 Every once in a while I'll go through my old recipe box and pull out one of my favorite recipes. When late summer hits and the garden is producing a large amount of zucchini, I tend to rely on this fast and easy muffin recipe for my family.  I have just a small note on the recipe card – a good one. So, this time around I changed up the nuts from walnuts to slivered almonds, and added fresh summer berries and fruit. The figs are from my tree! Why not?
Here are a few health benefits from eating zucchini:
Great source of vitamin C, with only 21 calories per cup.
Provides Lutein and Zeaxantin two phytonutrients, a source of vitamin A.
Boosts your intake of manganese, an essential mineral.
Zucchini is so common in the summertime, often times too abundant!  Zucchini was always my choice of a squash to plant. We like to stuff them, braise them, and add them to our pasta dishes. This was also a wonderful way to use them up for a breakfast treat. My kids loved them fresh out of the oven. I would make the dough the night before and pop them in the oven – boy, the smell alone woke them up for school!
I also like to bake with extra virgin olive oil in my recipes. If you need more information on olive oil you can visit my olive oil articles on my blog. Also, if you are interested on more information take a look at my cookbook, Cooking Techniques with Olive Oil.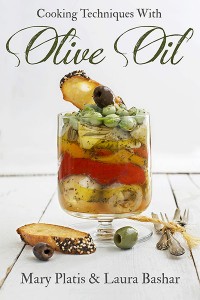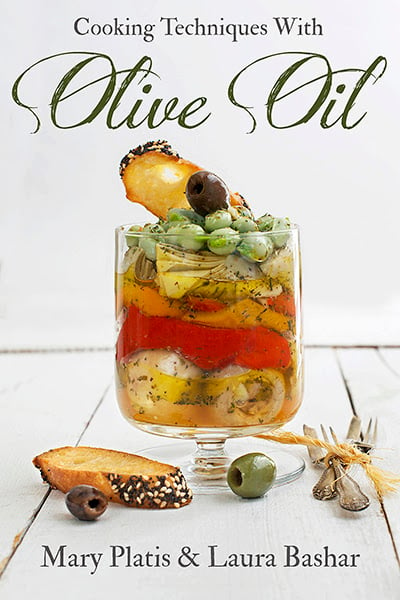 Prepare your muffin tins with paper or coat the pan with oil. I tend to use a more mild olive oil, mostly from the spring harvest which comes from a more black olive for baking when using this recipe but, any extra virgin olive oil will do.
Have fun with it…it's  summertime.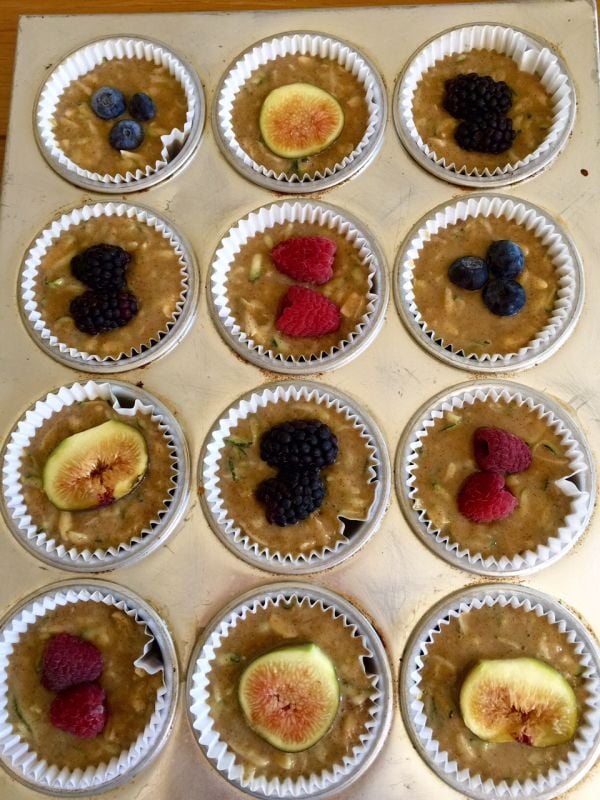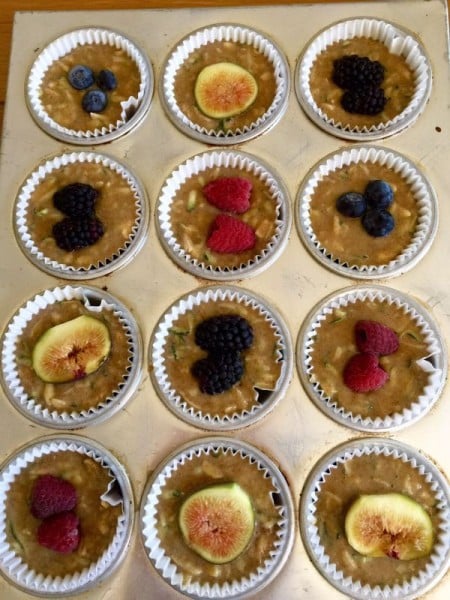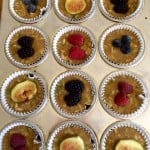 Zucchini Olive Oil Muffins with Berries
Try these easy summer muffins for any occasion. Use what your garden, pantry or what you might have in your refrigerator. It's a great basic recipe, use your imagination!
Ingredients
3

cups

grated zucchini

1 1/2

cups

extra virgin olive oil

3

cups

flour

2

cups

sugar

4

eggs

1/2

teaspoon

salt

1 1/2

teaspoon

baking powder

1

teaspoon

soda

1 1/2

teaspoon

cinnamon

1

cup

chopped walnuts

1

teaspoon

allspice

1/2

teaspoon

nutmeg

Berries of your choice - Blueberries, Raspberries, or any fruit of your choice

Raspberries, Blackberries or any fruit you desire
Instructions
Combine grated zucchini and oil in a large bowl.

Add the flour, sugar, eggs, salt, baking powder, soda, cinnamon ,nuts, allspice and nutmeg.

Mix until blended. Do not overmix. Fill the muffin tins.

Add the berries on top, (or any fruit) with a pinch of sugar.

Bake at 350 degrees for 45 minutes.
Recipe Notes
This recipe can be easily halved. Makes 12.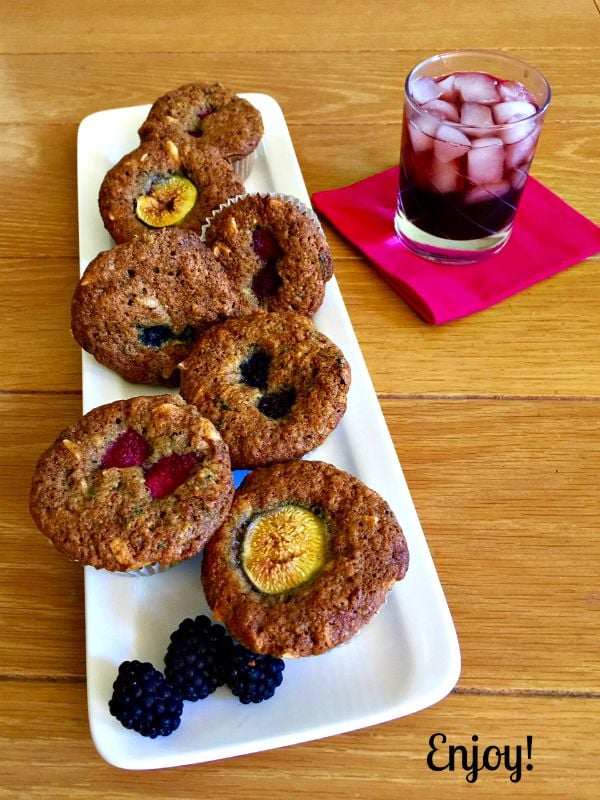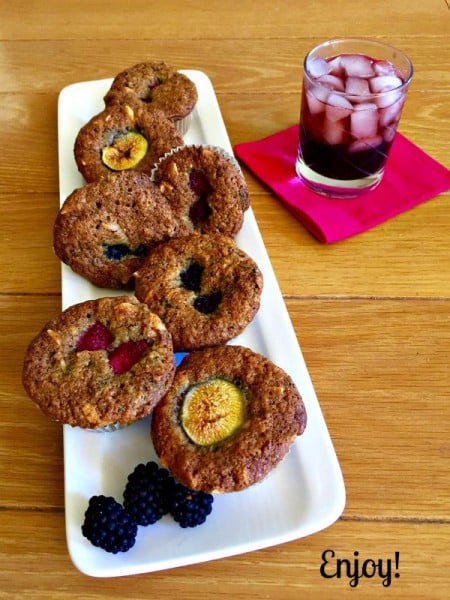 © 2015 – 2022, Mary Papoulias-Platis. All rights reserved.