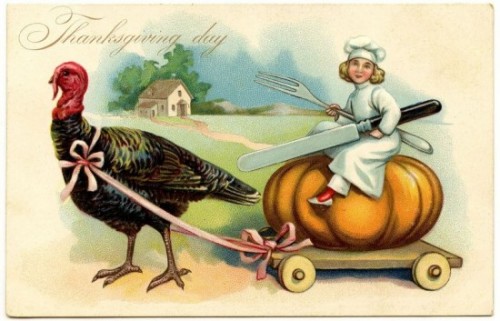 We are nearing the big day, and it's time to get down to the details of your big Turkey dinner. The following tips can be moved around according to your cooking schedule but keep in mind the length of time you can keep foods safely in or out of the refrigerator, without spoilage. If you need more information please visit, Thanksgiving Day Food Safety Tips. I broke down the menu into several categories so that the week is easier to handle and shopping is done throughout the week so your foods are at their freshest point. Also, for more recipes see Thanksgiving . Order your turkey early (this week) and don't forget your pick-up date! Visit Part One to get started.
Days Ahead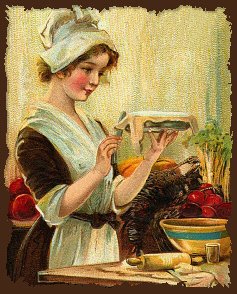 You can now get started on your appetizers and desserts .
Bake your cakes, wrap them tightly and freeze. Defrost and add frosting the day before.
Make your cheesecakes 2-3 days ahead and refrigerate. ( They taste better made ahead of time! )
Pies can be made (but not baked) and placed in the freezer up to weeks ahead of time.
Cookies can made ahead and wrapped tightly in a container.
Freeze as many appetizers as you can. (meatballs, cheese triangles, grape leaves,etc.)
If you're making soup you can cook it and freeze afterwards, to be reheated later.
Make breads, muffins, cornbread, etc. and wrap tightly and freeze.
Make stock or broth for your soup or gravy and freeze.
Make any ice creams or sorbets.
Freeze as many main dishes other than the turkey. ( leek pie, spanokopita, pastichio,etc.)
The Day Before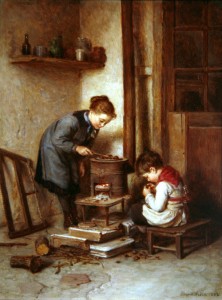 Assemble  all casseroles and refrigerate. For example: yams or potatoes. (If you are limited in oven space, bake today,cover and refrigerate. Re-heat the next day.

Make the cranberry sauce and refrigerate.

Prepare the chestnuts for the stuffing or chestnut soup. Make a cut in the shape of an x on the flat side of each nut and bake until tender.
Clean all vegetables for salads, and sides. Place in plastic bags ready to go for tomorrow.
Prepare, clean and chop all the vegetables such as celery and onions for the stuffing. Refrigerate in bags.
Bake all pastry, pies, cheesecakes, breads,etc. cool, and store. Frost cakes.
Make any dips, sauces, fillings for your appetizers.
Marinate any ingredients for your appetizers.
Defrost the soup in the refrigerator for tomorrow.
Bake off any main dishes you have in the freezer. Cover and place in the refrigerator.
Thanksgiving Day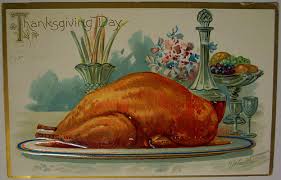 Get up early and start your day making the stuffing, so it may cool.
Depending on the size of your turkey– work backwards how long your turkey will need to cook  and remove from the refrigerator.
Wash inside and out, salt and pepper, and add the cooled stuffing. Put on timer.
Assemble appetizers and have them ready before guests arrive.
Make wassail or prepare your drink table.
Bake or re-heat casseroles with turkey one at a time, or after turkey is out and resting, place casseroles in oven.
If serving mashed potatoes, cook and assemble. Keep warm in a slow cooker, or in a bowl above a second pot of slow boiling water,covered.
When the turkey is done, remove from the oven, cover, and let rest.
While the turkey is resting, prepare and cook all vegetable dishes.
Remove the juice or leave in the pan and remove the turkey and make your gravy.
Remove stuffing and plate.
Serve the turkey whole and carve at the table/ or cut up the turkey and serve on a platter.
The year has turned its circle,
The seasons come and go.
The harvest all is gathered in
And chilly north winds blow.
Orchards have shared their treasures,
The fields, their yellow grain,
So open wide the doorway —
Thanksgiving comes again! Old Rhyme.
© 2011 – 2019, Mary Papoulias-Platis. All rights reserved.