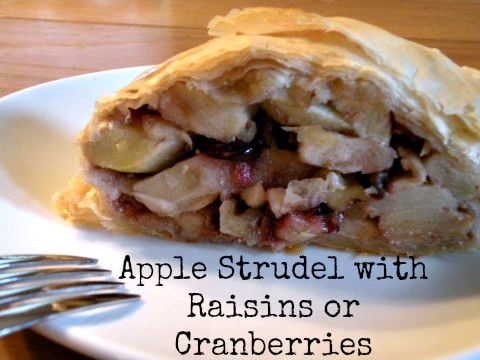 I buy my apples at the farmer's market from Smit Orchards for this Apple Strudel which can be made with raisins or cranberries.. I found them at the Vista Farmer's Market, and can't stop buying their fabulous apples. Apples are always in my home. They also sell fresh squeezed unfiltered apple juice. Oh my, what a treat!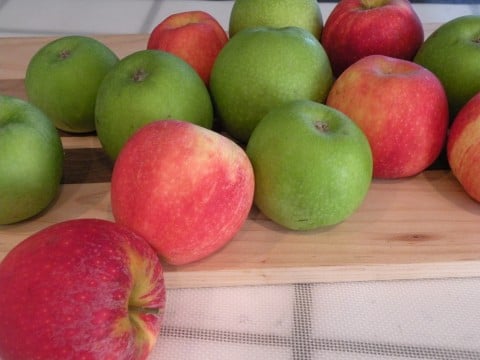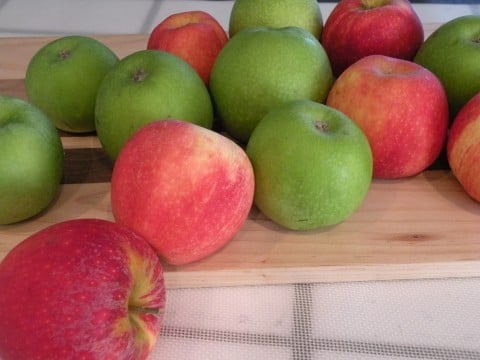 I planted two "Anna" apple trees in my backyard and they are loaded with apples twice a year! I have no idea if that's normal for a tree, but I'm not complaining! They are perfect for pies, crumbles, and strudels.
To see how I made this, please go to Cooking Techniques here.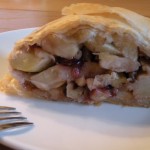 Apple Strudel with Raisins or Cranberries
Strudel can be assembled quickly for a lovely dessert anytime! It can be frozen before you bake it, and placed in the freezer. Just make sure you defrost the phyllo in the refrigerator the night before, you plan on making it!
Ingredients
4

large green and red apples

1/2

cup

sugar

1/2

cup

raisins or dried cranberries

I used cranberries in the picture

1/2

cup

walnuts

chopped

1/2

teaspoon

cinnamon

1/4

teaspoon

nutmeg

1/4

teaspoon

salt

1/2 16 0

z. package phyllo dough

thawed

1/2

cup

butter

melted
Instructions
Butter large cookie sheet or sheet pan.

Peel and thinly slice the apples. In a large bowl, toss apples with sugar, raisins or cranberries, walnuts, cinnamon, nutmeg, and salt.

Lay out two sheets of wax or parchment paper side by side. Place one sheet of phyllo on paper and butter.

Continue layering phyllo brushing each sheet with butter.

Pre-heat oven to 375 degrees.

Starting at the long end of the phyllo, place apple mixture to about 1/2 inch from edges and end, covering only 2-3 inches of one end.

Roll phyllo like an envelope, folding in sides, as you go along.

Place seam side down on cookie sheet. Score (cut phyllo just through the first layers) into 8 pieces. Butter roll.

Bake for 45 minutes or until golden brown. Cool on the cookie sheet for 30 minutes.
Recipe Notes
To serve: sprinkle with powdered sugar, or serve with ice cream.
Serve warm or cold.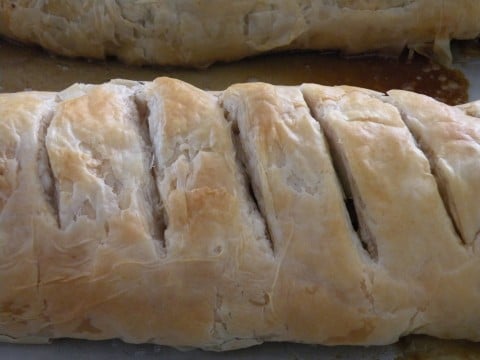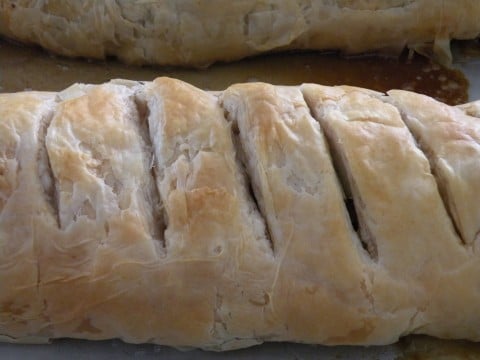 Here it is straight out of the oven! Let it cool for 20 minutes and enjoy!
© 2010 – 2023, Mary Papoulias-Platis. All rights reserved.