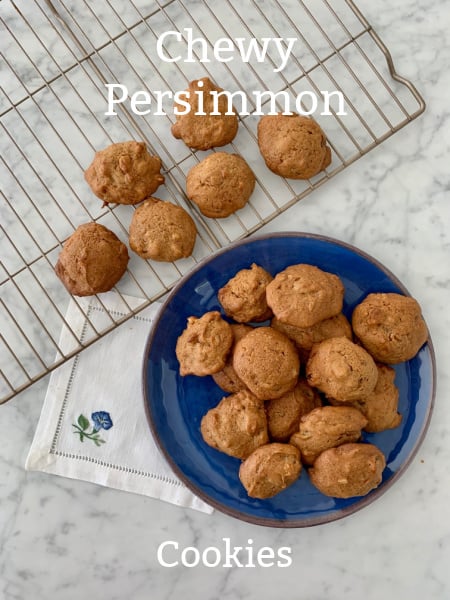 Hachiya Persimmons are a Fall sweet honey-like fruit making the perfect cookie for a tea or an afternoon treat!
There are many types of persimmons on the market but these are made with this particular variety. The heart-shaped Hachiya persimmons are astringent, meaning they are very high in plant chemicals called tannins that give the unripe fruit a dry, bitter taste. This type of persimmon needs to be fully ripe before eating. This persimmon can be found at your local stores.  The Hachiya and more varieties are available at Melissa's Produce.
The fruit is eaten when very soft, with a jelly-like touch. The pulp should also look like jelly when cut open, and pureed with a blender until smooth. Add them to your baked goods such as cookies and cakes. The pulp can also be pureed or blended and added to drinks, made into a fruit sauce, or made into puddings. When soft and ready to eat, place it the refrigerator until ready for use. Don't forget to simple dig into your persimmon with a spoon for pure enjoyment!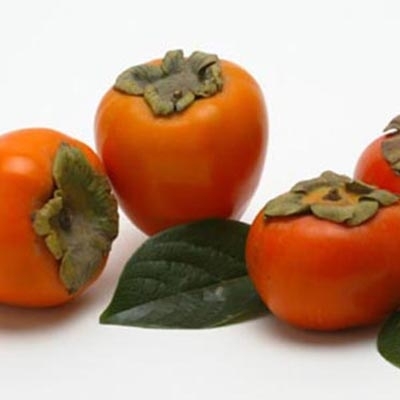 Hachiya Persimmon are longer and "heart-shaped" variety of the persimmon family. They are originally from Japan and China, but today are grown in California. They were grown for thousands of years for their delicious fruit and beautiful wood. The smaller shorter persimmon are called Fuyu, and can be sliced and eaten fresh. They also can be used for baking or candied.
What are the Health Benefits of Persimmons? There are many!
They are loaded with nutrients, mostly vitamin A and C and many others.
They contain Powerful Antioxidants such as carotenoids and flavonoids. Diets rich in these compounds have been linked to a reduced risk of certain diseases, including heart disease and diabetes.
They are Heart-Healthy – Persimmons contain flavonoid antioxidants and tannins, which benefit heart health by reducing blood pressure, lowering inflammation and decreasing cholesterol levels.
Persimmons are rich in the powerful antioxidant vitamin C, which helps lower inflammation, a common cause of many diseases.
Fiber-rich foods like persimmons can help lower cholesterol, reduce blood sugar levels and keep your digestive system healthy.
Feel free to eat them alone, they hold up as a chewy spicy cookie. Add a simple sugar icing if you would like a fancier cookie. ( 2 cups powdered sugar, 1/4 cup lemon  or orange juice). Just mix and drizzle on top of each cookie.
I can guarantee you cannot eat just one!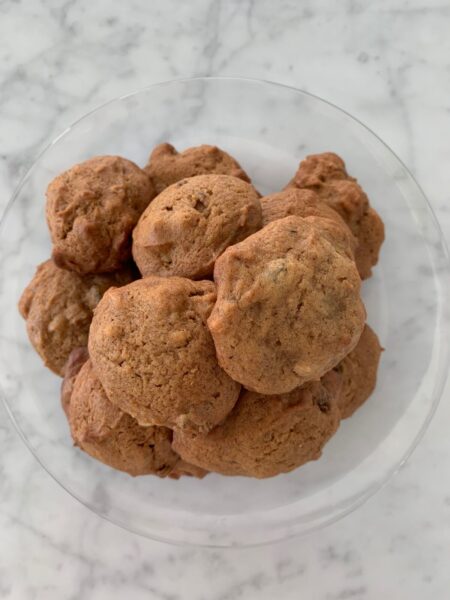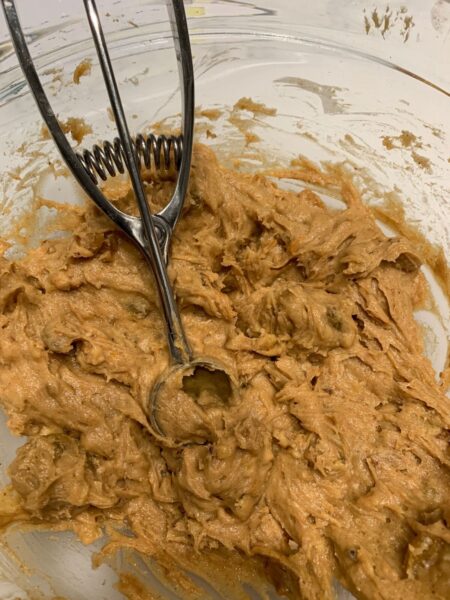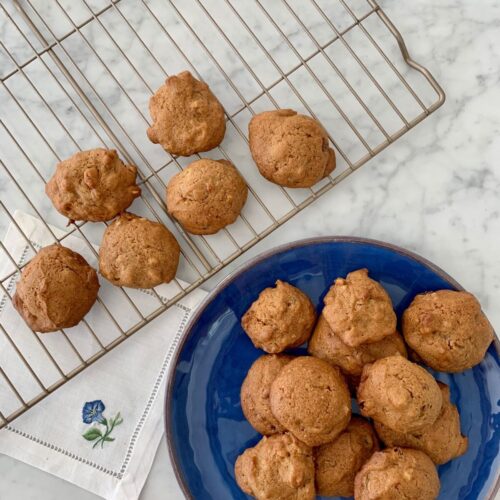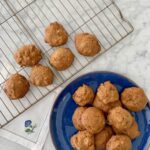 Chewy Hachiya Persimmon Cookies
Make these for a tea or for friends dropping by, enjoy their unique flavor.
Ingredients
2

cups

all purpose flour

1

teaspoon

baking soda

1

teaspoon

cinnamon

1/2

teaspoon

nutmeg

1/2

teaspoon

cloves

1

cup

white sugar

1

cup

packed brown sugar

1

cup

butter, softened

1

egg

room temperature

1

cup

Hachiya persimmon pulp

1

cup

chopped walnuts

1

cup

raisins
Instructions
Preheat oven to 350 degrees.

In a large bowl, mix flour, baking soda, cinnamon, nutmeg, and cloves.

In a medium bowl, beat white and brown sugar, and butter until smooth. Mix in egg. Stir in the persimmon.

Add the persimmon mixture into the dry ingredients. Stir until combined well.

Stir in walnuts and raisins.

Drop dough by teaspoons onto a greased cookie sheet.

Bake for 12-15 minutes, until golden brown.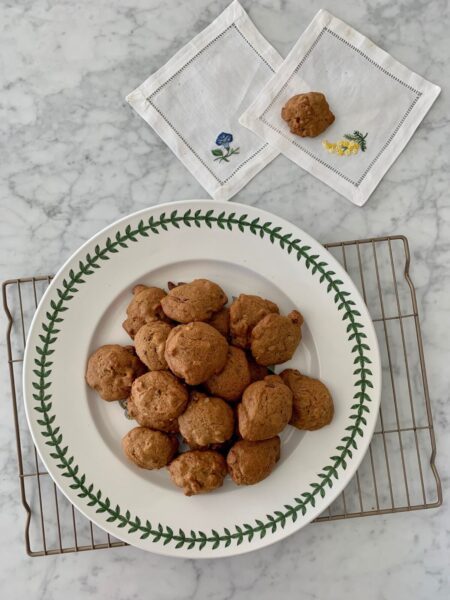 You may also be interested in other persimmons varieties from Melissa's Produce.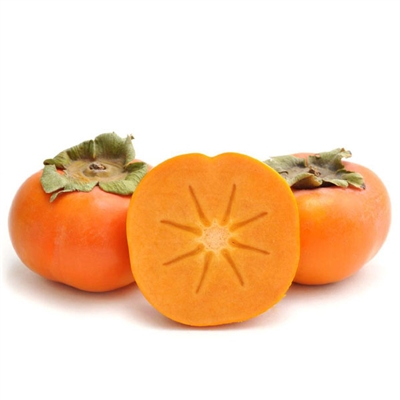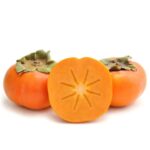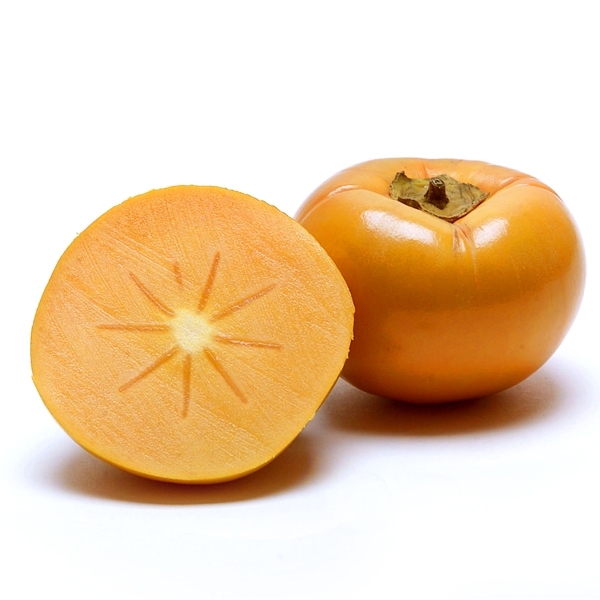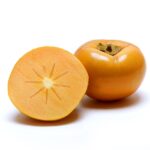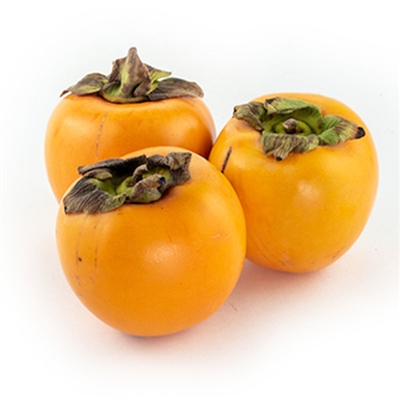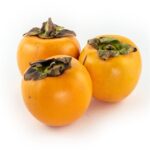 From left to right:  Organic Sweet Pumpkin Persimmon, Fuyu Persimmon, Cinnamon Persimmon.
Don't let the cookie monster near these cookies!
Best in Health,
Mary 
© 2021, Mary Papoulias-Platis. All rights reserved.