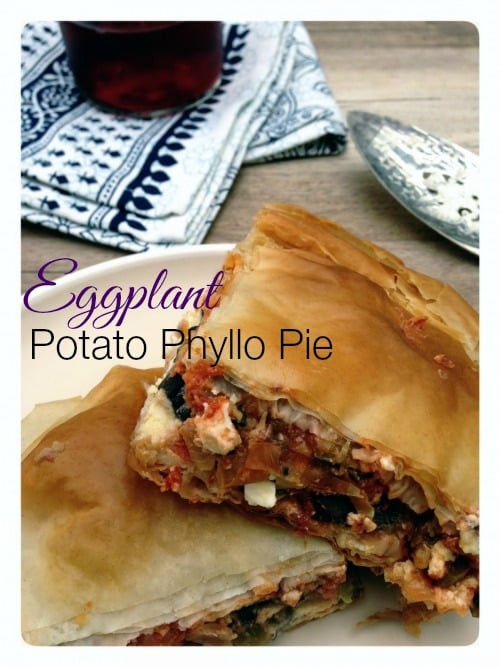 Phyllo pies can be fairly easy to make, but also a nice way to use up all your garden vegetables.  My eggplants are overflowing this time of year, so I wanted to feature my eggplant potato phyllo pie this week. This recipe feeds many, and with my busy schedule it's perfect for any drop-by guest or for snacking. Adding cooked potato slices makes this meal a little  more hearty for your big eaters. Plan an afternoon to assemble this pie, because it has many parts that need to be assembled – but it's worth all your effort. I suggest you make the tomato sauce the night before if you can. The white sauce called Bechamel can be made in advance but must be reheated very slowly in a double boiler.  For a large crowd, I suggest you make this eggplant phyllo pie, the day before and reheat it in the oven just before guests arrive. Don't forget to buy your phyllo dough several days in advance and defrost it in the refrigerator overnight.
Eggplants come in many sizes and varieties. I like to use the globe eggplant, due to it's meatiness and size. You can find many varieties at Melissa's Produce. Also, look for them at your local farmer's market. They should be firm with a nice glossy color.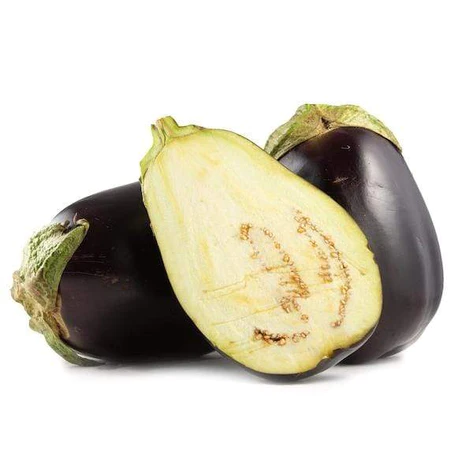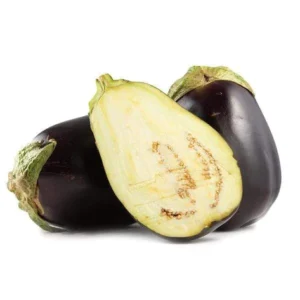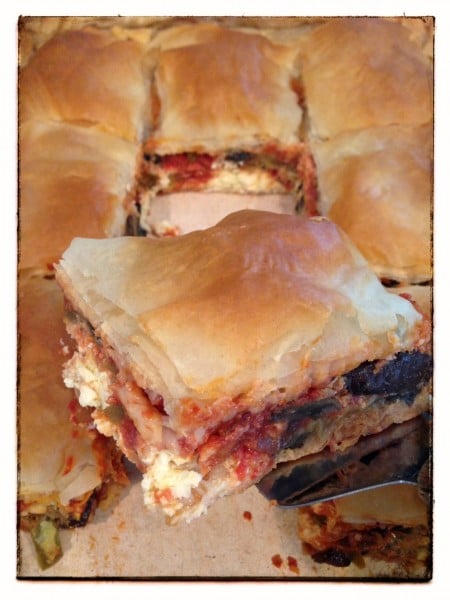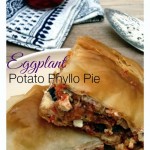 Eggplant Potato Phyllo Pie
Using eggplant to create this dish will give you a healthful and satisfying meal. Plan ahead and defrost your phyllo the night before.
Ingredients
2

medium eggplants

salt for eggplant

1/2

cup

olive oil

2

medium size potatoes, peeled and cooked

1

onion, coarsely chopped

1

cup

minced green peppers

3

tablespoons

butter and I cup for the phyllo sheets

1

16 oz.

can crushed tomatoes

salt an pepper to taste

1

pound

feta cheese, crumbled and divided

4

eggs, beaten

1

pound

phyllo - defrosted
Bechamel Sauce - Makes 1 cup
1/4

stick butter

2 1/2

tablespoons

flour

1

cup

hot milk

1/2

egg, slightly beaten

salt and pepper to taste
Instructions
Slice eggplant into 1/4 inch slices and sprinkle with salt and place in colander to drain for 15 minutes.

Drain and rinse and place on paper towels and pat dry.

Preheat broiler.

Brush slices with olive oil and place on a greased sheet pan. Broil until lightly browned on both sides.

Preheat the oven to 350 degrees.

In a large saucepan add 1-2 tablespoons olive oil and saute onions, peppers until soft. Set aside.

Add tomatoes, salt and pepper and simmer for 25 minutes. Set aside.

Wash, peel and slice the potatoes and boil until almost cooked. Cool and slice into 1/4 inch slices. Set aside.
Prepare Bechamel Sauce below.
Once the sauce is cooled, add half of the feta and 4 beaten eggs to the sauce and stir until combined.
Assembly:
Preheat the oven to 350 degrees.

Grease a 9x12 casserole pan.

Layer 1/2 pound phyllo sheets, brushing with butter after each layer in the pan.

Add the cooked potatoes over the phyllo. Add half of the eggplant slices.

Sprinkle with remaining feta and half of the Bechamel sauce.

Spread half of the tomato sauce on top.

Repeat with a layer of the remaining eggplant.

Top with the Bechamel sauce and the remaining tomato sauce.

Fold down the sides of the phyllo over the filling and butter.

Repeat with the remaining phyllo, buttering each layer.

Roll down the extra phyllo sheet around the edge or trim with a knife.

(3x4 yields 12 servings)

Score the top of the phyllo with a sharp knife into serving pieces.

Bake for 30-45 minutes at 350 degrees or until golden brown.

Let sit for 15 minutes before serving.
Bechamel Sauce
Melt butter in a saucepan over low heat.

Slowly add flour whisking constantly until blended. Cook for 2 minutes.

Add hot milk slowly until well incorporated with flour mixture.

Remove from heat and add eggs, salt and pepper.

Whisk to blend.

Sauce can be refrigerated for 1 day. Reheat on low in a double boiler.
Butter top layer and score the phyllo for your needs. I cut mine 3×4 for 12 dinner size portions.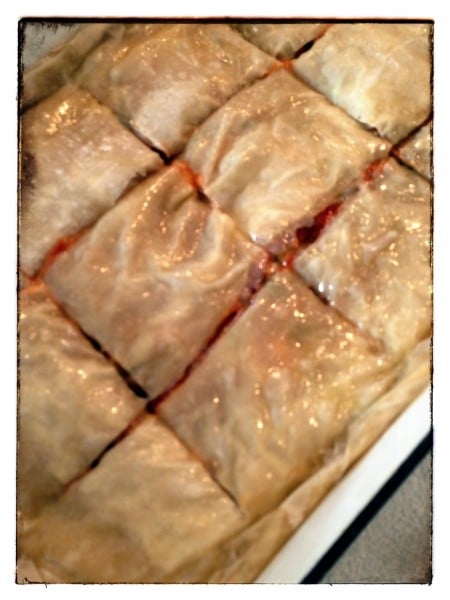 Enjoy with or without potatoes. You can add zucchini or your choice of vegetables.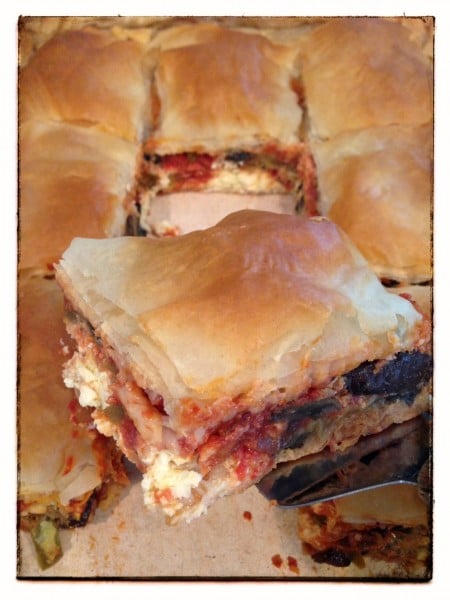 We love our eggplant! Here, are a few more recipes to try:
Eggplant Rounds Topped with Vegetables
Stuffed Eggplant with Three Grains 
Greek Roasted Eggplant Dip "Melitzanosalata"
Stay Healthy and plant eggplant in your garden,
Mary
© 2013 – 2022, Mary Papoulias-Platis. All rights reserved.