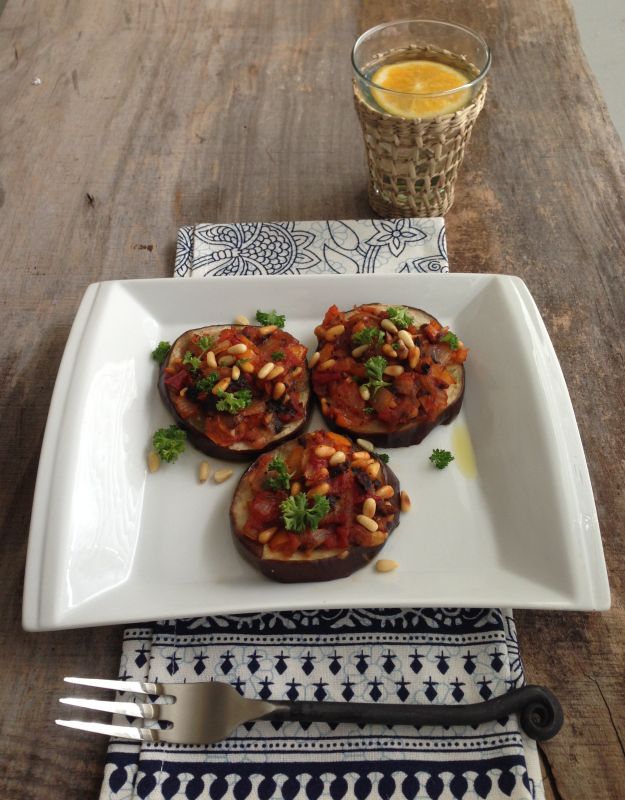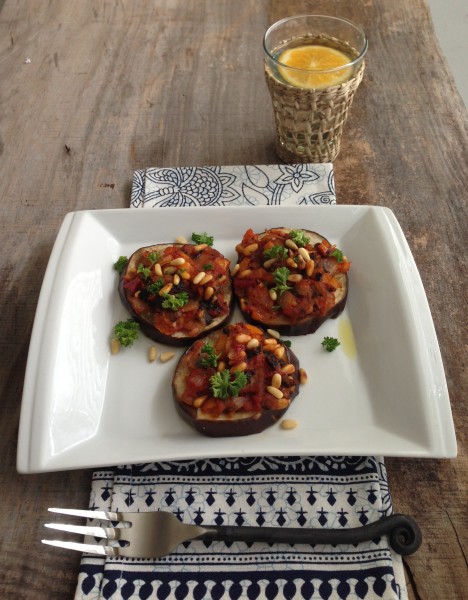 A quick lunch to eat at home is always my first choice, since I don't eat out much during the day. Eggplant is a staple in my fridge because there are so many uses for it.  You can roast it for an eggplant dip, stuff it with grains, , add it to your vegetables.  Whichever method you choose this quick and healthful dish is a great substitute for a burger anytime!
1 eggplant, sliced
1/2 onion, diced
1 garlic clove, chopped
1/2 yellow pepper, diced
3-4 mushrooms, diced
1/2 tomato, seeded, chopped and/or 2 tablespoons tomato paste
1/2 teaspoon salt
1/4 teaspoon pepper
2 tablespoons white wine or red wine vinegar
1/4 cup chopped parsley
1/4 cup toasted pine nuts
Preheat the oven to 350 degrees.
To prepare the eggplant, slice 1/4 inch thick and salt both sides. Place on a paper towel while you prepare the sauce.  In a saute pan heat the olive oil and add the onions, garlic, mushrooms, tomato and yellow pepper. Saute until soft. Add salt and pepper, a splash of white wine or vinegar and simmer until sauce thickens. Add chopped parsley and 1/2 of the pine nuts. Remove from the heat. Rinse the eggplant, wipe dry. Place on an oiled pan and add sauce on top.
Place in a preheated oven for 45 minutes. Add remaining pine nuts and a little parsley on top.  Makes 4 servings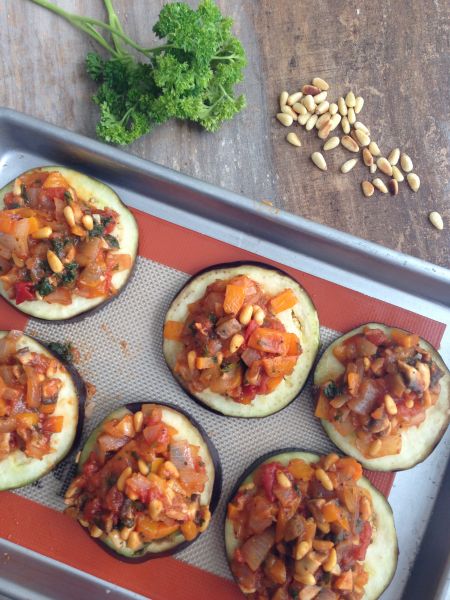 © 2013 – 2019, Mary Papoulias-Platis. All rights reserved.