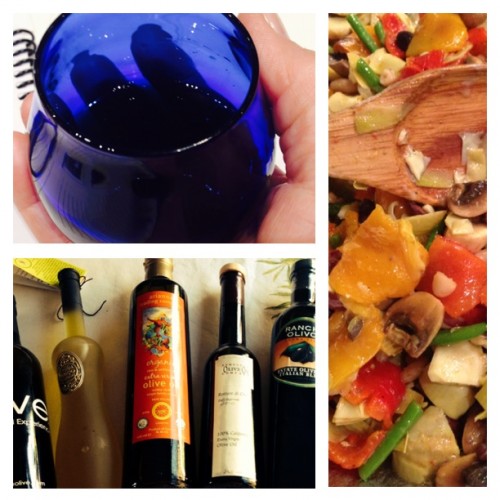 I had the opportunity to attend an olive oil tasting seminar at the U.C.Davis Olive Oil Center several months back.  Many of you had a chance to follow me as I was posted pictures of the event on Instagram and Facebook. I must say it was very difficult the first day, as we sampled "rancid" olive oils throughout the afternoon – ugh!  Who knew there were so many facets of bad olive oil. After the two-day seminar I can now say-that I can confidently select rancid oils which was the goal of taking the class in the first place. Once you learn the bad attributes of love oil, the job becomes easier tasting the finer olive oils available on the market.
This cooking class I designed for you, will teach you the necessary current facts for selecting and storing oils as well as debunking the  myths around cooking with olive oil. I will demonstrate the several uses of olive oil using techniques such as poaching, marinating, baking and preserving in my recipes during class. Come join us for an adventure in exploring the world of Olive Oil. Please sign up through Great News Cooking School.  So prepare your taste buds and join us for an evening discussion around the kitchen table!
The Essence of Olive Oil
When: August 11th at 6:oo p.m.
Where: Great News Cooking School in Pacific Beach
Class Tasting Menu 
Crostini with Oven-Dried Tomatoes in Olive Oil and Grilled Halloumi Cheese
Herb-Marinated Summer Vegetables in Olive Oil
Olive Oil Poached Salmon Fillet with Greens
Heirloom Tomato Salad with Basil Oil and Buratta Cheese
Olive Oil Cake with Fig and Orange-Honey Compote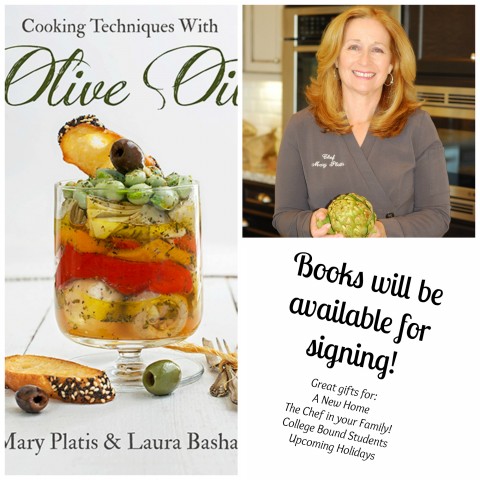 Please come and bring a friend!
© 2014, Mary Papoulias-Platis. All rights reserved.