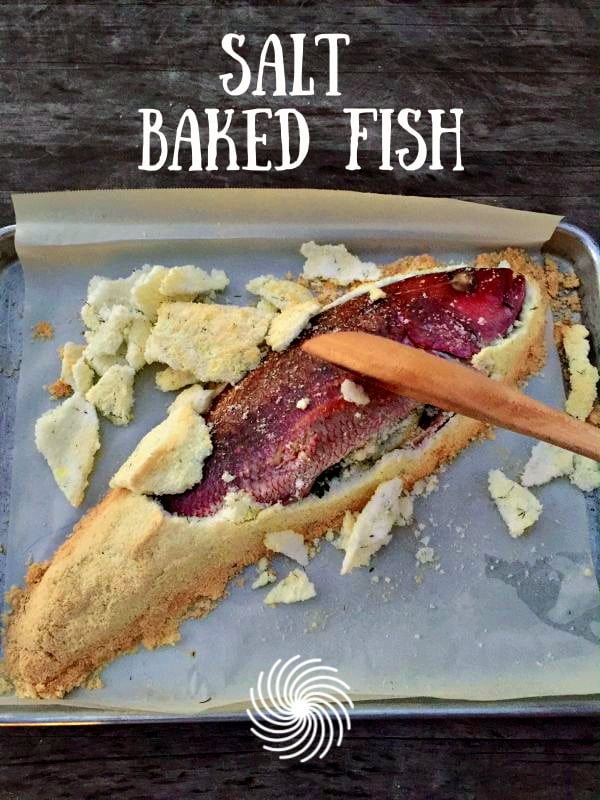 Have you had the chance to taste a salt baked fish? Simply executed this can be a go-to recipe for your future guests. Every summer as I watch the fisherman in San Diego gathering fresh fish along our coast, day in and day out which reminds me of my family summers. The Harbor Dockside Market is now open for the freshest of all fish in San Diego!
In the Greek cuisine we like to throw our whole fish on the BBQ, simply by adding lemon juice and a little EVOO.  But recently, this salted cooking technique continually pops into my mind, so I decided to try it out as my next fish dinner. Since I don't have a fishing license, I went down to the fish market and bought my cleaned fresh fish. Once I got it home, I placed it on ice, placed it on a sheet pan, while I collected all the ingredients I needed for this dish.
Most people think this cooking technique will make the fish too salty. Actually the salt keeps the fish moist, the skin acts as a protector and the fish becomes perfectly cooked.  You can make this recipe fancy if you wish by added aromatics, spices, and fresh vegetables or keep it simple like I did here with this recipe. Below I have recipes you may like to serve along with your fish. I suggest a Greek Salad, Greek Potatoes, or Greek Greens.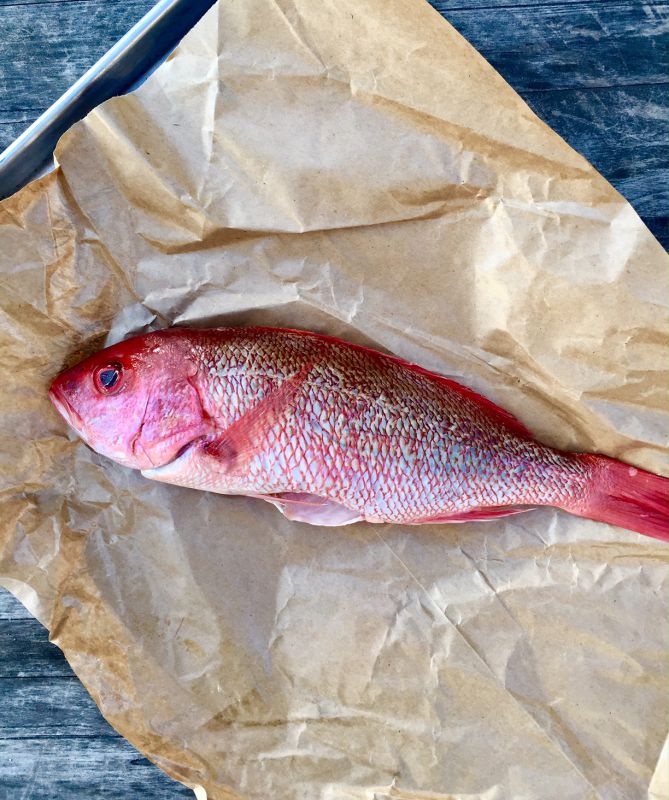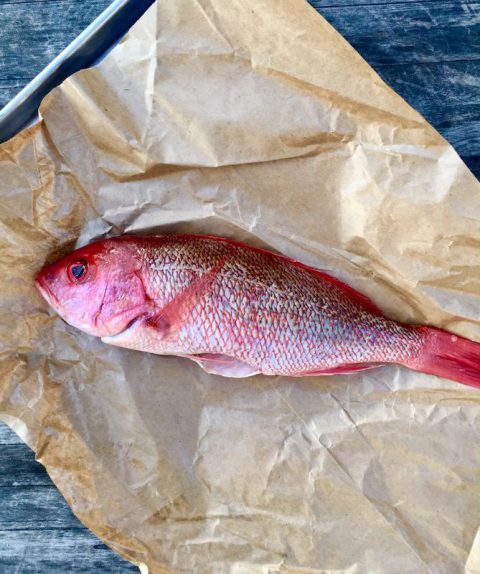 When you are at the market ask the fish monger to help with your selection. Any whole fish will work for example cod, halibut, snapper, brazino, and bass. Choose a 1 1/2 -2, or 3 pound fish. You may have to adjust the salt amount for larger fish.
Once you get it home, place the fish on ice in a sheet pan. Refrigerate until ready to use.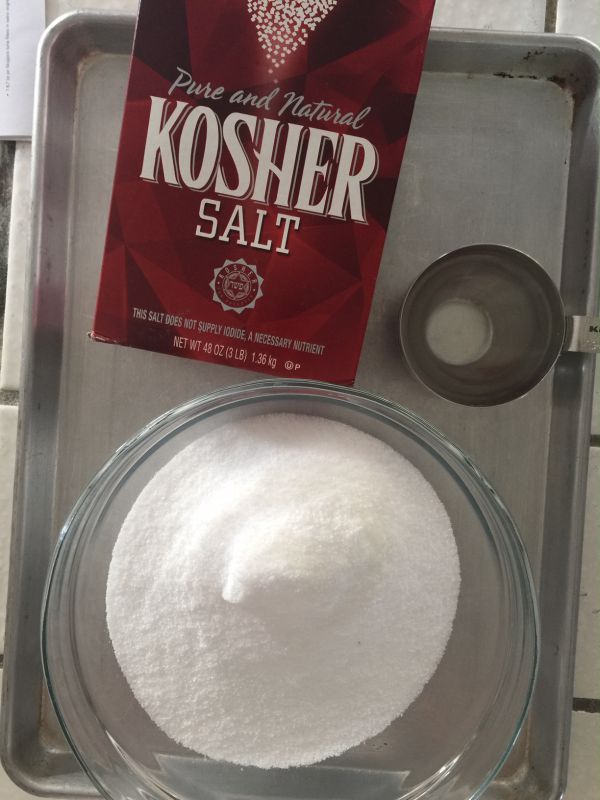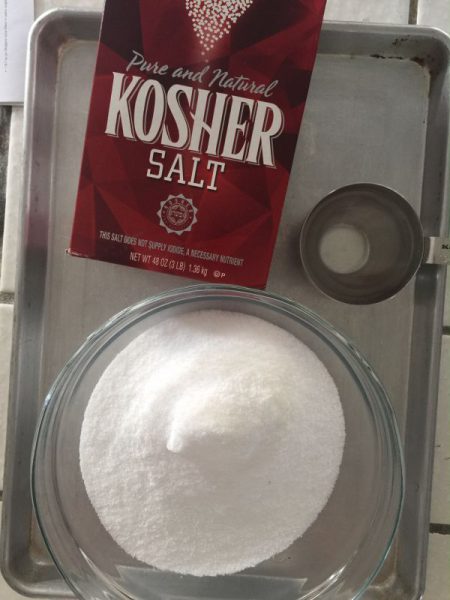 Gather all your ingredients, 4 cups of kosher salt, 9 egg whites, 2-3 lemons, 1/2 cup fresh dill, and extra virgin olive oil.
Heat the oven to 400 degrees.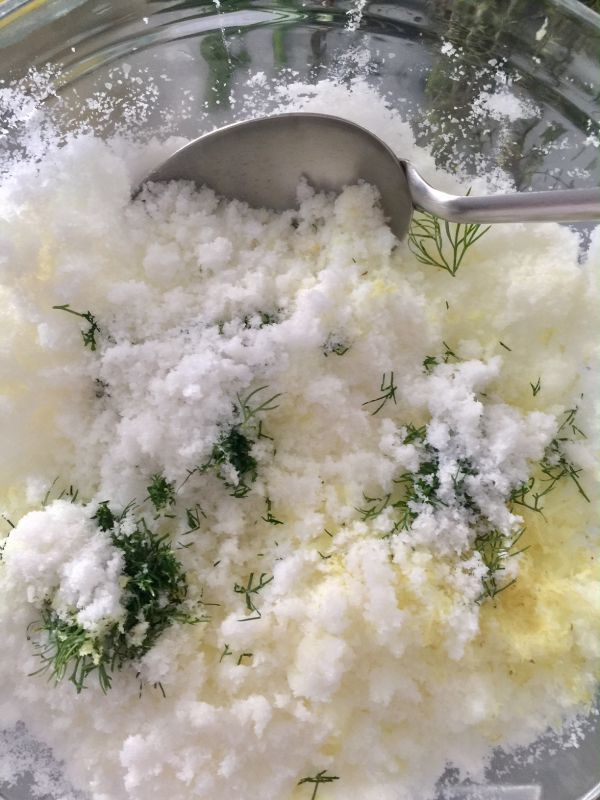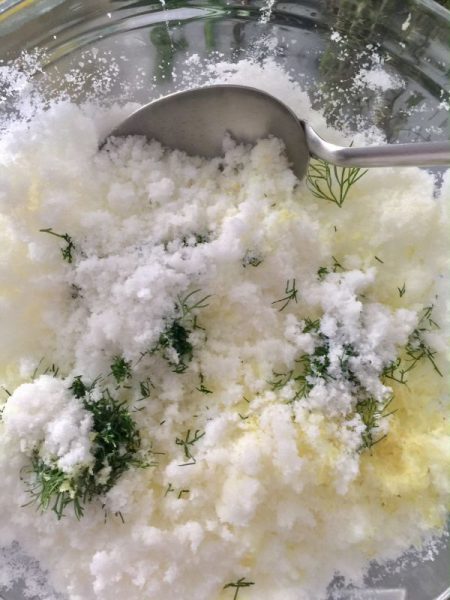 Whisk the egg whites in a large bowl until frothy. Add the salt, and with your hands combine until you get a smooth sand consistency. Add a few drops of water if needed.  Once you have the salt and egg whites thoroughly combined, add 1/4 cup chopped fresh dill and the lemon zest of one lemon to the salt mixture. (adding herbs is optional)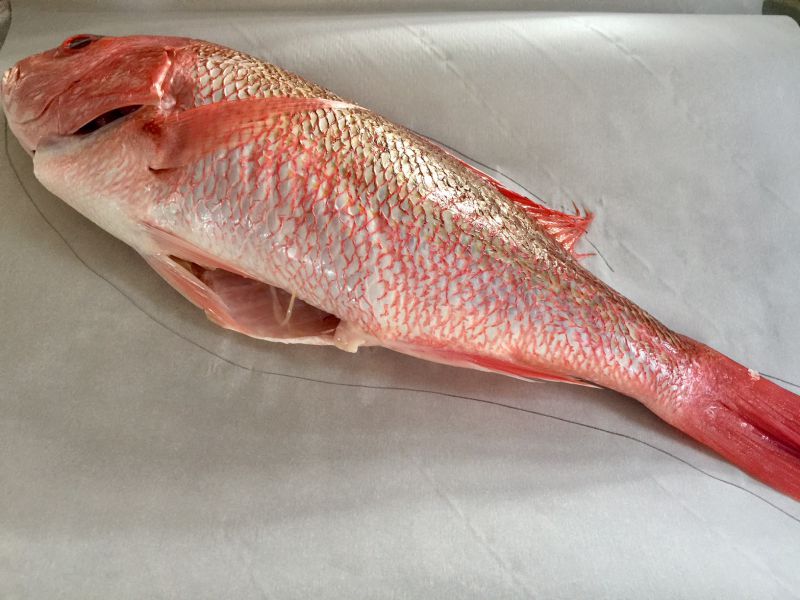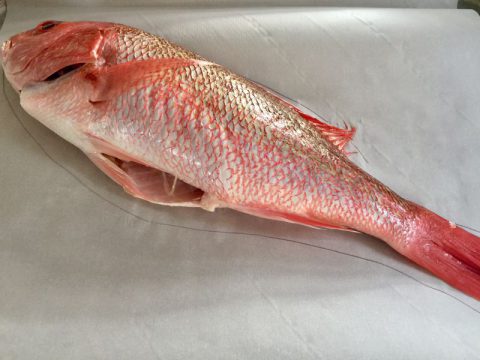 Line a sheet pan with parchment paper. Place the fish on the paper and use a pencil and draw around the fish to form an outline. Remove the fish and flip over paper.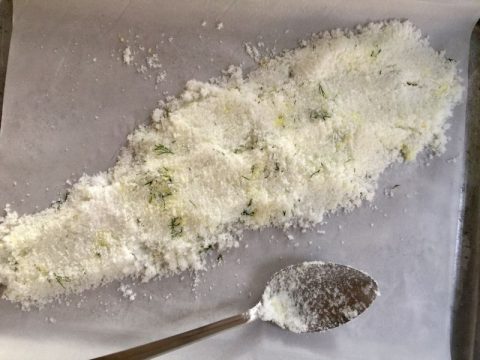 Place 1/3 of the mixture or more in the outline and press down slightly to make a bed for the fish. Before placing the fish on the salt, brush with olive oil on both sides of the fish.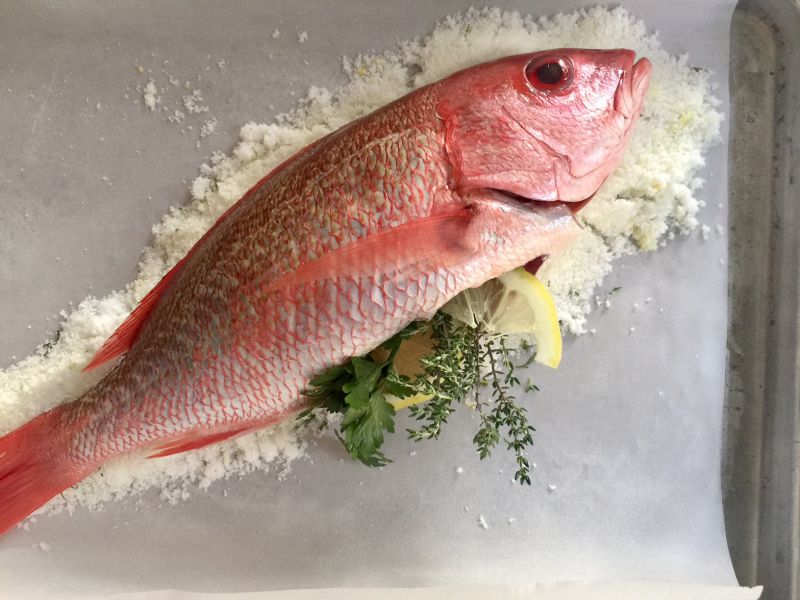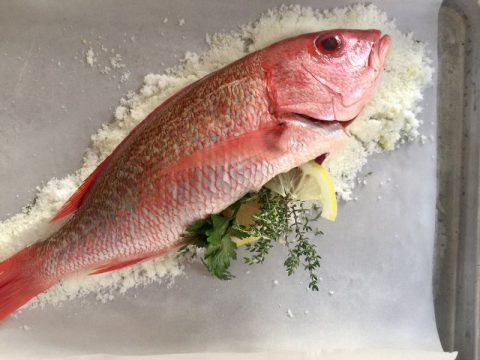 Add the aromatics, I chose fresh lemon and chopped dill. And a sprig or two of thyme. (this is optional)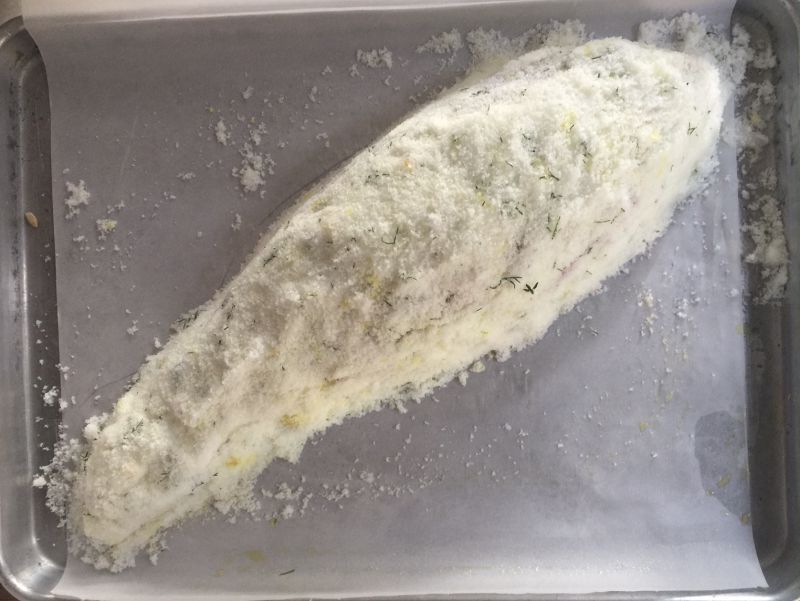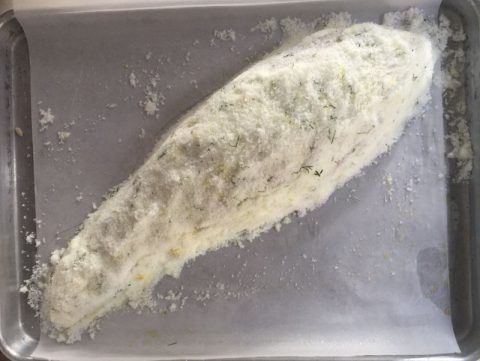 Cover with the remaining salt and pressed down slightly to pack it in.  With a skewer poke the fish through the salt, near the head. And it's ready to bake.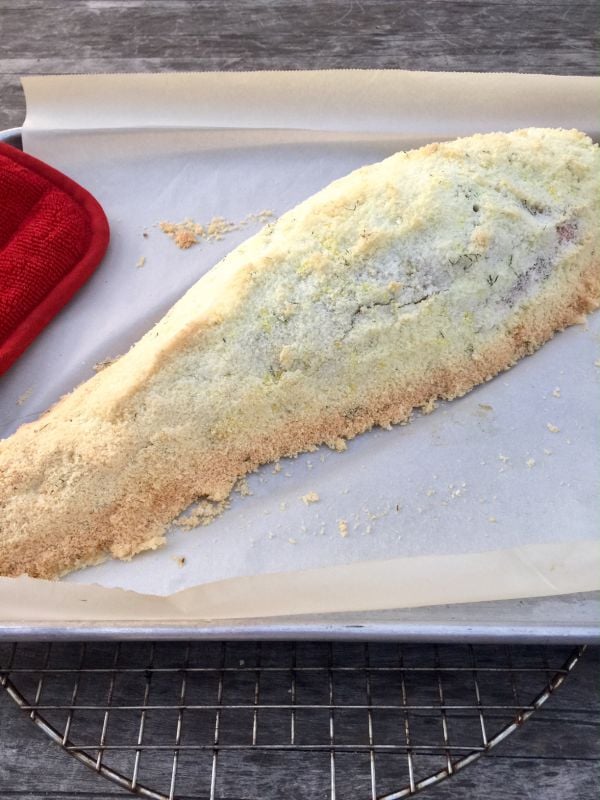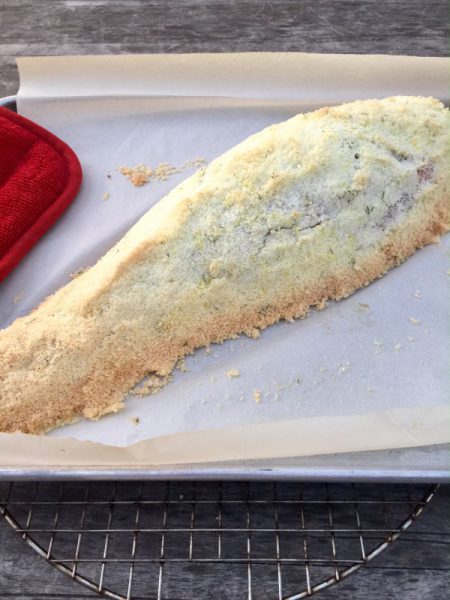 Bake in a 400 degree oven for 35 minutes for a large fish. (3 pounds) This will serve 6-8.
For a smaller fish bake for 30 minutes. (1/1/2 -2 pounds) This will serve 4.
You can use an instant thermometer, remove from the oven when the fish reaches 135 degrees.
Remove from the oven and let rest for 10 minutes.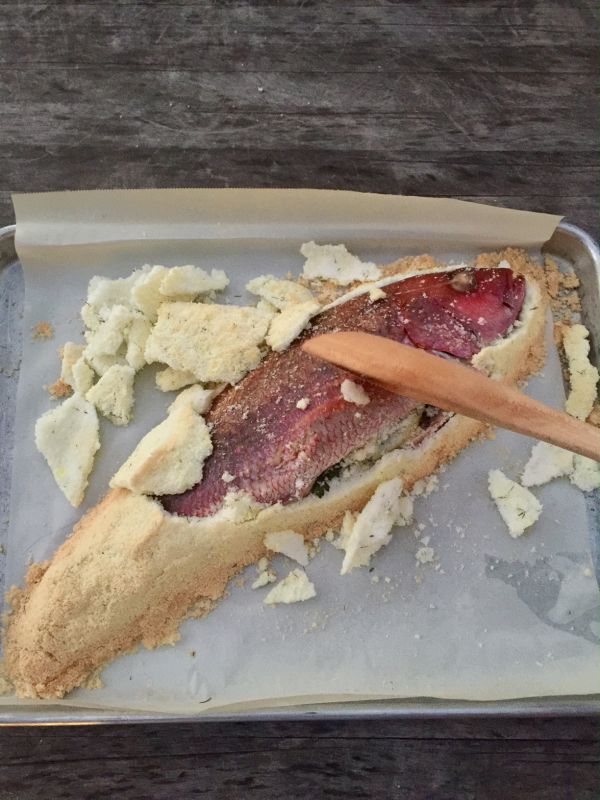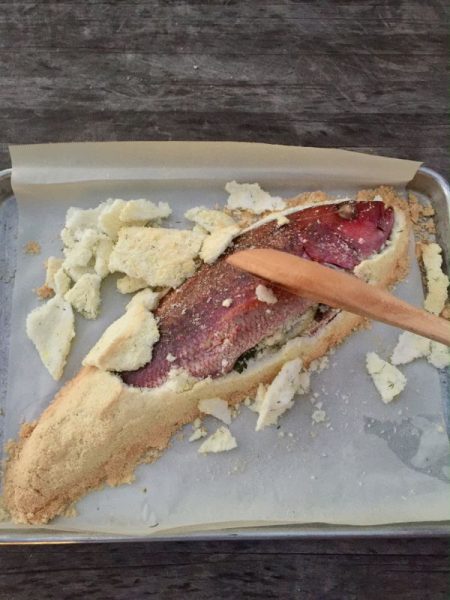 Using a wooden spoon carefully crack the salt and remove the skin. Remove the salt or set aside. Top with freshly squeezed lemon juice and a drizzle of olive oil. This makes a dramatic presentation at your table.
This will become your favorite method to prepare fish! I had dinner on the table in an hour, including baking time. Serve with a Greek summer salad, Greek potatoes or Greek greens.
Happy Summer,
Mary
© 2017 – 2020, Mary Papoulias-Platis. All rights reserved.