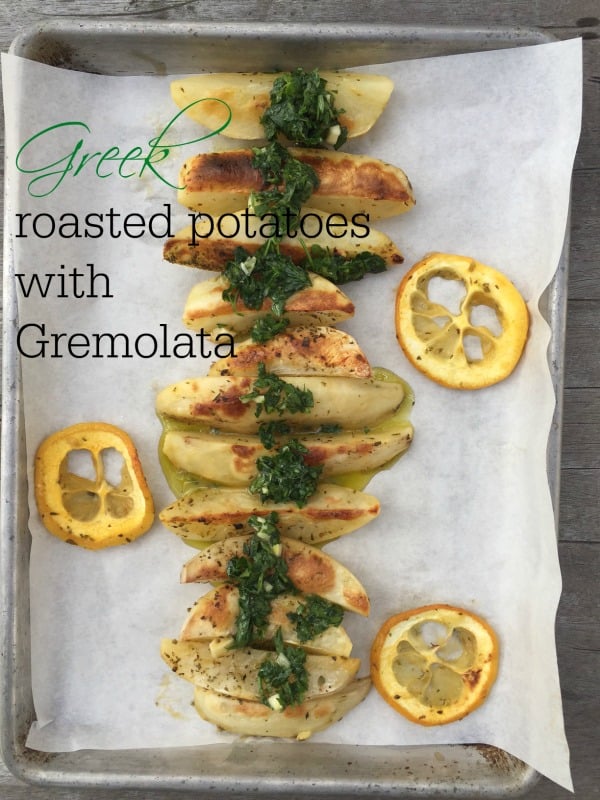 Greek roasted potatoes are my comfort food, especially during Easter/Holy Week for the Greek Orthodox Church. We generally go meatless during this time, and many of us remove all animal products. Today, most families might adjust their fasting according to their schedule and family needs. This dish made in a large batch may ease the fasting routine for the family to get them through their busy week. Who doesn't love a entire plate of roasted lemon potatoes?
With young kids it's often a challenge, but if you think about all the possibilities there are many.  As kids we often had grilled cheese sandwiches, vegetable pizzas, spaghetti, quiches, soups, and the list go on. Beans and lentils often are on the menu symbolizing the tears of the Mother of God.
The typical holy week meal is: Lentil Soup, olives and boiled vegetables, halvah and fruit. Take a look at the many posts on my blog of Lenten Dishes here.
Roasted Greek potatoes in the oven with lots of lemon and sprinkled with garlic, is all we need. Many dishes in the Greek cuisine use this basic recipe for chicken and potatoes, lamb and potatoes, or any side dish you wish. The secret to these potatoes is the amount of lemon you add. Using a good extra virgin olive oil can also make the difference. An oil with a fruity note will give the hint of freshness that it needs.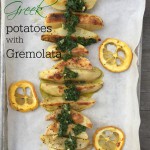 Greek Roasted Potatoes with Gremolata Sauce
One dish you must add to your weekly planner. It's easy with pantry ingredients, and one recipe everyone loves. Serve it with any entree.
Ingredients
6

baking potatoes, sliced, in wedges

1/4

cup

extra virgin olive oil

3

garlic cloves, minced

1

teaspoons

dried oregano

1/2

teaspoon

salt

2

lemons, juiced

1/4 - 1/2

cup

water or vegetable stock
Instructions
Preheat oven to 400 degrees.

Place the potatoes on a large sheet pan, in a single layer.

Add the oil, garlic, oregano, salt, lemon, and stock or water.

Bake in the oven for 30-35 minutes until potatoes are fork tender.

Add more liquid if necessary, gently mixing during baking.

Place under the broiler for 5-10 minutes to brown the potatoes, if needed.

Serve with the Gremolata sauce.
I added a herbal touch to these potatoes with a Gremolata sauce. A fragrant sauce that can be added to just about anything. Use it as a rub for meat, chicken, fish or vegetables.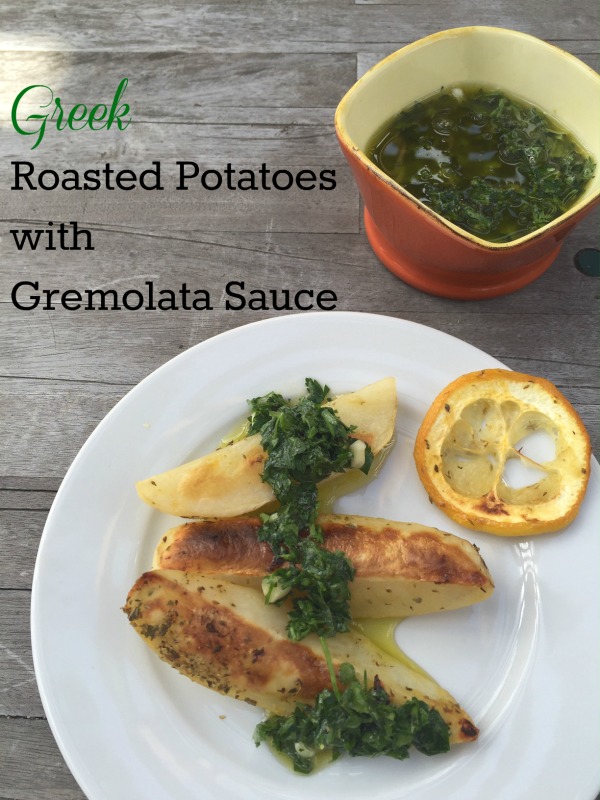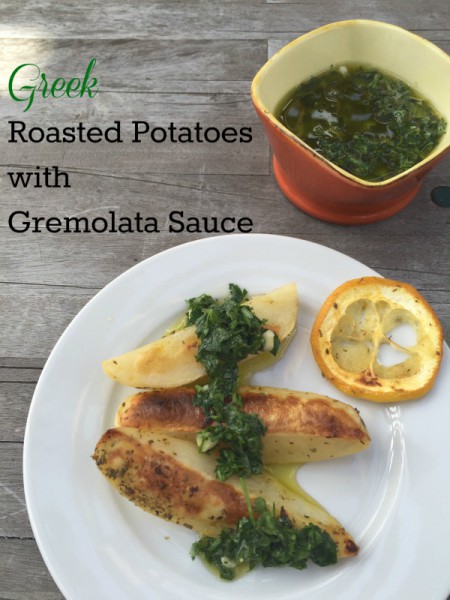 Gremolata Sauce
A fresh herbal sauce that can be made and used as a dip, rub or condiment.
Ingredients
2

cups

fresh parsley, chopped

1/2

cup

grated lemon zest

3

gloves

garlic, minced

3/4

cup

extra virgin olive oil

sat and pepper as needed

1

lemon, juiced
Instructions
In a small bowl, add the parsley, zest and garlic. Stir to combine.

Stir in the oil, mixing thoroughly.

Add the lemon juice and salt and pepper to taste.
Recipe Notes
This sauce is best when made earlier in the day.
Enjoy!
Mary
© 2016 – 2022, Mary Papoulias-Platis. All rights reserved.