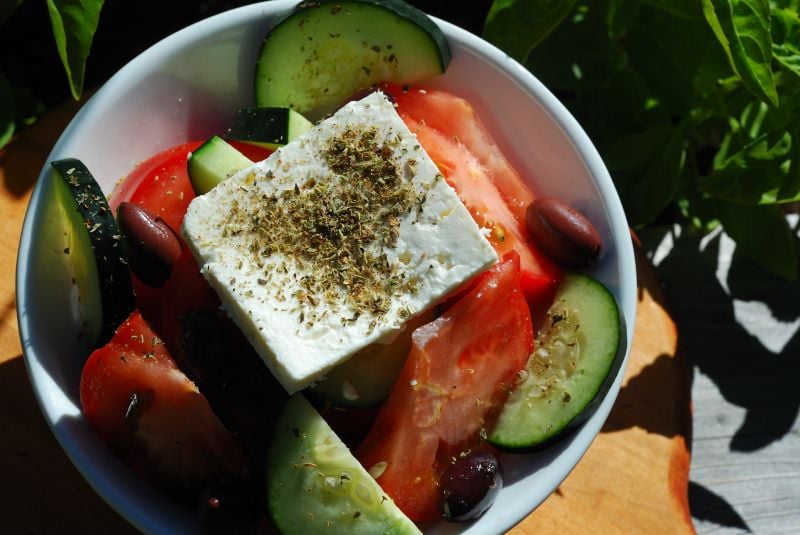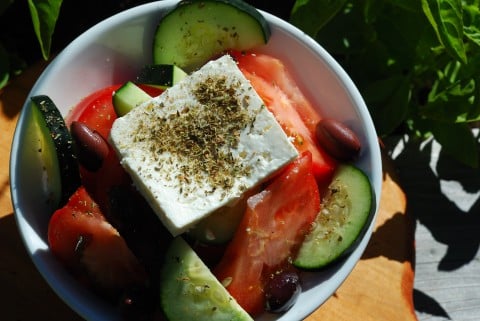 We have been selling Greek salad for over 30 years with our catering company. On our trip to Greece in October, I ate their delicious salads everywhere I traveled- city to city. This year we decided to take out the lettuce and re-place it  with the authentic salad of Greece. Fresh tomatoes, salty olives, crispy cold cucumber slices, and a big slab of feta cheese on top. Add a little drizzle of extra virgin olive oil and your set. You cannot ask for more than that!

Greek Salad "Horiatiki"
The perfect additional to any Greek meal is this traditional Greek salad served with a "hunk" of feta cheese.
Author:
Mary Papoulias-Platis
Ingredients
3 medium tomatoes, cut into wedges
1 large green pepper, sliced
1 cucumber, sliced
1 small red onion- thinly sliced
1 cup Kalamata olives, pitted
½ pound feta. sliced or crumbled
salt and pepper
⅓ cup extra virgin olive oil
2 tablespoons red wine vinegar
2 teaspoons dried oregano
Instructions
Place the sliced tomatoes in a serving bowl.
Add the peppers,cucumber,onion, and olives.
Sprinkle with salt and pepper
Add olive oil and vinegar and gently mix.
Crumble feta on top. Or add a slice of feta on top.
Sprinkle with oregano and serve.
Serve with fresh bread.
© 2011 – 2019, Mary Papoulias-Platis. All rights reserved.