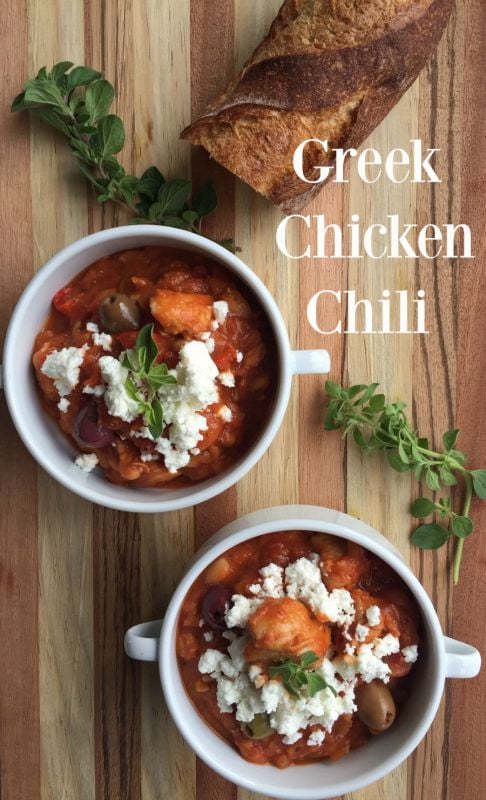 When the Fall season approaches, I always turn to my family's favorite beef chili recipe (Easy Chili) to serve during cooler weather. Although they love it, I tend to make the same recipe over and over, and it can get old. So, I decided to explore the world of chicken chili recipes using Greek inspired ingredients. Chicken and oregano are a common Greek pairing in many of our dishes. Fresh oregano can be very strong in flavor so be light if you're not a fan. I have it growing in my garden year around for my stews, soups and lamb dishes. Try growing it in a pot, it's a hardy herb and stays around all year long.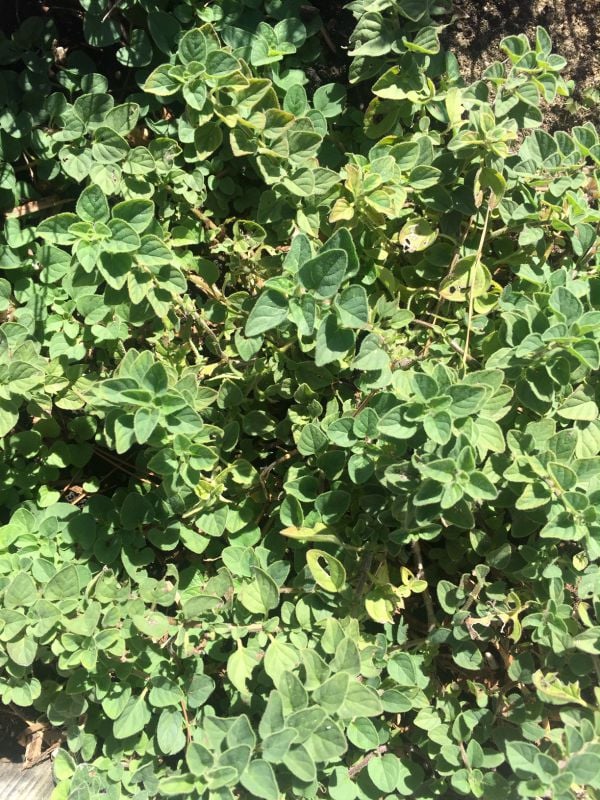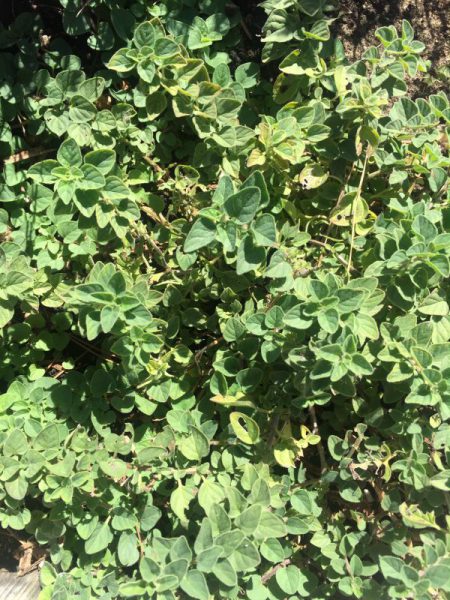 Oregano is a staple in the Greek diet fresh and dry. The health benefits may surprise you, it's not talked about as much as other herbs. Here are a few healthy tips you may want to know, so you can begin incorporating it into your meals. My garden oregano must be 5 years old. It's one of the hardiest of all the herbs. Look for organic seeds here at Seed Savers.
Oregano also has antibacterial properties, with thymol and carvacrol compounds to defend the body from bad bacteria.
It aids in digestion because it is packed with fiber.
Oregano is a natural form of omega-3 fatty acids, a good cholesterol to improve heart health.
It has a high content of manganese, calcium, iron, Vitamin K which helps detox the body.
With all these packed nutrients, oregano also helps improve our bone health.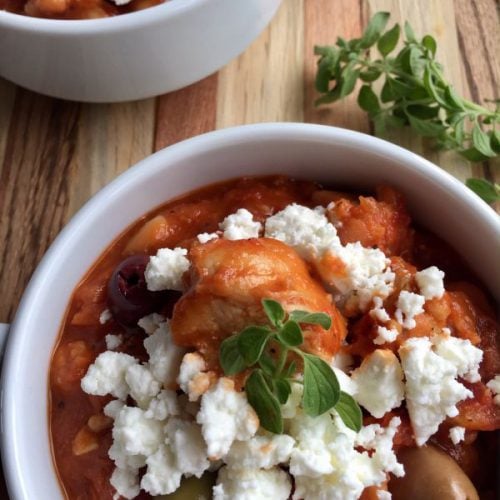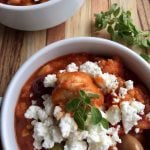 Greek Chicken Chili with Oregano
I wanted to have a chicken chili recipe I can make besides our family's beef version. Chicken and oregano are two ingredients that marry well in our Greek stews and soups. My garden is my inspiration for many of my dishes, and Greek oregano is always growing there.
Ingredients
1

tablespoon

olive oil

2

chicken breasts, cut into 1-inch cubes

1

red pepper, diced

1

onion, diced

2

garlic cloves, minced

1

teaspoon

cumin

1

teaspoon

dried oregano

1/4

teaspoon

red pepper flakes

1/4

teaspoon

smoked paprika

2

15-19 oz. can

Cannellini beans or white navy beans

1

28 oz. can

whole tomatoes

1

6 oz.

can tomato sauce

3/4

cup

water

2-3

springs

fresh oregano

1

bay leaf

1 1/2

teaspoon

salt

1/4-1/2

teaspoon

pepper

1/2 cup

crumbled fresh feta cheese for topping

1/4 cup

assorted olives, sliced in half for topping
Instructions
In a large Dutch oven add 1 tablespoon of olive oil and over high heat,add the chicken, red pepper, onion, and garlic and cook until chicken is brown and pan juices are evaporated, around 15 minutes.

Add the cumin, dried oregano, red pepper flakes and smoked paprika and cook for 1 minute.

Stir in the canned tomatoes, tomato sauce, water, fresh oregano,salt, pepper and bay leaf.

Drain the liquid from the beans into the chili mixture. Set the beans aside.

Bring the chili to a boil, and reduce the heat to low. Simmer for 45 minutes, stirring occasionally.

Add the reserved beans. Cover and simmer for 15 minutes. Discard bay leaf before serving.

Before serving, top with crumbled feta cheese and sliced olives.
You can add other toppings to your Greek inspired chili; try fresh tomatoes, fresh sprig of basil, grated Greek cheese or Parm, pesto, or a spicy salsa.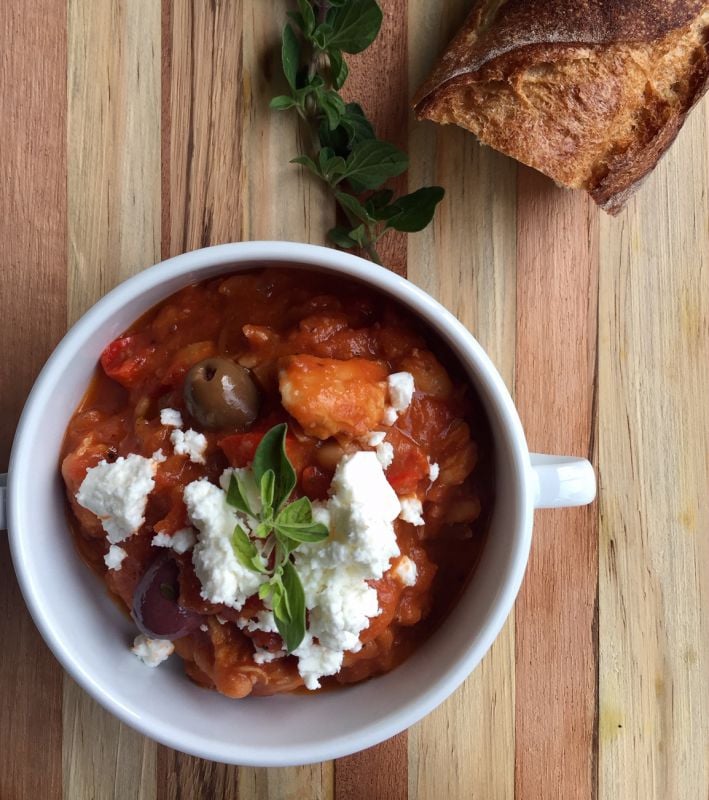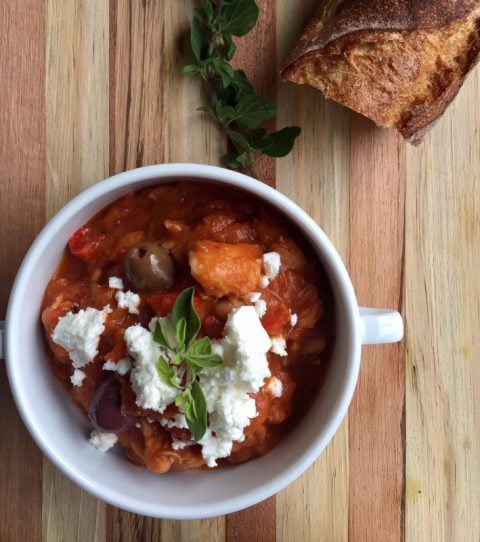 Enjoy your Fall,
Mary
© 2018 – 2019, Mary Papoulias-Platis. All rights reserved.