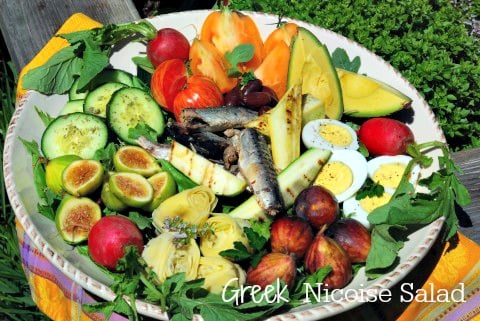 The Greek diet has always been represented by the seasonal fruits and vegetables from your family garden.  And so is California!  I added a twist from the traditional French salad to a California Greek Garden Nicoise Salad.
This late summer salad is a jubilee of fresh figs, ripe avocados, sun-kissed tomatoes, and my fresh catch from the sea, sardines!
Composed salads, are exactly that, planned ahead and skillfully laid out on a large platter.
I can tell you anyone will enjoy selecting from these heart – healthy choices of seasonal fresh foods.
I had more fun with this recipe because of the colorful array of delectable California fruits, vegetables, farmer's market ranch eggs, and wide selection of seafood available.
And eating it… will  hit all your pleasures zones all at once.
Greek Garden Nicoise Salad
Author:
Mary Papoulias-Platis
Ingredients
2-3 bunches of your favorites lettuces
1 bunch of arugula
3 hard-cooked eggs,peeled
2 cans of sardines or anchovies
6 fresh figs, sliced in half
2-3 fresh tomatoes, sliced
1 bottle or can of artichoke hearts
1 bunch of radishes
2-3 zucchini, grilled
1 cup of kalamata olives
1 avocado, sliced
1-2 cucumbers, sliced
Dressing
½ cup extra-virgin olive oil
¼ cup red wine vinegar
1 teaspoon Dijon mustard
1-2 cloves of garlic, chopped
1 teaspoon salt
¼ teaspoon pepper
¼ cup mixed fresh herbs, chopped (basil, tarragon, parsley, dill)
Instructions
Salad
Place the eggs in water and bring the water to a boil.
Turn off the heat and cover. Allow to sit for 30 minutes. Cool and peel..
Mix and place all the lettuces in a large bowl.
Mound the sardines in the middle of the salad.
Add the vegetables one by one all around the salad.
Cut eggs in half and place all around.
Pour the dressing sparingly all over the salad or place on the side.
Dressing
Place the vinegar, mustard, garlic, salt and pepper in a mixing bowl.
Whisk until blended.
Whisk in the olive oil slowly in a stream until well incorporated.
Add the chopped herbs and stir.
Shake well before serving.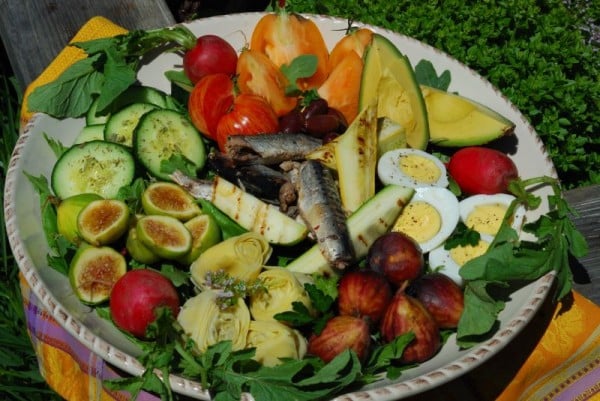 Seasonal Salad Combinations 
FAll: butternut squash, apples, root vegetables, olives, pumpkin, anchovies, grapes
WINTER: Greens : mustard, dandelions, spinach, feta, beets, peas, oranges, salmon
SPRING: Green beans, leeks, chard, bell peppers, asparagus, scallops,tuna
© 2012 – 2019, Mary Papoulias-Platis. All rights reserved.