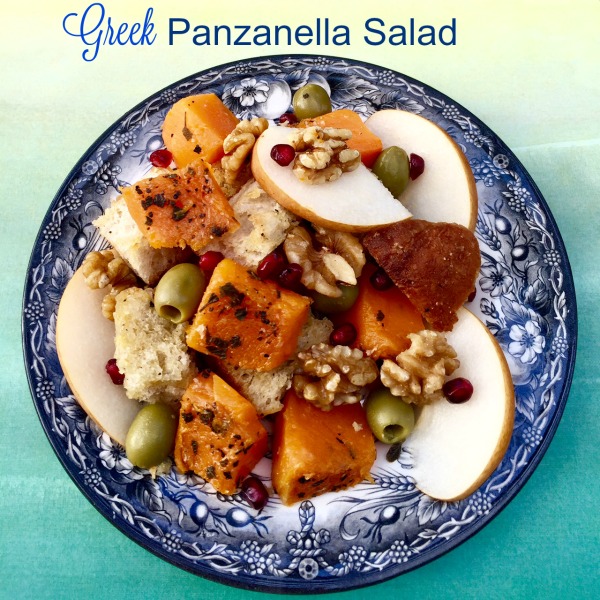 When summer is over and I'm craving a Greek salad, I turn to the vegetables in season and make my version of a new Greek salad. Tomatoes are out of season, cucumbers are slowing vanisahing from the supermarkets, and all I have left are the seasonal choices, which are many.  A Greek salad in Greece has no lettuce. We love our no-lettuce salad, because we depend on what's fresh in the market.
Fall-Winter can be challenging so try and shop your farmer's market for more choices. We have so many heart-healthy choices in the supermarket. Not counting all the hearty greens such as mustard greens, kale, chard and more we have our pomegranates, quinces, pumpkins, and squash.
This salad is a twist to the Italian summer panzanella salad with big chunks of bread to soak up all the dressing. With my love for butternut, I decided to roast it with olive oil, oregano, and salt and pepper. That's all it needs. I did add salted green olives, pomegranates, walnuts for crunch and a strongly flavored Greek dressing.  Thanks to Laura my co-author, and blogger of Family Spice, she dropped off these juicy old-variety of pomegranates she had gathered from a friend's farm. Oh my! what a touch.
Here are a few facts about POMS:
They have antioxidant, antiviral, and antitumor properties.
Good Sources of Vitamin A, C, and E as well as Folic Acid.
Rich in antioxidants they can prevent oxidation of LDL cholesterol. (bad form)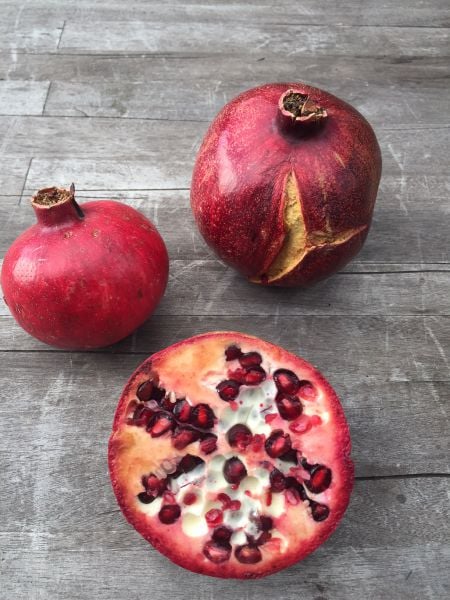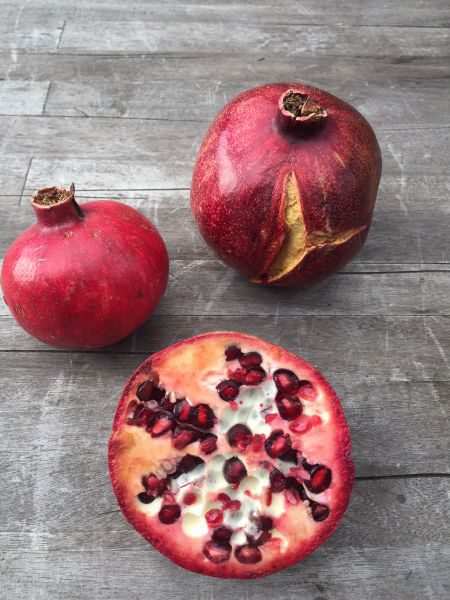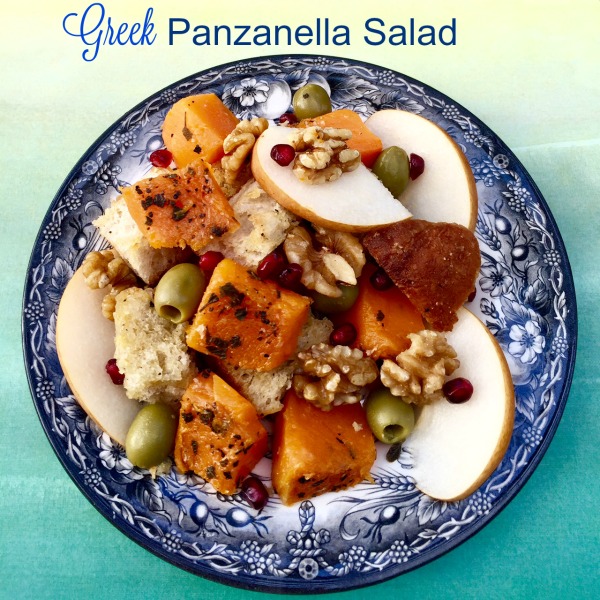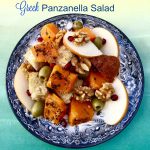 Greek Panzanella Salad
Here is my Greek Bread Salad using local seasonal Fall vegetables. If you cannot find Butterscotch pears you can substitute any pears in your area. The brown Bosc pear is a good substitute. Have fun with this recipe, you can also add any greens you like.
Ingredients
2

pounds

butternut squash, peeled, cut into medium dice

1/4

cup

extra virgin olive oil

1

teaspoon

dried oregano

2-3

teaspoons

salt

2

teaspoons

pepper

1/2

cup

pomegrante seeds

or more

2

cups

sourdough bread

cubed

1/2

cup

walnuts, toasted

1/2

cup

green olives

2-3

Butterscotch or Bosc pears
Instructions
On a parchment lined sheet tray, spread out the butternut squash and toss with the olive oil, oregano, salt and pepper.



Bake in a 350 degree oven until tender, but not mushy, about 30 minutes.

Cut the bread into cubes, and place on a sheet tray. Sprinkle with olive oil,salt and pepper. Bake in a 400 degree oven until crispy, but soft inside. Cool.

Once the squash and bread is cooled, combine them in a large bowl.

Add the pomegranate seeds, walnuts, olives, and Greek Herbal dressing (below) and fold in gently.

Adjust for seasonings. Sprinkle with dressing.
You can find my Greek Herbal Dressing on my blog.
Here' a look at the Butterscotch Pear. Crispy inside and out.  Best eaten alone but can be added to salads and desserts. These came from Melissa's Produce.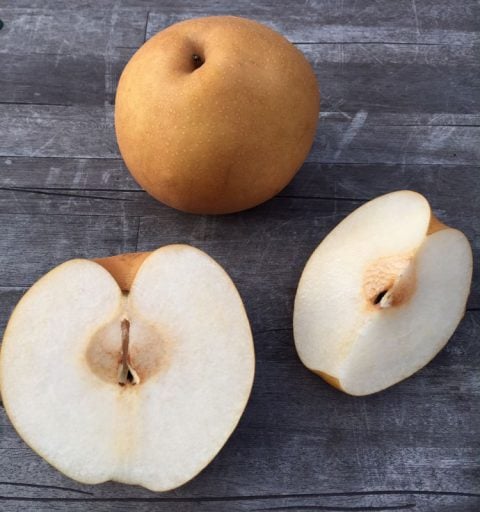 © 2016 – 2018, Mary Papoulias-Platis. All rights reserved.